Orlando only ranks somewhere in the middle when it comes to the most expensive cities in the United States, but tickets to the big theme parks still may carry a hefty price tag.
There are, however, plenty of other ways to offset that cost. In fact, there are a variety of free activities in Orlando! Take it from a local and plan some time to put your wallet at rest, at least a little, on your next Orlando vacation.
Free things to do in Orlando: Marketplaces and attractions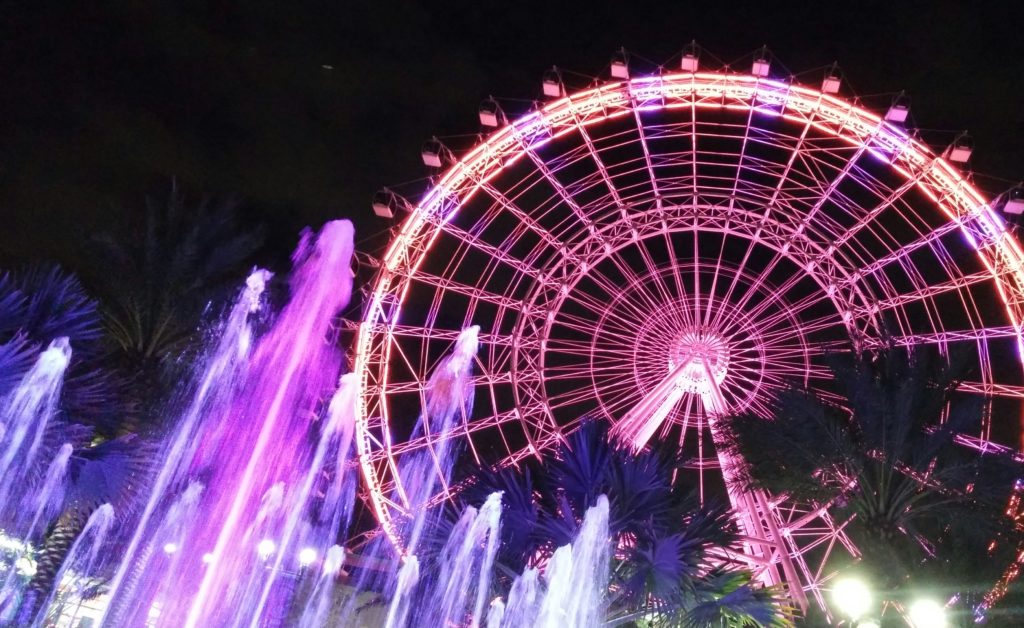 Walk through one of Orlando's many outdoor marketplaces. Of course, you'll find shops and dining options that cost money there, but you'll also find stroll-able avenues and atmospheres.
One of my favorites is centrally located on International Drive. Icon Park is a hub of activity and, indeed, an icon of the Orlando attractions area – it is an excellent mix of dining, attractions, shopping, and entertainment. The park-like setting mixes a blend of relaxation with the exciting energy of the attractions and the larger-than-life centerpiece, The Wheel. A spacious lawn is great to let little ones run around, or to sit and relax. Parking is free, and there are also free events throughout the year, including live music and other entertainment.
No location in the Orlando attractions area offers more dining, shopping, and entertainment options in one place than Disney Springs. Formerly Downtown Disney, this destination recently went through a multi-year transformation and has emerged as a spectacular, sprawling marketplace. It is free to park and free to walk around, but your wallet will be tempted by all the delightful offerings across its four neighborhoods, which are all connected and easily accessible from one another (there is also free boat transportation between the West Side, the Landing, and the Marketplace, which in itself is a fun activity). Free music can be found throughout Disney Springs on most evenings, but certainly on Friday and Saturday nights. At the time of its announcement, years ago, I did not expect to fall in love with Disney Springs as much as I have; in a way, I am glad I do not live closer to Disney property, as I'd be very tempted to visit its dining/shopping/entertainment complex on a weekly basis, if just to walk around at dusk and enjoy the views and live music.
Classic American fun abounds at Old Town – walk around, browse the shops, and enjoy the fun atmosphere. Old Town feels like a mixture of carnival midway, seaside boardwalk, and vibrant town center. It is located on Highway 192/Irlo Bronson Highway in Kissimmee, not very far from the west side of Walt Disney World Resort (where the Animal Kingdom and Hollywood Studios theme parks are situated). One of the long-standing traditions here is the showcasing of beautiful classic cars: every Friday night, there is a Classic Car Show and Cruise. Other events include a weekly free family movie night, on Sundays at 7:00 pm. Admittedly, it has been years since I have visited Old Town, but it's now on our family to-do list, to check out each of these weekly events.
Also located in Kissimmee on 192, right next-door to Old Town, is Fun Spot America – Kissimmee. This family-run amusement park has transformed over the years into a strong contender for the most fun you can have in one spot (no pun intended), and it's a great place to stroll around before or after you visit Old Town. It is free to visit, though the rides – like Mine Blower, Florida's only wooden roller coaster with a complete inversion – do have an admission cost. The lights and energy of Fun Spot, coupled with Old Town, make it a great choice for a free evening activity.
Over on International Drive is a second Fun Spot park, Fun Spot America – Orlando, which is just a few minutes away from Universal Orlando Resort. The atmosphere is missing some of the extra energy that the Kissimmee version has because of Old Town, but it's still a great place to walk around if you're looking for something free. There is a great mixture of thrill rides, go-karts, kiddie rides, and other entertaining activities, like Gator Spot, which is offered in partnership with Gatorland. All of the attractions and activities do require a ticket or armband, but it is free to park and to stroll, and the food and beverages at both Fun Spot locations are relatively affordable compared to other attractions in the area.
Free things to do in Orlando: Outdoor movies
Many Universal Orlando and Walt Disney World hotels offer outdoor movies as part of their amenities to their guests. But what if you want to get out and see more of Orlando with a film under the stars? There are a few options that are worth checking out.
First, there is the aforementioned weekly family movie night on Sunday nights at Old Town. But for a more upscale experience, there is Park Avenue in Winter Park, one of the poshest places in the Orlando area – taking a stroll along the avenue is a taste of the good life. Winter Park was one of the first areas to be developed in Central Florida and was established by wealthy Northerners who would "winter" here. The city's Central Park has been a staple of this community for ages and offers a variety of events across its 11 acres, including a monthly movie night, Popcorn Flicks in the Park, that is free to the public. Held on the second Thursday of every month, attendees are encouraged to bring their own chairs, blankets, and other gear to enjoy a film in the lovely Central Park setting.
When I worked in downtown Orlando, one of the ways I would unwind after a hard day was Movieola at Lake Eola Park, which lets you experience Orlando's most well-known park (well, besides the theme parks) while you enjoy an outdoor film on the shores of Lake Eola. Generally, Movieola is the last Friday or last Saturday of every month, although, during the holidays, extra showings are added for the month of December. The event is free, though it should be noted that there is essentially no free parking anywhere near the park.
One of the newer local hangouts that is on my list for a much-needed date night with my husband is A La Cart Orlando, which is a gathering place not just of great people, but also of great food trucks. This unique neighborhood space hosts food trucks on a rotating basis, and there's even an indoor bar area that offers 15 taps – including beer, cider, wine, and cold-brewed coffee – that also rotate. Every Monday, A La Cart hosts a fantastic movie night that ends in raffles for cinematic prizes. Bring your own blankets or low-backed chairs and enjoy this fun local hangout. (Parking is scarce, so using a ride-share service is encouraged.)
Free things to do in Orlando: Parks and green spaces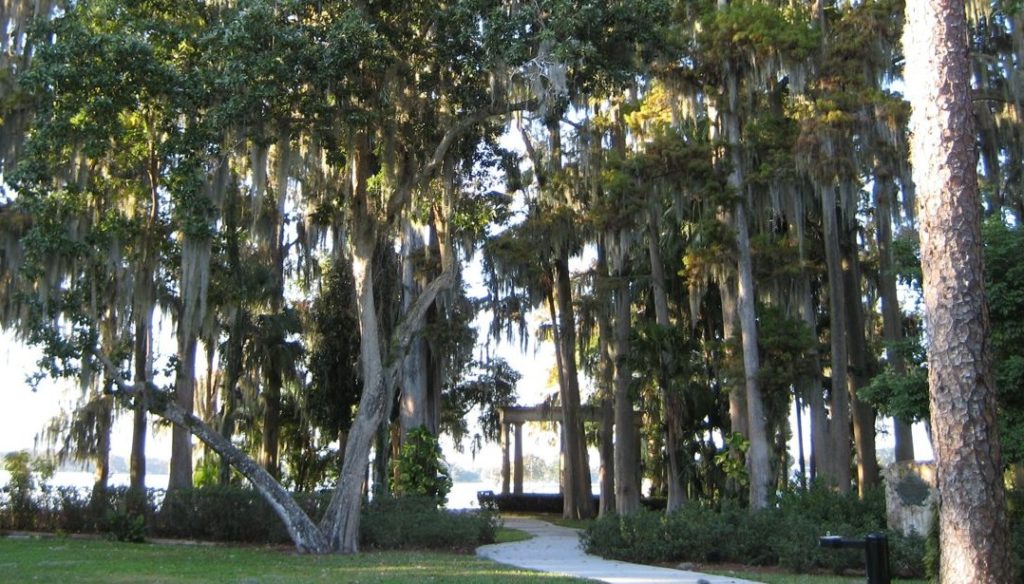 Whenever I need some time in a natural Florida environment without having to "rough" it, I go to an island – Wekiva Island, that is. This riverside retreat is a very popular spot with locals, especially on holidays and weekends. On those busy days, there can be a parking or admission charge, but during the week, it's free. Wekiva Island is an outdoor recreation area with an outdoor bar, an open-air wine bar, and an outdoor dining area that offers casual American favorites. Whenever I am here – which is not often enough! – I go for the gator tail and an island-exclusive Wekiva River Water Brown Ale. Dip your toes in the water or go for a full swim – just know it is the real Wekiva River, and there is real wildlife in the area. If you don't want to swim, sit and relax in one of their wooden Adirondack chairs on the river's edge. There's even kayak and canoe rentals, too.
I recently revisited a park that I hadn't been to since I was a child: Mead Botanical Garden in Winter Park. Since it was just me and my son, I brought our stroller and quickly learned that, although there are a few sidewalks and brick walkways, I was missing out by not being able to walk around freely. Still, there are 47 acres to explore here, filled with hiking trails, creeks, and a butterfly garden. There are lovely views everywhere; during my visit, for example, I walked through the amphitheater and found a peaceful, hidden spot – taking the brick pathway on the right side of the amphitheater, I came to a very small creek. It was lovely to listen to the gentle babbling water for a few minutes (before my toddler became restless, that is). Mead Botanical Gardens attracts residents and visitors, and hosts lots of weddings, too. This beautiful hideaway is about 30 minutes from the attractions area and is well worth the journey.
Along the shores of Lake Maitland, you'll find Kraft Azalea Gardens, lovingly nicknamed Winter Park's secret garden. I highly recommend that, if your Orlando vacation is in February or early March, you visit this park – you'll be treated to an explosion of color as the pink, purple, and white azaleas bloom all around. It is also home to an egret rookery, so you'll probably be able to witness one of the largest wading birds in Florida. Bask in the serenity of this lakefront park with gracious cypress trees and the Exedra Monument. (If you make the trek from the attractions area, you may want to visit Mead Botanical Garden and Kraft Gardens on the same trip.)
Not too far from Walt Disney World is the historic city of Kissimmee. Settled by cattle ranchers back when Florida was a bigger cattle state than Texas, Kissimmee has changed over the years; admire the panoramic views of the lake, for example, as you stroll along the wide walkways on the water's edge at Kissimmee Lakefront Park – you can even walk out to the park's small lighthouse that juts into the lake. Lots of events are held here throughout the year thanks to its open space and convenient location. And Lakefront Park is near historic downtown Kissimmee, which is a charming main street to explore, as well.
Another park close to the attractions area, near Universal Orlando, is Bill Frederick Park at Turkey Lake. It's massive! It's the hub of outdoor activity for many Orlando residents, as there are countless events held here every week. The park consists of 180 acres to explore, with hiking trails, picnic pavilions, playgrounds (one for little tykes, and one for kids up to 12 years old), a fishing pier, and multiple lakes. I've attended a few 5K runs here and even participated in a dragon boat race. Just be aware that there is a $5-per-car entrance fee.
Free things to do in Orlando: Towns and downtowns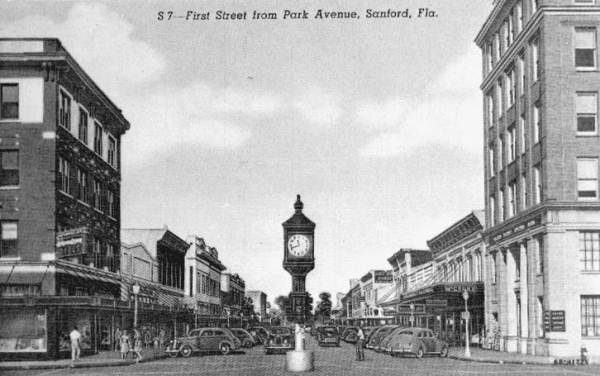 Celebration, the town that Disney built, is a charming community that inspired the creation of similar neighborhoods around the country. The appearance standards for buildings, yards, and common areas are some of the most stringent you'll find anywhere, and, as a result, Celebration is full of beauty. Particularly during Halloween and the winter holidays, it is a delight to cruise through the neighborhoods. Market Street is the main street of the downtown area, which is generally busy, but it still has a laid-back, small-town vibe. There are free events throughout each month, including a nightly snowfall on Market Street during the holiday season.
Two of my favorite historical downtown areas are north of the attractions area. The first is historic downtown Sanford, which is about 30 to 45 minutes away. (Lots of visitors choose to fly into Sanford International Airport, which makes it a no-brainer to stop by downtown Sanford for a stroll through the beautiful historic area.) Along Lake Monroe and the St. Johns River, you'll find the Sanford Riverwalk. I love walking along this 1.2-mile stretch of sidewalk that borders the river and offers tranquil views of the water and marina (don't worry – there are benches along the way to take a break). The next street over, 1st Street, is flanked with an incredible assortment of small businesses, local cafes, stores, tea shops, bars, and more – all of which helps explain why, whenever I am looking for a great night out (especially for a pub crawl), I turn to downtown Sanford.
My other favorite historic downtown is DeLand. A delightful district, it has repeatedly been voted the best main street in America. Yes, you'll definitely find a great selection of restaurants, breweries, and shops, but if you explore the side streets, you'll find even more. My favorite part of downtown DeLand is Artisan Alley – here there are murals, antique shops, and my favorite food and beverage combination, Persimmon Hollow and BakeChop. I like to get something to-go at BakeChop and then take my order over to Persimmon Hollow for some great craft beer straight from the tap. It is about 45 minutes from the attraction area, but if you decide to make the journey, consider stopping at either DeLeon Springs or Blue Spring; both are great state parks with a nominal entrance fee.
A historic downtown near the attractions area is Winter Garden. Every day, someone new falls in love with the area, making it one of the most popular towns for those relocating to Central Florida. This charming downtown has one of the most quaint atmospheres of any Central Florida city. There are weekly events, a great playground and splash pad, and, of course, great shops, restaurants, and cafes. A big highlight of downtown Winter Garden is Plant Street Market, an indoor mini-market that showcases local businesses and artisans and that's also home to Crooked Can Brewing Company.
Free things to do in Orlando: Museums and Galleries
Orlando is home to a great collection of museums and art galleries. Not many of them are free year-round, but a few offer free admission on certain days or seasons. Anita S. Wooten Gallery at Valencia College, which showcases regional artists, is one that's free every day. The exhibits here change throughout the year, and the gallery acts as a teaching space for visual-arts students.
And located along stunningly beautiful Park Avenue, the Morse Museum is one of the most beloved museums in all of Orlando. Every Friday during the November-to-April stretch, starting at 4:00 pm and ending at 8:00 pm, free admission is offered – a wonderful chance to browse the impressive collection of work, which includes stained glass, sculpture, and paintings from Louis Comfort Tiffany (of the Tiffany and Co. jewelry family).
–
What's that – you still need more free and/or inexpensive things to do around Orlando? Be sure to check out our full-fledged guide on that – and pick the brains of 80,000+ vacation-planners and enthusiasts in our OI Community Facebook group.
And don't forget to follow Orlando Informer on Facebook, Twitter, and Instagram for the latest news and tips at Universal Orlando, Walt Disney World, and other Orlando experiences.