It hits. That moment when the day's fast pace has caught up with you and the world has suddenly hit the slow motion button. A zombie-like haze overcomes all of your senses and basic functions, and the only words you can muster emerge as near-incoherent, slurred stammering rather than the thoughtful communication you'd hoped for. This calls for one thing — coffee! But you're at a bustling theme park with your family — more specifically, you're at Universal Orlando Resort. You can't simply leave everyone, there's barely a moment amidst the brain fog to properly research "Universal Studios coffee," and you can forget about trekking to a local bean brewer for a cup of that life-giving nectar. We're at an impasse and we need a solution — stat!
So this begs the question: Where on Universal Orlando Resort's property can we find nature's revitalizing elixir?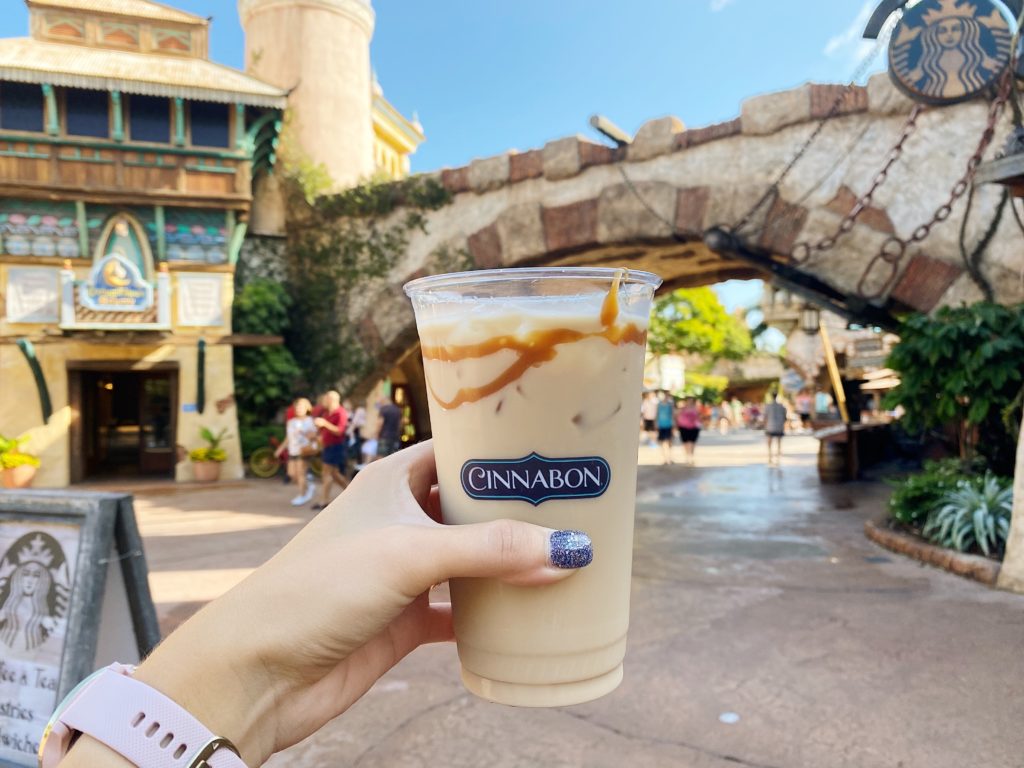 As a self-proclaimed coffee aficionado and someone who functions almost entirely on caffeine, I've found myself caught in this scenario more times than I care to recall. In order to guide you through this dilemma, I'll go over where each coffee shop is located, the general cost of bean water there, and how they may differ from each other in terms of coffee blends and types.
Never fear, dear readers- let me show you the way!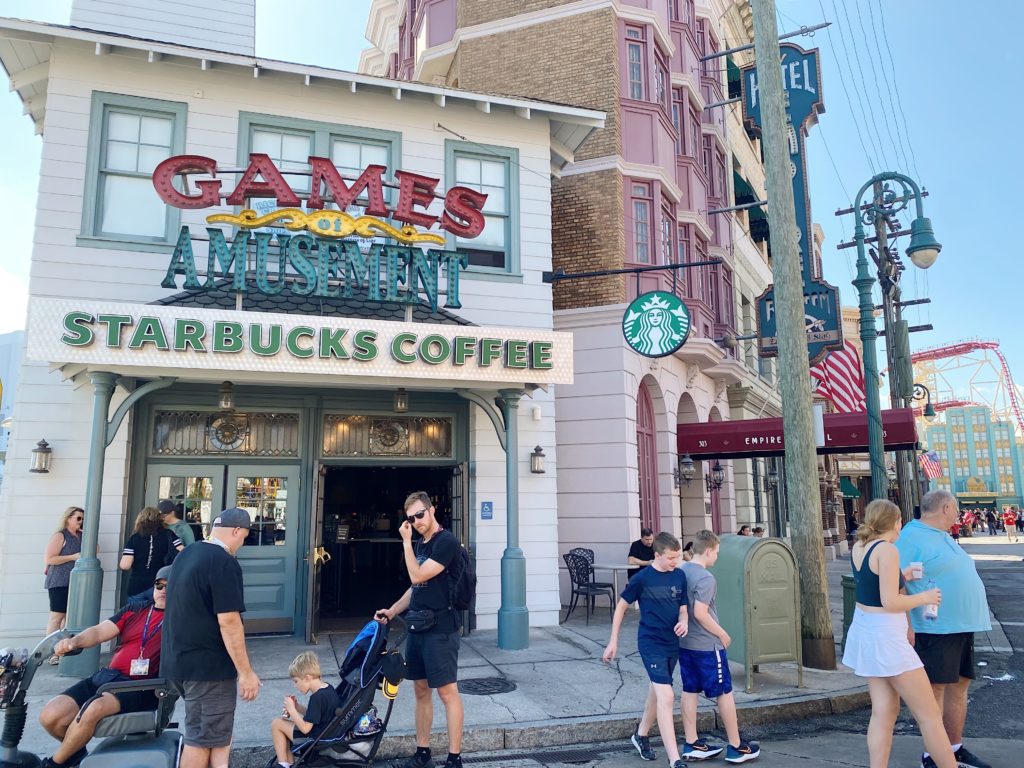 Starbucks Coffee
Located in:
– CityWalk, across from AMC
– New York, Universal Studios Florida
– Port of Entry, Universal's Islands of Adventure
Coffee price range: $2.69 – $5.79 plus tax
When it comes to coffee, Starbucks is unquestionably the nation's steadfast provider. They're the coffee shop that's familiar to everyone and you can find them no matter where you are. Universal Orlando Resort is no exception. There's a Starbucks Coffee located just about anywhere a guest can access on the resort's property. Each hotel features either a fully-functioning Starbucks or is at least equipped with Starbucks products. If you're visiting the parks, the most convenient Starbucks will be at CityWalk's main entrance as one of the first establishments you pass by, on your left. If you find yourself in need while you're inside the parks, fear not — at Universal Studios Florida, you'll find them in New York, located near the San Francisco border, opposite from Louie's Italian Restaurant. Islands of Adventure has an establishment at the end of Port of Entry just as you turn to Marvel Super Hero Island. If you're looking for a quick breakfast, each location also offers pastries and limited sandwiches in addition to the brand's complete drink menu for your convenience.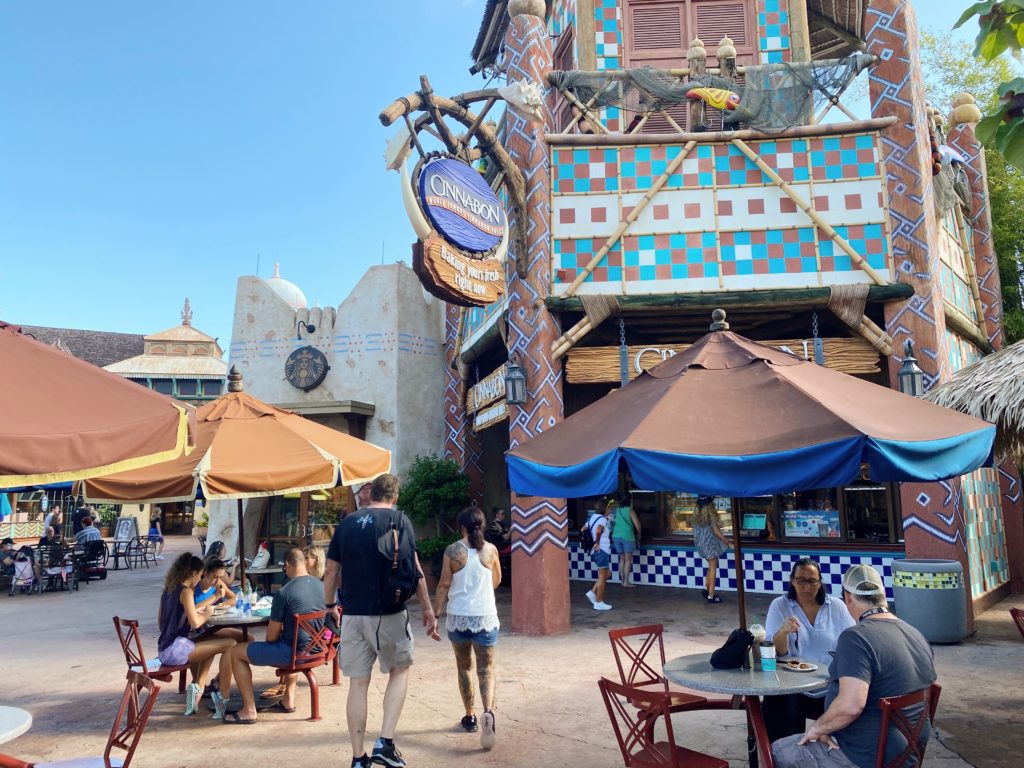 Cinnabon
Located in:
– Port of Entry, Islands of Adventure
– Universal CityWalk, across from Starbucks
Coffee price range: $3.29 – $4.79 plus tax
Much like Starbucks, Cinnabon is a reputable chain with on-site locations offering the brand's standard menu of baked goods and beverages. If you are heading into the parks, you can easily spot them at the entrance of CityWalk to your right and at Port of Entry's end over in Islands of Adventure. Both locations offer their full menu to choose from, and patrons in search of a decent cup of coffee have a few options here. They can purchase a hot cup of the chain's Signature blend or opt for their famous Mochalatta Chill beverage. Cinnabon also offers cold brew coffee, which comes in Cinnamon Bun, vanilla, or caramel flavors. I prefer to steer more in the local direction rather than nationwide chains when I'm grabbing my java or recommending where to find yours, but I won't pass judgement on anyone for their preferences. Regardless of where you stand on the matter, there's certainly no arguing that Cinnabon is always a solid option to grab your fix from.
TODAY Cafe
Located in:
– Production Central, Universal Studios Florida
Coffee price range: $3.99 – $4.69 plus tax
I hide nothing when it comes to my love for Today Cafe. They have a great menu that's unique from anything else you can get on park property, and this is the coffee shop I turn to for my caffeinated needs while visiting Universal. Being the picky coffee fiend I am, that says a lot! Their coffee is a smooth, delicious, and exclusive dark roast blend of Sumatran, Peruvian, and Ethiopian beans. Guests have the option to have it served in the form of lattes, cappuccinos, nitro blends, espresso, and hot or iced coffee. All of those options can be further enhanced with flavors of vanilla, hazelnut, or caramel for an additional ninety-nine cents. If you want my advice, this is the best coffee shop across Universal Orlando Resort. Today Cafe consistently brews a fine cuppa, and the value isn't bad either. If you find yourself in the mood for a nibble, they offer a great selection of sandwiches and pastries to pair with with your coffee, and the wait to retrieve your order is never terrible.
Lard Lad Donuts
Located in:
– Springfield, U.S.A, Universal Studios Florida
Coffee price range: $3.00 – $4.25 plus tax
This one seems to sneak under most people's radar. When you think of Lard Lad Donuts, the first thing that comes to mind are the donuts, and rightfully so. With that in mind, what pairs better with a donut than a good cup of coffee? In the spirit of this culinary tradition, Lard Lad serves their own brew. We should take a moment here to note that it's only served as a standard cup and its flavor is on the bolder side with only half and half or milk in lieu of creamer and flavorings. However, none of this should deter you. Especially when paired with a tasty sweet like The Big Pink, a stronger coffee taste can be quite complementing. If you find yourself around the Springfield area and in need of some extra pep, you'll also enjoy knowing that there's rarely ever a line. This means that getting a coffee from a welcoming Team Member is always quick and easy. At the very least, I say if it's good enough for Chief Wiggum, it's good enough for me.
Finnegan's Bar & Grill
Located in:
– New York, Universal Studios Florida
Coffee price range: $2.99 – $12.50 plus tax.
Finnegan's Bar & Grill offers a selection of 3 different coffee types: Cafe Latte, Cappuccino, and Espresso. This is already a solid start as it falls in line with most full-service restaurants' offerings, but anyone wanting some spirit with their bean brew can opt for a traditional Irish Coffee, which is a blend of Irish Whiskey and coffee. Astute readers may have noticed that this is technically an off-menu item since it's not officially listed, but don't worry — the fan-favorite restaurant has a full bar, meaning that they can craft just about anything you wish. All you'd need to do is simply request it from your server. Finnegan's typically requires that their patrons are seated in order to be served on which could take a while depending on their crowd level. I'd suggest taking advantage of the bar counter since they're the speedier choice to grab your beverage from.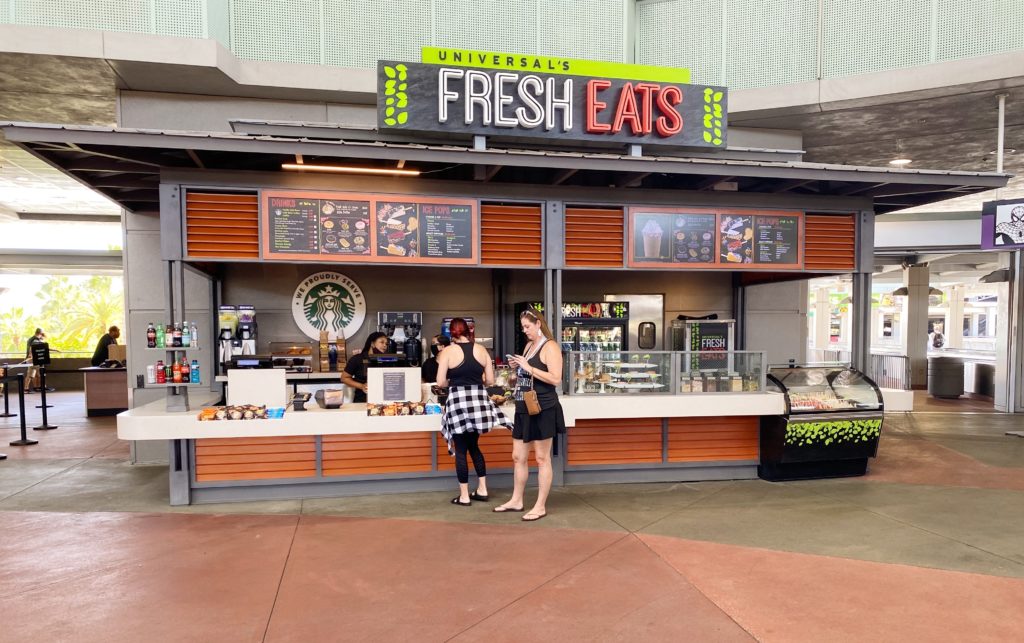 Universal's Fresh Eats
Location:
– Universal Orlando Security Rotunda
Coffee price range: $3.29 – $4.79 plus tax.
Much like Diagon Alley, The Fresh Eats stand is a vendor that's hidden in plain sight amongst the daily bustle of eager guests and a large souvenir venue nearby. They offer three options of Starbucks brews as part of their standard offerings: regular cold brew, Vanilla cold brew, and regular coffee, as well as seasonal selections like their Unicorn Frappuccino. As a precaution, it's worth mentioning that they're only purchasable in the company's "Grande" size, but it's still a decent spot to grab your coffee from. In addition to this venue serving Starbucks, this is another location with little to no wait on average since guests crossing through the rotunda are either more concerned about making their way through the Security gates or are too distracted by the rack of limited edition Back to the Future glassware and other eye-catching merchandise. They also have select offerings from Voodoo Donuts, which always pair perfectly with that cup of Joe as a quick breakfast before making your way to the parks.
That leads me to my next location.
Voodoo Doughnut
Located in:
– Universal CityWalk, by NBC Sports Grill & Brew
Coffee price range: $3.29 plus tax
Voodoo Doughnut has earned a nationwide reputation around their famed donuts, but I would contend that they should be also be known for coffee. Through a partnership with Portland-based Nosso Familia — a coffee company whose humble beginning was funded by a successful Kickstarter campaign — Voodoo Doughnut serves the coffee brand's Teodoro's Italian roast to their beloved patrons. This full-bodied, medium-dark blend's flavor is expressed with cocoa, roasted nuts, hints of woody spice, caramel, and a gentle touch of almond. In the spirit of transparency, I didn't know they offered coffee until fairly recently. Once I discovered this, I rushed over to give it a try and I have to say I was impressed by how much I enjoyed it. If you're like me and prefer a little extra flair to your brew, I'll always suggest adding a splash of half and half or creamer and opt for the addition of vanilla, hazelnut, or caramel for 79 cents. However, if you take yours black, it's still a smooth sip that will do the trick that I'm sure you'll enjoy. It is considered Nosso Familia's "crowd pleaser" after all.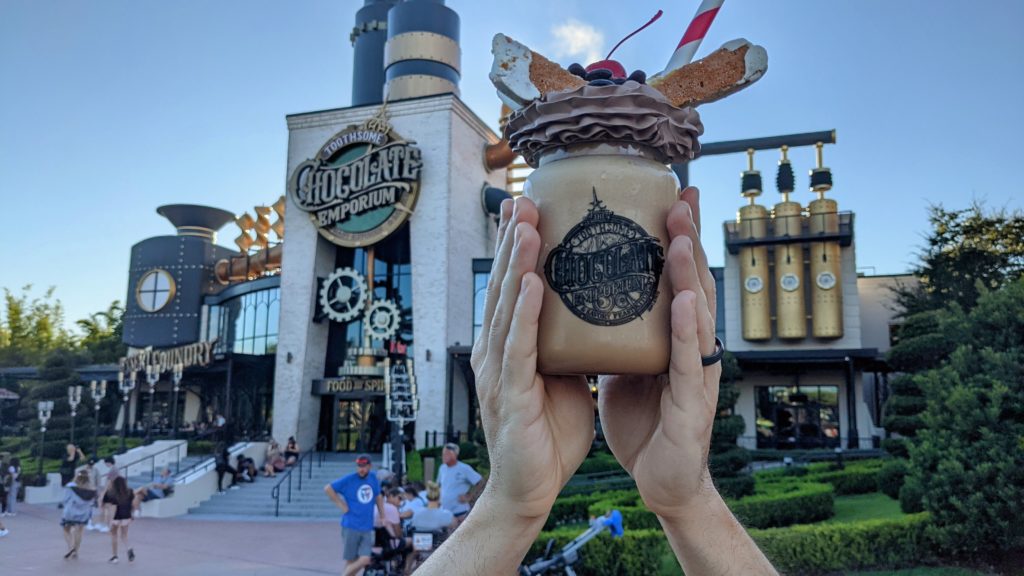 Toothsome's Chocolate Emporium
Located in:
– Universal CityWalk, between Islands of Adventure and Hard Rock Live
Coffee price range: $14.00 – $15.00 plus tax
Toothsome's is famous for two things: a passion for chocolate, and some impressive milkshakes. With that said, the latter's menu has something that every coffee lover can dig into — the Espresso Buzzzz! To make this incredible delectable, the establishment's confectioners fill one of their signature souvenir jars to the brim with a blend of coffee ice cream and fresh-brewed espresso. They then top and rim the jar with a chocolate mousse whip, chocolate-covered espresso beans, four biscotti cookies, and a single maraschino cherry. It's almost too beautiful to consume, but consume you will! While it does lean more into the dessert category, it's a sweet treat that will still provide a perk to your step and serve as the perfect way to treat yourself. Although you'll have to grab yourself a reservation and table for this last one, it's more than worth the effort. Toothsome's full-service restaurant also has the Chocolate Coffee Banana, which is a cocktail made up of Caribe Club banana rum, Galliano Ristretto coffee liqueur, Faretti chocolate, soy milk, and chocolate bitters — a perfect potable for a post-meal-pick-me-up.
We hope this list makes your future coffee pursuits at Universal Orlando Resort easier! With so many options to choose from, you're sure to find something to enjoy and keep the fun going.
---
What's your go-to spot for coffee at Universal Orlando Resort? Be sure to follow Orlando Informer on Facebook, Twitter, and Instagram for the latest news, tips, and more at Universal Orlando, Walt Disney World, and other Orlando attractions.