In typical Universal fashion, in which construction projects start without any sort of advance warning, there has been something of a mystery afoot at CityWalk, Universal Orlando Resort's dining/shopping/entertainment district, for almost the past year-and-a-half. On December 23, 2019, the first of a small string of shops ended up closing – Fresh Produce, a women's apparel store that had its basis in Boulder, Colorado and that had a reach that extended out to Canada and the Caribbean (we're using the past tense here because the entire company is, after 36 years of operation, officially "on vacation" right now, citing the economic fallout from the ongoing COVID-19 pandemic). This was followed by The Island Clothing Co. on January 15, 2020 (the same month that the 18-year-old company also folded, cutting its stores in Florida and the Caribbean), Fossil on February 23, and P!Q on February 25 (which is a notable development, as the Universal location was the only one P!Q had outside of New York).
What these stores had in common was that they were all situated close to one another in the CityWalk topography, lining up on the main drag towards the waterfront and then taking a right, stretching out along the way to Voodoo Doughnut and NBC Sports Grill & Brew (and, beyond them, following the path to its ultimate terminus, Universal Studios Florida). And this geography helps to resolve the mystery of their closure and all the subsequent building that has gone on in their place: Universal has today announced, via a series of concept art that is displayed on the area's construction walls, that all of these formerly separate lots will be combined into one large retail space, which will be home to a brand-new Universal Studios Store.
It's a revelation that raises a couple of good questions, which we're now going to tackle, one by one.
What is the Universal Studios Store?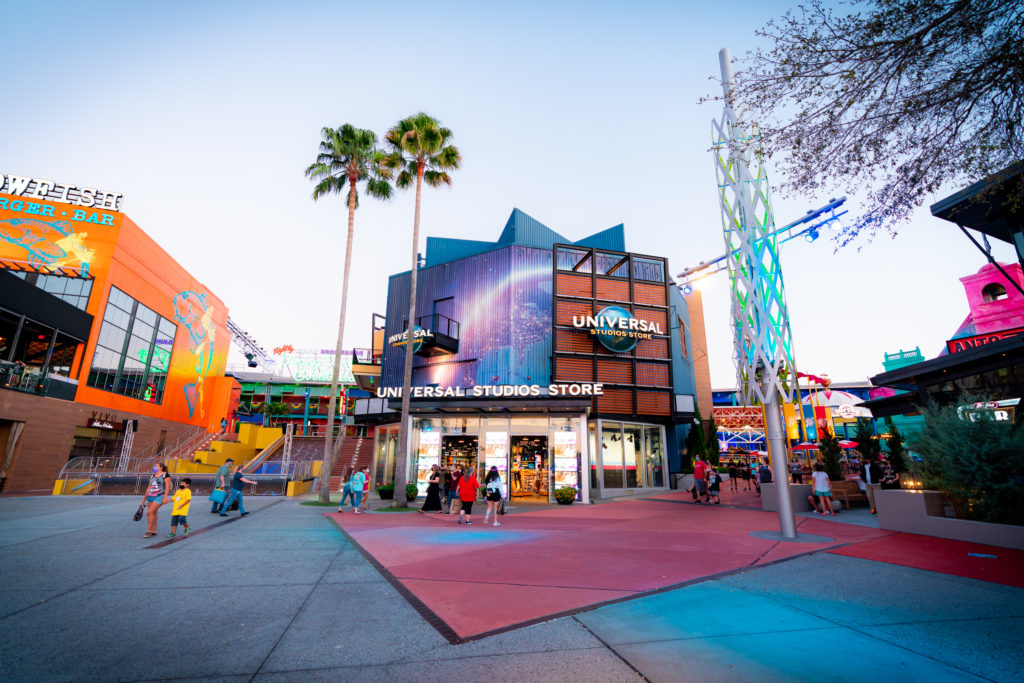 The Universal Studios Store is the flagship retail space in CityWalk, brandishing many a Universal-branded item that, in part, come from the two theme parks of Universal Studios Florida and Islands of Adventure; more specifically, you can get Universal Studios apparel and tchotchkes, along with a heaping helping of character-specific merchandise ("take home a bit of movie magic," as Universal itself is fond of saying).
Although this headlining store was a part of Universal Orlando's entertainment district long before its 2014 makeover, that renovation really upgraded and modernized its retail experience – now sleek and stylish, with an emphasis on the then-new practice of curvy pathways dotted with enclaves and "story moments," the Studios Store was ready to proudly welcome all those many guests who arrived for such brand-new additions as The Cowfish Sushi Burger Bar and, more especially, The Wizarding World of Harry Potter – Diagon Alley. And its influence can easily be seen elsewhere in the resort in the seven years since its (re)opening – its retail approach has been adopted, and taken to the nth degree, by the Halloween Horror Nights Tribute Store, which has itself influenced the creation of such a retail/narrative space for Mardi Gras and the Holidays.
How will this new Universal Studios Store be different from the previous one?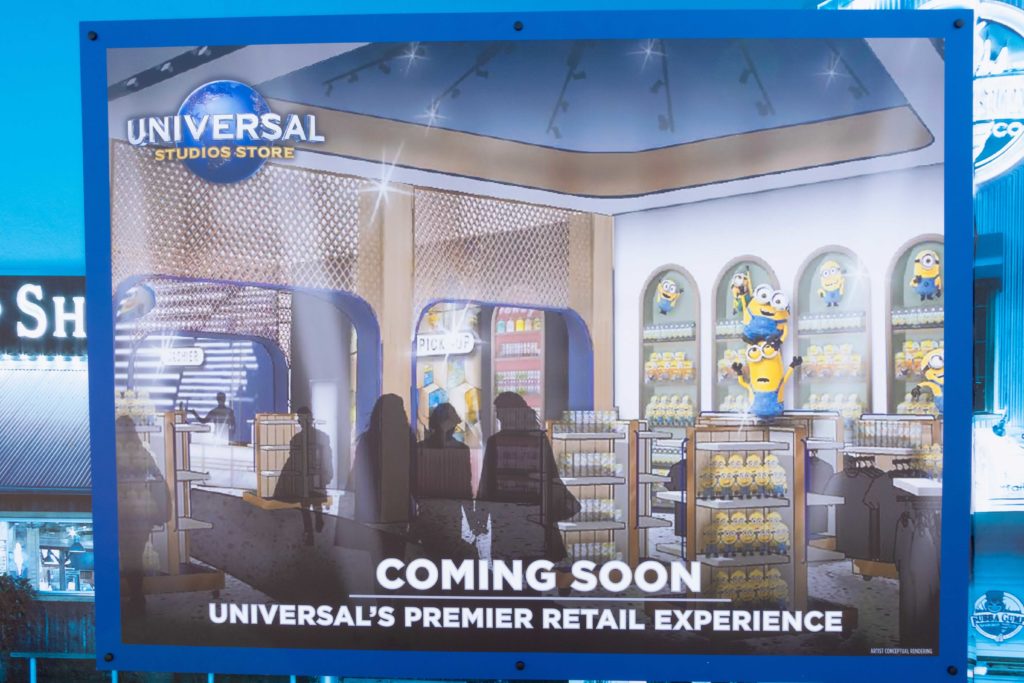 For starters, this new Universal Studios Store iteration is itself a vast upgrade from its previous, 2014 form – at least, on the outside, which is mostly what we've gotten a look at so far. Grand, stylish, and impressive, the new facade promises a similar experience on its interior, where it will presumably carry all of the various merchandise that the old location previously housed (the only direct glimpse offered inside thus far shows a heaping helping of Minions items).
If, however, you'd like a possible hint of what else may be coming, we have you covered: if you look really closely at one of the pieces of concept art currently on display at CityWalk, you can see the rather familiar-looking Super Mario logo, replete with two plumber brothers flanking it. While this is in no way a confirmation – Universal sometimes has the tendency, like other companies in similar situations, to insert placeholder imagery or items in its pre-release artwork – it just may be that a little slice of Nintendo heaven will be coming to Universal Orlando Resort years before the theme-park land arrives at Epic Universe (which would actually kind of mirror what transpired at Universal Studios Japan, as well, which got the Mario Cafe & Store months before the dedicated area first welcomed guests).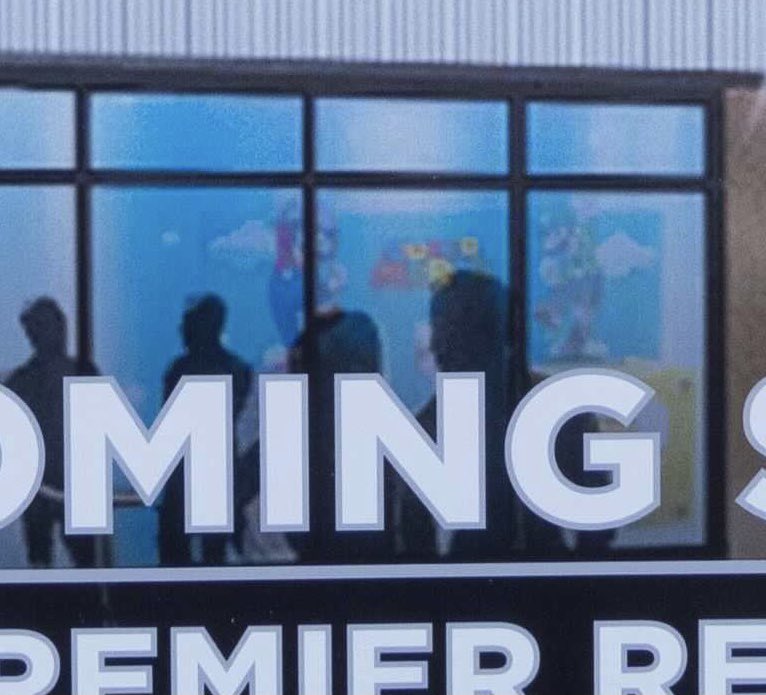 We are waiting for further details from Universal, which we'll hopefully have soon.
What will happen to the old Universal Studios Store at CityWalk?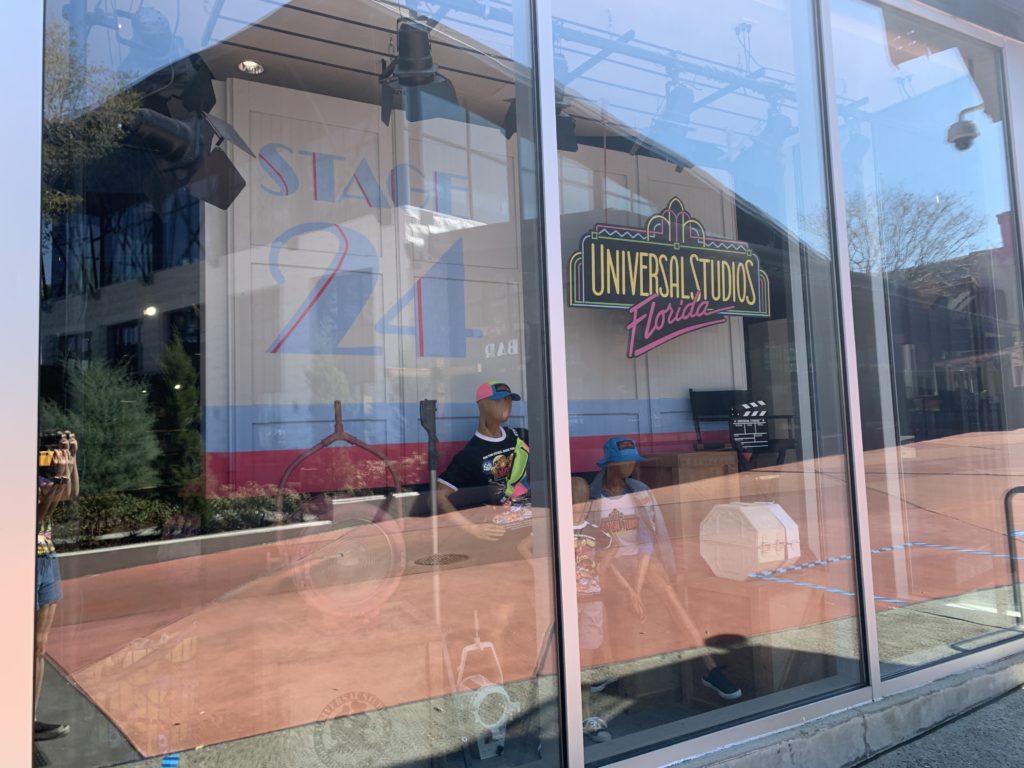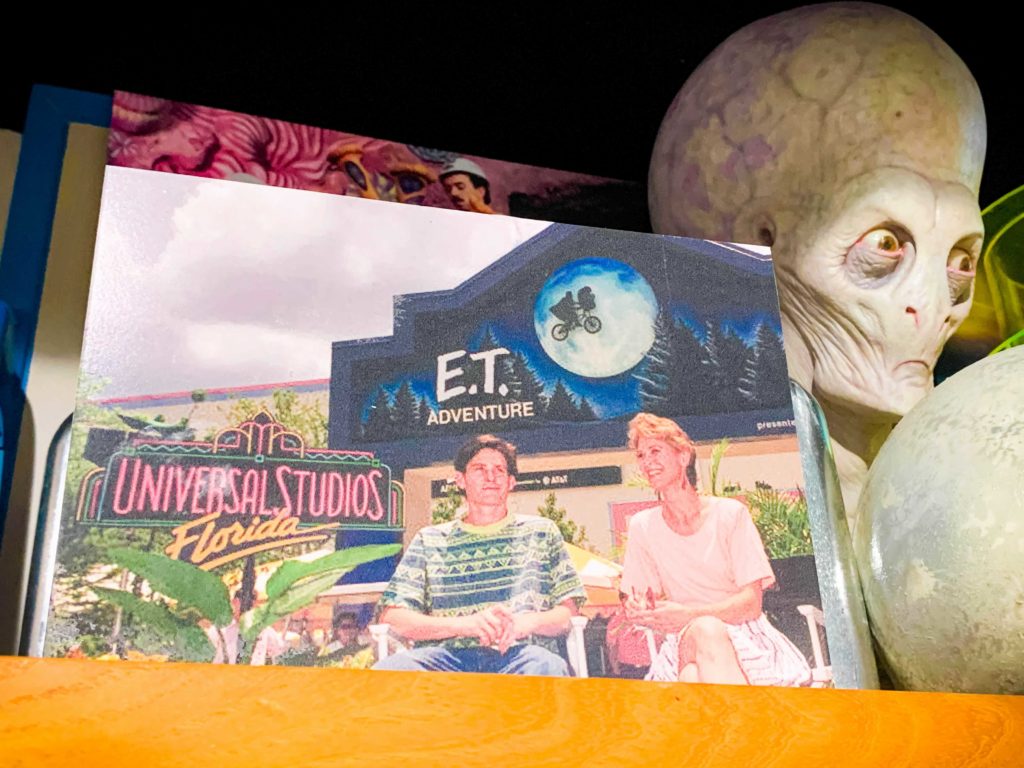 It would, of course, be logical to assume that the old Universal Studios Store would close down, but, in point of fact, this isn't happening – the old premises are actually seeing something of an overhaul, making them into a slightly different beast. (It's unknown whether the shop will see a name change, helping to differentiate it from the new "premier retail experience" at Universal Orlando.)
This old location is currently in the process of becoming a haven of retro items and memorabilia from the resort's past, stretching all the way back to Universal Studios Florida's opening day in 1990, when it was a sole theme park surrounded by a giant, open parking lot. In fact, this callback to yesteryear starts with the display windows, which now boast replicas of what the park's original soundstages used to look like (back when they were supposed to be filled with active film and television productions as opposed to Halloween Horror Nights haunted houses). Surrounding them are various props of crates and lighting equipment, creating a type of balance between historical artifacts and thematic place setting for the mannequins that show off the latest in vintage fashion.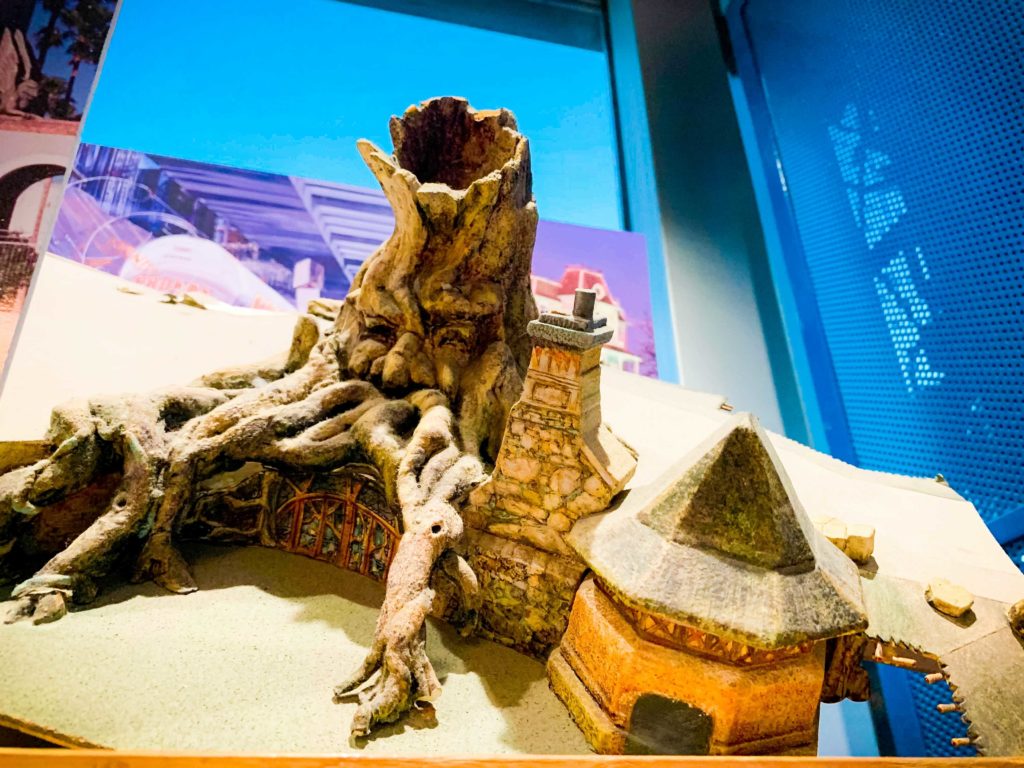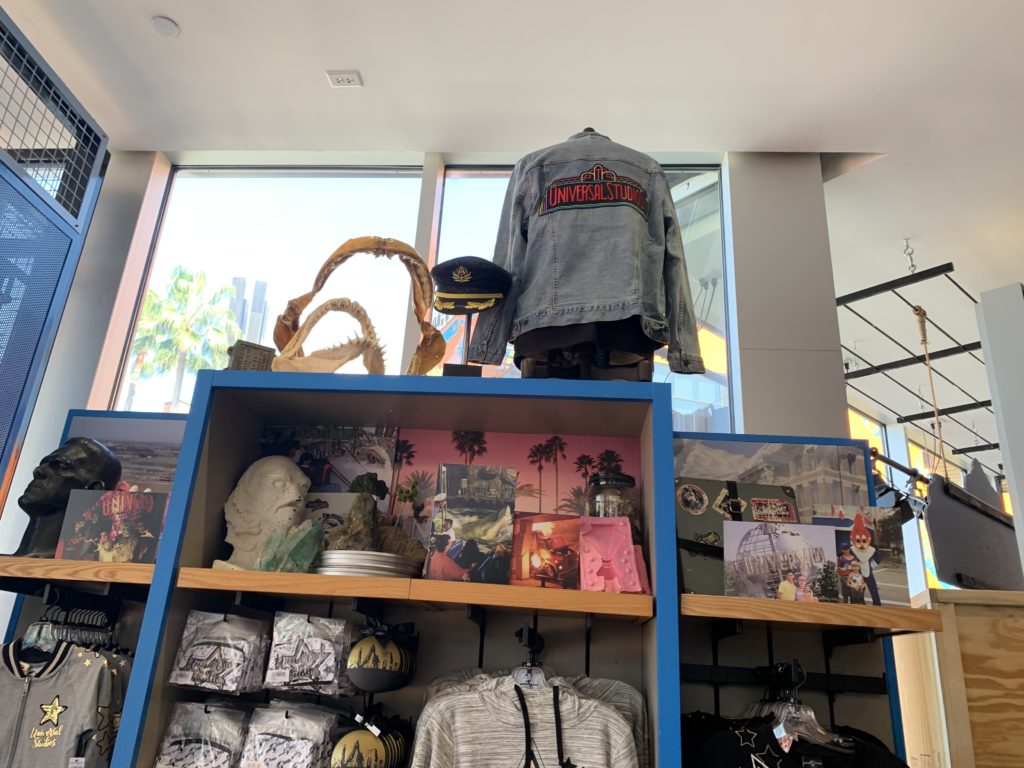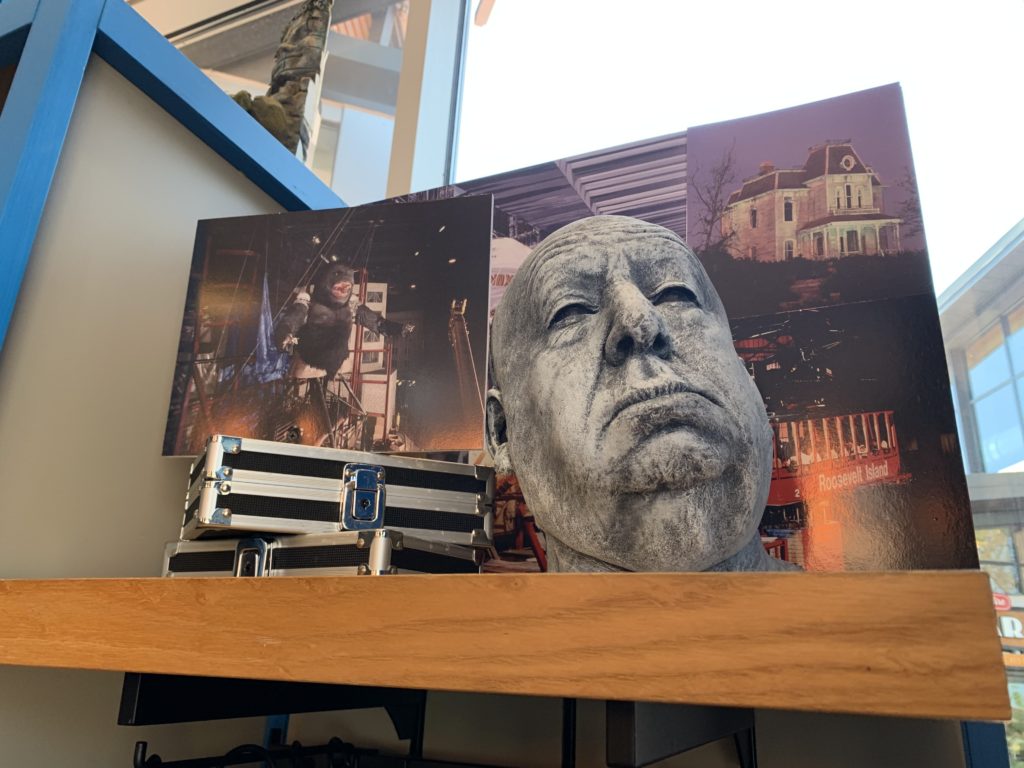 This hybrid motif continues on into the interior, which sees clusters of merchandise embedded within various tableaus – think of it (ironically) as a light version of the Tribute Store, with items for sale that come partially from the 30th anniversary collection that initially hit last summer and partially from the Film Vault store located in Universal Studios Florida's New York backlot (that is to say, souvenirs inspired by such classic attractions as Back to the Future: The Ride, Jaws, and Ghostbusters Spooktacular). Although still in the middle of its metamorphosis, there are already tons of pictures, both behind-the-scenes and during the opening days, of the now-extinct rides of E.T. Adventure, Kongfrontration, and Alfred Hitchcock: The Art of Making Movies, along with a model of the majestic Enchanted Oak Tavern, which was gutted and refurbished into Harry Potter's Three Broomsticks a little over a decade ago.
It'll be interesting to see just how different the former Universal Studios Store will look once this transformation is complete.
---
Discuss everything CityWalk – and Universal Orlando – with 120,000+ other theme-park fans in our Orlando Informer Community on Facebook.
And be sure to follow Orlando Informer on Facebook, Twitter, and Instagram for the latest news and tips at Universal Orlando, Walt Disney World, and other Orlando destinations.