At 4:00 pm (or so) on Thursday, May 14, Universal CityWalk Orlando reopened for the first time since March 17, enacting a raft of new restrictions and sanitary guidelines in order to maintain safety during the ongoing COVID-19 pandemic. Several Orlando Informer team members made the trek to witness all the new processes and requirements and report back on them for all the rest of us.
What is it like to visit Universal Orlando's dining/shopping/entertainment district while all the rest of the resort is still shut down (until June 1, that is)? Let's find out.
How do I enter CityWalk?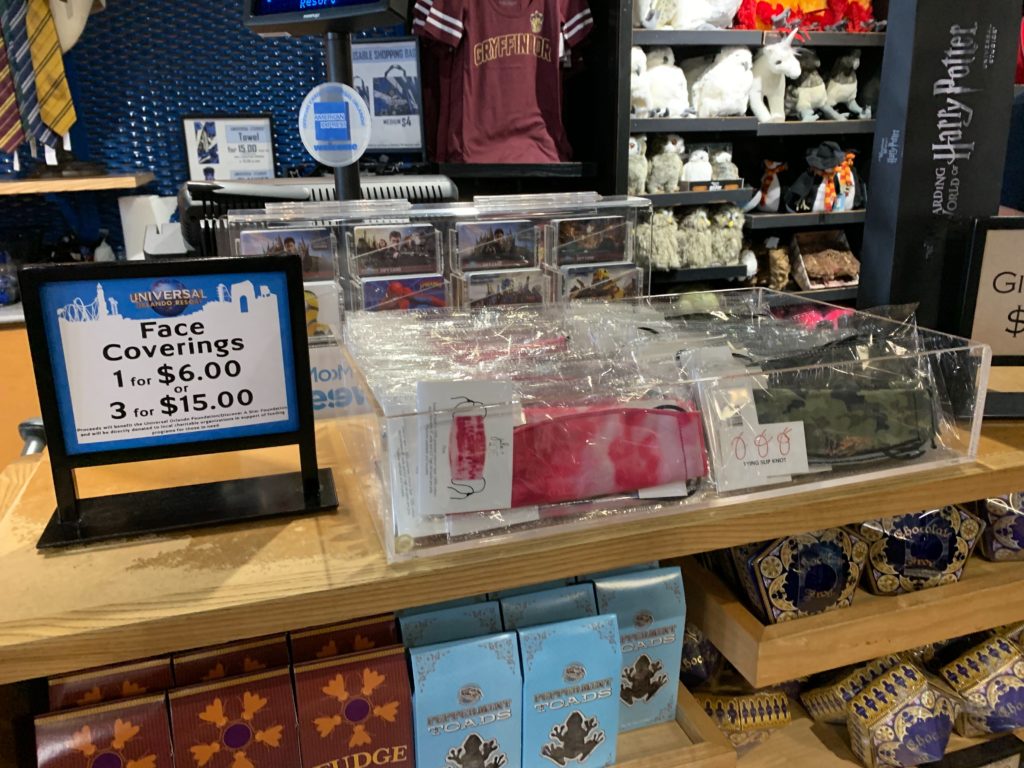 Before you can even get into any type of security-check station, you first, of course, have to park, and it's here where you'll notice the very first changes: every other parking spot has been blocked off with a cone, ensuring that guests will maintain that federally suggested minimum of six feet. Once the row fills up, the cones are all removed, enabling the next wave of visitors to fill the remaining slots. (We should point out that self-parking is free for the time being – it's normally $26 – and that valet is currently unavailable.)
Ordinarily, from here, you'd head straight to the security checkpoint, but there is now a health-screening stop first, in the garage area. Here, a Universal team member, decked out in full face guard as well as the ubiquitous mask, will very quickly check your temperature; if you're at 100.3 or lower, you're allowed entry. Also here is where you'll have to put your mask on if you haven't done so already, and if you've forgotten yours at home, you can pick some up at the transportation hub's merchandise kiosk (one is $6, while three come in at $15 – and while none are Universal-themed, the proceeds do go to charity). While waiting in line, you'll notice that a series of social-distancing stickers have been laid out, which have been placed exactly six feet apart from one another – this is a practice that will continue on at waiting areas all throughout the complex.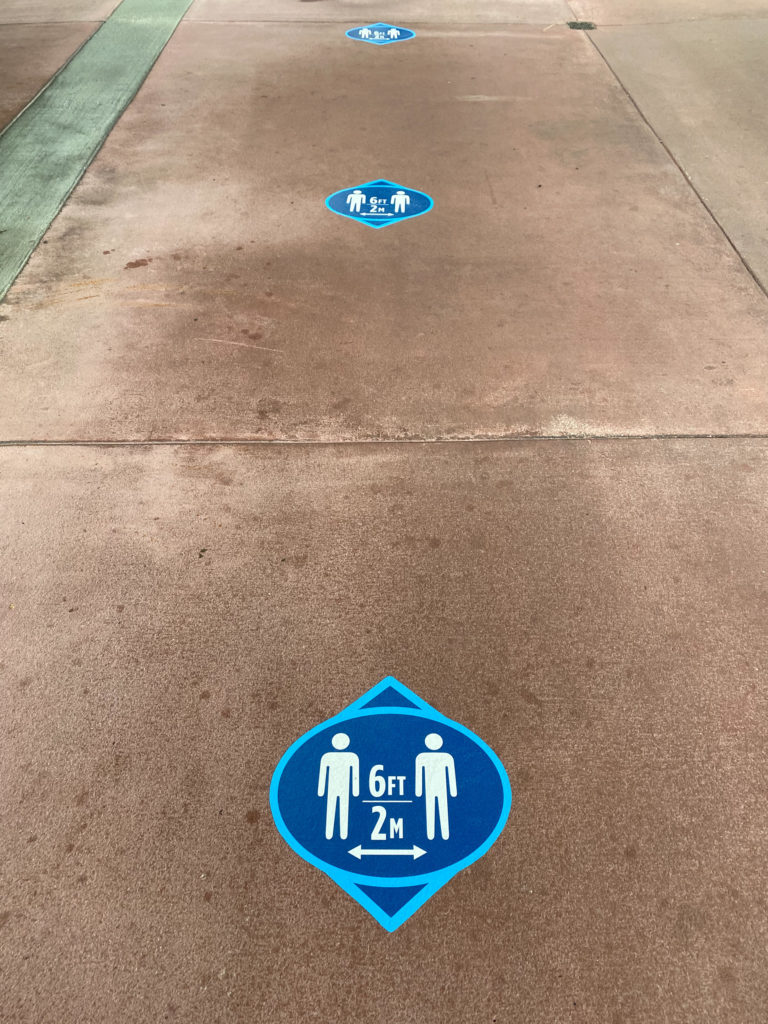 Finally, once the health checkpoint has been cleared, you'll make your way on to security, which proceeds as before – just with the presence of the markers on the floor, obviously. (One thing we did notice yesterday was the tendency for guests to sort of bunch up in the transition from the temperature check to the security check, so please be careful to maintain your distance from those around you.)
From there, of course, it's on to the main draw: CityWalk itself.
What does CityWalk feel like now?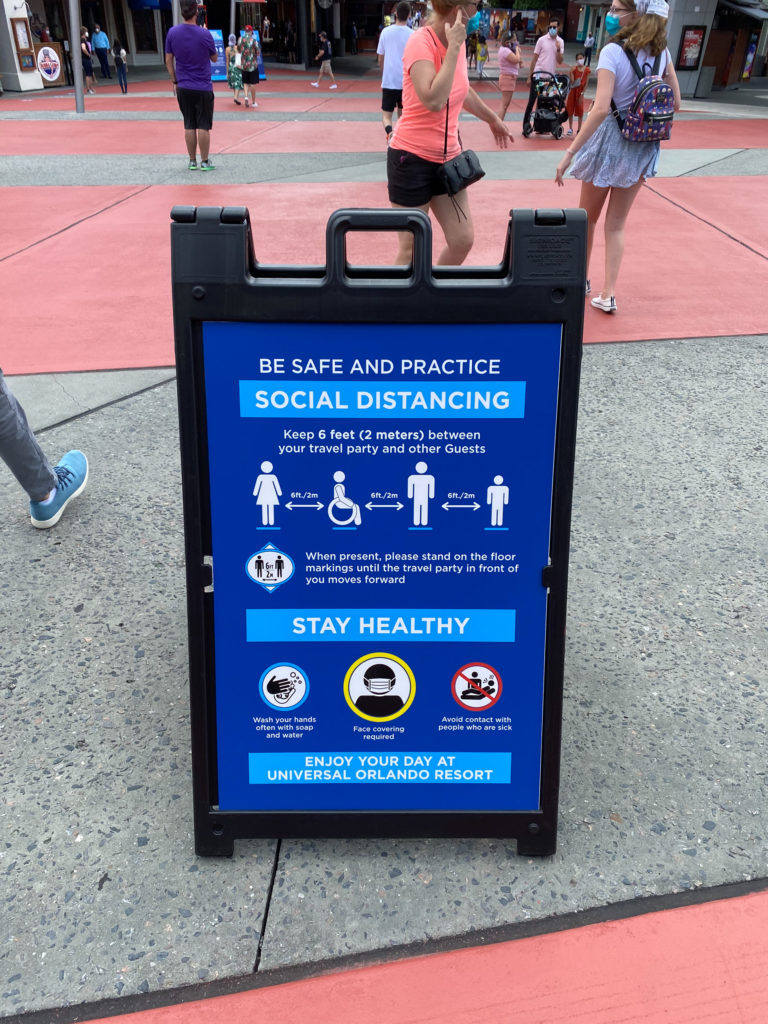 It was definitely a little surreal to be back at Universal CityWalk Orlando after a 58-day absence, but it was also – needless to say, in the middle of an international quarantine – exciting. And we noticed several changes, both big and small, that occurred during the shutdown and that, naturally, result from all the new procedures that have been put in place.
First things first, though – here's just a quick rundown of what you can expect to currently find open at Universal's dining and retail sector:
Restaurants: Auntie Anne's Pretzels, Bubba Gump Shrimp Co., Cinnabon, Cold Stone Creamery, Hard Rock Cafe Orlando, Hot Dog Hall of Fame, Jimmy Buffet's Margaritaville, Lone Palm Airport, NBC Sports Grill & Brew, Red Oven Pizza Bakery, Starbucks Coffee, Toothsome Chocolate Emporium, VIVO Italian Kitchen, and Voodoo Doughnut.
Stores: Airbrush kiosk, Hart & Huntington Tattoo Company (just the retail side, though they were taking tattoo appointments for late June and beyond), the Universal Studios Store, and a handful of other kiosks/merchandise carts.
Entertainment: Hollywood Drive-In Golf.
(We keep a running list of what's open at CityWalk in our constantly updated article.)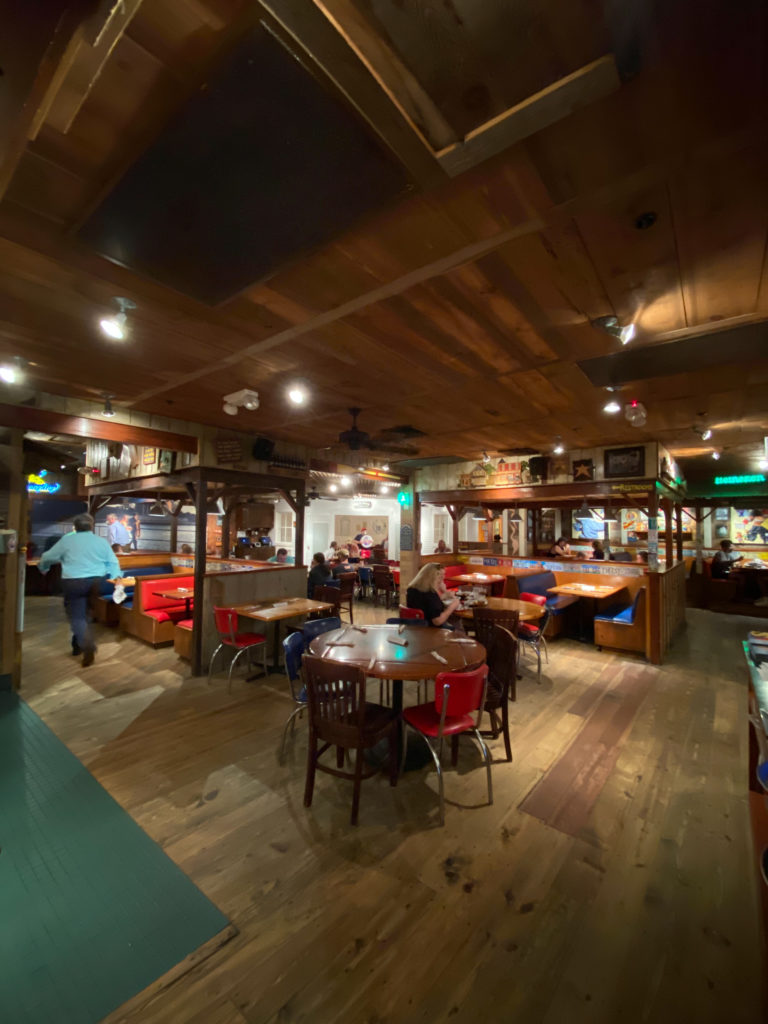 Each of the full-service venues had parties wait outside before being called to the hostess to be seated, while the quick-service ones significantly limited the amount of people who could be in the building at one time to order (at Red Oven, for instance, only one party was allowed to enter at a time). Furthermore, at all restaurants tables were either blocked off or spaced out appropriately enough to ensure social distancing was being maintained, and even at the merchandise locations, floor markings were set out to show where customers should wait while their purchases were being processed. And, finally, Universal tried its best to encourage all patrons to place their food orders beforehand using mobile order and to pay cashlessly through such options as Apple Pay. (Yes, you're allowed to remove your mask while eating, to answer an oft-asked question throughout the day yesterday.)
Even with these restrictions in place, and the lower-than-normal crowd levels, there was still a thrum of excitement at CityWalk, to be back in public and walking among restaurants, shops, and other visitors having fun. There were two team members talking on microphones about the reopening, including the temporary increase of annual passholder discounts, and Universal even decided to mark the occasion by having four drummers set up on the second floor of the complex, playing for and waving at guests as they filed back in for the first in almost two months.
One of the things that we – being the Universal Orlando obsessives that we are – were most interested to see were all the little details that had changed since last we were there, on March 16. Some paint seemed to be rather fresh, touching up, say, the floor in certain spots, and a new construction wall was set up over some of the stores that started to permanently close all the way back in December 2019, including Fresh Produce and P!Q. It's nice to see that, while unpleasant, Universal has still been taking at least a little advantage of the time away.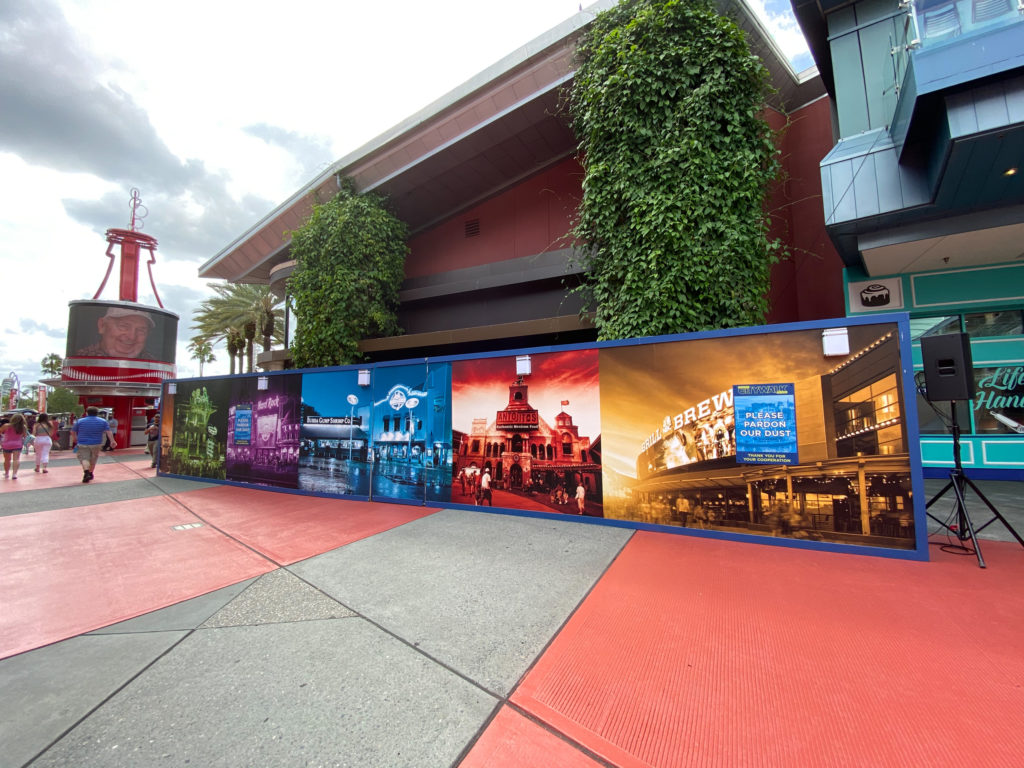 Although the two theme parks are closed, visitors are still able to make their way right up to the front gates of Islands of Adventure (and almost to Universal Studios Florida, which has some construction going on around the fountain in its entry plaza), which provided for some nice, nostalgia-filled photo ops – even though the item that a number of fans have said they missed the most, the entry music, was, sadly, turned off.
It seemed to be a successful first night of reopening, with most individuals adhering to the new social-distancing and sanitation guidelines, and it'll be interesting to see how Universal shepherds both the area and guests from this first phase to the next.
I'd like more theme-park COVID info, please!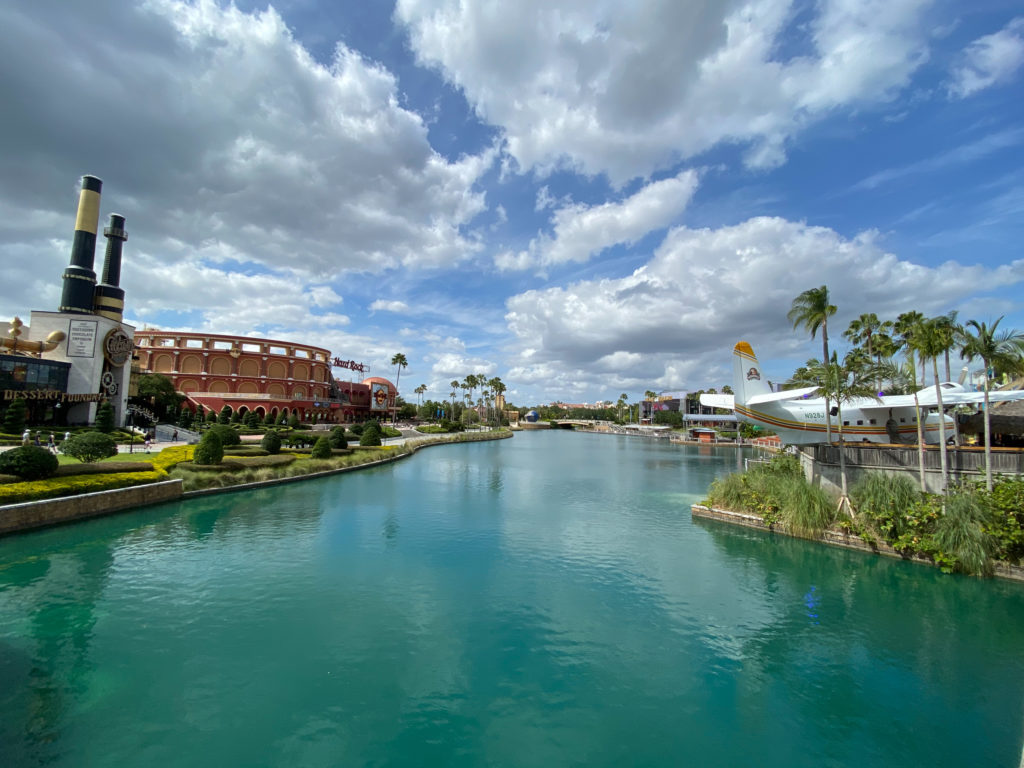 Sure! We'd be happy to help.
Here are the articles that we've been consistently maintaining during this COVID-19 period:
Walt Disney World and Universal Orlando first shut down
The theme-park resorts start to open back up
How to visit Disney Springs during COVID-19
How the Shanghai Disney reopening could influence its Stateside counterparts
Universal Orlando's reopening plans
Universal CityWalk Orlando is currently open daily from 4:00 pm to 10:00 pm, although times and participating venues are subject to change. We'll do our best to keep this article updated with the latest details.
Last updated 12:48 pm, June 1, 2020
–
Have questions about the phased reopening at CityWalk? Ask 100,000+ other Universal die-hards in our Orlando Informer Community on Facebook.
And be sure to follow Orlando Informer on Facebook, Twitter, and Instagram for the latest news and tips at Universal Orlando, Walt Disney World, and other Orlando destinations.