UPDATE (07.29.18): during this year's Midsummer Scream panel, Universal had a few surprises up its sleeve regarding the Killer Klowns from Outer Space scare zone – most, if not all, of the Klowns from the cult film will be represented on the streets of Universal Studios Florida, as will the infamous ice cream truck.
Okay, yes – Universal may have announced the first three scare zones for Halloween Horror Nights 2018 back on June 7, but the remaining two are, arguably, the two more interesting developments; not only are both based on intellectual properties, they are two of the most beloved IPs from the 1980s. Seeing as how that particular decade serves as the main source of inspiration for this year's event, that's no small feat (nor is the fact that both of these movies are almost the exact opposite of one another, at least in terms of their output and cultural shelf-life).
Let's dive into these final two scare zones, then, to get the run-down on their histories and see how they complement the previously-announced areas.
Revenge of Chucky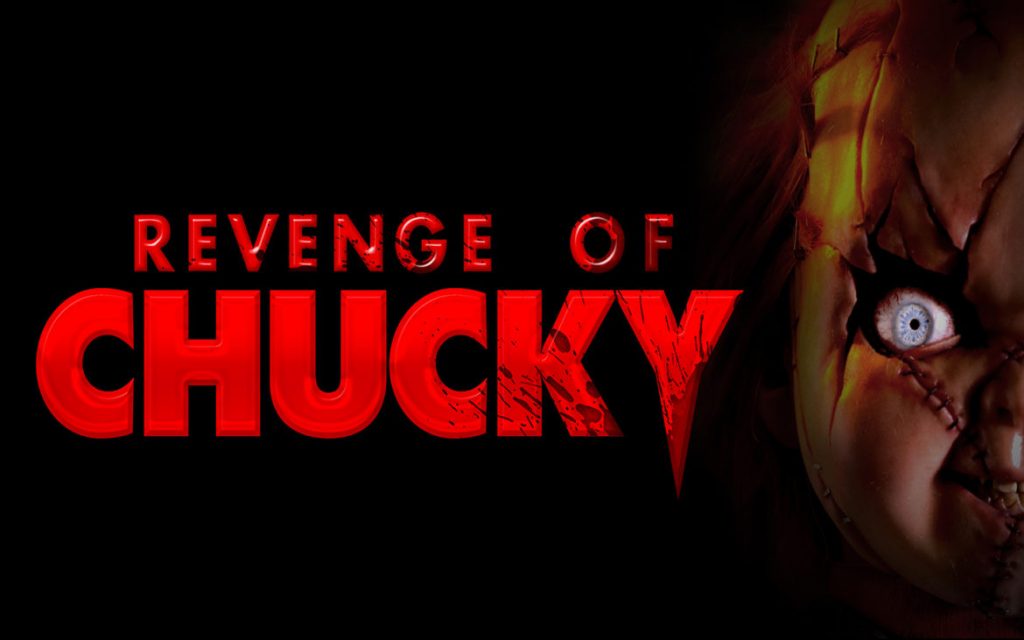 A king of '80s pop culture and horror cinema both, the franchise we now know as Chucky originally started life as Child's Play in 1988, using a Cabbage Patch Kids doll as inspiration for the somewhat-whacky premise: the soul of a serial killer, Charles Lee Ray, is transported into a fictitious Good Guy doll, which then enables Ray to embark on a second killing spree. The box-office success of the movie allowed the same narrative premise to essentially be repeated for two additional releases, Child's Play 2 and Child's Play 3: Looks Who's Stalking, over the course of the next three years.
After lying dormant for most of the '90s, the series was picked back up, dusted off, and given the new moniker of Chucky in 1998, which, in turn, ultimately unleashed a new wave of films, both theatrical and direct-to-video: Bride of Chucky (1998), Seed of Chucky (2004), Curse of Chucky (2013), and, most recently, Cult of Chucky (2017). This second sub-series moves the tone decidedly to the campier end of the spectrum, becoming more black comedy than straight horror release, and expands the cast to include Charles Lee Ray's former girlfriend, Tiffany, who is murdered by the now-plastic Chucky and forced to spiritually reside within a bride doll alongside him.
During this two-decade rebirth process, the diminutive murderer has made a few appearances at Halloween Horror Nights, with his seminal showing being the Chucky: Friends 'til the End haunted house at 2009's event, which collected the at-the-time five Child's Play volumes together in one walk-through experience. (Our personal favorite utilization of Chucky, however, has to be the mini-lagoon show, set to Rob Zombie's "More Human Than Human," that Universal experimented with doing in 2012.) Chucky's returning to an '80s-themed HHN, then, is just as much expected as it is appropriate.
And what a return it is. Entitled Revenge of Chucky, this new scare zone is set at a toy fair which the titular character has turned into a bloodbath, twisting "these playthings into new nightmares" and commanding them "to carve up some horror." Look for murderous monkeys, deadly board games, and other possessed toys from our childhood, which will stalk guests as they make their way down the streets of Universal Studios Florida – or, as Universal itself puts it:
This scare zone will be a tortuous delight to behold as [Chucky] dishes out some revenge personally.
(Over at Universal Studios Hollywood, meanwhile, the Child's Play star has been an almost-constant presence, popping up in various haunted houses, scare zones, the Terror Tram [the nighttime, haunted version of the park's normal Production Tram Tour], and, even, stage shows – such as the now-infamous Chucky's Insult Emporium, which was stopped thanks to guest complaints of it being too, well, insulting.)
Interestingly enough, Revenge of Chucky may be just as much about the future as it is the past – the franchise is currently in the midst of two potential developments, with one on the big and one on the small screen. On the film front, the creators and producers have spent the past year pitching the various studios involved on a crossover production; entitled Freddy vs. Chucky: Child's Play on Elm Street, the movie would see Nightmare on Elm Street's Freddy Krueger pitched in a battle against Chucky, to see who could off the most teenagers in a single night.
— Don Mancini (@RealDonMancini) June 22, 2018
And in the television realm, a new eight-episode (mini?) series is being prepared. While there's no word on what channel or service it would ultimately appear on or what its premise would entail, we currently expect it to be a darker, more serious take on the character and for it to continue moving the overarching storyline forward – unlike nearly every other horror franchise out there (most especially Halloween), Child's Play has never been reset, rebooted, or (substantially) retconned, meaning that every new release builds upon all the previous ones.
Killer Klowns from Outer Space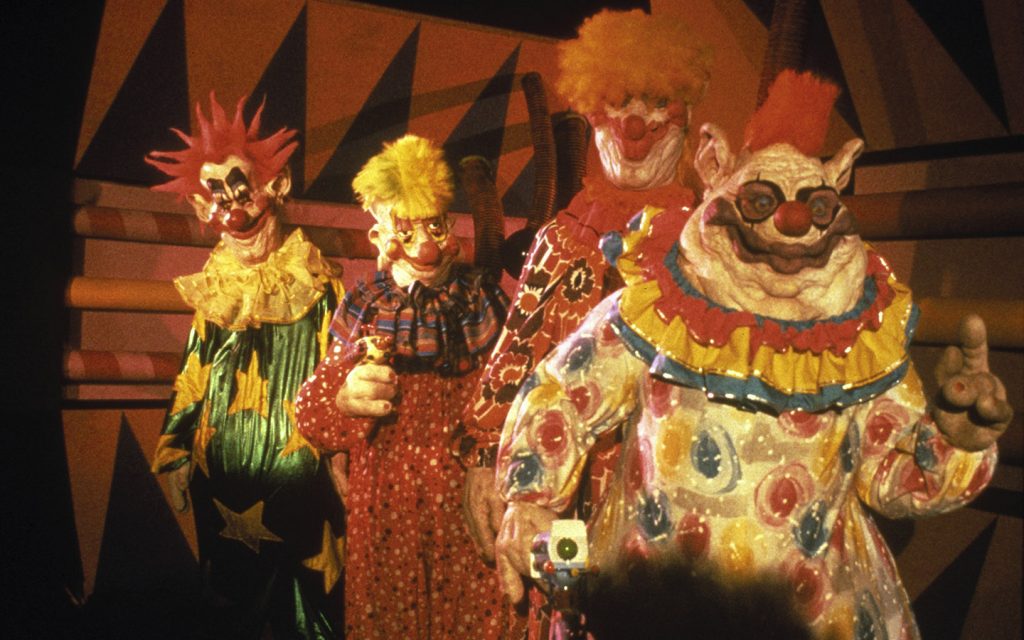 Killer Klowns from Outer Space may be only one film instead of seven, like Chucky, but it also celebrates its 30th anniversary this year, and it's also gone on to inhabit a special place in horror fans' hearts (the more nostalgic ones, at least).
Never heard of the property before? The basic gist goes a little something like this: usually (well) regarded as one of the hidden gems from the 1980s – it's even been called the king of the decade's B-flicks – the corny, occasionally-gory movie depicts an invasion of aliens that just so happen to look like carnival clowns, replete with big top-shaped UFOs and popcorn-shooting guns. The extraterrestrials are here to – what else? – harvest humans for sustenance, and they're not above using shadow puppets that come alive or the 18-foot-tall Jojo the Klownzilla to do it.
Such campiness is only half the reason that Killer Klowns is so fondly remembered – the other half has to do with its rather unique production design, visuals, and its soundtrack, which is straight out of a particularly bizarre episode of Stranger Things. All of these elements taken together help to explain not only why it was chosen for a Halloween Horror Nights scare zone, but also how it can be realized in the park: guests will be taken into the Killer Klowns' circus-tent domain, which comes replete with the smell of cotton candy, the aliens' main method of preserving their human crops. (It sounds as if last year's tongue-in-cheek Invasion! zone more than paved the way for this development.)
But lest you think that Killer Klowns from Outer Space is landing out of a (current) pop-culture void, the property has actually proven to have some legs as of late; in 2006, action figures based on the cult classic were released, and just this decade, the original filmmakers have been touting their plans to make their 1988 one-off into a full-fledged franchise, either on the silver or small screen. Sometimes referred to as Return of the Killer Klowns from Outer Space in 3D, this follow-up would be both sequel and remake (what Hollywood sometimes refers to, unimaginatively, as a "requel"), incorporating some of the original cast in minor roles while depicting the carnival aliens' return for their next batch of human victims.
Maybe the film's presence at this year's Horror Nights will serve to inject just a little more momentum behind this long-trapped-in-development-hell follow-up.
–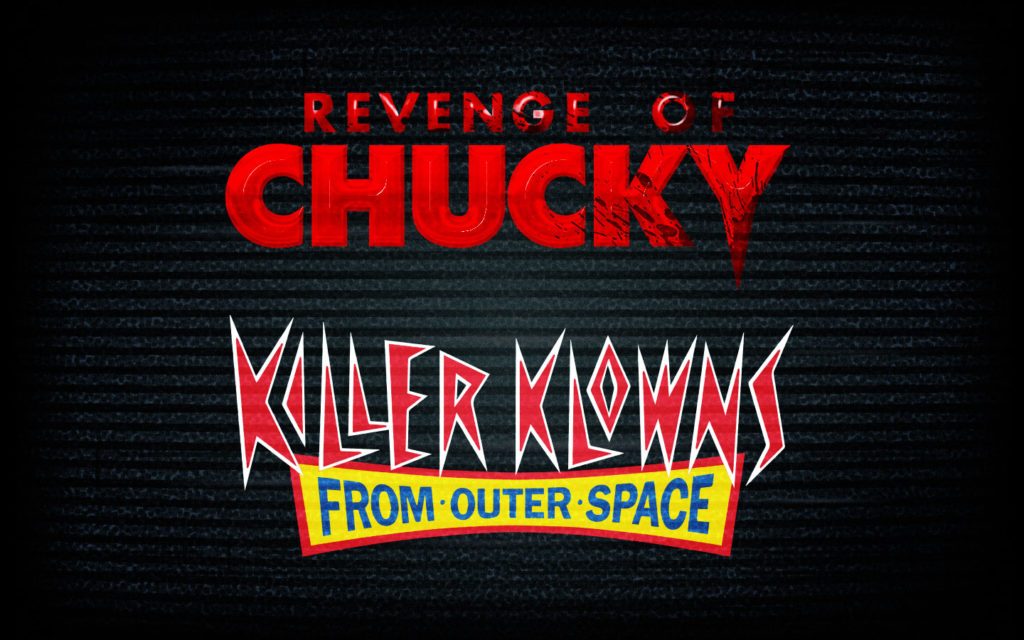 Chucky and Killer Klowns from Outer Space (the more comedic scare zones) join The Harvest, Twisted Tradition, and Vamp '85: New Year's Eve (the more serious ones – at least, as far as we currently know) at Universal Orlando's Halloween Horror Nights, which runs for a record-breaking 34 select nights, from Friday, September 14 to Saturday, November 3.
Find out everything you ever wanted to know about this year's event – plus more! – in our insider's guide. And, in the meantime, be sure to follow Orlando Informer on Facebook, Twitter, and Instagram for the latest news and tips at Universal Orlando, Walt Disney World, and other Orlando experiences.