Celebrating your birthday or special occasion at Universal Orlando
I've always considered my birthday to be one of the best days of the year, and I'm sure the majority of you reading this feel the same way. What could be better than visiting Orlando and, more specifically, Universal Orlando Resort on your special day? It's especially fun when you're trying to take the sting out of a particularly harsh milestone birthday, such as the big 4-0.
Here's everything you need to know when celebrating your very own best day of the year at Universal.
Get the button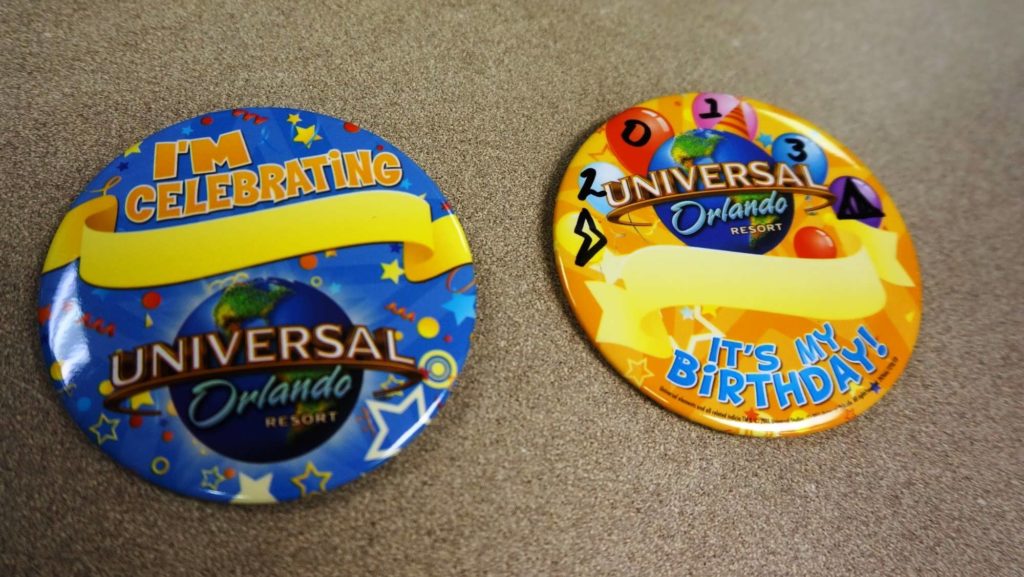 The first thing to do when you arrive at Universal's property is to get the official birthday button. This is a crucial step – without it, no one will know just how special this trip is.
To nab the button, simply visit Guest Services inside of either Universal Studios Florida or Islands of Adventure and let them know you are celebrating your special day. They'll ask for your name, and then write it on the button in the fanciest handwriting the team member can muster. (You can also get a celebration button for any other special occasion, from your first visit [like my 80-year-old parents a couple of years ago] to your anniversary. The sky's the limit, so be sure and snag a button if you want to celebrate in style!)
Just a note: you might be hesitant about asking for a birthday button if the day you are visiting is not your actual birthday. I'm here to let everybody know that Universal does not care about this in the slightest; they are very understanding about the fact that everybody's schedule is different, that some people can make it on their actual birthdays while others cannot. If people see you wearing that button, they'll simply know you're celebrating and will be none the wiser if your birthday was a week ago – or a week away. But be honest! Don't wear an old birthday button in July if your birthday is in December – we don't want to take advantage of Universal's generosity.
After you receive your birthday button and are making your way through the parks, you'll notice team members taking special notice of you. They'll smile, wave, and say, "Happy birthday!" loud enough for everybody around you to hear. If they are running a game booth, they will take advantage of their microphone and announce their happy birthday greeting even louder. So if you, Birthday Boy or Girl, are shy or loathe being the center of attention, but you still want to go to Universal on your birthday, consider wearing the button in a place where it can easily be concealed. Otherwise, wear that badge proudly, for the team members will rarely miss an opportunity to point you out to the crowd.
Speaking of which…
Hit up these attractions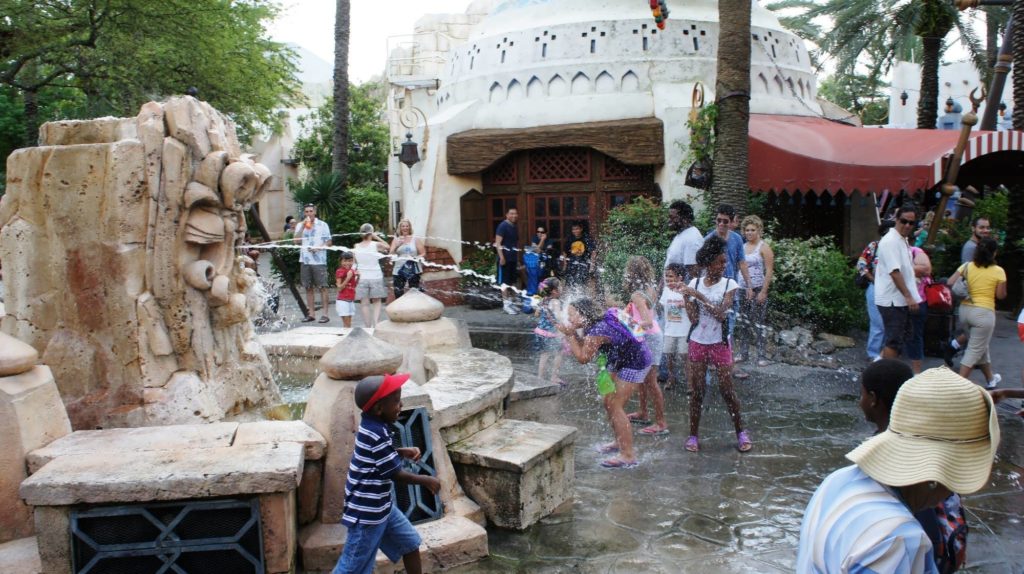 The best example of being highlighted by employees for me was on the High in the Sky Seuss Trolley Train Ride. On my birthday, when they saw me wearing my button, they asked me and the rest of my party to step aside; I'm assuming they did this so we could pick where we wanted to sit on the next train. Once we boarded and before we took off, one team member announced that it was a very special day, and rhymed about it being my birthday over the intercom in Seussian style.
Want to enjoy more singing just for you? Don't forget to visit the Mystic Fountain in The Lost Continent. All you have to do is tell it that it's your birthday, and it'll make a big show of squirting water all over the place, all the while singing with its own personal accompaniment. After it sang "Happy Birthday" to me, it played the Charlie's Angels theme song as my two friends and I walked away. The Fountain will comment on just about everything, from the way you talk to what you're wearing, and it won't stop talking to you until you leave. A personalized birthday song from the Mystic Fountain is a "don't miss!" on your special day.
The most beneficial part of having a birthday in Universal comes when you visit Ollivander's Wand Shop. As most of you who have already visited The Wizarding World of Harry Potter know, once you enter Ollivander's, the attending wizard "randomly" picks one person from a crowd of about 20 to have a wand chosen for them. This is when your birthday comes in handy – while not a guarantee, if you are wearing a birthday button when you go into the store, there's a good chance you'll get selected for the wand ceremony. What's more magical than having your wand choose you on your birthday? (If you already have a wand, though, you might want to hide your button, just to even out the playing field for the rest of the people in the group.)
Other birthday tips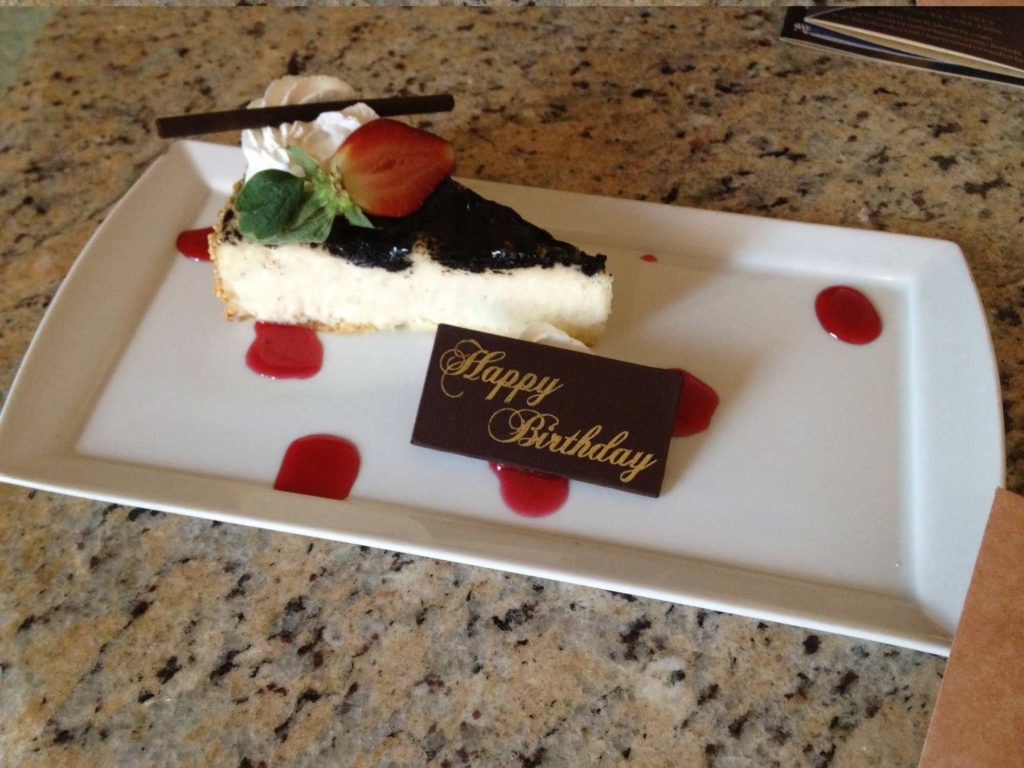 When I went for my birthday a couple of years ago, it was during the holidays, so I also took the opportunity to do things that I'd never done before around the parks, such as watch Universal's Holiday Parade Featuring Macy's, see the Grinchmas Who-liday Spectacular show, and do meet and greets with characters that I'd not visited before. If you're a frequent visitor to Universal Orlando, it's a great way to make your trip stand out from all your other visits even more. (I was also able to take advantage of the annual passholder deals they were running that month, including discounted hotel rates – so, if you're a passholder, be sure and watch out for those deals and see how they can help make your visit extra special.)
Also be sure and see if any of the restaurants in CityWalk have birthday clubs where you can get a discount or freebie that you can use on or around your birthday. Places that have programs like that will generally send you an email you can print out or show to get your deal. Be sure and have your ID handy, though, as they'll want to verify your birth date.
I've heard rumors of other unique things happening for people's birthdays, such as a free specialty drink or treat if the team member is so inclined, or getting priority admission to an attraction. These are most definitely not guaranteed and shouldn't be expected, but they do happen from time to time. Also, if you are staying on-site at Universal Orlando, be sure the hotel knows it is your special day by having it noted on your reservation – if you're lucky, you might have a surprise waiting in your room! (Though, again, I should stress that this isn't a guarantee, either.)
One way or another, if the team members at Universal know it's your birthday, they seem to do everything in their power to make your day the best that it can be.
–
Are you super pumped about your birthday or special occasion? Post a photo in the OI Community on Facebook and get well-wishes from over 50,000 of your fellow Universal enthusiasts!
And be sure to follow Orlando Informer on Facebook, Twitter, and Instagram for the latest news and tips at Universal Orlando, Walt Disney World, and other Orlando destinations.