Christmas kicked off at Walt Disney World today, and we decided to mark the occasion by attending the crown jewel of the resort, Magic Kingdom. While taking in all of the beautiful décor, which is just as captivating as it normally is, was certainly part of the plan, we also had something of an ulterior motive: seeing just how different it felt experiencing the holidays at the park during the time of COVID-19. It turns out there's quite a bit that was changed – given the necessities of social-distancing and other enhanced safety precautions, of course – but, then again, there's nothing quite like being in Main Street, U.S.A. during the most wonderful time of the year, no matter how abnormal of a year it may be.
This is perhaps best exemplified by all of the character cavalcades, an approach that was pioneered by Disney when it first reopened its parks back in July. Not only do they take on a decidedly festive flair for the season, but they also – in an interesting twist – mostly hail directly from the Mickey's Once upon a Christmastime Parade, a production that is ordinarily exclusive to the after-hours Mickey's Very Merry Christmas Party; that annual event has been cancelled for this year, just like we've seen with so many others all across Central Florida, and, as such, the Mouse House has decided to move a number of its contents to daytime operation at no additional surcharge. We spotted Toy Soldiers with the Main Street Philharmonic, gingerbread men, houses, and cars(!), and the usual motley crew of Mickey, Minnie, and Donald all in their holiday finest. (Yes, these mini-productions tend to operate in short bursts, but they definitely constitute the bulk of Once upon a Christmastime.) Even the Dapper Dans have somewhat jumped on the cavalcade train (no pun intended), serenading passersby on a horse-drawn trolley as they make their way down Main Street.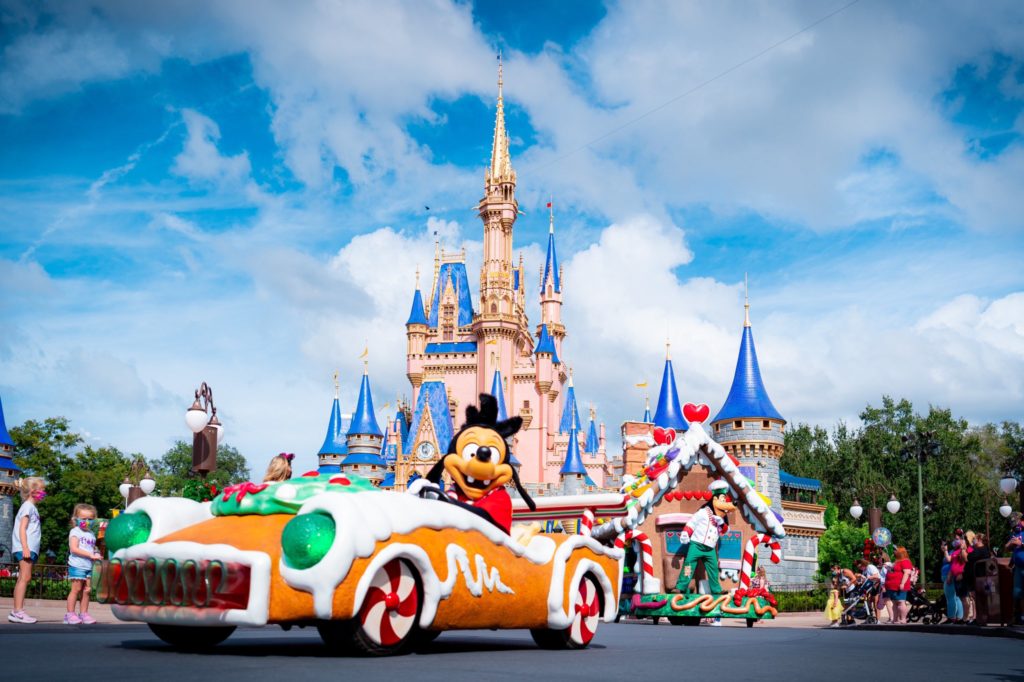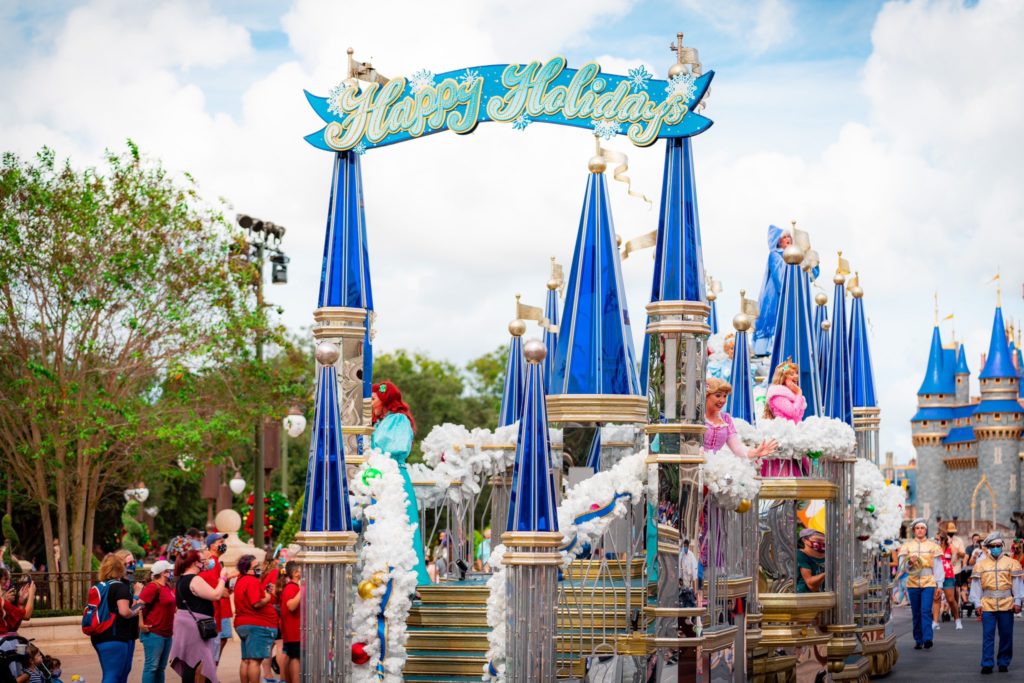 (Here's a fun fact for you: normally, Once upon a Christmastime Parade doesn't leave the exclusive territory of Mickey's Very Merry Christmas Party until Christmas Day [or so], when it's opened up for all guests to enjoy until New Year's. This makes 2020 one of the very first times that its various floats and denizens have walked down Main Street in the sun before Christmas Eve.)
The other huge alteration comes in the form of the fan-favorite Castle Dream Lights, a mini-projection-mapping show that envelopes Cinderella Castle with wonderfully festive lights and sounds (and, typically, Frozen paraphernalia). Given that audiences tended to camp out for long periods of time before showings would even begin, and given that crowds are to be avoided at all costs during a pandemic, this year will still see castle projections but not any that tell a particular narrative, Frozen or otherwise; instead, expect something along the lines of the iconic building being wrapped up like a present.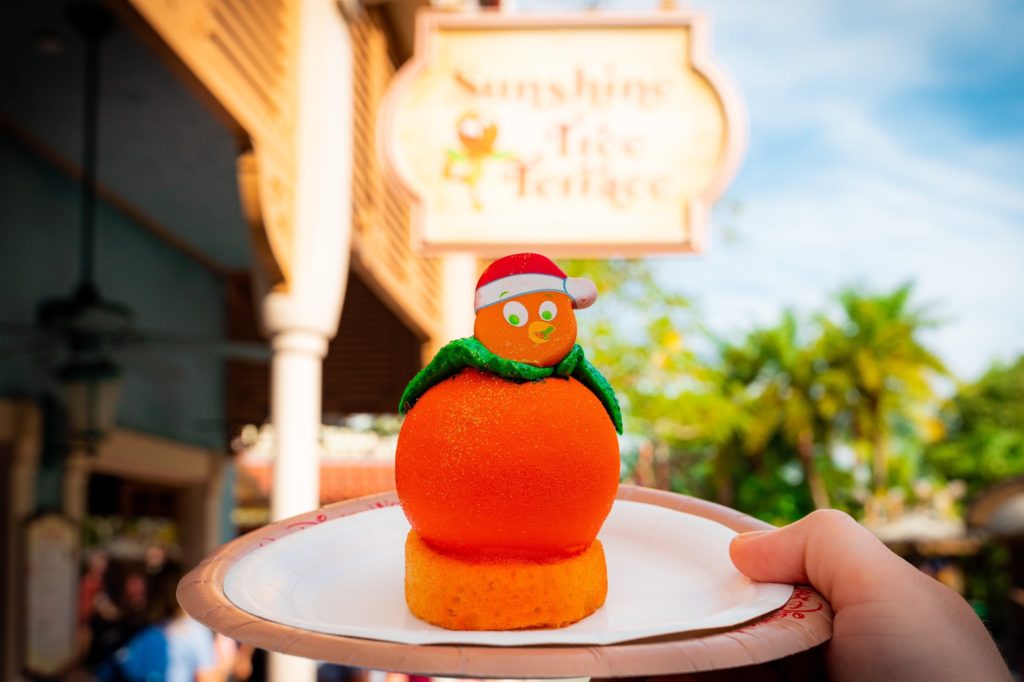 Those only happen after dusk, however, and, as we waited for this first magical day to progress to that point, we strolled down Main Street, U.S.A., checking out the fun new yuletide merchandise in the decked-out shop windows and, of course, enjoying the delicious seasonal treats (which are just as delicious as always). Oh, yeah – we also had a fun little surprise when we discovered that the Muppets started making appearances at Liberty Square. Although Kermit, Ms. Piggy, Fozzie Bear, and Sam Eagle don't interact with spectators, they do provide a wonderful, and socially distanced, photo-op – plus they managed to put an even bigger smile on our faces.
Meanwhile, over at the other Disney World theme parks…
Christmas festivities, of course, also started today at the three other Walt Disney World theme parks, and although we didn't make our way over to any of them (though we did manage to visit Animal Kingdom yesterday, we should point out), we have still been keeping an eye on what will be different over there.
At EPCOT, expect a truncated version of its typical Festival of the Holidays. Animal Kingdom, meanwhile, will see character cavalcades in the form of "festive flotillas," while Hollywood Studios just might end up stealing the show with a just-announced series of projections on the Hollywood Tower Hotel (the home, of course, of The Twilight Zone Tower of Terror), which sounds like a mini-version of the usual Sunset Seasons Greetings in years past. We can't wait to check out the legendary hotel being transformed into a Muppets gingerbread house or a Mickey's Christmas Carol-esque Dickensian village for ourselves.
---
We look forward to experiencing them all, in fact, and we look forward to sharing those experiences with you on our on Facebook, Twitter, and Instagram channels.
In the meantime, be sure to discuss your favorite parts of Christmas at Disney World with thousands of other fans in our Orlando Informer Community on Facebook!