Cedar's Restaurant: "Delight your tastebuds" with fine Lebanese cuisine
Cedar's restaurant is one of the many fine dining restaurants located on Orlando's Restaurant Row near Universal Orlando and International Drive.
Their website states:
This family-owned, Lebanese eatery includes Middle Eastern standards like shish kebob, falafel, and hummus as well as tasty daily specials … A tad more formal than the average Orlando-area Middle Eastern restaurant, Cedar's has tables with white linen tablecloths and diners who tend to go for casual attire.
We dropped by a few days ago to try out this restaurant dinner. Cedar's has both indoor and outdoor seating. You can click on any image to view it full-screen.
As you can tell from the pictures, the indoor space appears a little more formal than the outdoor space. Nevertheless, the attitude and the dress code is quite casual.
Here's a look at the menu:
We decided to play it a bit safe and started with the Hummus with Meat (hummus topped with sauteed meat and pine nuts), then for our entrees we ordered the Baked Kibbeh (Ground meat and cracked wheat, stuffed with meat, onion and pine nuts) and the Mixed Grille (Combination platter of ground meat mixed with parsley and onions, lamb cubes, and marinated chicken breast).
The service was prompt and friendly. Our appetizer arrived swiftly, followed by our entrees: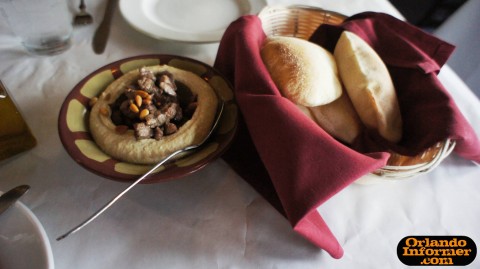 I very much enjoyed the food and the opportunity to taste seasoning and spicing we are not completely accustomed too. Overall it was a pleasant evening, and I would recommend this restaurant to those in the area who want to try authentic Lebanese cooking in a comfortable atmosphere.
Here are a few links for more information.
Official website: http://www.orlandocedars.com