A new event is coming to Loews Sapphire Falls Resort called Caribbean Carnival. The new event celebrates the culture and food of the Bahamas, Cuba, Jamaica, Barbados and Trinidad.
Attendees will be able to sample authentic Caribbean cuisine and participate in song and dance native to the Caribbean Islands, all at at Cayman Court at Loews Sapphire Falls Resort at Universal Orlando. There will also be limbo and of course, a conga line for guests to participate in.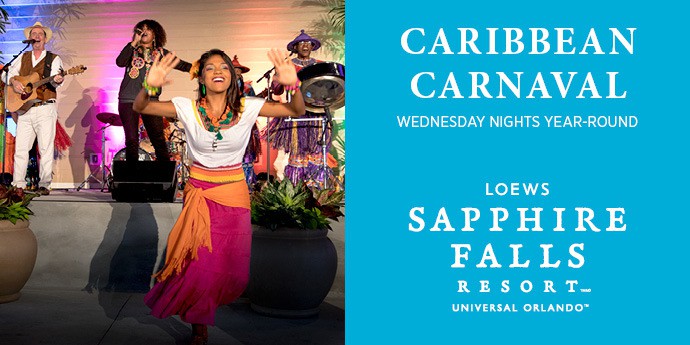 Tickets for the event are $69 for adults and $35 for children ages 3-9. There is also a priority ticket option, which gets you closer to the action with seating in the first two rows of tables nearest the stage. Those tickets are  $76 for adults and $40 for children ages 3-9.
Dinner begins at 6 with the festivities kicking off 7 PM and running until 7:45. Event comes with complimentary self parking or $5 valet parking. The event runs select dates April 5 – July 5.
For more details and ticket information, visit the official website here.