The Wizarding World of Harry Potter at Universal Orlando is a dream come true for many Harry Potter fans. Yet, unless you live in Central Florida, it may not be a trip you can take often — or at all. So we would like to show you how to enjoy one of the best offerings from the Wizarding World without having to buy a plane ticket. Proceed below to find a variety of Butterbeer recipes.
After considering many different butterbeer recipes, it seems there are two basic approaches when deciding on a recipe. While both approaches include directions for making a frothy head to top your butterbeer, the significant differences come in the making of the "beer" itself.
The simple approach involves adding some simple flavoring to cream soda. The more involved, but in my opinion tastier approach, involves cooking your own "flavoring" to add to the cream soda. Both approaches to the recipe have their strengths and weaknesses, as well as varying degrees of "authenticity" when compared to the Wizarding World's original.
Simple Butterbeer recipes
The simplest approach to making butterbeer is to add some purchased flavorings to your favorite cream soda, mix it up, make the frothy topping, spoon it on top, and enjoy. My children were happy to serve as taste-testers for me while I tried two different versions of the simple butterbeer.
Simple Butterbeer recipe #1
The prize for Butterbeer most reminiscent of the Butterbeer we enjoyed at The Wizarding World of Harry Potter goes to this treat from Autumn Clemons as outlined in her article at designdazzle.com. Just remember that this recipe is reminiscent of the original, not identical to it.
Butterbeer Recipe Ingredients:
2 liter cream soda
2 tablespoons Butter extract
2 teaspoons rum extract
*drop the extracts into the 2 liter bottle, put on cap and slowly rotate until combined.
Butterbeer cream topping ingredients
1 7oz container of marshmallow creme
1 cup whipping cream
1 teaspoon rum extract
*add all items together in an electric mixer and combine until smooth.
Pour the butterbeer into a glass, drizzle with the cream topping, and enjoy!
Here's what we liked about this one:
It's easy to serve a crowd. Just add the flavorings right into a 2-liter bottle of cream soda.
It replicates the fizziness of the original better than any others we tried. This might have something to do with how it's mixed up, by swirling the 2-liter of cream soda after adding the flavorings, as opposed to pouring it out and stirring it. Or maybe it's something about the combination of this particular recipe's beer and froth. Whatever it was, my kids were impressed that this one kept on fizzing, much like the original. It is not as sweet as the original, though.
If you're serving this for a party, you can even print out butterbeer labels to cover the cream soda label.
Marshmallow cream and whipping cream make for a yummy froth!
The downside:
It makes a lot. If you're making this for yourself, you're going to have left overs.
It uses a lot of extracts. The beer itself uses both butter extract (quite a bit of it) and rum extract. Personally, I could taste the artificial quality of the extracts, and they seemed to overpower the drink. You may want to consider cutting the amount of extract used by up to half.
While similar to the original, it's not as sweet, and my kids definitely missed the sweetness.
Simple Butterbeer recipe #2
The runner-up in the simple approach category is a recipe with only a few ingredients. We found it sweeter than our winner, but the basic froth of sweetened whipped cream was no match for the marshmallow cream/whipped cream/rum extract combination in the winning recipe. You can find very detailed instructions and photos on chicaandjo.com. This recipe makes two drinks.
Ingredients
1/2 cup heavy whipping cream
2 tbsp powdered sugar
24 oz of your favorite cream soda
2 tsp vanilla butter nut flavoring
Directions
Measure the heavy whipping cream into a bowl, then add powdered sugar.
Whisk briskly until whipped.
Once your cream topping is ready, add your vanilla butter nut flavoring to your cream soda and stir gently so you don't get rid of all the carbonation in the soda.
Just like in the above recipe, pour the butterbeer into a glass, drizzle with the cream topping, and enjoy!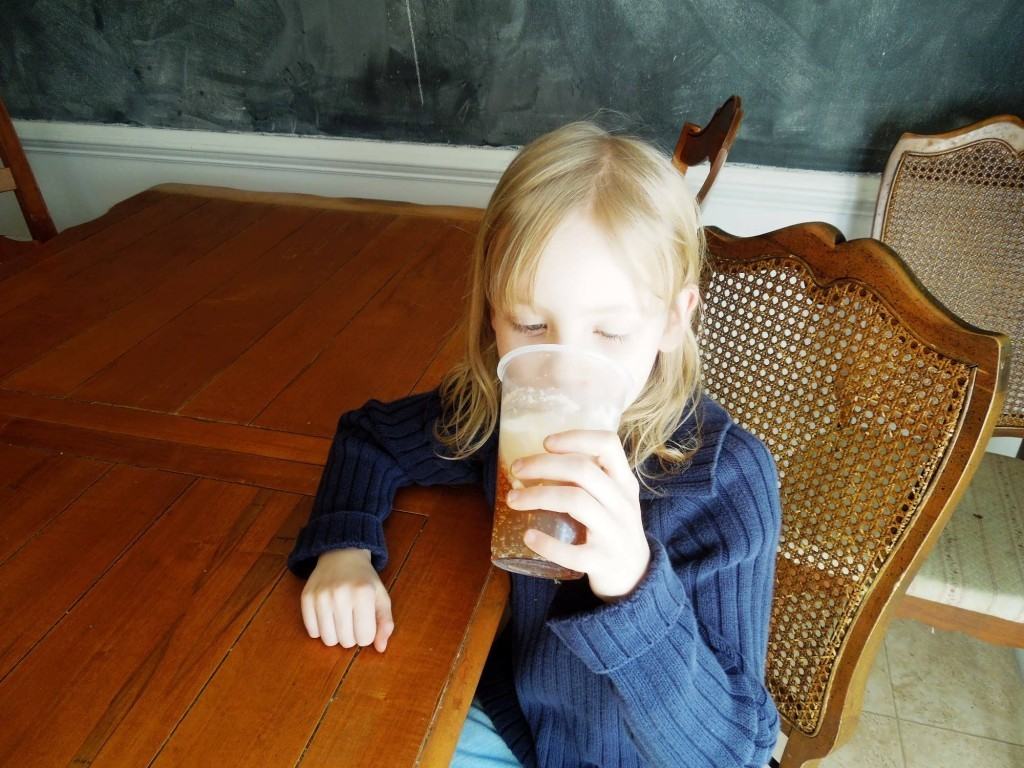 Best Butterbeer recipe
After trying the two simple versions, we tried a more involved (but not difficult) recipe courtesy of huffingtonpost.com, which calls for cooking butter and sugar and a few other ingredients to make a homemade flavoring for your butterbeer, and greatly reduces the amount of artificial extracts and flavorings in the finished product.
Ingredients
1 cup light or dark brown sugar
2 tablespoons water
6 tablespoon butter
1/2 teaspoon salt
1/2 teaspoon cider vinegar
3/4 cup heavy cream, divided
1/2 teaspoon rum extract
Four 12-ounce bottles cream soda
Directions
In a small saucepan over medium, combine the brown sugar and water.
Bring to a gentle boil and cook, stirring often, until the mixture reads 240 F on a candy thermometer.
Stir in the butter, salt, vinegar and 1/4 heavy cream. Set aside to cool to room temperature.
Once the mixture has cooled, stir in the rum extract.
In a medium bowl, combine 2 tablespoons of the brown sugar mixture and the remaining 1/2 cup of heavy cream. Use an electric mixer to beat until just thickened, but not completely whipped, about 2 to 3 minutes.
To serve, divide the brown sugar mixture between 4 tall glasses (about 1/4 cup for each glass). Add 1/4 cup of cream soda to each glass, then stir to combine. Fill each glass nearly to the top with additional cream soda, then spoon the whipped topping over each.
And for the judges' opinions – what we liked:
This recipe really is quite tasty. We found it to be sweeter than the simpler recipes above, and just all around yummy.
I liked that I could taste the butter and brown sugar flavors, and not be overwhelmed by artificial extract flavors. There is a small amount of rum extract in it, but not nearly the amount in the simple recipes.
What we didn't like as much:
While tastier, adding the butter/sugar mixture to the cream soda "clouds" the soda, creating a contrast between the original butterbeer, which is a crisp, clear drink. You'll have to make a choice between flavor and resemblance to the original.
More Butterbeer recipe options
As if making three different Butterbeer recipes in one weekend weren't enough, there were more recipes we could have tried but didn't. One frozen Butterbeer recipe looks very similar to the cooked butter and sugar version that we tried, and since we liked the flavor of that one, I suspect the frozen version would be tasty as well. If you'd like to give it a try, you can find the recipe at enchantinglysweet.com (archive).
Another recipe I really would have liked to try involved adding butterscotch flavored syrup (the kind you might add to your coffee) to some marshmallow cream, and using that to top plain cream soda. This would be an ultra simple recipe. Unfortunately, I couldn't find any butterscotch flavored syrup at any store in my area. If you try this one, be sure and leave us a comment letting us know how it tastes.
Butterbeer recipes at home: Final thoughts
While none of the recipes we tried were exactly like the original Butterbeer, we had a fun time testing and testing some more. The next time we get a craving for Butterbeer, we'll go back to our favorite simple recipe and lessen the amount of extracts. I'd also try using the marshmallow fluff version of the froth on any of the other recipes that call for a simple sweetened whipped cream.
Try some of these recipes, or mix and match to create something better – I'd love to hear your results and your favorites!
Oh, if you're curious about Butterbeer nutritional facts, Walletpop.com had the original variety served inside The Wizarding World of Harry Potter tested. They came up with 200 calories per glass.
Like this post? Then you'll love this one: How to make butterbeer cookies.