I've read all the Harry Potter books. I won't deny it. I'll even admit I had a crush on Daniel Radcliffe (Harry in the movies). I think Harry Potter is one of my favorite series. I probably liked it even more than The Babysitters Club…
When I saw that Bake at 350 had a recipe for Butterbeer cookies, I got rather excited. That might be an understatement. I closed my laptop and immediately drove to the store to buy butterscotch chips. Hey – I can't help it.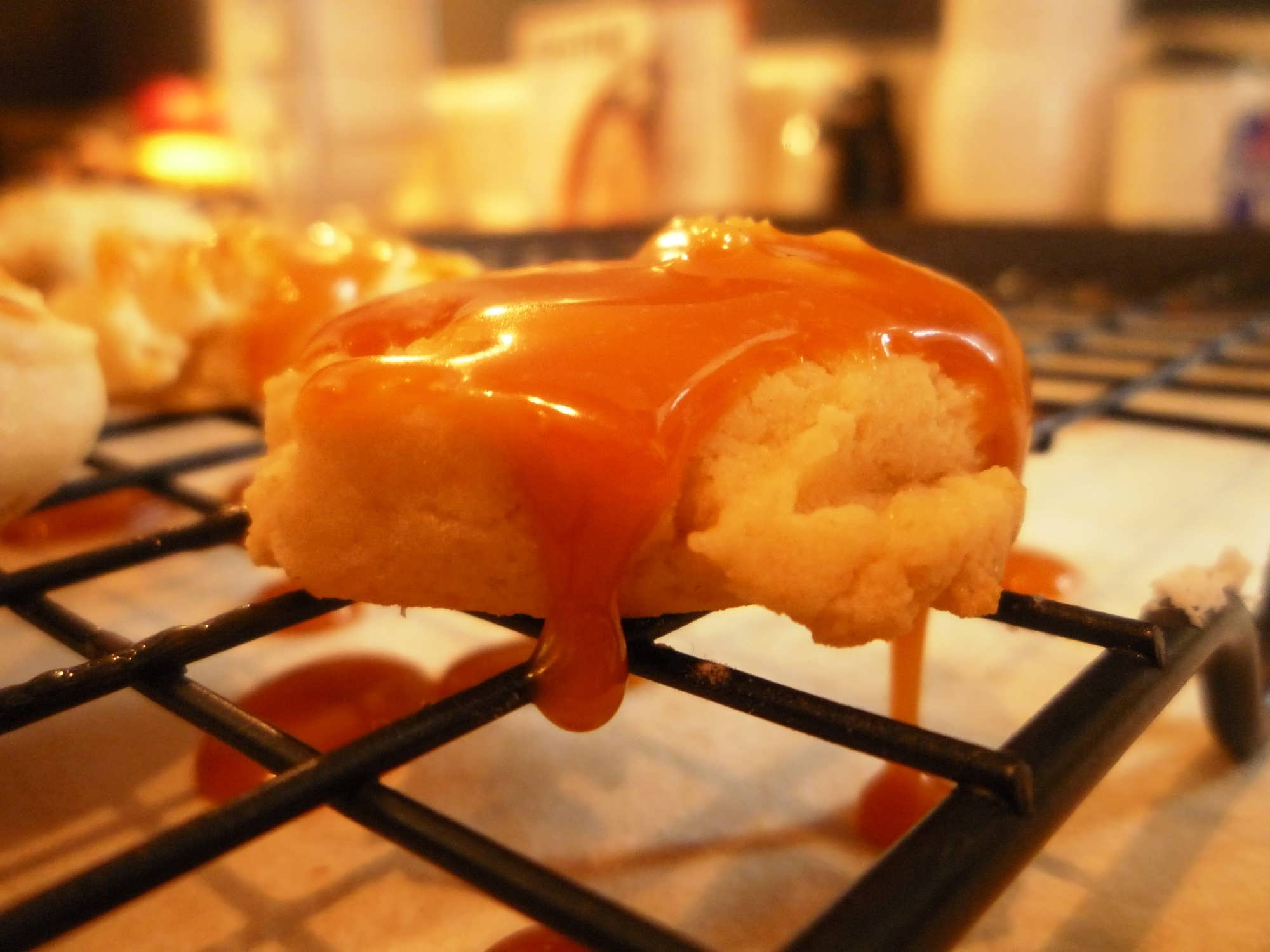 Although she does a much more extravagant job on her website, I'm still excited to bring these bad boys home.
I followed her recipe for the most part, halving it – and, of course, I made it gluten-free. I also made a few other small changes. If you don't need to eat gluten-free, go ahead and follow the recipe at the bottom of the post. Either way, happy baking.
Butterbeer sugar cookies
Preheat your oven to 350
1/2 c white rice flour
1/2 c brown rice flour
1/2 c sweet rice or tapioca flour
1/2 tsp xanthan gum
1 tsp baking powder
1/4 c sugar
1/4 c light brown sugar
1 stick butter, softened
1/2 an egg (about 1/8 cup of beaten egg)
1 tablespoon of butterscotch chips, melted
1/2 tsp vanilla
Whisk the flours, baking powder, and xanthan gum. Set this aside for later.
Cream your sugars and butter. Add the egg, melted butterscotch, and vanilla. Mix until well-blended, and don't forget to scrape your bowl every so often.
Add the flour mixture and beat just until combined, making sure to get all of the goodies combined. The dough will be fairly thick. I had to use a spoon to mix all of it together.
I used my mini ice cream scoop to make my cookies and pushed them down with a fork (like PB cookies). You can cut them out with a cookie cutter (1/4 inch thick or so). Do whatever you'd like. Make sure you put parchment paper on your sheets. You'll end up baking your cookies for about 9-11 minutes and then put them onto the cooling rack. While you're waiting for them to bake, make the gooey butterbeer topping (below). When your cookies are cooling, but still warm- you can either spoon some topping onto each cookie, dip the cookie halfway, drizzle some on with a piping bag. Whatever suits your fancy.
Butterbeer Topping
2/3 c butterscotch chips (I used hershey's)
1 tablespoon of light corn syrup
1/8 c evaporated milk
Put your ingredients into a microwave proof bowl. Give them a little stir and pop it into your microwave for 30 seconds. Remove from the microwave and stir. Pop it back in for 30 seconds. Give it a stir… Not melted? Continue heating at 10 second intervals. Make sure to stir. Mine only took a minute and ten seconds (I think)…. Make sure to stir it well because it will turn into this delicious, gooey caramel substance. I won't judge if you lick the spoon. Promise.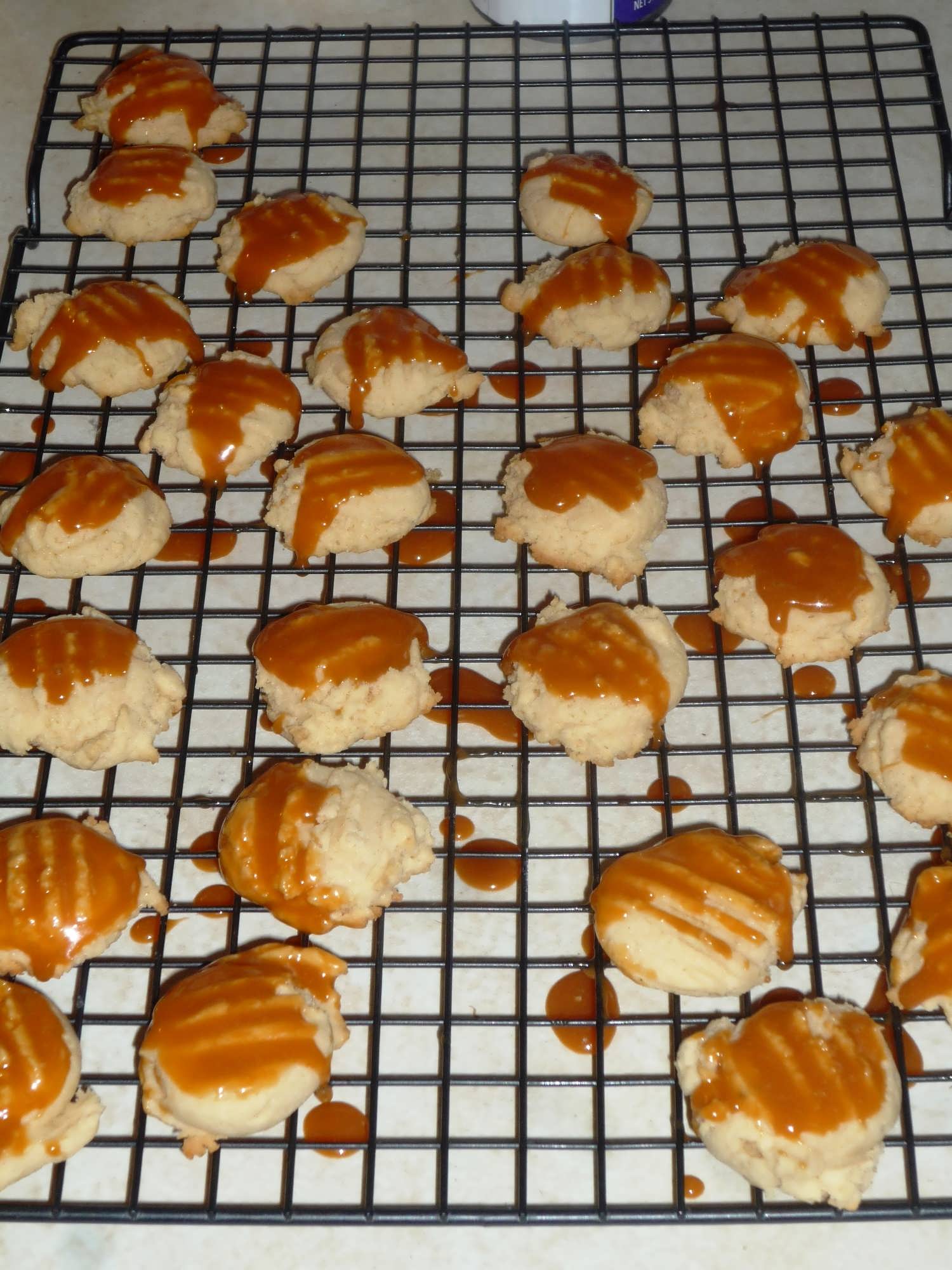 This post has been borrowed with permission from Nikki Burns' blog, goodbyegluten.wordpress.com. Definitely check out her site for more recipes and ideas!
Standard version…
Butterbeer Sugar Cookies
3 cups unbleached, all-purpose flour
2 tsp baking powder
1/2 cup granulated sugar
1/2 cup light brown sugar (packed)
2 sticks butter
1 egg
1 tsp butter flavoring
3/4 tsp pure vanilla extract
Preheat oven to 350.
Whisk the flour, baking powder, set aside.
Cream the sugar and butter. Add the egg, butter flavoring, and vanilla; mix until well-blended.
Gradually add the flour mixture and beat just until combined, scraping down the bowl, especially the bottom. (The dough will be quite thick…you may need to knead in stray bits of flour from the bottom of the bowl by hand.)
Roll on a floured surface to about 1/4″ and cut into shapes. Place on parchment lined baking sheets and bake for 9-12 minutes, depending on the size of your cutter. Let sit a few minutes on the sheet, then transfer to a cooling rack.
Butterbeer Topping
This will cover 12 cookies… and I STRONGLY recommend doubling the recipe as you might want to put this in a shot glass and drink it straight!
2/3 cup butterscotch chips (I used Guittard)
1/8 cup evaporated milk
1 TBSP light corn syrup
pinch coarse salt
Place all of the ingredients in a glass or metal bowl and heat over a pot of simmering water (or a double boiler). Stir occasionally, until melted and smooth.
Put the cooled cookies on a wire rack on a baking sheet. Pour the glaze over the cookies and spread with an offset spatula.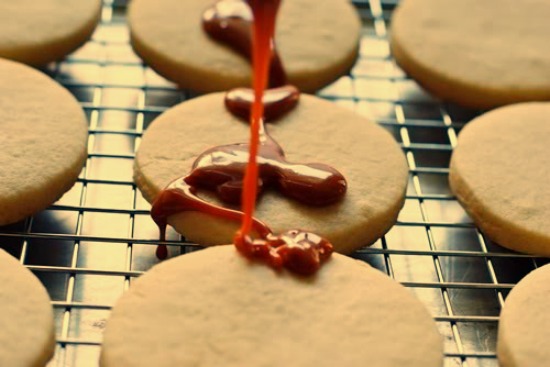 This reciped was originally posted on bakeat350.blogspot.com.
Have your own favorite home versions of the theme parks' snacks? Be sure to share 'em below.