After a 14-year stint that included over 6,000 shows, the legendary Blue Man Group has called it quits at Universal Orlando Resort.
The "live entertainment experience," as Universal originally referred to the experimental theater troupe when the company first announced its arrival to the resort all the way back on November 9, 2006, was one of the benchmarks of CityWalk's entertainment lineup (alongside Hollywood Drive-In Golf and Universal Cinemark). It'll be interesting to see what, if anything, will replace it.
It'll also be interesting to see if the building that used to house Blue Man – and that, when the performers first landed at Universal, used to be called the Sharp Aquos Theatre – will remain part of the dining/shopping/entertainment complex; originally, when Universal Studios Florida first opened in 1990, that facility was considered part of the theme park, with its soundstages given over to Nickelodeon Studios for a number of television productions (and for inclusion in the short-lived Production Tour, which was supposed to headline Universal's Orlando park just like its counterpart still does to this day over in Hollywood). After Nickelodeon's decade-and-a-half flirtation with basing at least part of its operations in Florida officially ended on April 30, 2005, however, the decision was made to have a more all-encompassing, wider-appeal attraction be placed there – and the widest appeal possible, of course, would be accomplished by slicing that bit of real estate off from behind the theme-park paywall and placing it in CityWalk, an area of the resort that doesn't require any type of ticket for entry.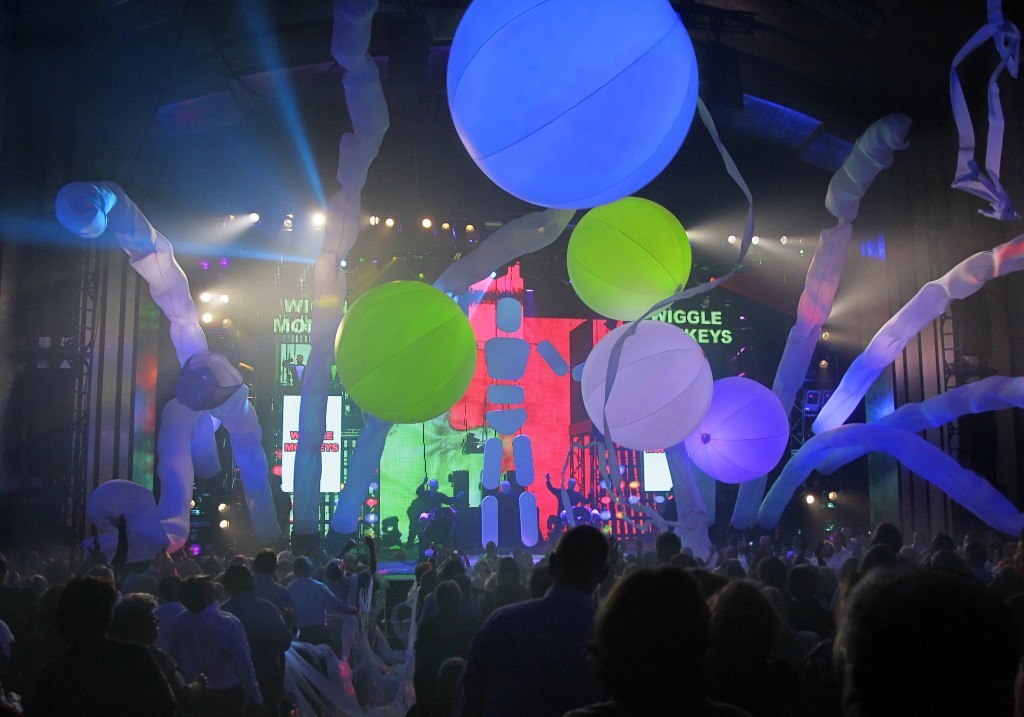 As interesting as the Universal component of Blue Man Group's history is, however, everything that transpired before that debut showing of June 6, 2007 is even more intriguing. The avant-garde entity originally started as the personal pet project of Matt Goldman, Phil Stanton, and Chris Wink, three New Yorkers who accidentally created an "evolving theater piece" in the streets of their city in the late 1980s. The effort was part personal reflection, part time-killer (since all were single at the time and weren't into the bar scene, like most of their peers were), and part cultural commentary, starting with a simple desire to be provocative, to see how average citizens might be snapped out of their daily routines in a city that was filled with all sorts of visual oddities. This on-the-street experimentation eventually grew into a sort of performance-based enterprise; with the '80s being a time of extreme socio-political stresses and excesses, the trio was only too happy to see the decade come to a close and, as such, would carry around a coffin and stage a "Funeral for the '80s" in Central Park (starting two full years early). This, in turn, allowed the first three Blue Men to take their show to local clubs, adding in elements of – and blurring the lines between – music, technology, comedy, and painting along the way. In 1991, their big break came: first they landed a gig in off-Broadway, and then, just a few months later, they netted a permanent, headlining production – one that has lasted to this very day (well, minus COVID-19 interruptions, of course).
As new full-time venues were added in Boston, Chicago, Las Vegas, and, of course, Orlando – and as national tours started to spring up everywhere else in the country, along with a world tour and a permanent international show based in Berlin, Germany – the oeuvre of the Blue Men similarly expanded, incorporating museums, schools, and, even, rock concerts. The continued evolution caught the eye of an even bigger performance-arts fish – Cirque du Soleil, who purchased Blue Man Productions on July 6, 2017 for tens of millions of dollars (the exact price was never undisclosed). The parallels between the two entertainment titans are quite striking, with Cirque also having started off life as a street performance group (in Montreal) in 1984 before eventually taking its act on the global stage – and before being sold by its founder, Guy Laliberte, to a group of private investors for approximately $1.5 billion in 2015. These new owners were only too happy to try and "diversify its portfolio" and to try and create a truly staggering worldwide brand – one that has, unfortunately, hit the unexpected disruption that is the pandemic.
While it is unknown why, exactly, Universal and Cirque du Soleil came to the decision to end the Universal Orlando Resort production, we do know that the last showing came right before the forced coronavirus closure on March 16, 2020. Yes, that's right – Blue Man Group has been gone from the Universal roster for nearly the past year already.
---
Did you manage to catch Blue Man Group over the past decade-and-a-half? Will you miss the quirky entertainers? Share your thoughts with 110,000+ other die-hard Universal fanatics in our Orlando Informer Community on Facebook.
And be sure to follow Orlando Informer on Facebook, Twitter, and Instagram for the latest news, tips, and rumors at Universal Orlando, Walt Disney World, and other Orlando attractions.