Universal Orlando has begun testing a Hulk virtual reality simulation in advance of the redesigned ride's opening, Orlando Informer has learned.
The simulation, which began testing earlier this week with Universal Team Members, is now open to all guests. The tests are being held in Toon Lagoon Amphitheater, a 2,000 seat venue that remains unused for the majority of the year. Upon entering the Amphitheater, guests are seated in the stands by Hulk Team Members (donning their brand new uniforms). The experience and technology is explained to the guests prior to being escorted onto the stage and behind a curtain.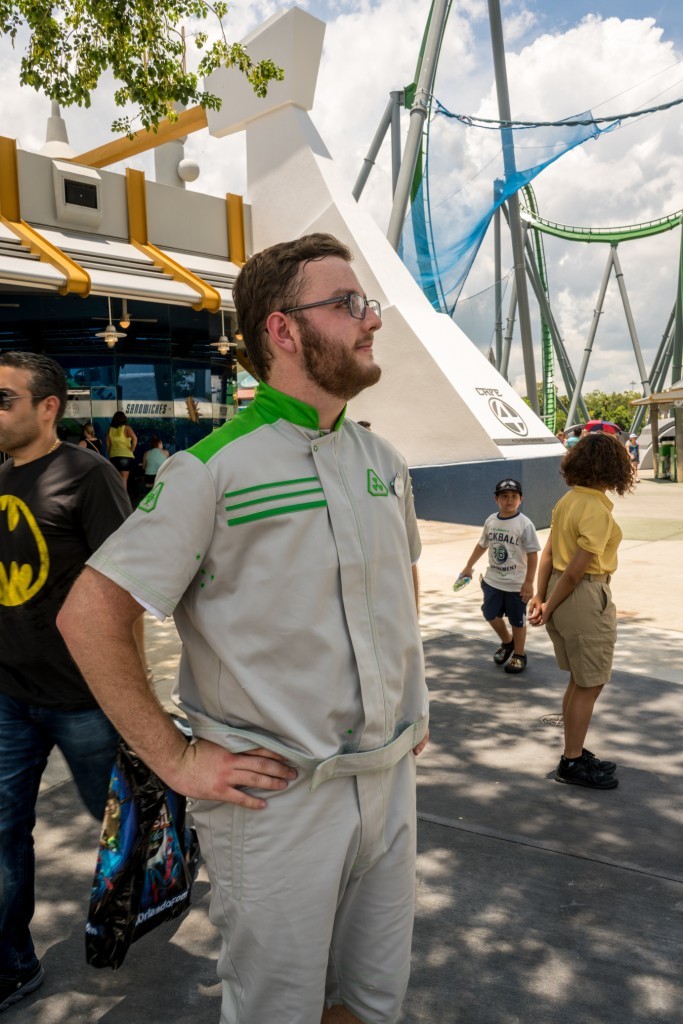 Once going behind the curtain, guests find themselves in a dimly lit room with rows of plain chairs. No photography is permitted. Each chair has a virtual reality headpiece and connected headphones on it. Guests are instructed to put on the equipment and then the experience begins.
The virtual reality demonstration is very short, but is immersive all 360 degrees you can look. The first scene takes place in a laboratory (presumably located within the state-of-the-art military research compound the ride's redesigned queue is set in). Upon looking around, guests see plenty tones of green in what appears to be Gamma experiments and possibly the Gamma core itself.
The second scene takes place in a virtual version of the redesigned ride's launch tube, known as the Gamma accelerator. This scene makes the guest feel as if they have been harnessed into the coaster and are being launched. It is designed very similarly to the concept art previously shared by Universal. A new voice and audio track replaces the ride's famous "I think this time… it's going to work!" Shortly after launching, the virtual experience fades to white into the next scene. The third and final scene seems to be the longest, featuring a variety of 3D renderings of the coaster operating.
After the experience ends, guests leave their new virtual reality gear on the seat and are walked off the stage. Universal Orlando's consumer insights team is camped out to collect guest feedback. This team is an integral part of the Resort's mission to improve the overall experience for guests. The feedback they have collected has resulted in additions like the first value on-site hotel, Cabana Bay, Universal's mobile app, new CityWalk additions, and much more.
While the specific reasoning for the testing isn't given to guests when participating, sources familiar with the matter tell Orlando Informer that this virtual testing is for future additions to the parks. Virtual reality technology will not be on the Incredible Hulk Coaster, like Six Flag Parks and some international parks have recently introduced.
Universal Orlando opens up their third theme park, Volcano Bay, and Race Through New York with Jimmy Fallon next year. In 2018, Fast & Furious: Supercharged will come to Universal Studios Florida. Finally, Universal Parks and Resorts has announced a partnership with Nintendo, with additions coming to Universal Orlando at a later date. It's currently unclear which, if any, of these additions will feature virtual reality. Virtual reality was also tested at Universal's Halloween Horror Nights event last year.
Hulk's virtual reality testing runs for an undisclosed period of time and is handicap accessible. Interested guests should look for a Team Member outside of Toon Lagoon Amphitheater for additional instruction. The redesigned Incredible Hulk Coaster reopens later this summer at Universal's Islands of Adventure, click here to learn more about it.