It is June 7, 1990, and it is the grand opening of Universal Studios Florida, Universal's very first built-from-the-ground-up theme park.
Sitting on a 840-acre plot of land that is mostly undeveloped, the park bristles with the excitement of the new and the unexplored – it is, after all, only the second theme park to be devoted to show business, generally, and filmmaking, specifically (the first park, Disney-MGM Studios, was rushed into development and opened only 13 months earlier, since Disney's management had heard of Universal's Orlando plans, naturally). This theming mandate, as one might imagine, colors the entire experience of Universal Studios Florida, from its attractions (which are largely about how films and television shows are produced) to its walk-around characters (movie stars) to its theme park lands (collections of props and recreations of famous locations).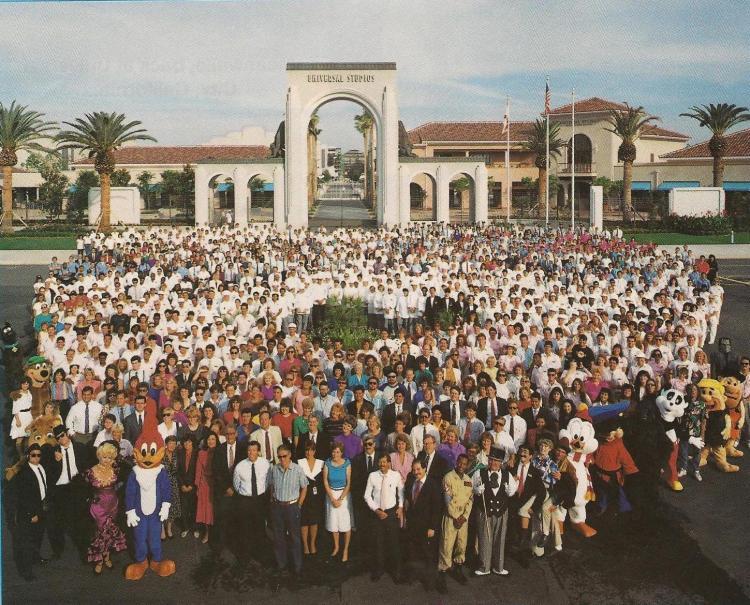 We're going to party like it's June 7, 1990
If this sounds like an entirely different park than what is available today, well, that's because it is. As of this moment, the very last vestiges of this Hollywood focus are being swept away, part of new parent company Comcast's directive to replace filmmaking secrets – which are now largely distributed in the form of DVD special features and direct hands-on experience with affordable, digital technology – with full-out immersiveness; this can largely be laid directly at the feet of The Wizarding World of Harry Potter, but it's also the culmination of both the theme park and show business models' evolution, as well.
This means that the original iteration of Universal Studios Florida on its original day of operation is something of a relic, an experience lost to the ravages of time.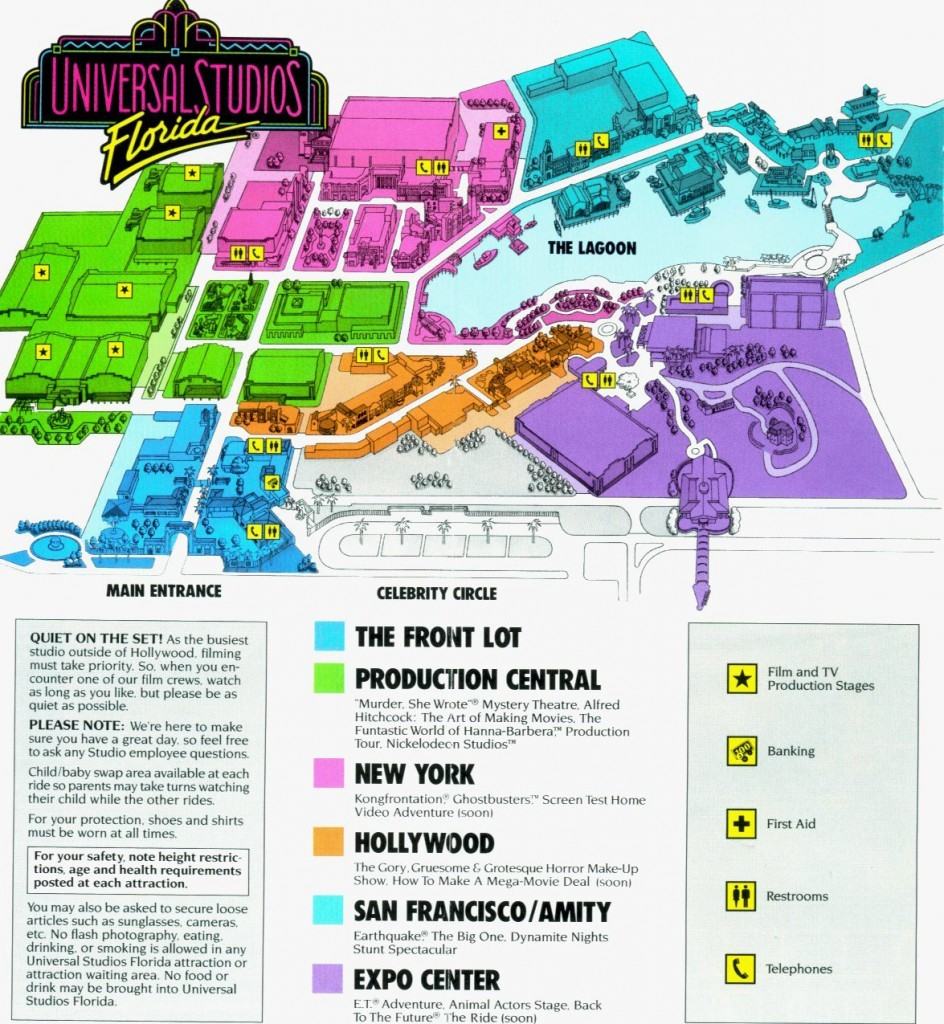 How it all began
It's time to dig it up.
Production Central
Let's take a thoroughly imaginary stroll through USF in 1990, and let's start where most guests still tend to start to this day: Production Central.
This still gets us excited
Back then, the name really meant what it sounded like, being home to a repository of attractions all designed to reveal the nature of film and TV production: Alfred Hitchcock: The Art of Making Movies and "Murder, She Wrote" Mystery Theater walked audiences step-by-step through the process; Nickelodeon Studios and the Production Tram Tour (yes, just like the one in Universal Studios Hollywood – though with far, far fewer stops) actually showed various films or television episodes being shot in front of viewers' eyes; the prop graveyard proudly displayed iconic props from past productions (including Jaws himself); and even the most out-and-out traditional attraction, The Funtastic World of Hanna-Barbera, had something of a filmmaking bent, thanks to guests being sucked into the animators' work and living, well, the fun-tastic world of Hanna-Barbera animation.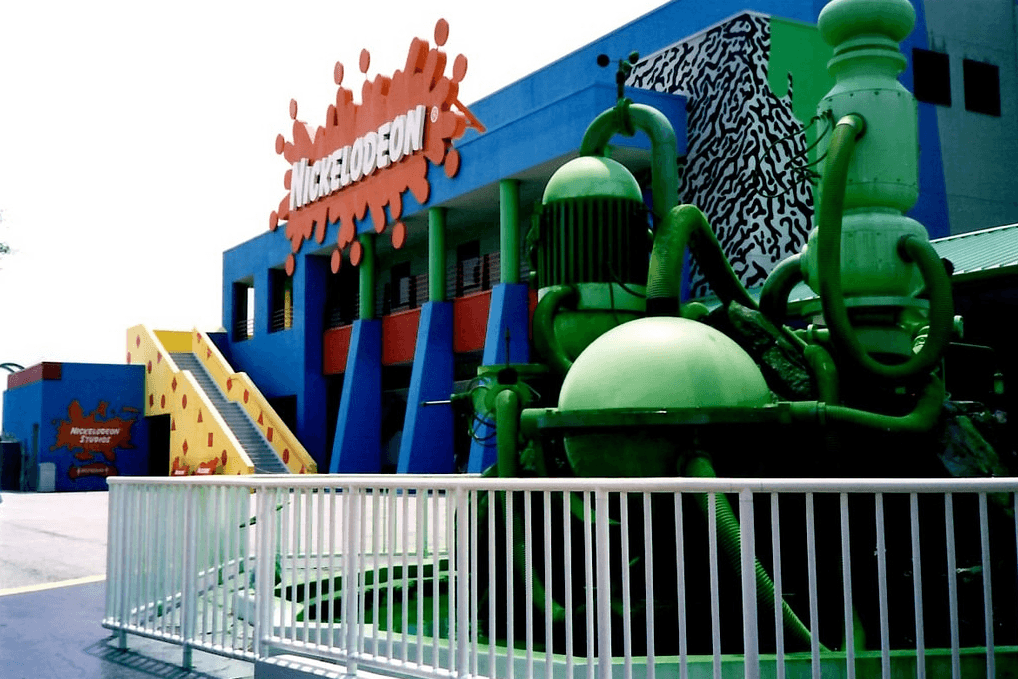 The much-missed Nickelodeon Studios, where many a TV show was filmed
(Here's a fun little touch Universal included to really make its park feel like a [quasi] working soundstage: both Production Central and the Front Lot, the front-of-park area that houses such exciting elements as Guest Services, are referred to as the "In Production" area of USF.)
Some of these attractions are absolutely worth our time to stop at and take a quick whirl on, both for nostalgia's sake and to fulfill our obligations as responsible time travelers.
The Funtastic World of Hanna-Barbera
Located in Soundstage 42, the current home of Despicable Me: Minion Mayhem, the queue for The Funtastic World of Hanna-Barbera is, well, nothing spectacular in the slightest – it actually looks more like something at Cedar Point than anything else, just with more bulky TV monitors showing clips from such classic Hanna-Barbera shows as Huckleberry Hound, Yogi Bear, The Flintstones, and The Jetsons.
Once inside, however, the theming fun begins. The pre-show consists of three monitors: two on the wall to your left, where the stars of the ride, Yogi and Boo-Boo Bear, appear, and the main screen in front, where the founders of Hanna-Barbera, William Hanna and Joseph Barbera (both of whom, sadly, have passed within the past 15 years), prepare to take guests on a tour of their animation studio, replete with the cartoon characters popping off the page, but of course.
Things from there, as they so often do in theme park rides, go terribly awry.
That collection of shots after the ride has ended – of kids playing against various backdrops or rifling through merchandise – is Funtastic World's after-show experience, which was ahead of its time and which today stands as the Minion dance party sequence in Despicable Me.
New York
The New York backlot (the "Now Shooting" part of the Universal Studios Florida production phases) is just as picturesque in 1990 as it currently is in 2016 – arguably even more so, given the lack of Hollywood Rip, Ride, Rockit's track protruding through its various facades on 9th Ave.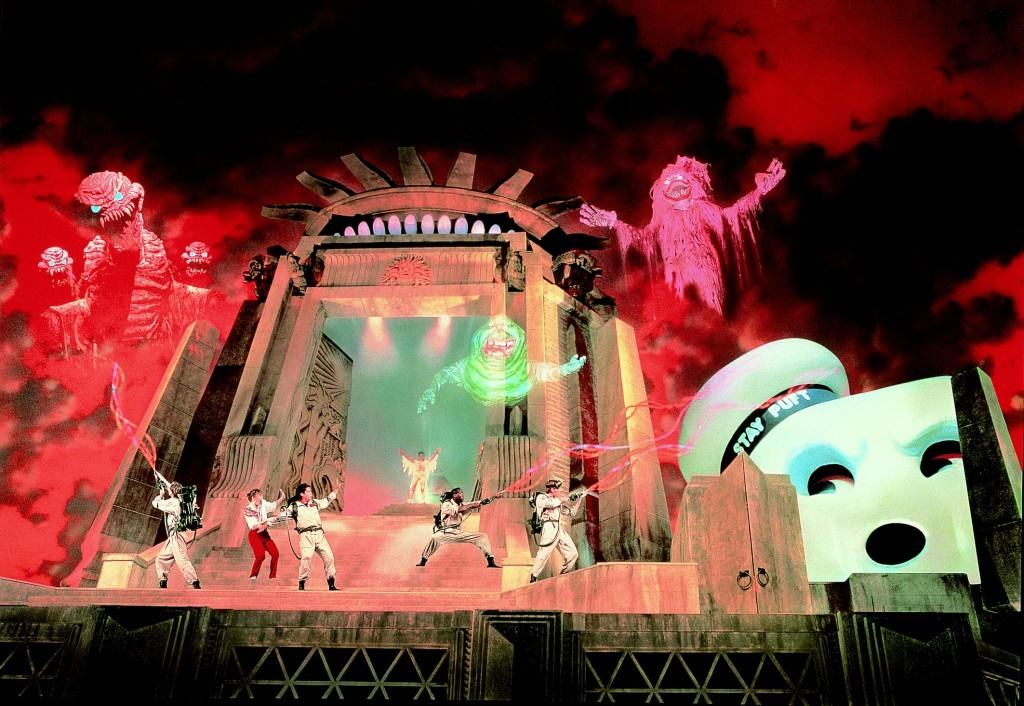 Who you gonna call?
What is dramatically different here is the lineup of attractions. Ghostbusters Spooktacular is a special-effects show where guests enter one of the soundstages where the Ghostbusters films supposedly were shot; as the I-don't-believe-in-no-ghosts tour guide begins her boring spiel, the various ghosts and demons from the first film appear and wreak havoc – until the Ghostbusters themselves appear and do battle with them all.
Around the corner, behind the impressive Pennsylvania Station façade, is none other than Kongfrontation, the massive, six-story ride that was inspired by the tram tour's brief King Kong Encounter over at Universal Studios Hollywood and which has been greatly expanded to stand as a theme park attraction on its own.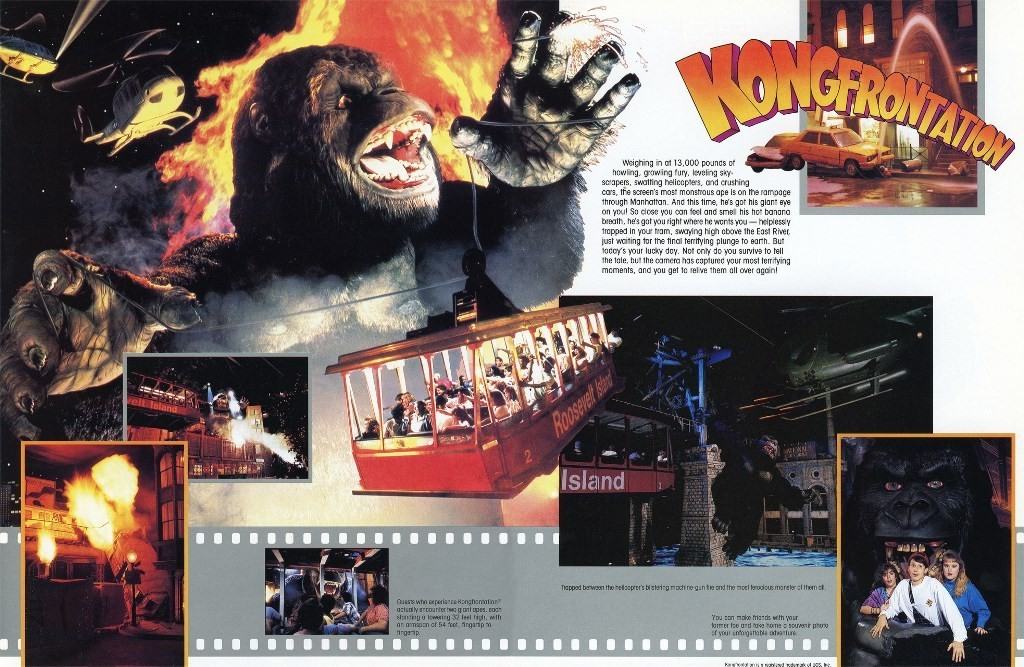 The original incarnation of King Kong, before he moved to Skull Island
Oh, what's that – you're looking for the Blues Brothers? Don't bother – they won't make an appearance in their still-running show for another nine months. Yes, this really is a different USF.
Kongfrontation
The flagship ride at the park for its opening year, Kongfrontation takes riders through a meticulously detailed queue that recreates a 1976 New York City subway station (inspired by the first King Kong remake, from that year) before depositing them at Manhattan's Roosevelt Island tram station. While waiting to evacuate the island, which is currently home to a rampaging King Kong, guests get to watch real newscaster Rolland Smith anchor special WWOR-TV coverage of the destruction (provided by clips of the film, of course) before finally getting on their only means of escape: a tram.
As you get off the ride, you have to catch your breath – this was the height of audio-animatronic technology 26 years ago
San Francisco
Originally billed as San Francisco/Amity, since the land home to Jaws is part-and-parcel of the oceanside backlot experience (hence the compound area's "On Location" listing in the park directory of production), San Fran, unfortunately, doesn't hold much for us first-ever guests to experience. While its stretch of land shoots all the way to where the future Fear Factor Live and Men in Black: Alien Attack attractions will sit, nothing is there now but trees and greenery – and, even worse, while Jaws is currently open, it breaks down practically every single day, resulting in all passengers being evacuated from the ride. Just two months from now, fed up with the constant technical glitches and malfunctions, Universal will shut the attraction down for an extended refurbishment that will last nearly three years(!) and which will result in several changes to the ride experience.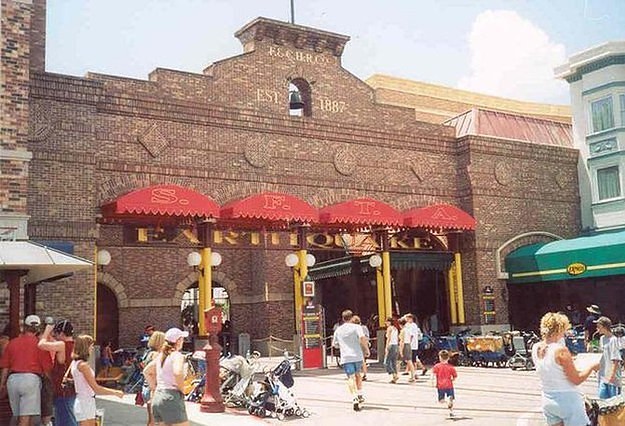 Still one of the most beautiful facades the park was ever graced with
But San Francisco/Amity is still a lavishly detailed plot of land, and there is still one other experience to be had: Earthquake: The Big One, based on the 1974 blockbuster Earthquake, has guests experience firsthand a 8.3-magnitude earthquake while riding one of San Fran's famed subway trains.
Wait – that's it? Unfortunately, for now, yes. The theaters that would one day house Beetlejuice's Graveyard Revue and Fear Factor Live, located at either end of San Francisco/Amity, sit empty for now (An American Tail Theater and The Wild, Wild, Wild West Stunt Show will open at each venue, respectively, next year).
Earthquake: The Big One
After entering a beautiful building meant to recreate a cable car barn for the Ferries and Cliff House Railway (which was damaged in the great San Francisco earthquake of 1906), guests walk through an area piled high with props from various movies, including the titular Earthquake and, in our particular case, The Flintstones. Then it's off to the first pre-show area, decorated with memorabilia from the '06 earthquake and a window backdrop of the San Fran skyline, where a casting director selects members of the audience to participate in the reenactment of scenes from Earthquake.
As for the rest… well, it's best to let the moviemaking magic unfold for itself.
What about the rest of the park?
Unfortunately, all enterprises eventually run out of time – yes, even time travel! We'll need to hit up Amity, Expo Center, and Hollywood on another day – if, that is, you help spread the word and ensure that this jaunt through the space-time continuum proves successful enough to mount a second expedition. Hell, we might even throw in a few more in-depth spotlights on other attractions already mentioned here (if you've never been to Hitchcock's 3D Theater or seen Ghostbusters Spooktacular, you haven't lived your theme-park life yet).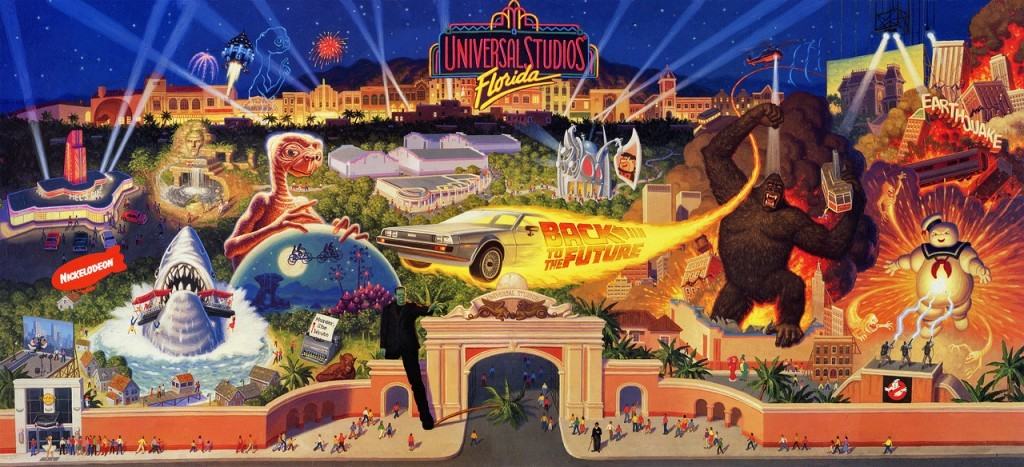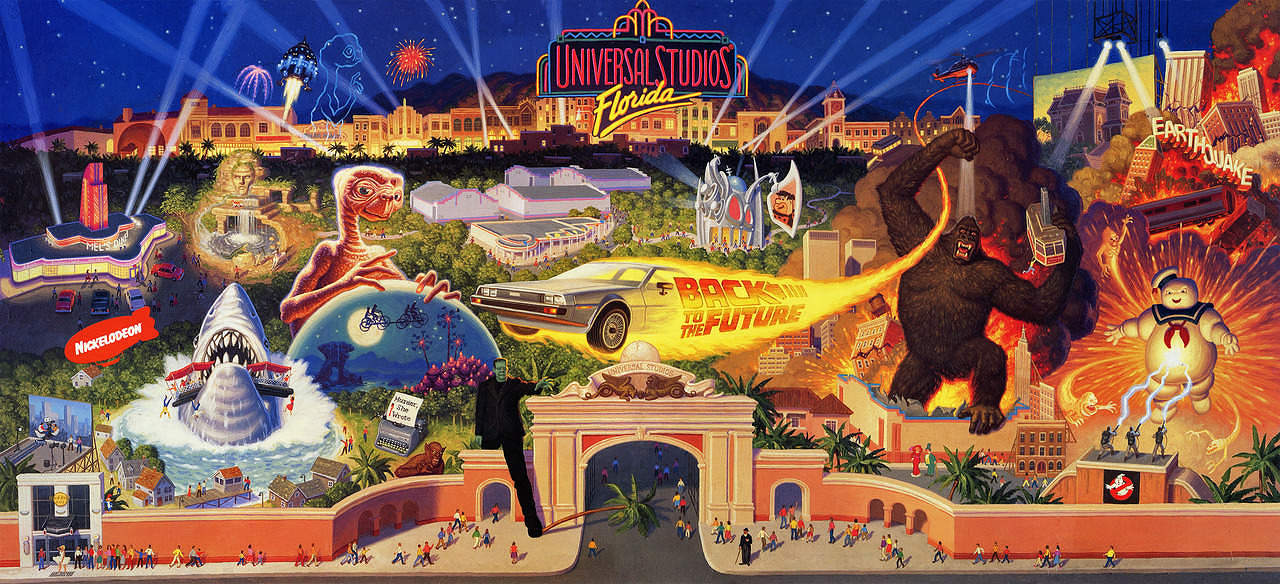 Take me back!
In the meantime, be sure to check out our other nostalgic trip to Universal Studios Florida of yore by strolling down the merchandise memory lane with us.