On Tuesday, July 7, both Magic Kingdom and Disney's Animal Kingdom were open for cast member-only previews, to test out Disney's new safety precautions during the ongoing COVID-19 pandemic; annual passholders got their turn on July 9, and the general public, on the 11th. We were lucky enough to attend all three occasions, along with some subsequent ones: both EPCOT and Hollywood Studios started their cast member previews on the 13th, with their grand reopenings arriving on the 15th.
The changes deployed across the theme-park experience, from health screenings to riding the attractions, are pretty much consistent with what we've already seen be put into place at both Universal Orlando Resort and SeaWorld Orlando – so if you're familiar with those practices already, there's little here to surprise you. Still, there are a few differences, the biggest one being that Disney doesn't require you to use hand sanitizer before either boarding a ride vehicle or grabbing a bite to eat.
First things first, though: let's start at getting into the parks. (And this is assuming you've already managed to snag your own Disney Park Pass reservation, which is a new requirement for admission starting on the 11th.)
Arriving at Magic Kingdom and Disney's Animal Kingdom
Parking at the theme parks follows a strategy seen over at Universal Orlando – every other space is left vacant, in order to facilitate social distancing. Next up is the contactless temperature scans that we've all become so accustomed to, and then on to the security check – which, actually, features something unfamiliar in the form of new technologies. Instead of having your bag be searched manually by a security employee, almost everything is left inside and is scanned by a new artificial intelligence set-up (at Magic Kingdom, we noticed that you had to place all of your electronic and metal items in clear plastic bags). It was a pleasant surprise, and one that should hopefully speed the entire process up.
The approach to the front gates, of course, is lined with social-distancing markers on the ground, along with reminders on signs that are strategically placed about. This focus on health continues once you've made it inside the parks, with hand-washing and -sanitizer stations spread throughout and with an occasionally broadcasted safety message, reinforcing the mandates of wearing a mask, washing your hands, and staying at least six feet apart from other guests.
(Oh, just one last quick note before we fully move into the parks proper: if you'd like to pick up some Disney swag after being away for 113 days, you're able to grab some new face coverings that are sprinkled with a whole host of Disney designs for $6 a pop. [Everyone above the age of one needs to wear a mask, just as a friendly reminder.])
What are the attractions like?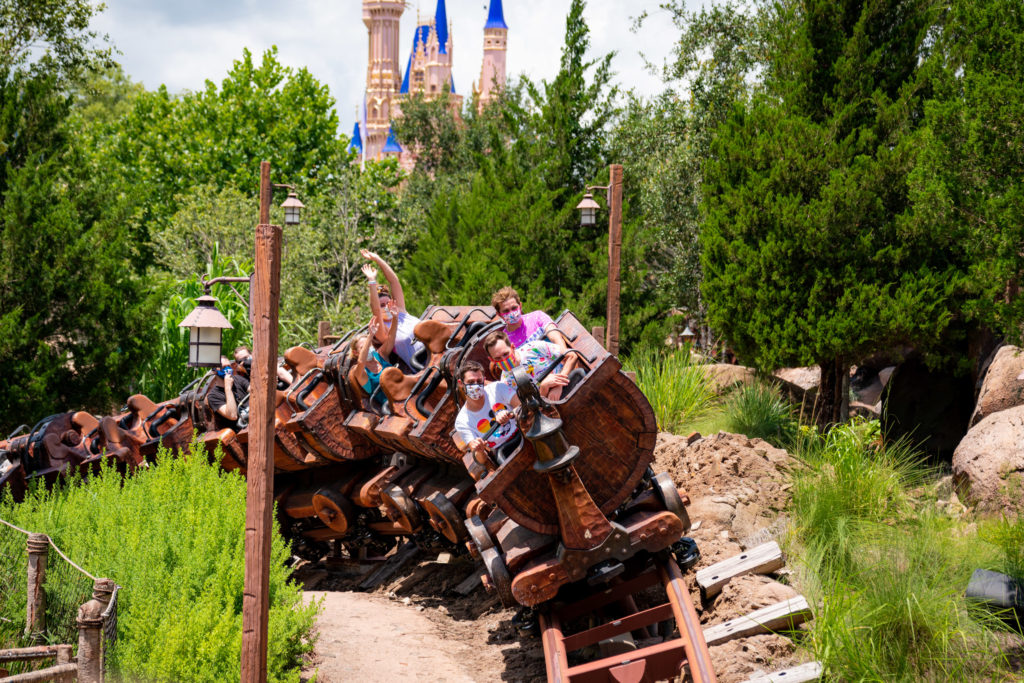 With two other theme-park reopenings under our belts, this is a question we can answer pretty quickly and efficiently now. As you would come to expect, there is social distancing in the rides' queues – in the form of both floor markings and, where guests stand side-by-side, plexiglass barriers – and parties are asked to climb aboard a ride vehicle by themselves; once seated, they're separated from other groups by either empty seats or entire rows.
You can see this in action in the several rides that we've been happy to hop back on thus far. At Expedition Everest and Avatar Flight of Passage, for example, plexiglass was erected on the loading station, and on Dinosaur, the entire ride vehicle is turned over to one party only, even if it's comprised of just one passenger (clear dividers were eventually installed between the first two rows here, as well). And in an interesting twist – on the park's very first day back, at least – guests were able, once seated and on their way, to take their masks off on Kilimanjaro Safaris, since Disney has installed barriers in between each row (and the ride takes place outside, as well).
Want to hear some other interesting tidbits from across Animal Kingdom? Back at Flight of Passage, the second preshow has temporarily been done away with, which allows the ride operators to fill both theaters up simultaneously and cut back a bit on the wait time (the door between the two rooms is also kept open, in order to allow better air flow and circulation – a key ingredient to helping prevent COVID infections indoors). Additionally, the mister on the ride proper has been extinguished, again in an effort to stop potential coronavirus spread. Dinosaur's preshow, meanwhile, has a continuously moving line through it, but perhaps the most interesting change, no matter how short-lived it proved to be, could be found over at Expedition Everest: everyone's favorite part of the experience, the yeti, was missing her lights and sounds for her first few days back.
Lastly, we'd be remiss if we didn't remind everyone that Disney has pulled FastPass+ reservations in order to use the extra queue space for the new social-distancing requirements (and the FastPass system may be gone for the foreseeable future, with the My Disney Experience smartphone app taking over much of its load. You can read our speculation about all that here).
The play areas, shows, and character interactions
Unsurprisingly, the children's play areas, such as Animal Kingdom's Boneyard or Magic Kingdom's Casey Jr. Splash 'n Soak Station, have been closed, due to the close proximity of the kiddos and the playgrounds' high-touch surfaces (although you can still find some activities for the younger set, such as the Wilderness Explorers tables located throughout Disney's Animal Kingdom). And the same holds true for the various stage shows, as well, as Disney was unable to reach a deal with the performers' unions in order to bring them back in time for the parks' reopening – but that still leaves the likes of Country Bear Jamboree, which has every other row entirely blocked off and half of the open rows' seats likewise marked off by stickers.
Then there's the character meet-'n-greets, which are back in a reduced-but-still-surprisingly-fun way; in order to maintain that all-important social distance, you can now expect to find Mickey, Minnie, and all their friends in some remote places – but ones that will still bring a smile to your face. Look for various "Character Cavalcades" on boats throughout Discovery River, for instance, or on the back terrace of the Main Street, USA train station (or, in one of our favorite encounters, on Boo to You parade floats that meander throughout Magic Kingdom).
These clusters of characters include:
Discovery Island Drummers
Discovery River Character Cruise
Donald's Dino Boat Bash!
Fantasyland Friends Cavalcade
A Goofy Cavalcade
Mickey & Friends Cavalcade
Mickey & Friends Flotilla
The Royal Princess Processional
Tinker Bell & the Lost Treasure
(Also added to the list of temporarily cancelled experiences are parades, the interactive elements of Pandora – The World of Avatar, and, most unfortunately, nighttime spectaculars.)
What's dining and shopping like?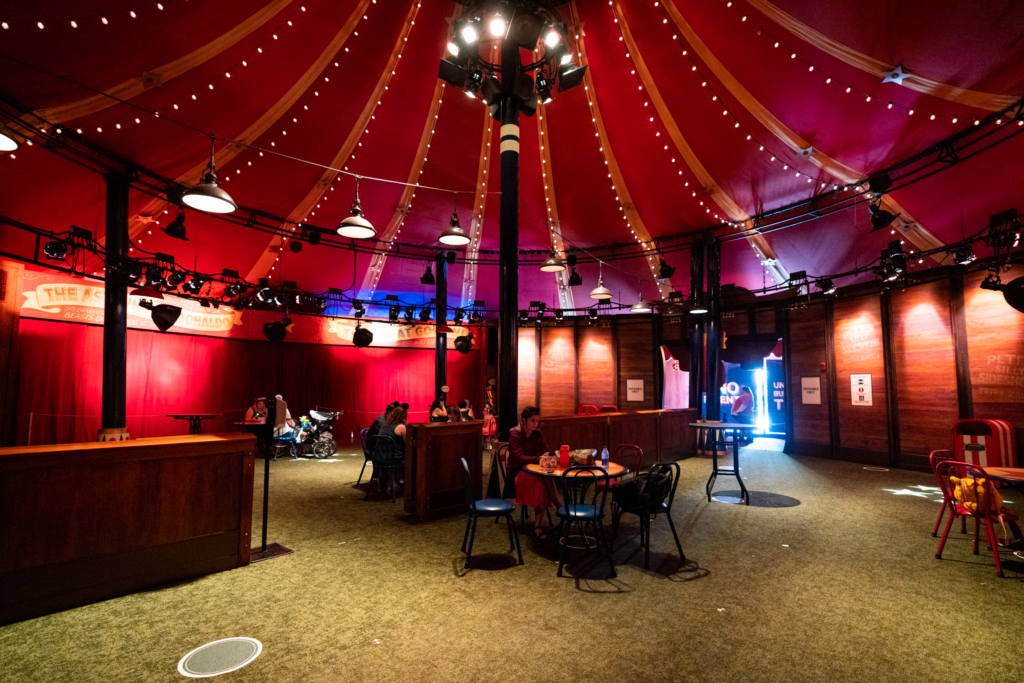 The dining-and-shopping scene is exactly what one would expect, given the status quo that has long since been established at both Universal CityWalk and Disney Springs: not all locations, whether dining or retail, are open, and for those that are, contactless payment methods are highly recommended (as is mobile ordering, in the case of the restaurants). Those items that were previously available as self-serve – such as filling up your drinks – will now be served directly to you by staff. Menus are either posted or available to view on your phone. Where applicable, some establishments have clearly marked-off doorways to be entrance- or exit-only. And, finally – and most interestingly – there's now Mobile Dine Check-In, which allows you to check into certain table-service restaurants on your phone.
(Speaking of shopping, we need to note that Splash Mountain merchandise has been flying off store shelves since the parks' reopening, thanks to the recent news of the ride's reimagining. Unfortunately, the Briar Patch, the gift shop attached to the attraction, was closed the first day back, with cast members stationed out front redirecting guests to look for their suddenly-limited-edition wares in other spots throughout Magic Kingdom – and on July 9, there was a virtual line set up with a wait time that reached up to 240 minutes.)
New: Relaxation Stations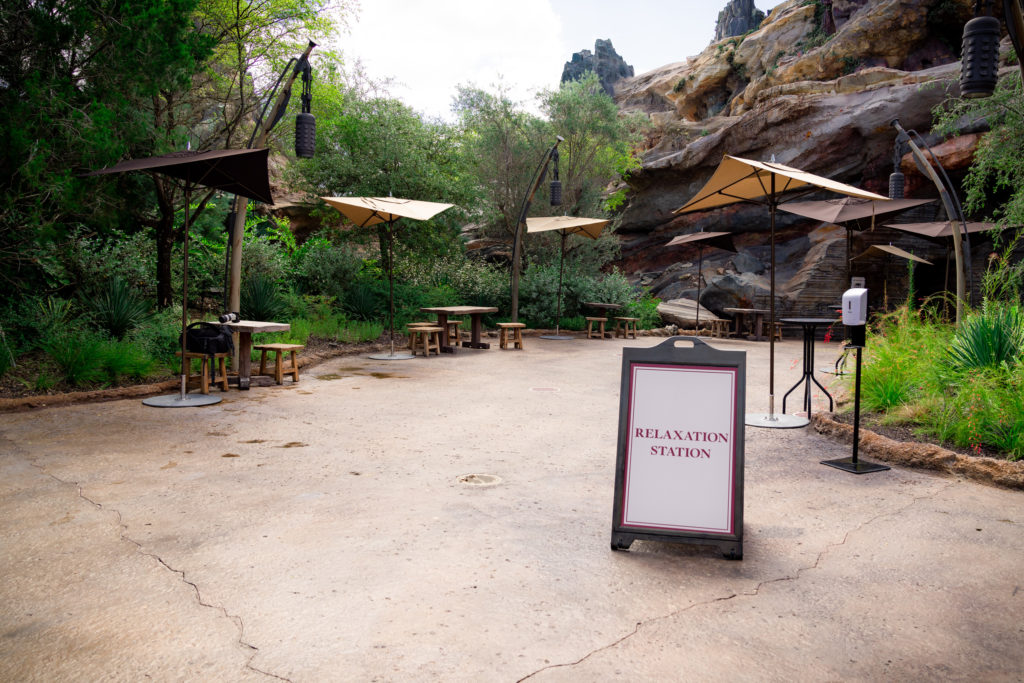 Just as Universal Orlando Resort has its U-Rest areas, Walt Disney World has its Relaxation Stations, where guests can rest and eat mask-free – as long as they maintain social distancing, of course.
There are several spread throughout all of the parks (including at Star Wars: Galaxy's Edge), but beware – it appears that some of them close an hour before their respective parks do (such as at Storybook Circus).
What about using Disney World's transportation?
Now, we have just a quick word about getting to and from the theme parks and the Transportation and Ticket Center. We've hopped on both the monorail and some buses, and we found it to be an orderly process – guests are assigned a number, which they then line up behind at socially distanced markers. From here, it's a slightly different scenario, depending upon the transportation type; for the monorail, one party enters first, takes its seat on one side of the car's dividers, and then – if applicable – another group follows. (In order to maintain the lower passenger count, some parties may be split up among multiple cars.) And for the bus, seats are designated with the numbers that passengers were given, making all seating assigned (with buffer spaces between them, of course).
It's pretty straightforward and simple, but we'll be eager to see how this process holds up once a bigger crush of people starts using Walt Disney World's fabled transit systems in the weeks and months ahead.
I'd like more theme-park COVID info, please!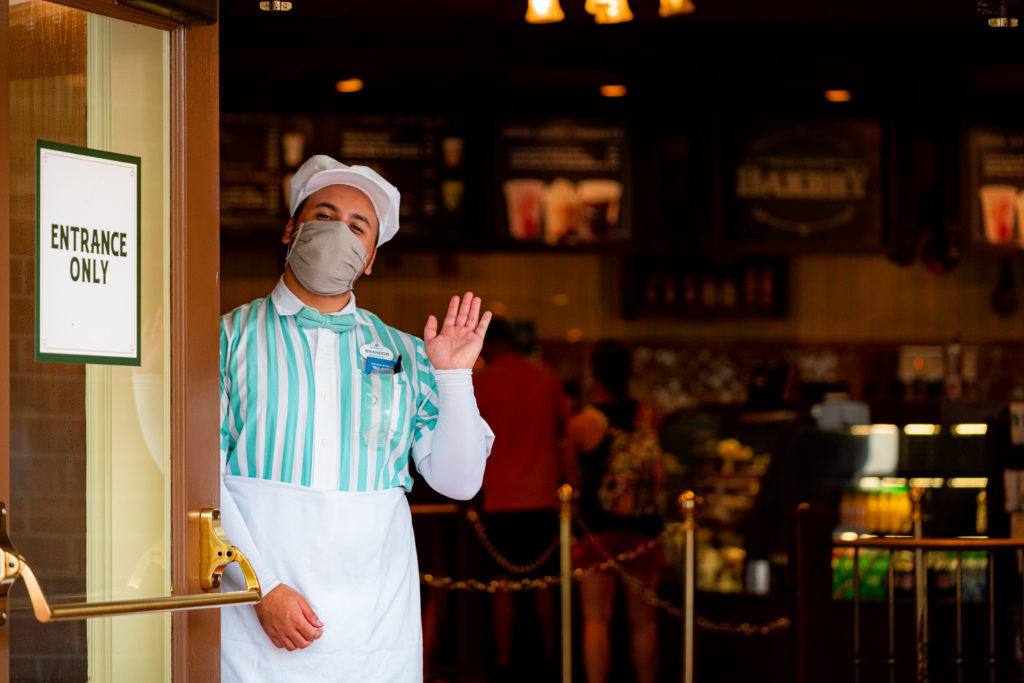 Sure! We'd be happy to help.
Here are the articles that we've been maintaining during the ongoing coronavirus outbreak:
Walt Disney World, Universal Orlando, SeaWorld, and LEGOLAND first shut down
The theme-park resorts start to open back up
How to visit CityWalk during COVID-19
How to visit Disney Springs during COVID-19
How to visit Universal Orlando's parks during COVID-19
How to visit Universal Orlando's hotels during COVID-19
How to visit SeaWorld Orlando during COVID-19
How Disney World's new park reservation system works
---
Have your own questions or thoughts about Walt Disney World's long-awaited reopening? Share them in our WDW Community on Facebook.
And don't forget to follow Orlando Informer on Facebook, Twitter, and Instagram for the latest news and tips at Universal Orlando, Walt Disney World, and other Orlando experiences.