The last time we checked in on Bigfire, Universal Orlando Resort's newest gastronomical addition, the venue had just been announced; now, two months later, Universal invited us to a tour of the soon-to-open restaurant as part of a media event.
We were taken with Bigfire's culinary premise, aesthetic bent, and – of course – tableside s'mores right from the beginning, but now, after an up-close-and-personal look at its food, theming, and drinks, we have to say that we're fully hooked. Here are the three biggest takeaways we have from our all-too-brief experience at CityWalk's destination for (smoked) American fare.
Bigfire has a backstory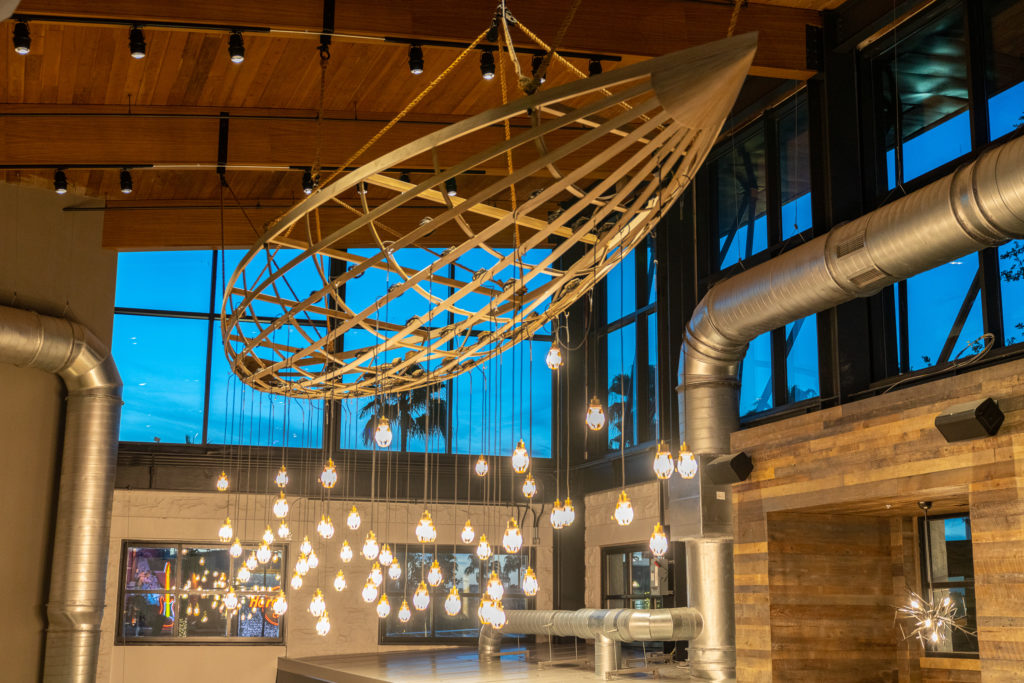 Yes, we had already known that Bigfire was created in conjunction with Universal's theme-park designers (just the second restaurant to have this distinction, after the superb Toothsome Chocolate Emporium and Savory Feast Kitchen), and, yes, we also previously had the eatery's theming sketched out for us, as well – nostalgic summers by the water in a "grand lakeside lodge," replete with oversized plaid blankets and retro camp lanterns.
But what we got tonight was Bigfire's actual backstory – or, at least, the basic gist of it. It turns out that what we know as the finished restaurant today originally started out life as a small lakeside retreat for a family, when then began to attract more and more local families, which, in turn, made it grow and grow, adding on more sections and getting more people involved and having it become a full-fledged enterprise – although always with the core firmly in place of having fun and good times with friends and love ones.
It might not be a narrative anywhere near as involved as what we get for Toothsome Chocolate Emporium, but it's just enough to finish selling the homey vibe of the premises and provide a connective tissue that runs all the way through the entire menu, from the appetizers to the drinks to the desserts – and not to mention the theming itself, with the titular wood-fire grill and the cozy lawn chairs out in the front. We were smitten by the exposition, and we're pretty sure that you and your party of hungry eaters will be, too, even if it never explodes from subtlety to blatancy.
As Ric Florell, Executive Vice President of Resort Revenue Operations, said to us before we were able to dig in, "Welcome to our lake home."
Bigfire's big food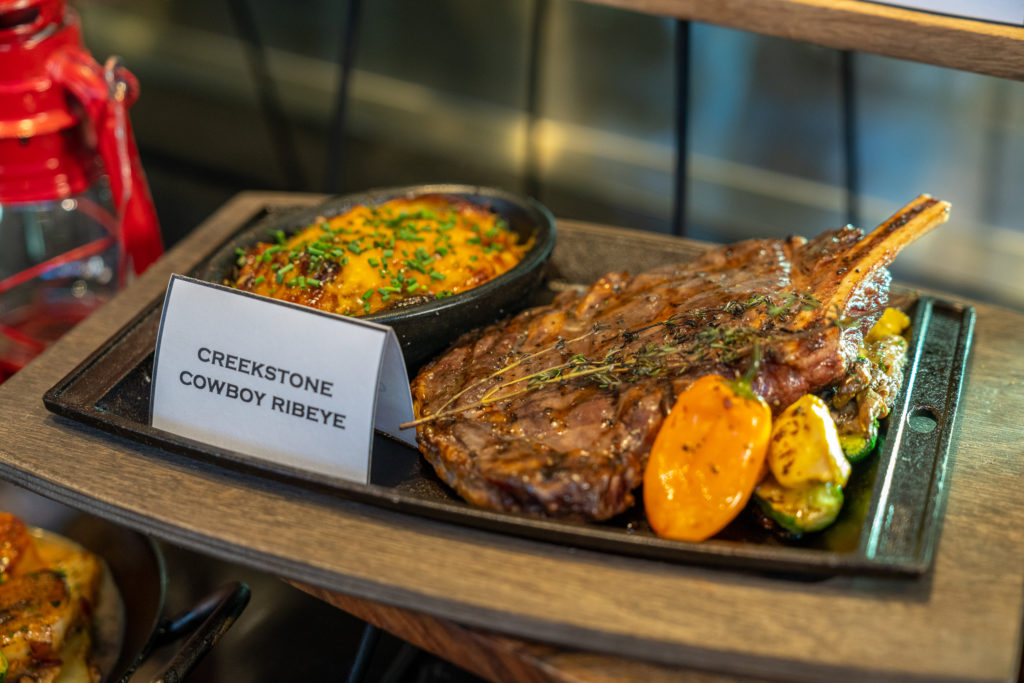 Upon greeting all of us members of the press and introducing us to Bigfire's menu, Universal made a bold claim: even if the dishes on hand might look suspiciously normal upon first glance, they're actually anything but the standard fare.
This assertion hinges on the fact that the restaurant's chefs prepare a good swath of the food on the giant (almost) titular wood-fire grill, deploying one of three different types of wood – cherry, pecan, or oak – to smoke it and give it a complementary taste. Now, the various types of wood do help to make Bigfire's offerings slightly different, but it is only a subtle flavor elevation that isn't overbearing; longtime park-goers may recall other offerings at Universal Orlando that are cooked on lumber for flavoring, such as the cedar-planked salmon at NBC Sports Grill & Brew that was previously served at Mythos. Overall, we have to say that we found the new eatery's food to be on par with the other top choices at CityWalk, like Antojitos Authentic Mexican Food and VIVO Italian Kitchen.
As for early highlights of the culinary lineup, our first two picks also double as the clear favorites from the overall media gathered for the preview: the Pork Belly Mac 'n Cheese was creamy, with very tasty bits of pork mixed throughout, and the Creekstone Cowboy Ribeye was the very definition of flavorful, with a sauce that complements the meat well. On a menu that's fairly robust, you'd be hard-pressed to find something that's more delectable.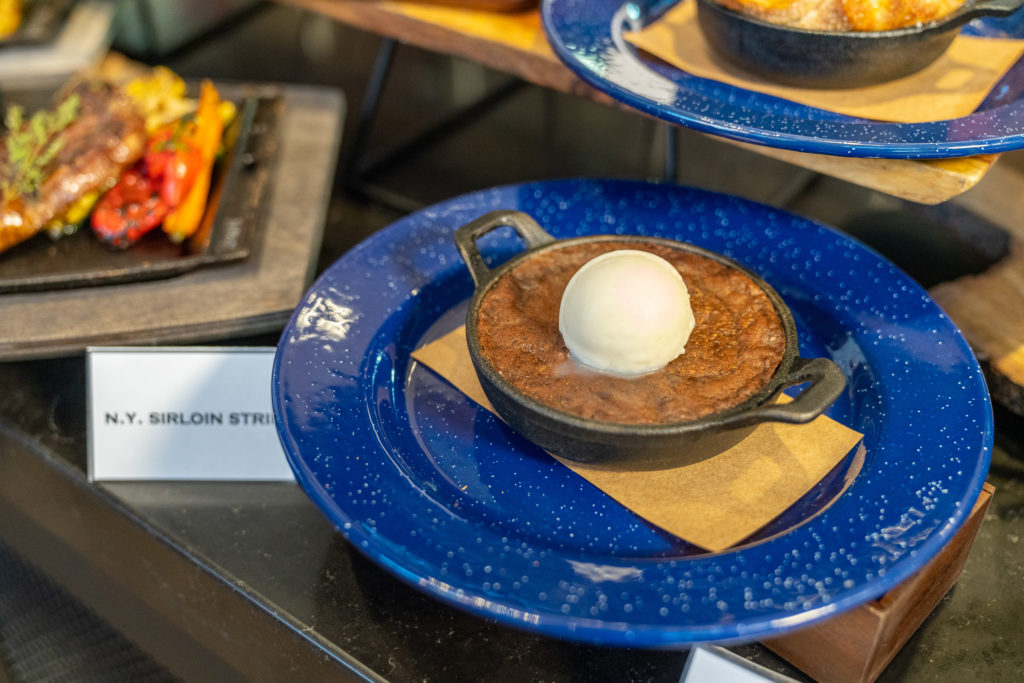 Except for the desserts, that is. The restaurant features three – the Dutch Apple Pie, Baked Alaska, and Skillet-baked Chocolate Cake – but it's the last that really caught our attention. Bigfire's take on the classic chocolate cake brandishes cherries around the crust, which provides surprising bursts of flavor in the otherwise-ordinary chocolate texture – a welcoming addition, and one that does live up to Universal's hype of having the venue's offerings feature a unique spin.
Unanswered questions
Even though we managed to get our hands on some of the eats and got an earful on the design choices, there was actually still quite a bit that we didn't walk away with from our all-too-brief time at Bigfire. Let's tackle this all in short order:
The menu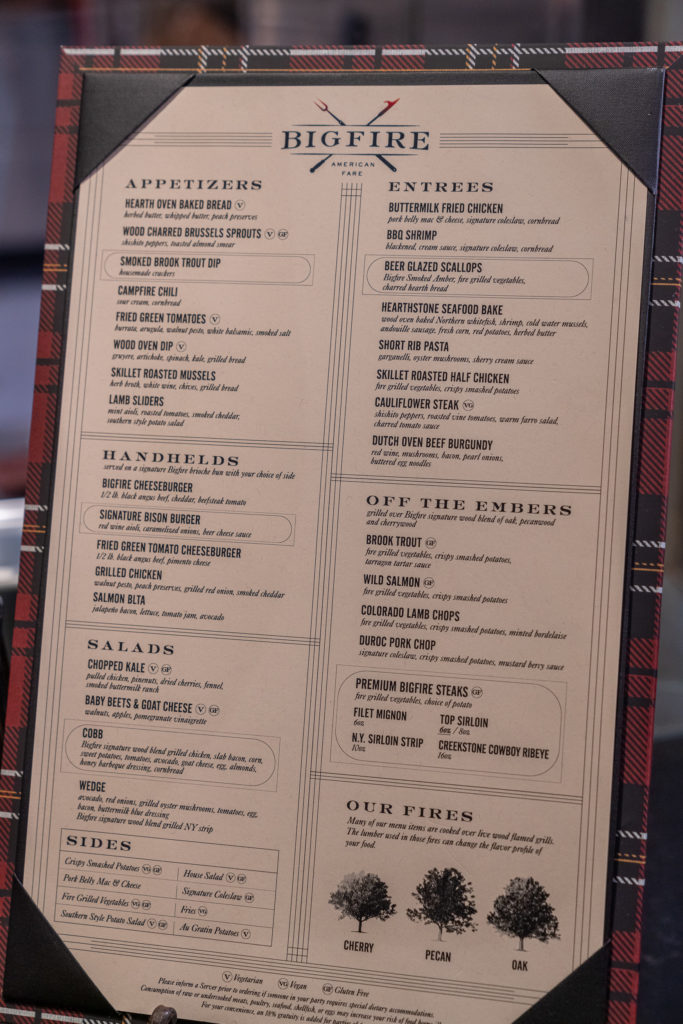 The sample menu that Universal provided may have included everything from appetizers to entrees to sides, but it didn't feature two particular sections that a number of our readers and podcast listeners have already asked about: namely, a dessert or kids' menu. Of course, we have already managed to slightly address the former by listing all three items above, but the latter still remains elusive to us. Hopefully, given that this was only a media preview, we'll be able to get more info on this in the not-too-distant future.
(Soft) opening
No word was offered on one of the most-sought-after pieces of Bigfire info: when the property will debut on the CityWalk scene. It seems like a number of individuals would even just content themselves with the soft-opening period, which is when the restaurant operates in a limited capacity for certain periods of the day in the lead-up to the official opening, but even here, unfortunately, we came up empty. Given that Universal has previously offered a vague timeframe of summer 2019, we have to assume that Bigfire's grand debut will come sooner rather than later.
Pricing
Now we come to the biggest issue of all. On that sample menu – and, even, on the multi-page drink menu that was offered to reporters – no prices were anywhere to be seen. We don't know why this would be the case except to guess that the company is still knee-deep in the process of figuring out what everything should cost; what we do know is that it didn't go unnoticed within the online themed community.
But that doesn't mean that the numbers game came up a complete wash – reporter Gabrielle Russon managed to snag just a few prices, including $15 for the handcrafted burgers, $18 for the tableside s'mores (which serves two), and $22 for the six-ounce Top Sirloin steak.
Prices for #BigFire. S'mores, for example, costs $18 for 2, $9 for additional people. 6 oz Sirloin steak is $22; handcrafted burgers $15. @UniversalORL #CityWalk pic.twitter.com/SwHo670K3s

— Gabrielle Russon is furloughed this week. (@GabrielleRusson) June 11, 2019
Orlando Informer Podcast: be sure to listen to this week's episode of the OI Podcast to hear even more of our thoughts on – and the community's reactions to – Universal's big Bigfire media event. You can subscribe to the podcast on iTunes or give a listen here.
Bigfire is scheduled to open sometime this summer. You can read everything that we know about it over on our guide page.
–
Can't wait to try out Bigfire for yourself? Discuss your picks for your first meal with 70,000+ other vacation planners and Universal fans in our OI Community Facebook group.
And be sure to follow Orlando Informer on Facebook, Twitter, and Instagram for the latest news and tips at Universal Orlando, Walt Disney World, and other Orlando experiences.