Aquatica was recently voted Orlando's number-one water park by Orlando Sentinel readers. Featuring family-friendly waterslides partnered with one-of-a-kind thrills, Aquatica has something for everyone. Where else in Orlando can you find the fun of a water park mixed with the spirit of SeaWorld? It truly has many great attributes, and in today's BIG 5, we're going to countdown the top five.
Put on your bathing suit, slap on the sunscreen, and let's get started!
#5 – A white sand beach
In the land of chaotic theme parks and manic crowds, don't you sometimes wish for a white sand beach where you can just relax on a lounge chair and listen to the sounds of waves crashing? Your wish has been granted, because that beach is in Aquatica, located in front of the side-by-side wavepools Cutback Cove and Bigsurf Shores. The beautiful sand, like crystal snow, offers the perfect place to lay back, take a break from your busy vacation schedule, and soak up the beautiful Florida sun.
Although the beach is the perfect place to play or relax, I would not suggest using it as a meeting spot. The beach spans a large area, and it may be harder for little ones to re-locate their parents.
#4 – Walkabout Waters
This 60-foot tall playground, with water raining down from every direction, is the best place for families to splash and play. In addition to many exciting waterslides, the area features two huge buckets that drench water on guests about every 30 seconds.
Although this area may look like it's strictly for kids, the kids at heart are also welcome to play. And don't plan on making a quick trip into Walkabout Waters, because everyone loves taking time to race down all the slides and explore every section of this fantastic attraction.
If you are visiting with younger guests, I would suggest grabbing a chair around this area to set up your stuff and use as a meeting place. If your child gets turned around, it will be very easy for employees to help locate you. On the other hand, if your kids don't like all the water and noise in Walkabout Waters, then they might love playing in the smaller kids' area, Kata's Kookaburra Cove — just keep in mind that children must be less than 48 inches tall to use Kata's slides.
#3 – Commerson's dolphins
These are some of the cutest dolphins I've ever seen, and they are so fun to watch as they zoom around in their habitat. This species of dolphin is much smaller than their neighbors over at SeaWorld, the Atlantic Bottlenose dolphin. The most common misconception about Commerson's, because of their color pattern, is that they are baby orcas. Instead, the Commerson's dolphins at Aquatica are fully grown adult males that can weigh as much as 125 pounds and grow up to five feet long.
Don't miss the Commerson's underwater viewing area (seen in the video above). After watching the dolphins play, make sure to look up to find something that puts into perspective the size difference between a Commerson's dolphin and a baby orca. Next, head into Loggerhead Lane and grab a tube. While you are floating you will encounter another underwater viewing spot.
Finally, make your way to Aquatica's star attraction, The Dolphin Plunge. This water slide races through the Commerson's dolphins habitat — and if you can keep your eyes open, you just may catch a glimpse of a dolphin during your ride!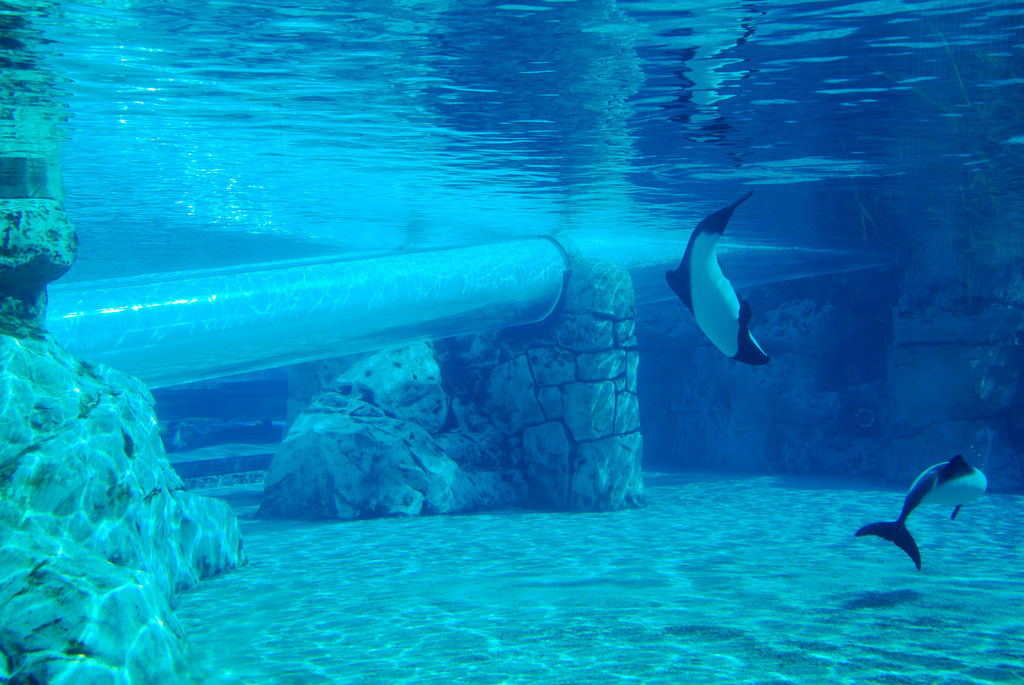 Want to interact with these creatures even more? You might get a unique chance to see a Commerson's dolphin training session while visiting Aquatica. When you are entering the park, check the training session times posted near the dolphin overlook. If you happen to catch one, it's a great opportunity to get some awesome pictures of these little guys.
<script async src="//pagead2.googlesyndication.com/pagead/js/adsbygoogle.js"></script>
#2 – Taumata Racer
Did you know that the name of this attraction is actually short for the 92-letter name of a hill in New Zealand?
Taumatawhakatangihangakoauauotamateapokaiwhenuakitanatahu.
When you head to this part of Aquatica, it's a good idea to start thinking strategy because this is a racing slide. Grab a mat at the bottom and get ready to face your rivals. When you reach the top of the tower, pick your lucky slide and stand at the ready. "Racers on your mark, get set, GO!"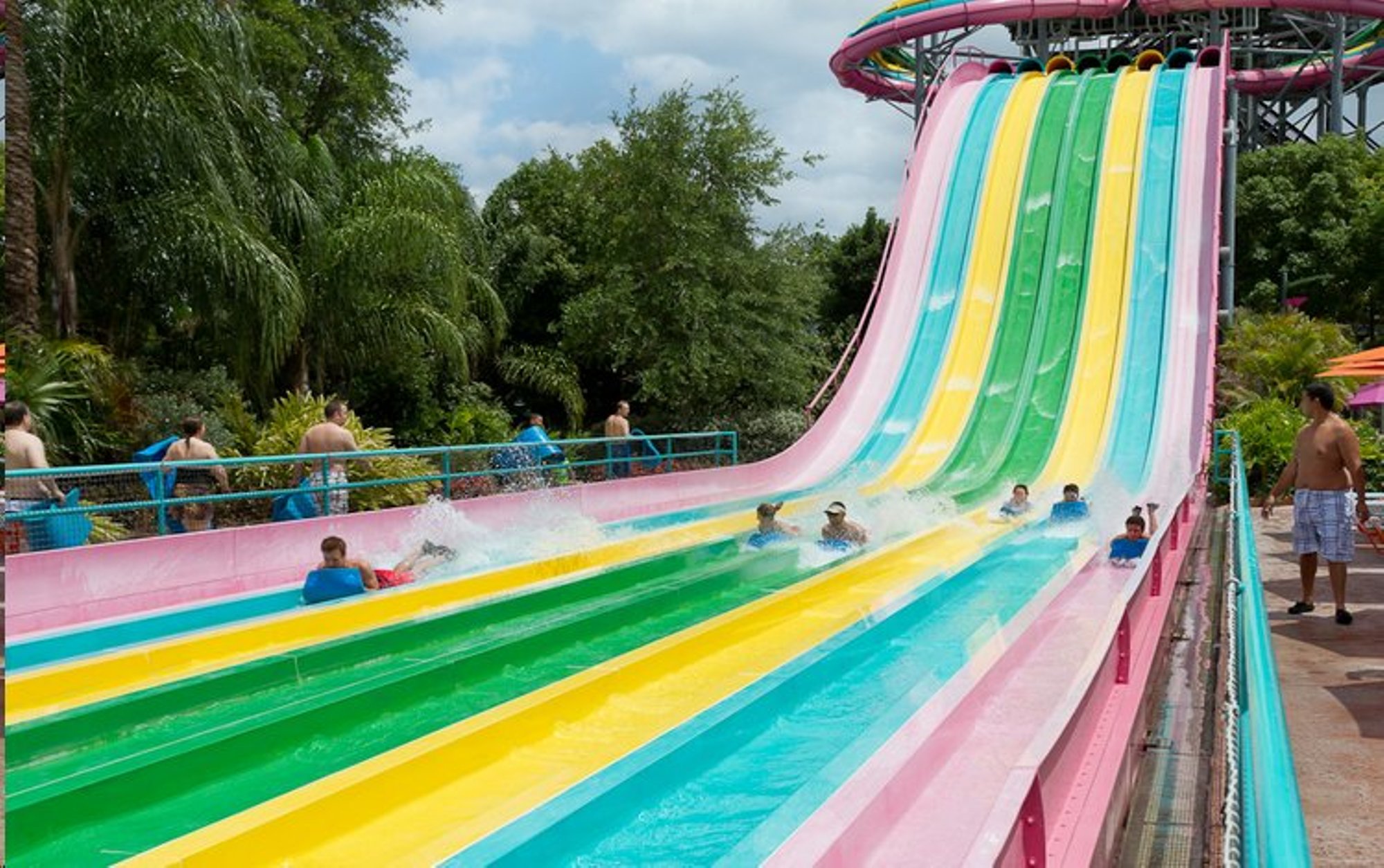 Next thing you know, you are flying down the hill head first and ending in a shallow run-out. Once you reach the bottom, check the times board to find out who flew the fastest — you may have even beat the fastest time of the day. Lastly, don't be shy on this one — if the line permits, try out all eight of the different slides and see which one you think is the fastest!
#1 – Roa's Rapids
As an amazing spin-off of the traditional lazy river, Roa's Rapids is the most popular attraction at Aquatica and most certainly my favorite. It has rapids of course, but also features speed zones and waterfalls as it delivers all the fun you'd expect from a world-class water park.
https://www.youtube.com/watch?v=6pmtyvF1ZN4
Roa's Rapids is actually an attraction as well as transportation. You can jump in and float for as long as you want, or you can use it to get from one side of the park to the other. Keep in mind that there are only two exits, one by the beach and the other near Walkabout Waters. Another tip: Even though life vests are only required for guests less than 51 inches tall, I personally think Roa's Rapids is more fun if you are wearing one.
Honorable mention – Discovery Dollars
This is a free service that allows you to leave your cash, credit, and worries in your locker for the day and use a wristband for payments. It can be used at all of Aquatica's restaurants, snack stands, and gift shops to purchase items. In addition to offering convenience to you, Discovery Dollars is a fantastic option if you have teens that aren't going to be staying with you all day. Just set them up with a prepaid wristband and they won't be able to overspend or lose your cash.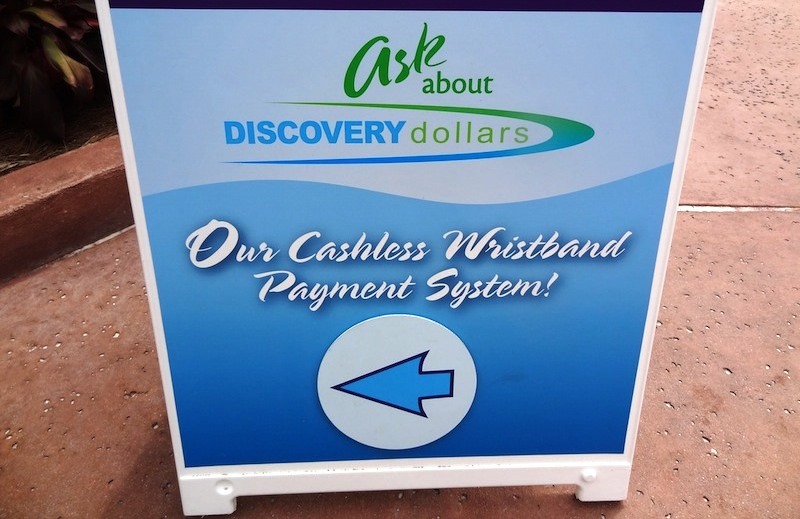 If you are interested in using Discovery Dollars, it's available at any ticket window as well as Guest Relations at the front of the park. Additionally, since you will not need to use your cash, credit cards, and IDs during your visit, make sure to grab a locker for $12.
Disagree with our top water park pick? Think Disney's dynamic duo of Typhoon Lagoon and Blizzard Beach are better? Sound off below.
Planning a vacation to Orlando?
Want to skip all the work and just price out a vacation to Universal Orlando? We'll find the best deals for you – for free (seriously.) Learn more, or check out some of the current deals: