The City Beautiful is filled with fine dining experiences around every turn. Not only do we have the world-famous theme parks, replete with character experiences and award-winning restaurants, but we also have destinations like International Drive and Downtown Orlando (which you can learn all about here). And, tucked between all of them, we have the family-owned and local favorites, as well.
All of these options are wonderful and should be visited whenever you have the chance, but what do you do when you want a great gastronomical experience that also caters to your particular dietary needs? Most restaurants these days can accommodate vegetarian, vegan, and gluten-free, but, generally speaking, the choices are pretty limited. Luckily for you, I've compiled a list of some of the top-rated and most popular vegan and vegetarian possibilities in town.
Travel is already stressful enough! Eating shouldn't have to be.
Norma's Plant-Based Cuisine (Altamonte Springs)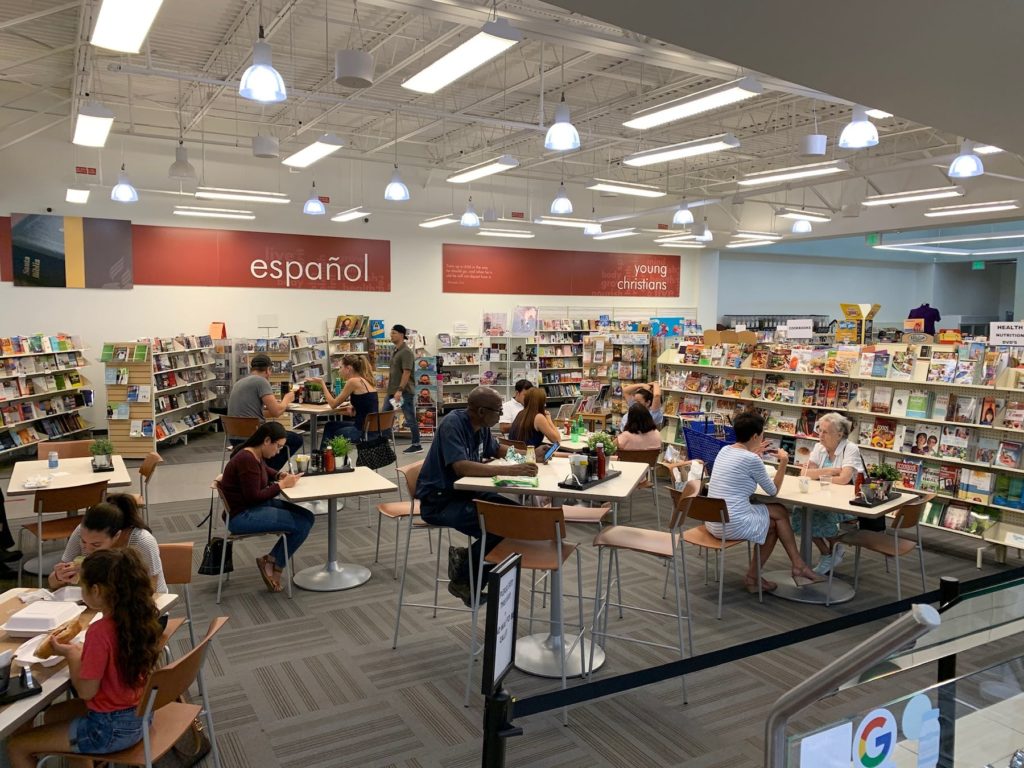 You wouldn't expect to find a five-star Yelp-rated restaurant tucked into a Seventh-Day Adventist bookstore, but you would be wrong. This hidden gem is definitely worth searching for. There are no signs for the restaurant itself, so look instead for the Florida Conference of Seventh-Day Adventists building.
Norma's Plant-Based Cuisine is a charming, casual eatery that boasts an ability to "turn almost any dish into a vegan or vegetarian dish." Let me tell you, they are not lying. From sandwiches and salads to pizza, they make every plate a work of plant-based art. In addition, their menu is absolutely filled with Mexican-inspired flavor so perfectly balanced that you may just forget you're eating Chick'n or Impossible Burger instead of traditional protein.
Infusion Tea (College Park)
Infusion Tea, located in the hip College Park area, is an organic tea cafe serving a wide variety of vegetarian options, such as acai and quinoa bowls, salads, quesadillas, pizzas, and a whole bunch more. All of their offerings can also be made vegan upon request, as well.
Not only do they have an impressive food menu, but Infusion's separate – yes, separate – tea menu boasts well over 50 teas! Hot or iced, you can get it by the glass, pot, or pitcher. Their teas cover the entire spectrum, from black and herbal to more exotic choices. There's also a variety of blends and mates, so no matter what kind you prefer, you're bound to find something you enjoy (and, maybe, even discover something new). You can then take home a tin of your new (or old) favorite.
(Fun note: Infusion Tea also offers full-service event planning for bridal and baby showers, birthdays, and more.)
Ethos Vegan Kitchen (Winter Park)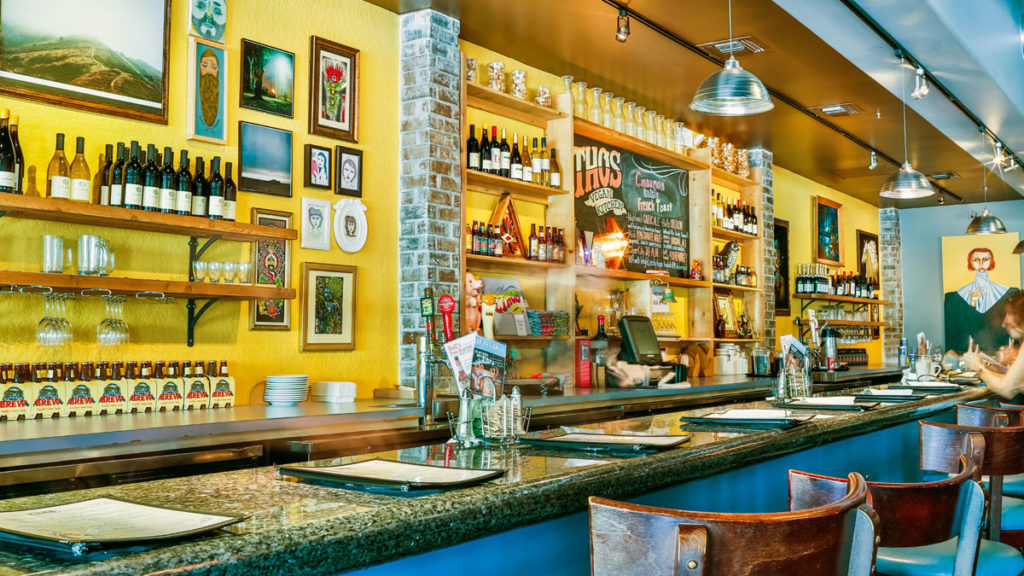 One of Winter Park's mainstays is Ethos Vegan Kitchen. Conveniently located right near Park Avenue and Rollins College, Ethos offers – as the name might imply – an entirely vegan menu, but they also feature several gluten- and soy-free choices, should you have other dietary preferences or restrictions. They pride themselves on their hearty, home-style fare, and besides the usual soup and salad offerings, you'll find pizza, pasta, and a little something called Sheep's Pie – it boasts carrots, broccoli, and peas smothered in gravy, topped with mashed potatoes, and cooked in Ethos's brick oven to perfection. Pair that with your favorite beer or wine, and you're in for a real treat.
Market on South (Milk District)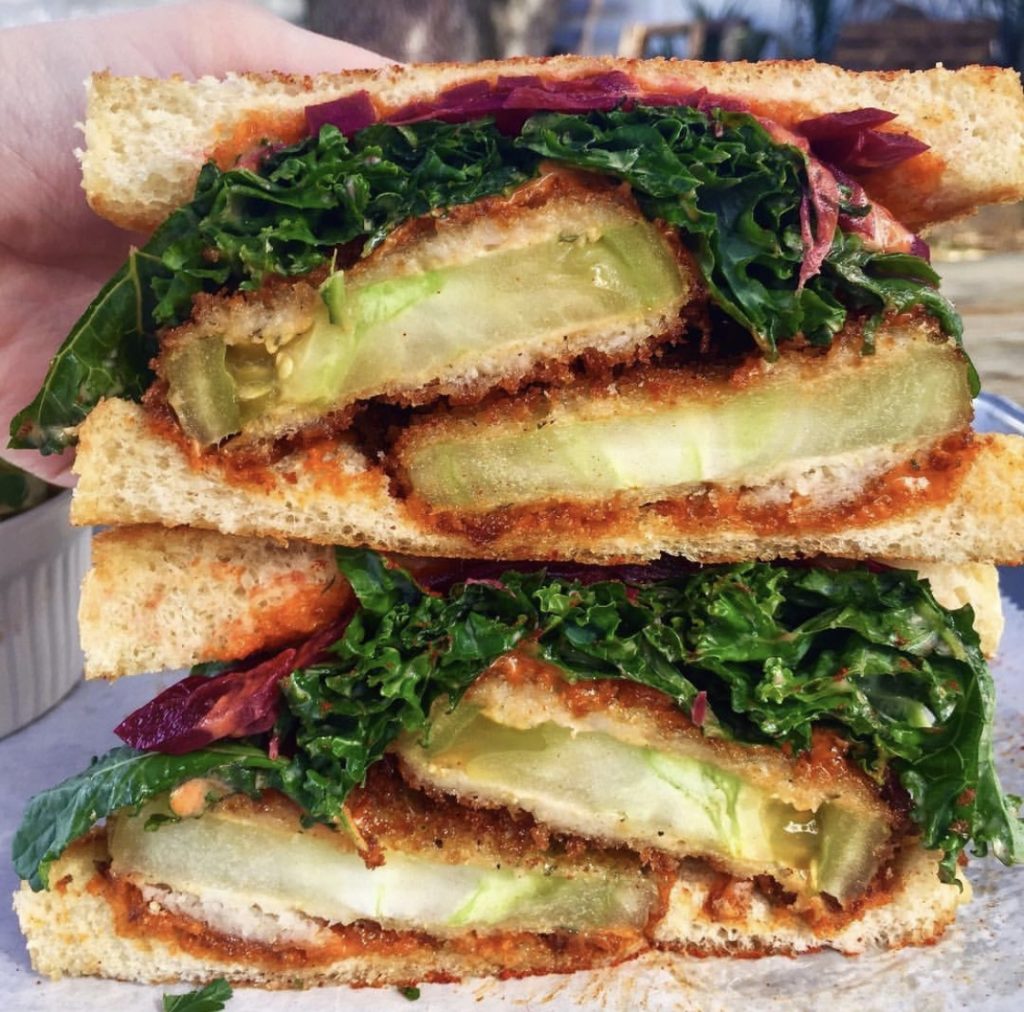 As the name would suggest, Dixie Dharma is where you want to go for all of your vegetarian Southern food cravings, and, boy, do they deliver their "plant-based fine vittles" with the Southern flair you'd expect from a Central Florida establishment. They actually have three locations in the CF area, including Tampa, Orlando, and Sanford; each location offers breakfast, lunch, and dinner, and while their menus vary slightly, the all-time favorites are featured at all three.
Some of those winners include biscuits n' gravy, BBQ-style sandwiches, and some great "stick to your ribs" sides, such as Tater Salad and Creamy Cashew Mac 'n Cheese, in original, garlic, or buffalo flavor. And if you're looking for something a little lighter, but still full of flavor, be sure and check out the Heirloom T.L.T., which features heirloom tomatoes, arugula, and smoked maple tempeh bacon on Texas toast.
When you're done, you can roll yourself next door to Valhalla Bakery and try a selection of one of their delectable vegan cakes, cupcakes, or pastries.
–
Hopefully, you've enjoyed this vegan/vegetarian tasting tour around Orlando. Not only will you feel good getting to eat some healthy and delicious food, but these restaurants are locally owned and operated, so you can feel good about supporting your local businesses, too!
If you have some other suggestions to offer up, be sure to do so with 100,000+ other vacation-planners in our OI Community Facebook group. And don't forget to follow Orlando Informer on Facebook, Twitter, and Instagram for the latest news and tips at Universal Orlando, Walt Disney World, and other Orlando experiences.