The Wizarding World of Harry Potter may have originated in Orlando, but, it turns out, some of the most interesting attractions or experiences tied into J.K. Rowling's sprawling mythology have existed solely in Universal's other theme parks – with it being an open question of whether or not they'll ever get fully realized on Harry's (themed) native soil.
Given this, and given just how inherently interesting all these foreign undertakings are in and of themselves, we thought it'd be more than worthwhile to run down all of the wizarding projects that, for one reason or another, Universal has deemed not worthy of completely importing to either Islands of Adventure or Universal Studios Florida. Think of it as part history lesson and, in fact, part primer, as Universal may eventually use these as inspiration for possible offshoot Floridian experiences – as this month's first-ever Christmas in The Wizarding World attests to.
Just be prepared to fight the urge to book a flight and experience Harry's wondrous world in a whole new way right this instant.
Halloween and Christmas come to The Wizarding World of Harry Potter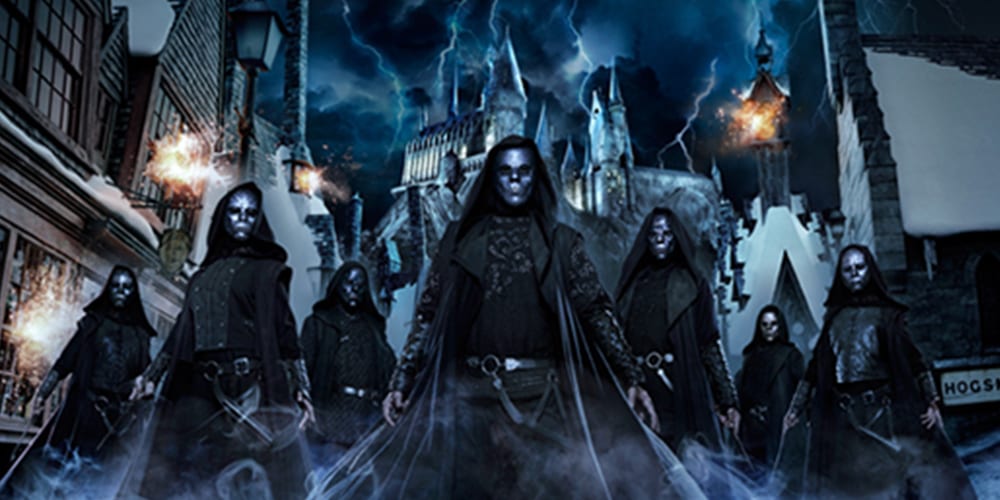 Even though Hogsmeade is almost a full decade old, it took everyone involved with the Potter franchise quite some time to agree to apply the beloved property to more traditional theme-park ends.
What kind of traditional items, exactly, are we talking about? First up is celebrating the holidays, something which Rowling in particular wasn't originally too keen on letting happen within the confines of her wizarding locations around the world. This started to change in 2016 over at Universal Studios Japan, where the second Hogsmeade bowed just one week after Diagon Alley did here in Florida in 2014 – beginning in September, a special Halloween party was held which saw Death Eaters prowl the streets of Hogsmeade Village during the night (we'll explore this a little more in-depth in just a moment) and trick-or-treating for the kids during the day. In November, it was replaced with Christmas festivities that included a giant interactive Christmas tree and special food offerings.
It may not have been much, but it was a good start – one that would pave the way for even more expansive offerings just a little further down the road.
When Death Eaters attack
This one's so cool – and so exclusive to Asia – it deserves a little more elaboration.
The highlight of Osaka's Halloween party, which was held from September 14 to November 6, 2016, was the Death Eater Attack show (although that "Hallowe'en Dessert Feast" sounds like it might have come in second place). The production went a little something like this: actors decked out as Voldemort's followers ("purveyors of Dark magic" is how Universal Japan described them) snuck into Hogsmeade Village to silently menace the crowd, occasionally triggering spell effects as they prowled the quaint streets (both Osaka and Hollywood feature some exclusive interactive wand experiences, which are used to great effect for these special events).
The nightly incursions culminated in a giant battle between the Death Eaters and the good citizens of the Scottish wizarding village; lining up on the Frog Choir's stage, the baddies try to push their attack, and park employees rally guests (preferably those already decked out in their robes and wands) to repel and, ultimately, vanquish them in a puff of smoke.
While nothing particularly elaborate, it's an amazingly effective way to heighten visitors' immersion in Rowling's reality and to keep refreshing the Wizarding World, particularly the original (and comparatively-less-detailed) incarnation of it.
A next-generation celebration: projection-mapping Hogwarts Castle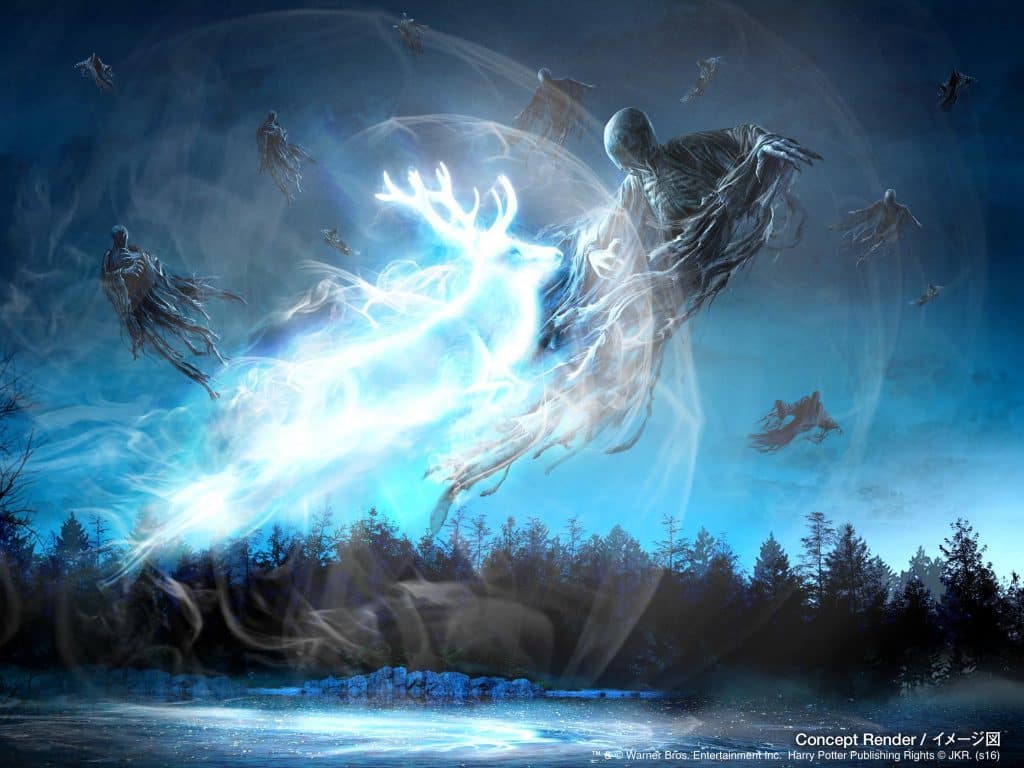 For this year, the theming mandate was expanded even further, revolving around various versions of a state-of-the-art projection-mapping show that use Hogwarts Castle as their canvas.
Japan once again took the lead, announcing on March 16 that Dementors would attack the Asian Hogwarts nightly from April 21 to November 5 (more on which, again, in just a moment). Orlando was next, revealing on April 13 that a Wizarding World Christmas would arrive at both Universal Studios Florida and Islands of Adventure from November 18 to January 6, 2018, with its centerpiece being a Yuletide castle show. Hollywood, which houses the third (and, as of now, final) version of Hogsmeade, came in last, unveiling on May 18 a summertime nightly show (called The Nighttime Lights at Hogwarts Castle and starring the Sorting Hat) that would kick off on June 23 – and then, just because that wasn't enough, Universal Hollywood followed it up on June 5 with the news that California would be getting Florida's Christmas event, as well.
The seasons that used to be hardly acknowledged are now the highlight of the Wizarding World's celebrations – just as they should be, given all the potential for immersion and given the source material's seasonal festivities.
When Dementors attack
Let's circle back, Dementor-style, to that Dementor show, shall we?
This past spring's Asia-exclusive production used the projection-mapping component on Hogwarts as the main thrust of the performance, but it was also buttressed by several other, real-world elements: actors in Hogwarts-student garb position themselves all throughout Hogsmeade, and though they're meant to be the narrators of this experience, they also serve as targets for physical Dementors, who appear as larger-than-life puppets (think of the type deployed in Halloween Horror Nights), or, even better, as drones that are menacingly piloted over the Black Lake (an Osaka-exclusive feature of Hogsmeade). In this way, the action unfolds all around the audience, forcing them to come back several times in order to take in every last bit of the proceedings, and viewers are even more immersed in the story – the effect of the puppet-Dementor stealing the soul of one of the team members, in particular, is something that is beyond nifty and is absolutely the type of new experience that the Wizarding World should continue to provide for guests moving forward.
This type of "four-dimensional" performance is something that is limitless (think of the possible Fantastic Beasts and Where to Find Them applications alone!) and is sorely needed in Universal Orlando and Universal Studios Hollywood.
A next-generation parade: Universal Spectacle Night Parade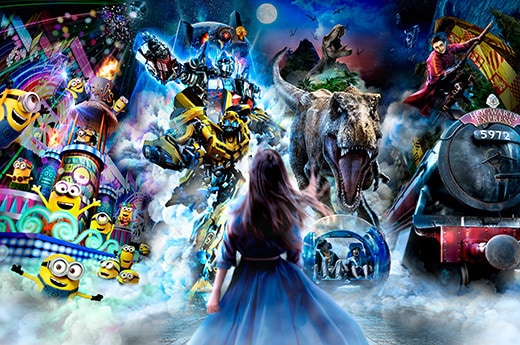 Just last week, the latest iteration of these exclusive Potter experiences was unveiled by Universal, once again for its Osaka park: a "next-generation" parade dubbed, in typical Japanese fashion, Universal Spectacle Night Parade – Best of Hollywood.
Four different blockbuster film franchises – Minions, Jurassic World, Transformers, and, of course, Harry Potter – will be brought to life by using projection-mapping in a whole new way: as opposed to using, say, Hogwarts Castle as the projectors' canvas, the various parade floats and their surrounding areas will be. Taking a page from the previous Universal Studios Japan developments, live actors, music, and lighting will all also be incorporated, helping to make Universal Spectacle – in theory, at least – into something truly spectacular.
It's easy to see how the basis of this new parade technology (officially dubbed Show Orchestration and developed here in Orlando) and at least some of its attached intellectual properties can be carried forward to Universal's two domestic destinations, meaning East Coasters stand a much better chance of seeing Harry and friends envelope them along the streets of Universal Studios Florida (perhaps replacing the quickly-aging Superstar Parade?) than they do, say, witnessing Dementors converge over the skies of Islands of Adventure. We'll just have to keep our fingers – and wands – crossed.
–
Need your wizarding fix right now? Be sure to check out our complete guide to Christmas in The Wizarding World of Harry Potter.
And for even more on Harry's various adventure around the (theme-park) world, follow Orlando Informer on Facebook, Twitter, and Instagram.