There are so many great things about the Sunshine State – one of them being that, no matter where you are in Florida, you are never more than one hour from the nearest beach.
For many, an Orlando vacation is not complete without a beach trip. While Central Florida is just that, central to the state, there are plenty of beaches nearby within reasonable driving distance. As a Central Florida native, let me guide you to some of my favorite spots for soaking up the sun and sand – here are some of the best and closest beaches to Orlando.
Central Florida beaches on the east coast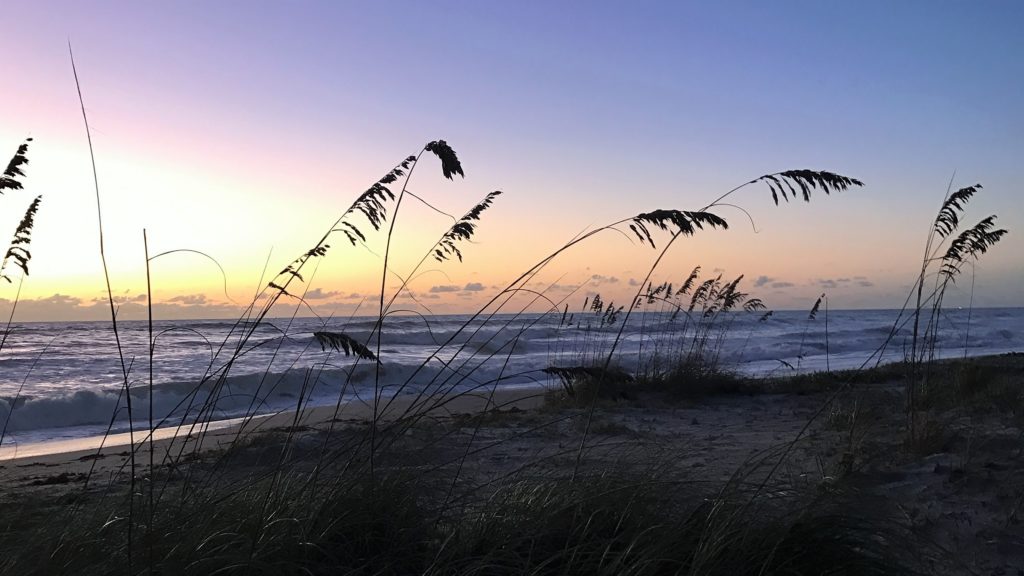 Admittedly, the east coast of Central Florida does not get as much praise as the west. However, there is lots to enjoy here, and it should not be overlooked. The sunrises are breathtaking and worth waking up early for. Many of the beach towns are quieter on this coast, with several offering a small-town feel. The power of the Atlantic Ocean can be felt here.
Cocoa Beach is the closest to Orlando. From the attractions area, you can head down Toll Road 528, known as the Beach Line, and be on the sand in not more than an hour. I adore the Cocoa Beach area – during my childhood, we ventured on many family trips here. It is a unique beach town because of Port Canaveral and its beautiful cruise ships, as well as its proximity to Cape Canaveral, former home of NASA's Space Shuttle Program and current home of the SpaceX and ULA private space initiatives. (In fact, one of the reasons the Disney Cruise Line came into existence is because of Port Canaveral being so accessible to Walt Disney World Resort.)
You can find lots of public-access beaches with low-cost parking along A1A once you've reached the Cocoa Beach city limits. Growing up, we used to park near the famous Ron Jon Surf Shop; we'd take a stroll through the massive surf store before walking out to the beach and claiming our spot for the day. (Ron Jon Surf Shop really is an iconic spot in the area, so consider stopping in.)
Now, as an adult, my favorite beach in the area is Jetty Park. Because of the jetty at the end of its beach, the water is calmer than the other beaches in the area, and the park's also a well-attended campground, complete with cabins that are almost on the oceanfront. There is a building just before the walkway out to the beach that offers restrooms, a restaurant, and a gift shop with beach essentials. I really enjoy the casual restaurant, Fishlips, here at Jetty Park – the food is affordable and perfect for the beach, plus they serve cold beverages, including beer. From Jetty Park, you can enjoy the beach, walk out on the pier, and watch cruise ships head out to sea in the afternoon.
On the other end of the spectrum is Cocoa Beach Pier, which was redeveloped by Westgate, the timeshare mogul. This famous pier is an exciting beach destination with lots of activity: there are multiple casual eateries along the pier, and, often, there is live music to be enjoyed. Just be aware of the parking fee, which is generally about $20 (but is free after 4:00 pm on weekdays and 5:00 pm on weekends).
Not too far from Cocoa Beach is Titusville. Here, you'll find a smaller beach town with a charming historic downtown. Titusville celebrates the unique culture of the space program and is a very popular spot for viewing rocket launches. When my son was just six-weeks-old, we spent the day here to celebrate and watch the very first Falcon Heavy launch (the one during which Elon Musk launched the first Tesla car into space). There aren't as many public-access beaches here, but you will find a nice selection of restaurants and lounges and Playalinda Brewing.
Perhaps the most well-known beach on Central Florida's Atlantic coast is Daytona Beach. Home of Daytona International Speedway and the famous Daytona 500 race, this beach allows cars to drive and park right on the sand, in honor of the original Daytona 500 races taking place on the beach itself. Personally, I find Daytona Beach to be too busy and congested, but it is certainly a sight to see if you are visiting Central Florida. And there is a special place in my heart for the location as it was on the way to this area that I first listened to Jimmy Buffett and eventually became a Parrothead. (Speaking of Parrotheads, thanks to the development of Latitude Margaritaville, a retirement community, housing is booming in this area, and lots of development is spreading along I-95 in the Daytona Beach area.)
My final pick for Central Florida beaches on the east coast is a favorite among us locals: New Smyrna Beach is small, but mighty. The road to NSB is full of scenery that is not very beach-like; tall, skinny pine trees and farm fields quickly give way to a bridge, and – viola – you're at the beach. Charming small businesses make up this town, and there are plenty of great restaurants for a delicious meal. A visit to this area is not complete without taking a stroll down Flagler Avenue, the main street of New Smyrna Beach. (Public parking is available along and near Flagler.) And another unique feature about NSB is the amount of beachside parks there are, giving you another way to enjoy the beach. One of my favorites is 27th Avenue Beachfront Park, with its beachside playground and picnic facilities. There is also a dog-friendly beach at Smyrna Dunes Park (though it is very popular on the weekends and usually reaches capacity by 11:00 am).
Central Florida beaches on the west coast
The west coast of Florida is the preferred one by Floridians and visitors alike. Because of the Gulf of Mexico, there are soft, lapping waves, and warmer waters on this coast make for pleasant splashing any time of year.
The most famous beach of this side of the state is Clearwater Beach, whose calm waves and sugar-soft sand make it a very desirable destination. A nightly sunset celebration takes place on Clearwater's Pier 60 – live entertainment and vendors line the pier as everyone gathers to watch Mother Nature put on a show at each sunset. Just be aware that traffic can be very congested here, especially on the weekends. Affordable parking can be hard to come by; there are ample parking garages that run about $15 for three hours. (Sand Key is right next to Clearwater Beach and is a nice alternative for a quieter spot, though you will have to contend with Clearwater traffic.) Overall, it is a great destination and is where I just celebrated my anniversary with my husband.
Not too far from Clearwater Beach is Honeymoon Island. This beautiful Florida state park is on my list to get back to someday soon – I visited a few times as a kid, and now, as an adult, it is calling me back. Here, you'll experience a more natural environment and a quieter setting – four miles of beach and three miles of walking trails wait to welcome and soothe you. You can rent bicycles and kayaks for the ultimate in beach-day recreation. You can also take a ferry to Caladesi Island, and if your desire is to experience unspoiled Florida, then you should definitely make the trip. Grab a bite to eat at the small cafe near the boat dock here or claim your piece of paradise and rent beach chairs and umbrellas to make the most out of your island time.
Further south than Clearwater Beach, but still within a reasonable drive from the attractions area, is Fort De Soto Park. One of the most beautiful beaches in the entire state, you'll find emerald-green waters, white sand, and picturesque views. Six miles of beach allow visitors to spread out and enjoy without overcrowding each other. That alone is enough to entice anyone looking for the ultimate beach trip, but there is also an early 20th century fort on the grounds – hence the name Fort De Soto Park. Plus, there are restrooms, picnic facilities, and a playground. There is also both a dedicated dog park and dog-friendly section of this spectacular beach.
–
Share your favorite Central Florida beaches with 80,000+ vacation-planners and enthusiasts in our OI Community Facebook group.
And don't forget to follow Orlando Informer on Facebook, Twitter, and Instagram for the latest news and tips at Universal Orlando, Walt Disney World, and other Orlando experiences.