Halloween this year at Universal Orlando Resort has had more ups and downs than perhaps anyone could've anticipated, even at the beginning of the COVID-19 pandemic this past spring: Halloween Horror Nights, the usual fall event, was cancelled; the traditional HHN Tribute Store was opened, anyway, and then subsequently expanded; two haunted houses flung their doors open for daytime operation; and a mini-slew of extra activities was tossed into the proceedings, producing such first-ever items as trick-or-treating for families and the Skeleton Stalk treasure hunt. (Oh, yeah – let's not forget that the first house of Halloween Horror Nights 2021 has already gotten announced: Puppet Theatre: Captive Audience.)
And just in case all that still somehow wasn't enough for you, Universal is happy to oblige with one final seasonal twist: the company is tacking on a third haunt for Halloween, perhaps just to send the holiday out with a bang. Even better, that added maze is devoted to none other than Beetlejuice, the ghost with the most who's been a part of Universal Studios Florida's – and Horror Nights's – history since almost day one (you can find a tracing of that full history here, in fact).
The Beetlejuice house was revealed this morning near E.T. Adventure on the Universal Studios Florida map in the Universal Orlando Resort mobile app, and it even came with this little description:
Enter the world of the original film, more twisted and terrifying than ever. Wander checkered hallways and through the model graveyard as the infamous bio-exorcist, Beetlejuice, haunts you, taunts you, and torments you at every turn. It's showtime!
It's no surprise that the "infamous bio-exorcist" would make the transition to the haunted-house format; above and beyond that long association with Universal, the franchise received its very own place in the Tribute Store nearly a full month after the Halloween shop had first opened, delighting guests with a series of rooms that dutifully recreated various scenes from the original 1988 film (we have a walkthrough of the experience located, once again, right here). One of the other two characters to have received the very same honor, Frankenstein's Monster, just so happened to have a haunt designed for the originally planned Halloween Horror Nights 2020 – well, in the form of The Bride of Frankenstein Lives, that is – which was eventually opened for Universal's stripped-down, seemingly-last-minute Halloween festivities last month. (The other character to be featured in Tribute, Jack the Clown, is widely believed to have been featured somehow at the planned event, as well, given it was meant to celebrate Horror Nights's 30th anniversary – and given that previous anniversary years saw the iconic Jack pop up in houses, scare zones, and, even, stage shows, sometimes simultaneously.)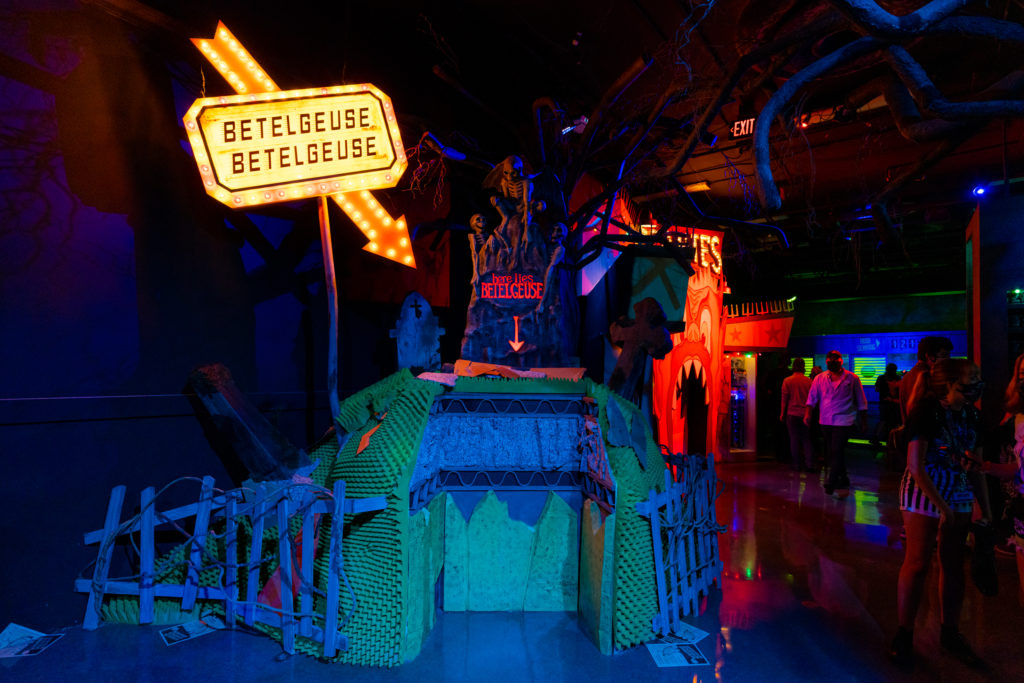 Even more, at the time of the Beetlejuice Tribute section's opening two months ago, Universal had made mention of how it wanted the additional sub-area to feel as if it were a proper maze experience – something which now, looking back, may have been an extra hint that a haunted house had already been designed and built, waiting for its time to debut to attendees. Fortunately for all involved, that delayed debut has been moved from fall 2021 to today.
Now that that day is here, what can we expect from the full house treatment? Given Beetlejuice's long involvement with all things Universal Studios Florida, and given the property's already-pretty-detailed presence at the Tribute Store, we have a pretty simple guess – and it actually has a lot to do with an entirely different haunt: Ghostbusters from HHN 2019. The haunted-house adaptation of the 1984 comedic classic relied rarely on scares and moreso on high production values and show elements, striving more to make guests feel as if they had stepped foot in the classic story and less worried about scaring the pants off of them (Mike Aiello, one of Universal's senior directors, even referred to the haunt as more of a dark ride). This new type of Halloween Horror Nights experience, teased by Stranger Things in 2018 and solidified in '19, just may be a permanent fixture from here on out – well, once Horror Nights officially returns, of course.
Beetlejuice is currently scheduled to be at Universal Orlando's Halloween for today only. It will utilize a Virtual Line, which you can read all about here.
---
We have plenty to say about the previous two repurposed mazes, Universal Monsters: The Bride of Frankenstein Lives and Revenge of the Tooth Fairy – you can find our full review of them both here. And you can find out everything else you ever wanted to know about Halloween 2020 in our insider's guide. And then you can discuss it all with 150,000+ other Universal die-hard fans in our Orlando Informer Community on Facebook.
Finally, be sure to follow Orlando Informer on Facebook, Twitter, and Instagram for the latest news, tips, and more at Universal Orlando, Walt Disney World, and other Orlando attractions.