Halloween Horror Nights may be over a year away now – thanks to its COVID-19-related cancellation for this fall – but that isn't stopping Universal from allowing fans to get some sort of taste (no pun intended) of the event right now.
The HHN Tribute Store opened on Tuesday, July 28 – four days after the cancellation news dropped, but a whopping 44 days before the Halloween celebration was supposed to have commenced (a new record, needless to say). The fully themed shop, which has become something of a Horror Nights institution in its own right over the past five years, more than lives up to its name for 2020, serving as a pilgrimage site for fans and enabling them to purchase retro event merchandise and enjoy its now-famous detailed decor. But, as of today, it also adds another function to its unexpectedly burdened tool belt: a passable Halloween Horror Nights haunted house experience in and of itself.
Here's the deal: when it first opened a month ago, it had two rooms devoted to two mainstay elements of the event – the Universal Classic Monsters and Jack the Clown, the original HHN icon – along with hints of more to come. Those ambiguous-but-enticing promises came to fruition today, revealing an additional two areas that are given over to Beetlejuice and baked goodies, items which have also come to define Horror Nights to one degree or another – in the former's case, ever since day one.
We've already written about the first two detailed spaces – along with the Tribute Store's own storied history, to boot – in our complete insider's guide; now, we're going to dive into the brand-new additions, their own associations with Universal's most popular annual event, and how they keep the spirit of Halloween alive in Universal Studios Florida this fall.
What is Beetlejuice, and what is its outsize influence on Universal Orlando?
Beetlejuice was a certified cultural phenomenon when it released in 1988, solidifying director Tim Burton's status in the annals of Hollywood and placing a rather imaginative stamp on the popular consciousness, ranging from the film's signature design ethos – which remains revolutionary to this day – to the performance of Michael Keaton as the titular bio-exorcist. When combined with the film's narrative twist of having the ghosts be the ones who want to excise their newfound living housemates, these two components were enough to subvert the traditional haunted-house story, making it equal parts compelling and zany (of course, the movie's also-iconic soundtrack, which combined Danny Elfman's memorable score with the genre-defining Caribbean songs of Harry Belafonte, didn't hurt in this regard, either).
Even though Beetlejuice only ever saw just one cinematic entry, it still became a franchise proper, thanks to a plethora of spinoff materials – action figures, videogames, a four-season animated series (which was on the air from '89 to '91), and, just within the past two years, a Broadway musical that was supposed to go on national tour starting in the fall of '21 (and may still). But theme-park fans will be familiar with the property because of its long association with Universal – the character of Beetlejuice has had some involvement with Universal Studios Florida since practically the park's very beginning, when he hosted several street-show productions that also starred the Ghostbusters. That paved the way for a permanent show, Beetlejuice's Graveyard Revue, which would have an almost-unheard-of-for-Universal 23-year run – and although the theater was razed to the ground in 2016 in order to help make room for Fast & Furious – Supercharged, the ghost with the most still has a presence at the park, occasionally prowling its streets as a meet-'n-greet character.
And then there's his association with Halloween Horror Nights itself. While not as involved as his daytime theme-park history, Beetlejuice has still made himself known at the after-hours event, starting with a 1991 show (that's during HHN's very first year!) called Beetlejuice Graveyard Tours, which saw the spirit help conduct a song-and-dance review (sound familiar?) in front of the old Bates Motel façade that used to be stationed in World Expo in Universal Studios Florida's early years (just for good measure, the Blues Bros. also dropped in for some musical Halloween fun). But our favorite Horror Nights production featuring the character is easily The Price Is Fright, held in '94 and '95, which had the anti-hero preside over the "wildest game show in the underworld" and host such segments as "Wheel of Misfortune" and "Win, Lose, or Draw Blood." Given all this, Beetlejuice's arrival at the Tribute Store is something of a grand Horror Nights homecoming – and a leftover component of what was supposed to have been the event's big 30th anniversary.
The franchise's modern relevance, however, goes beyond Universal's annual Halloween showing. Despite not being one for sequels (the only one he's ever delivered is 1992's studio-mandated Batman Returns), director Tim Burton has long been toying with the idea of delivering a follow-up to the movie that put him on the cinematic map. Originally envisioned in the early '90s as Beetlejuice Goes Hawaiian, and intended to be a mash-up between '60s beach films and German Expressionism, Beetlejuice 2 remains a current work-in-progress to this very day, with a new premise of the never-aging bio-exorcist re-entering an outside world that is now in the 2020s. (Yes, Warner Bros. just announced last year that the project had been shelved, but current scuttlebutt holds that it's in active development once again, perhaps spurred by the continued success of the stage musical.)
What is the Beetlejuice room of the HHN Tribute Store like?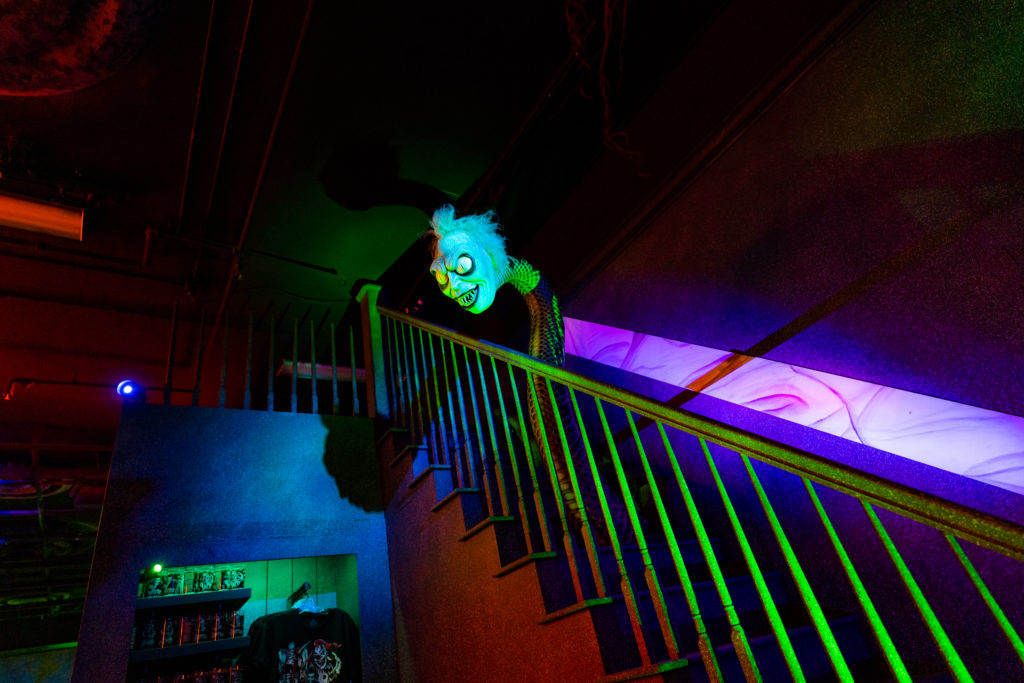 Universal told the Orlando Sentinel, which broke the Beetlejuice story last night, that it wanted guests to feel as if they were in a Halloween Horror Nights house proper when they entered into this new room of the Tribute Store. You can definitely tell; this whole area plays out more like an entire mini-sequence than just a simple room, filled with elaborate set pieces that essentially trace the story of the classic 1988 film.
Guests start in the iconic graveyard where the bio-exorcist resides, which acts as a sort of entryway to the whole experience. Right after it is the main themed space, where the merchandise and cash registers are arrayed between all sorts of other callbacks: there's the staircase equipped with the snake form of the ghost with the most (it comes alive every 30 seconds); the infamous Dante's Inferno Room facade; the Maitlands, aged and dressed in their wedding attire, hanging from the ceiling over a (fake) doorway; and the receptionists' area from the office of Juno, the afterlife caseworker, which doubles as the check-out counter. Then, once you're ready to exit with your Horror Nights purchases in hand, you head for a small hallway – this recreates one of the many, zany corridors from Tim Burton's land of the dead – that takes you to a final, tiny area: Juno's waiting room, where Beetlejuice also ends his arc in the movie. The whole process is very detailed, very evocative, and very effective.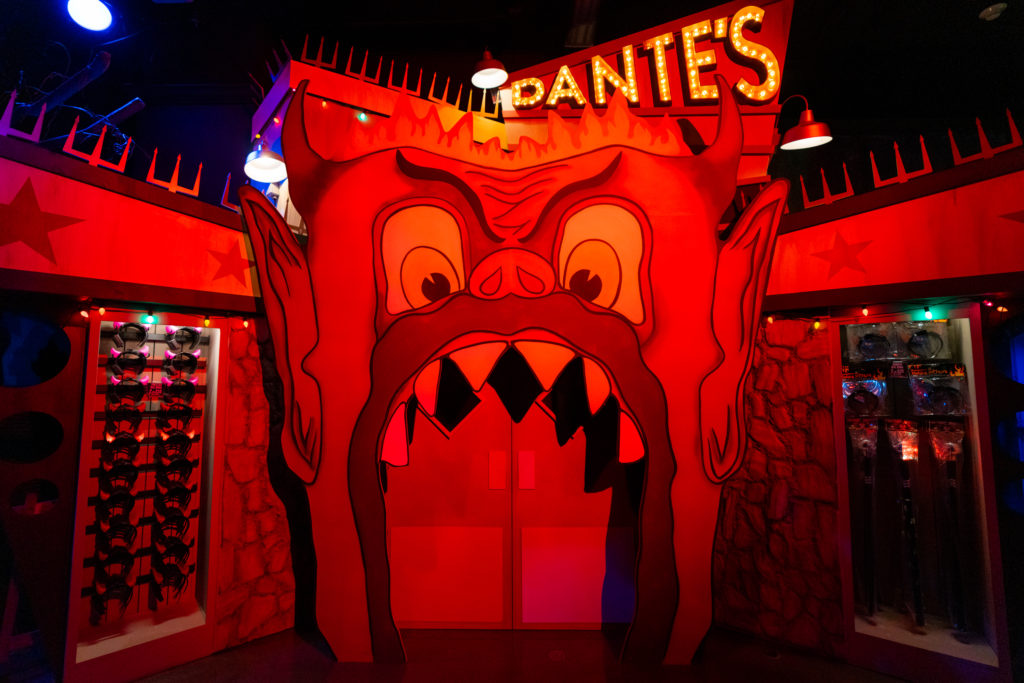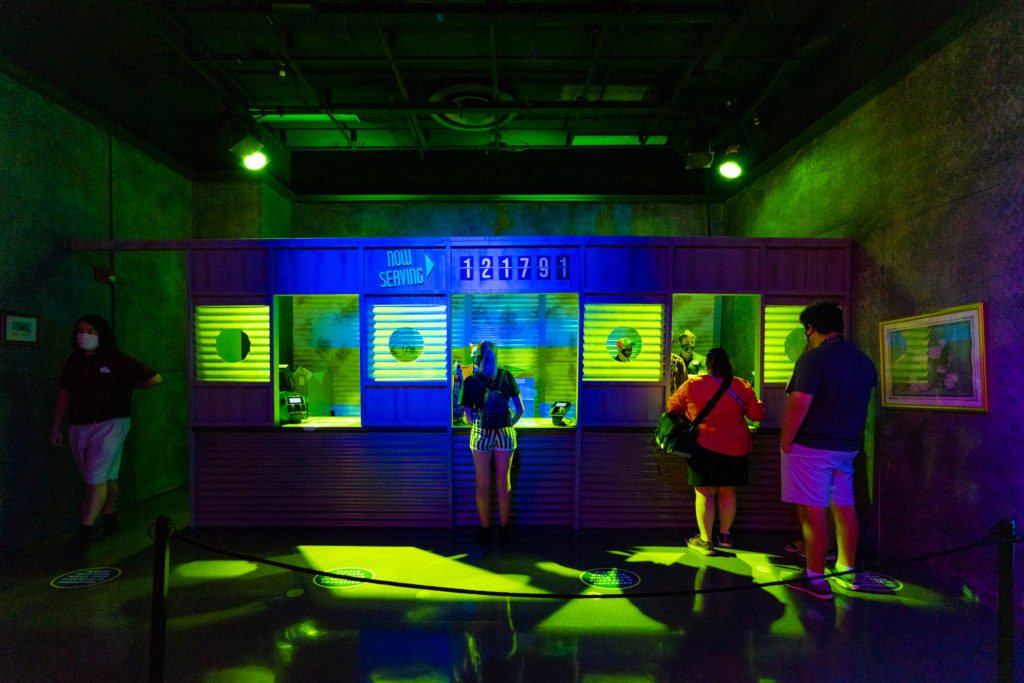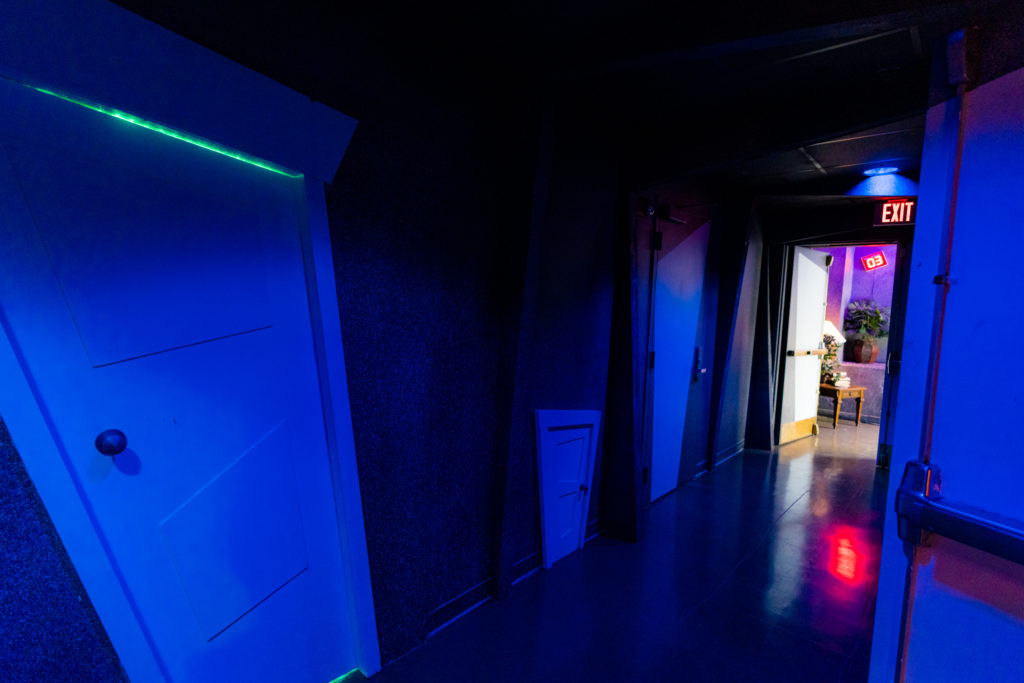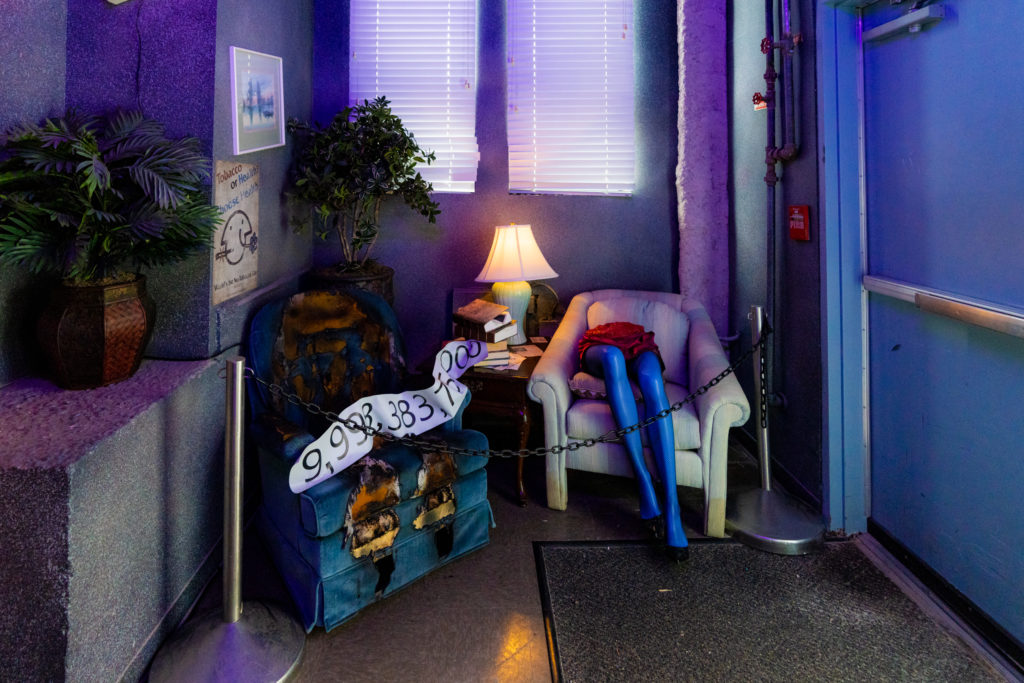 What is the sweets room of the HHN Tribute Store like?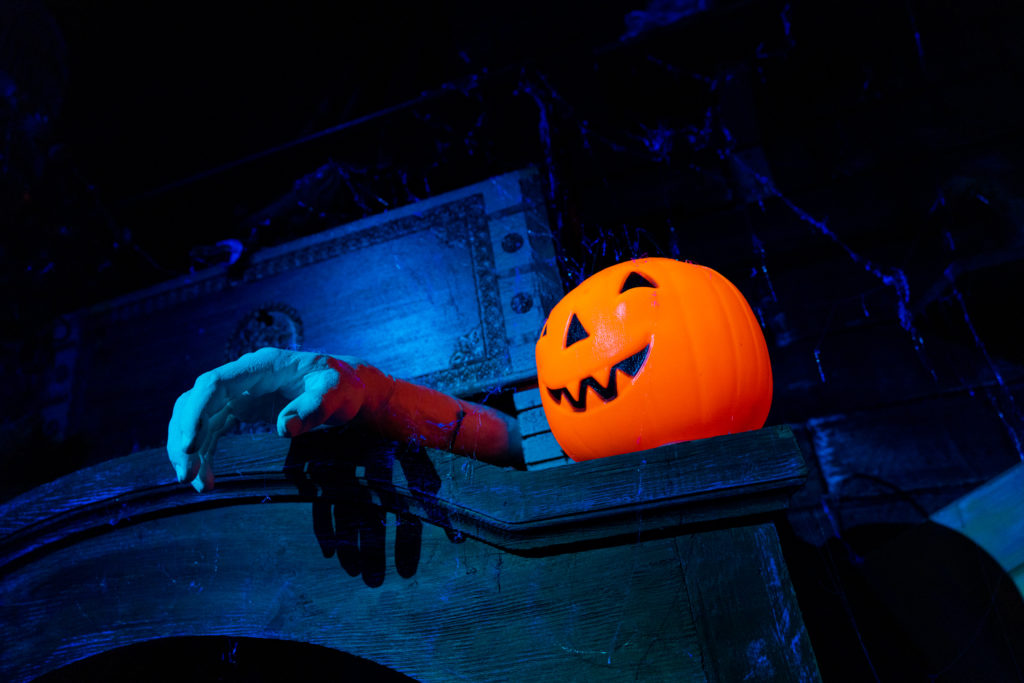 Before you can even get to the big, expansive, immersive Beetlejuice section, however, you first arrive at the baked-goods room.
A first for the Tribute Store – an understandable record to break, given the historical circumstances – the shop is offering several different types of goodies to scarf down, each themed to the holiday, generally, as opposed to the event, specifically. When again speaking to the Orlando Sentinel, Universal explained that at least part of this space was originally intended to be the stock room, but the company opted instead to go the gastronomical route with it – and once it invited the foods team to come in, the chefs involved kept creating new items to offer in an attempt to "capture a little bit of each kind of Halloween theme you could think of."
The range, indeed, is pretty diverse, divided into four different categories: savory, sweet, and (of course) large and small doughnuts. And you can also find a few additional offerings, such as a Graveyard Cake, in a display case nearby.
But let's pause for just a moment on those doughnuts, almost all of which begin with the word "glowing" – it's actually a theme that carries throughout the entire room, which is decorated as a type of catch-all, blacklit attic. Despite being the only area in the Tribute Store this year to not be tied to a specific property, it's still just as immaculately detailed and spookily atmospheric, and it makes stopping here just as immersive as the Universal Monsters or Beetlejuice sections – something which is especially true if you take just a moment to check out those Cherry Gummy Beating Hearts. They have to be seen to be believed!
Devoting an entire room of the Tribute Store to food underscores just how much dining has come to define Halloween Horror Nights: over the past three years, Universal has devoted much more time and energy to designing (and, then, unveiling) a whole range of dishes and drinks that are exclusive to each year's event, culminating in 2018 and 2019 with the arrival of Stranger Things – an entire food tent was even named after a burger joint featured in the early episodes of the popular Netflix television series (though, sadly, there was no accompanying theming to go with it).
(And if all these smaller, simpler offerings just aren't scratching that culinary HHN itch for you, don't worry – Louie's Italian Restaurant just down the theme-park street also today started selling a real, warm, honest-to-goodness slice of the event: the legendary and fan-favorite Pizza Fries.)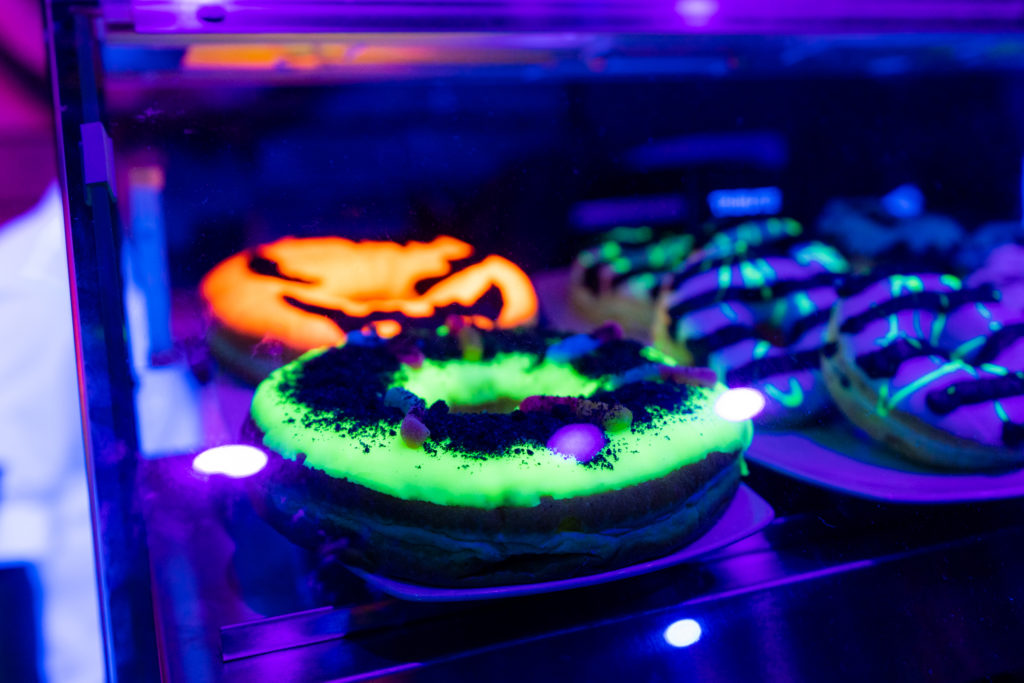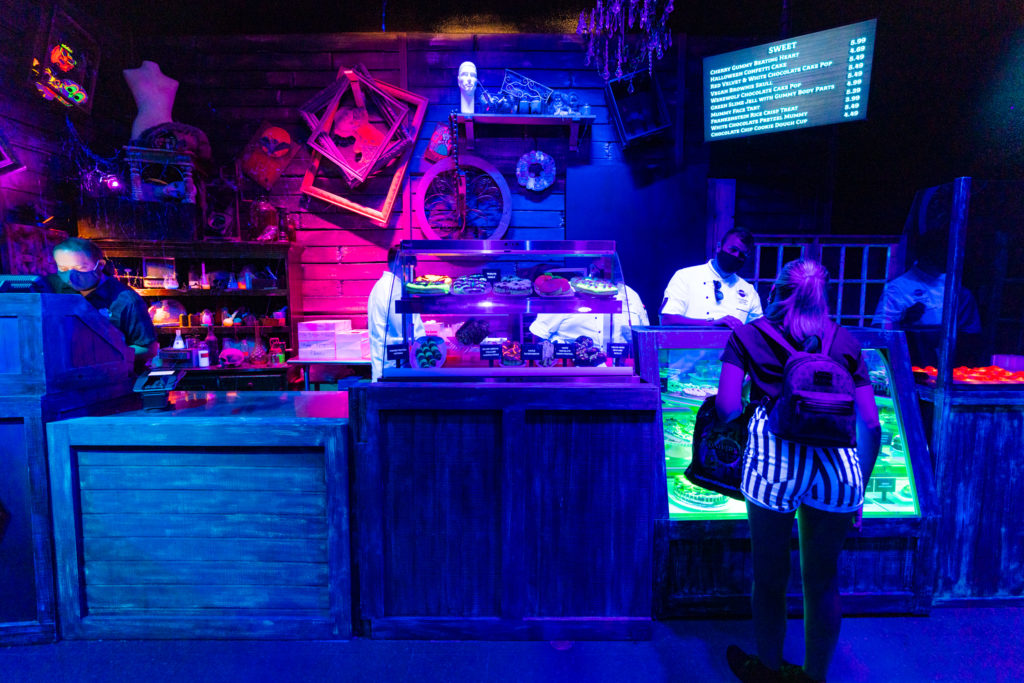 The Halloween Horror Nights Tribute Store is open daily during park hours from now until sometime in the fall.
---
Find out everything you ever wanted to know about HHN – plus more! – in our insider's guide. And then discuss this big stand-in development with 100,000+ other Universal die-hard fans in our Orlando Informer Community on Facebook.
And be sure to follow Orlando Informer on Facebook, Twitter, and Instagram for the latest news, tips, and rumors at Universal Orlando, Walt Disney World, and other Orlando attractions.