Move over, Impressions de France – the France Pavilion has a new feature.
The flagship attraction of this particular slice of Epcot's World Showcase will soon be sharing its theater, the Palais du Cinema, with the brand-new Beauty and the Beast Sing-Along when it debuts next month. Whereas the former movie, clocking in at 18 minutes and containing culturally aligned footage of its host country, was decidedly more for the older crowd, the latter, just 14 minutes long and focusing on the 1991 animated classic Beauty and the Beast, will absolutely appeal to children (and all those who were children when the film originally bowed 28 years ago, of course). Call this the Tao of Disney's new approach to Epcot, generally, and World Showcase, specifically.
The sing-along hits up four songs from its namesake – "Belle," "Be Our Guest," "Gaston," and the titular "Beauty and the Beast" – along with a mashup reprise of them all, displaying the words on the screen so that, y'know, audiences can actually sing along. Although a rather straightforward premise, Disney has spiced up the proceedings a bit with a few dramatic flourishes: the conceit of the movie shows how the seemingly dastardly LeFou, the buffoonish sidekick to the antagonist, Gaston, was actually attempting to hook Belle and the Beast up the whole time; each song is interspersed with new, hand-drawn animation revealing the "behind the scenes" antics LeFou was up to in order to seal the romantic deal. When combined with the fact that some of the original animators and voice actors (such as LeFou himself) were brought back to help realize the production, it makes for a deeper experience.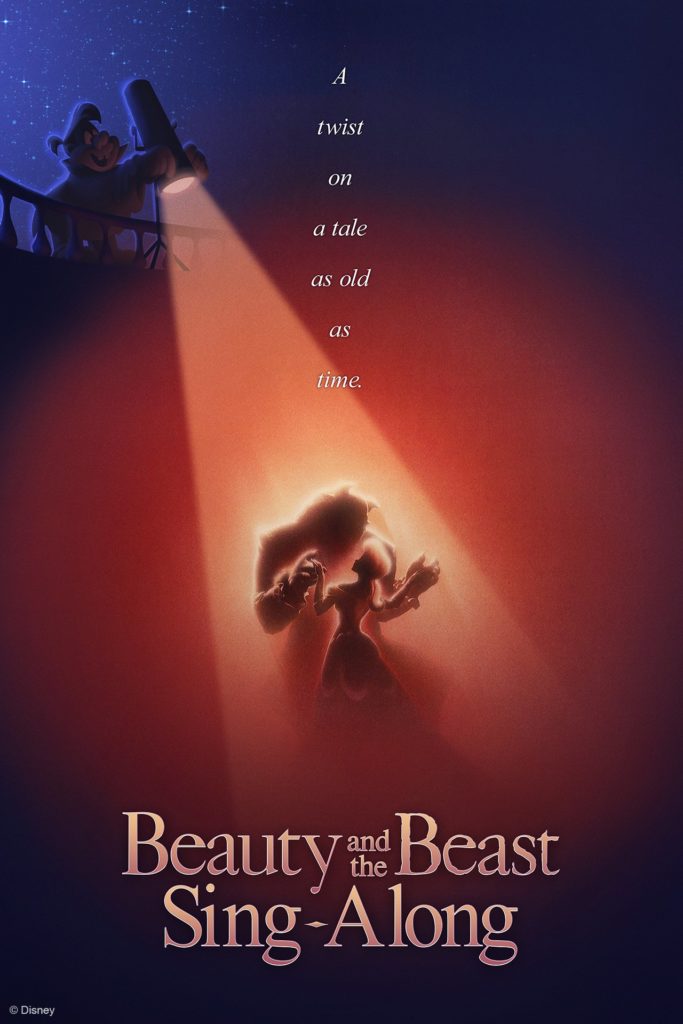 (Our only complaint – although, admittedly, a small one – is that Impressions de France's five-screen-wide, 200-degree, Cinerama-esque curved screen isn't fully employed for the sing-along. Then again, on the other hand, we suppose this could help keep to the early-'90s authenticity.)
Beauty and the Beast Sing-Along is only one of several new elements arriving at the France Pavilion within the next few years – Remy's Ratatouille Adventure, a clone of the Disney Paris Resort original, is currently scheduled for an opening sometime in summer 2020, and a new creperie, headed by celebrity chef Jerome Bocuse (of Chefs de France fame), will bow alongside it.
Look for Beauty and the Beast Sing-Along to premiere on January 17, 2020.
–
Is the tale as old as time a worthy addition to the ever-expanding Epcot? Share your thoughts with thousands of others in our OI Community Facebook group.
And don't forget to follow Orlando Informer on Facebook, Twitter, and Instagram for the latest news and tips at Universal Orlando, Walt Disney World, and other Orlando experiences.