This new haunt might be Orlando's most intriguing this Halloween
Blackwood State Park. April 1986. Legends about the so-called Beast of Blackwood – which may or may not be the result of a government-funded experiment – have circulated for some time, prompting five local youths to go "investigate" in what is really a glorified camping trip. They, of course, disappear, and now it's your turn to head into the woods to find them, armed only with trusty (and old-school) flashlights.
Such is the premise of a secretive new haunt experience, The Beast of Blackwood, which begins terrorizing guests on Friday, September 8. Designed by a small escape-room company called Dangerously Creative, as part of a new Make Real imprint, the haunted trail oozes with '80s nostalgia (think Stranger Things and, even, the early-'90s children's classic Are You Afraid of the Dark, and you have a pretty good idea of what to expect) and brims with the potential for a genuinely scary encounter. Sessions last for approximately an hour, are comprised of six to eight guests, and, yes, are held completely outdoors – in the woods! – for their entire duration.
But what kind of adventure does Beast of Blackwood actually offer horror-chasers? The premise was intriguing enough to make us chat with Alexis Santos, the owner of Make Real, and Sam Fraser, the company's show director, in order to find out.
The Blackwood experience
"Beast of Blackwood is, in part, a response to escape games that only use a few hundred square feet and disappointing crossword puzzles," Fraser enthusiastically told me. "We think immersive experiences can be so much more, and this is our first outing with this style of game."
The idea is to provide an experience that is one part escape room, one part scavenger hunt, and one part haunted trail, borrowing elements from each in order to (hopefully) create something more engaging and interactive. The real crux of the premise, however, lies in sneaking some impressive tech into otherwise-ordinary items, such as those flashlights that users will be clinging to, in order to make them behave in otherworldly ways and, thus, to make guests feel as if they've been "dropped into a movie" – the flashlights will be able to interact with the environment or with live actors on cue, helping to increase the atmosphere while also allowing a narrative to unfold.
Although the two designers were reluctant to go too in-depth on this point, they did reveal that a ham radio and various sound effects hidden throughout the forest that patrons will be trekking through will also be conscripted into this storytelling initiative. And Santos wasn't afraid to wax philosophical on the subject as a whole: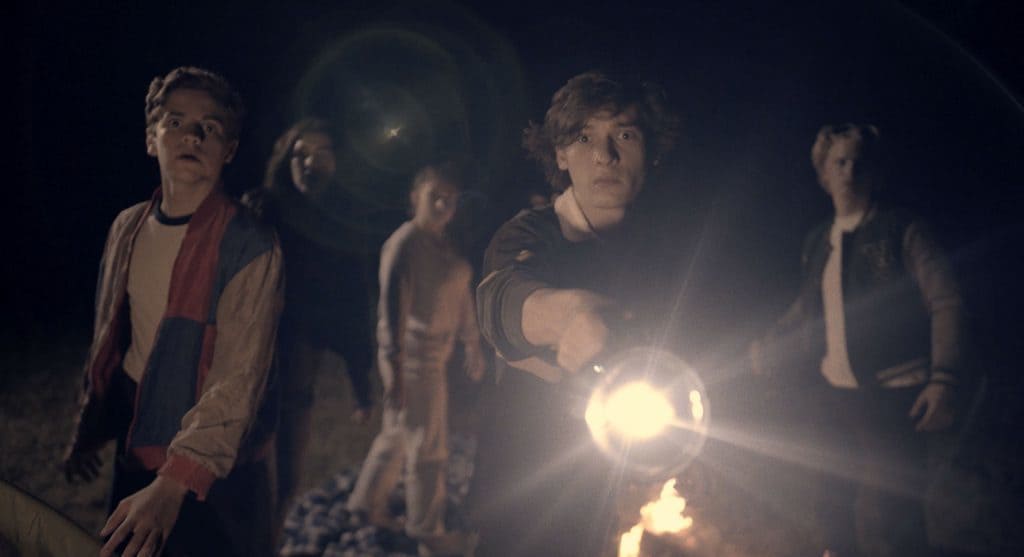 From movies to videogames, everyone wants to dive into a world where anything can happen and the fantastic is real. Escape rooms are a natural growth from that – film and videogames are great, but there's something unmatched about stepping into an actual environment in real life.
Additionally, there might be a lot of excitement around virtual reality, but we think that the themed-experience industry will continue to grow regardless. VR typically requires that players accept a graphical world as the new reality. Since we augment the real world with electronics hidden in everyday objects, these are alternate-reality experiences like no other. We're blurring the line between what's real and what's not, without a headset.
"Some of what we're doing," Sam Fraser elaborated, "is inspired by Arthur C. Clarke's Third Law: any sufficiently-advanced technology is indistinguishable from magic." And The Beast of Blackwood definitely has the potential to be magical, indeed.
Know before you go
The latest found footage of the five children who entered the Blackwood Forest was released to the media earlier this afternoon. The authorities continue their search to find these five brave kids, once again there is nothing to be alarmed about. We will relay breaking news as we receive it in the coming weeks.

Posted by Make Real on Monday, June 19, 2017
Tickets – which can be purchased here – cost $35 per person (a limited-running promo code of "unleashthebeast" will knock $5 off of that), and the price includes s'mores before entering the Blackwood Forest. Currently, the only period that Make Real is selling tickets for is the first two weekends of September, but further dates will be made available on demand. Similarly, a location for The Beast of Blackwood has yet to be announced, but Santos and Fraser assure us that it'll be in Southwest Orlando.
In addition to dressing appropriately for the outdoor fall weather, the company highly recommends that everyone come out in his or her '80s best in order to be as immersed in the experience as possible.
Finally, Blackwood's Facebook page has a running collection of the haunt's trailers and "briefings" to help get you into the search-party mood, if you're so inclined.
–
For even more on Orlando's Halloween scene, be sure to follow Orlando Informer on Facebook, Twitter, and Instagram.