After nearly five-and-a-half years of development and construction, Pandora: The World of Avatar's May 27, 2017 opening date is nearly upon us – which means the flow of information from Disney on the land's mysterious contents is widening to a veritable deluge. Earlier this week, we got our first look at the exclusive food and drinks from the Animal Kingdom expansion (a requirement ever since The Wizarding World of Harry Potter revolutionized the scene), and the week before that saw the announcement of Pandora's pin collection.
All through this process, however, information on the area's two attractions – Avatar: Flight of Passage and the Na'vi River Journey – have been rather scarce, particularly when it comes to the visuals department. While that's still the case today, at least we've managed to get a little bit more info from Disney last night, on a part of Flight of Passage that has hitherto been completely unknown: the queue.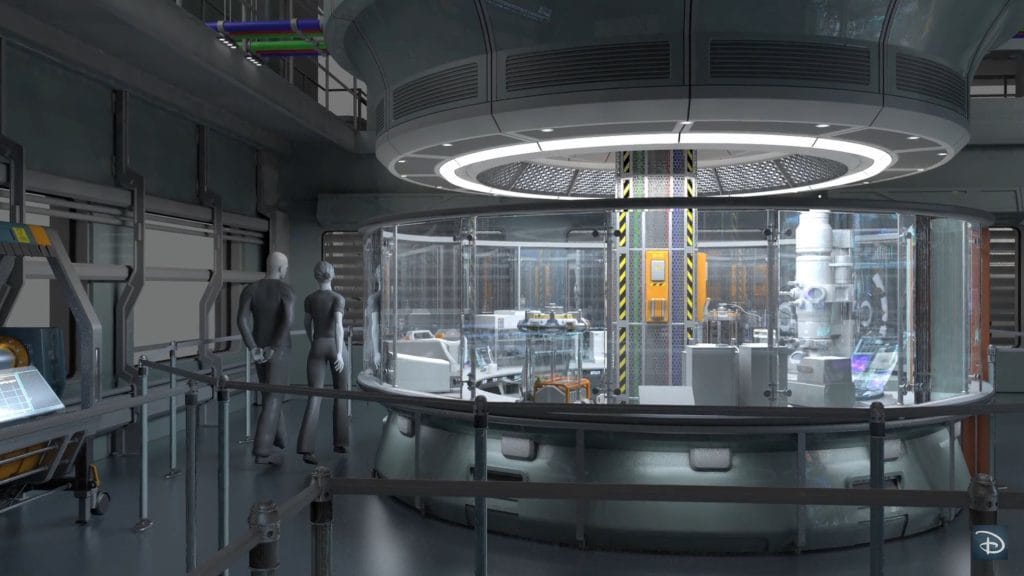 On the Disney Parks Blog, a brand-new video delving into the research that Disney's Imagineers have been conducting on the fictitious history and culture of the Na'vi manages to include a blink-and-you-miss-it glimpse of a "scientific" outpost, one that is instantly familiar to anyone who has seen Avatar. This recreation of a Resources Development Administration base (that's the evil human entity that is attempting to strip-mine Pandora) has a conspicuous series of stanchions erected around a display case of some sort – a set-piece that guests will get to study as they spend what is likely to be hours in line waiting for their very first turn on a banshee this summer.
While just a sneak peek, it does raise the question of how next-generation Flight of Passage's line experience will be – a valid question, given just how next-gen Disney has repeatedly promised all of Pandora will be. After the company established the parameters of what an immersive queue is with Disneyland's Indiana Jones Adventure in 1995, Universal took the concept to a whole other level just this decade, using the trio of Harry Potter and the Forbidden Journey, Escape from Gringotts, and Skull Island: Reign of Kong to make waiting areas that are so detailed and involved, they practically register as separate, walk-through attractions in and of themselves. (Yes, Disney has struck back over the past few years, as well, adding interactive elements to such attractions as Haunted Mansion and Space Mountain, but, then again, Universal has responded by blowing the waiting game up completely with Race through New York Starring Jimmy Fallon – something which both the company and we here at OI HQ believe to be the future of themed entertainment.)
So far, based on the singular bit of evidence we have, it would seem that Flight of Passage – the flagship attraction of Pandora: The World of Avatar – will be eschewing these recent advances in line-crafting and will instead stick to the more traditional playbook of occasionally throwing riders a bone in the form of the occasional roped-off item to look at. Think of this more as The Incredible Hulk Coaster (yes, even after its facelift) than Harry Potter – which is not only disappointing, it's also a massively missed opportunity.
Then again, this is just one small, specific part of what will more than likely be a massive queue, and attempting to judge the whole experience based off of it is impossible; it very well could be like looking only at Escape from Gringotts's vault scene, completely ignoring the Bill Weasley pre-show, the faux-elevator ride, or the recreation of the grand entry hall. Let's hope this is precisely the case.
–
For the latest news, tips, and more at Universal Orlando, Walt Disney World, and other Orlando attractions, be sure to follow Orlando Informer on Facebook, Twitter, and Instagram.