A meal and a movie is a near-perfect combination. It's an easy option for a couple on a date, an outing with friends and family, or just as a quick getaway from reality. Working with this idea, AMC's Dine-In Theater has taken the hassle of either resigning yourself to the usual snacks and stadium-style food offered at the concession stand or possibly having your meal elsewhere, and brought it all to one convenient stop.
This concept has always perked my ears, so I made my way out to the nearest location in Disney Springs to conduct some research and let you, our readers, know whether this is a mere novelty or worth your time and money.
More than just seats and snacks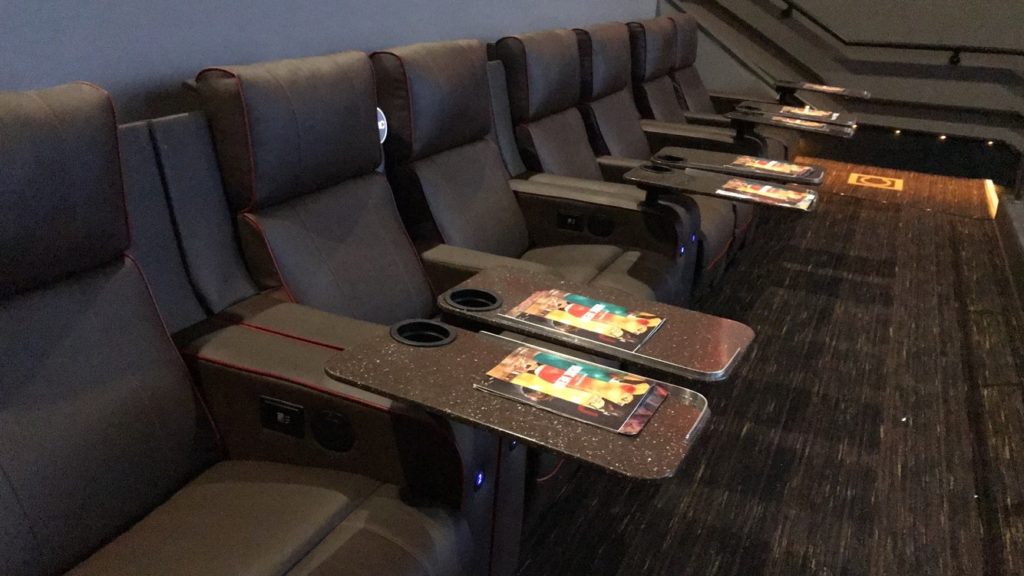 Compared to most movie theaters, the Dine-In-specific variety is more intimate, holding only about 50 seats per showing. Following my lead, guests can reserve these online ahead of time, then retrieve their movie tickets at one of the kiosks in the lobby, or they can do it all at the theater directly with an attendant. The seats feature a swivel tabletop and a cup holder and are up-to-date with AMC's standards of comfort, with spacious, plush recliners. If you're like me and sometimes get chilly while you're enjoying your movie, you can leave the sweaters at home as there are heat capabilities in the backs of each chair. This and the reclining features are controlled by the touch of a few buttons located on the sides of your armrests.
Ordering your food is a separate process with one of two choices. Guests can opt for the Deliver to Seat option, where they place their orders at the concession stand prior to seating and have a server bring their meals to them once they've settled in. You could also go the Full Service route – once you've found your seats, simply press the red button located between the backs of each chair to signal the server when you're ready, and it's just like being served at a restaurant or dinner show. The wife and I chose the latter, but trust me when I say that the hardest part either way is choosing what you'd like to eat!
Speaking of which…
What's cookin'?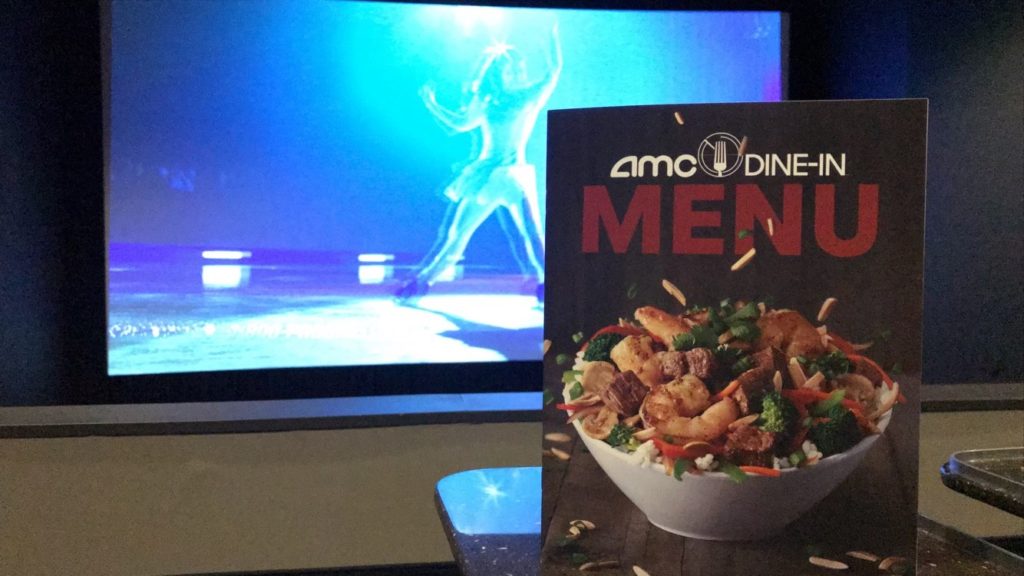 AMC's Dine-In theaters feature Coca-Cola Freestyle machines and a from-scratch kitchen with a culinary selection closer to a TGI Friday's rather than the typical theater fare. That being said, those who want to take advantage of ordering ahead at the concession stand will notice that the Deliver to Seat menu is a slightly condensed version of the Full Service menu, sporting fewer options. I wouldn't say the difference is a deal-breaker, but for the sake of the full list of choices, I'd suggest ordering from your seats.
Getting into the menu, there's plenty to choose from. As for some suggestions, traditionalists desiring familiarity with a flare can order the Ultimate Nachos. Here, instead of bite-sized, vacuum-sealed tortilla chips that are smothered in foil-bag nacho cheese, they are loaded with spicy queso, black beans, pico de gallo, house-made guacamole, and lime crema. Guests can also add chicken, shrimp, or steak for an additional fee. The menu additionally has some more adventurous options, like the Asian Steak and Shrimp Bowl (which is steak and jumbo shrimp mixed with teriyaki stir-fried vegetables, almonds, and green onions, which are all seasoned with cilantro and paired with ginger atop a bowl of sticky rice).
Feeling peckish during my movie, I went with a caprese flatbread to satisfy my cravings. This is a freshly-made flatbread pizza with roasted tomatoes, basil seasoning, and mozzarella and Parmesan cheese. It may not sound like much, but it hit the spot, was surprisingly tasty, and was just enough for me to split with my wife.
What's the verdict?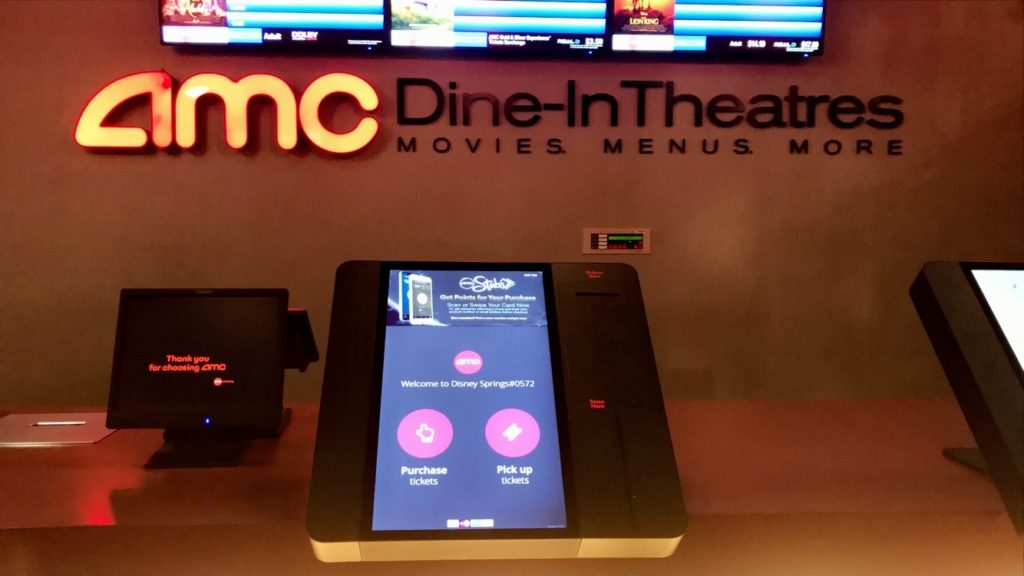 AMC Dine-In Theater is a wonderful option for anyone who simply wants to pair the movie-going experience with more than the likes of popcorn and candy. The theaters are well-maintained, and, while they are small, the seating is spacious enough to reduce noise pollution. As an example: during our viewing of Crawl (a cheesy horror movie where some amount of riffing should be expected), we were in a half-full theater, seated around at least three families, and the audience volume was minimal at its worst. The seats are very comfortable; however, there was a notable amount of space between myself and the table, causing me to lean forward slightly when eating or reaching for my beverage. While this may seem deterring, I wouldn't say it was bad enough to impede on your meal – it's just worth knowing about beforehand.
On my list of actual concerns, I don't have many to mention. There was a point where I had to wait nearly 20 minutes for a drink refill after paging my server with no sign of him otherwise. Objectively, this isn't that bad, considering my service otherwise was pretty attentive (but respectful so as to not interrupt the movie), and leaving to do it myself would have taken the same amount of time.
As for my biggest concern, let's take a moment to speak about the price: the meal is a separate cost from the movie and averages about an additional $50 per couple. Considering we're on Walt Disney World Resort property, higher price tags aren't unexpected, but at that price, AMC's venue isn't the only from-scratch kitchen within a reasonable distance. Furthermore, Disney Springs is practically a culinary hub of excellent choices for at least an equal value within walking distance from the theater. If you want my humble opinion, I can easily see where this would be worth it to some, but it's hard to argue why I shouldn't keep my fork separate from the screen and make the short venture elsewhere for my meal.
–
Have you tried out AMC Dine-In Theaters? Share your thoughts – or what your other picks for good eats at Disney Springs are – with thousands of other vacation planners over at our OI Community Facebook group.
And be sure to follow Orlando Informer on Facebook, Twitter, and Instagram for the latest news and tips at Universal Orlando, Walt Disney World, and other Orlando experiences.