Universal has already been highlighting all the various amazing attractions of its upcoming and hugely expensive theme park, Universal Studios Beijing, but now it's starting to do the same for the last component of its overarching Universal Beijing Resort: its two hotels, which are starting to look just as intriguing as all of those exciting new rides and experiences.
While we've known that the two venues are called the Universal Studios Grand Hotel and NUO Resort Hotel, and while we've known that they'll be situated literally right next to the park, we haven't yet had a chance to get a sneak peek inside or hear even a quick rundown of their amenities. A new press release from Universal changes all that, however, listing some of their on-site benefits and providing an overview of their delicious-sounding dining options, among other noteworthy contents.
But there's something else that also stands out in these recent media materials: the language Universal is using to describe its Chinese resort, which is expected to open as soon as next month. We're told that Universal Studios Beijing will "redefine the modern vacation," while the two hotels will boast a "perfect blend of innovative theming, outstanding guest service, and attention to every detail." It's nothing short of grand, and it complements the new pictures of the properties' interiors perfectly.
Just as we picked out the most exciting takeaways from the attractions, we're now going to do the same for Universal Beijing's two impressive hotels. It might make you start to look at Universal Orlando's own resorts a little differently.
What's the brief overview of Universal Beijing's two hotels?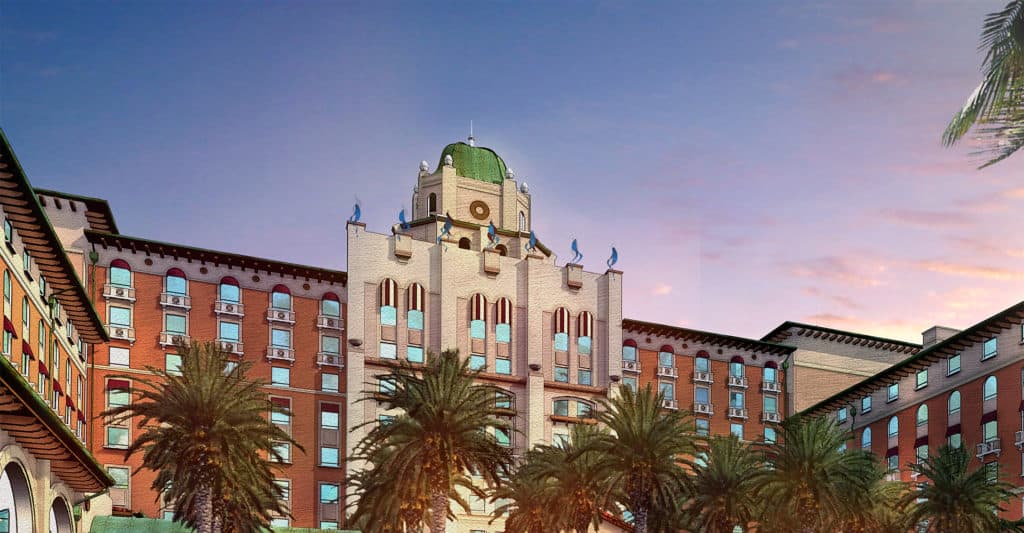 The first striking thing you'll notice when looking at Universal's two new Chinese venues is their location. As we've noted before, the Universal Studios Grand Hotel takes a page right out of Disneyland Paris's book, setting up shop right on top of its attached theme park's front gate; NUO Resort Hotel, meanwhile, is located just "steps away" from Universal Studios Beijing, nestled off to the side (which helps to deliver its theme of being a private retreat, but we'll get there in just a moment). Both will share an exclusive entrance to the park, which will come in handy during Early Park Admission, the only confirmed benefit thus far for staying on-site.
The Grand Hotel is obviously meant to be the flagship property here, with its 800 rooms, family suites themed to Kung Fu Panda, and its "expansive" views of Universal Studios Beijing. (Just to put that 800 number into perspective for you, this new hotel is just 50 rooms larger than Portofino Bay Hotel.) That makes NUO Resort Hotel the luxury boutique option, with only 400 rooms that put a bigger emphasis on spaciousness and upscale offerings. (Are you looking for the Universal Orlando context again? NUO would be the smallest hotel here, by far.)
What are the themes of Universal Beijing's two hotels?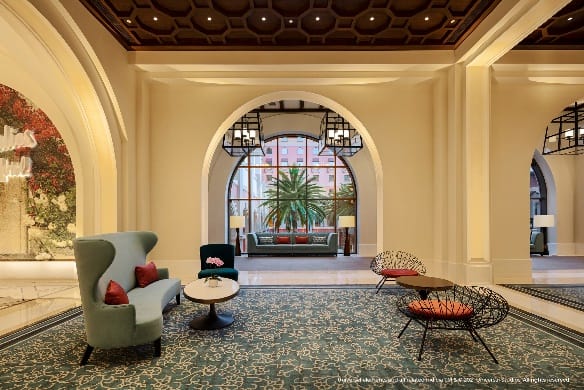 This is where things start to get really interesting – and, if we're being honest, possibly even majestic.
Let's start with the Universal Studios Grand Hotel again. Being the first-ever hotel devoted to Universal Pictures, the 109-year-old filmmaking arm of NBCUniversal, the goal is to bring the Golden Age of Hollywood – "resplendent in [all its] classic and dazzling glory" – to life all around guests. This will be accomplished in a few different ways, beginning with the incorporation of California's Spanish Revival movement; the lobby, for instance, will feature a "rippling" Spanish-style fountain. Then there's the giant collection of movie memorabilia, from posters to behind-the-scenes photographs, spanning all of the major releases from 1912 onward, and the offsetting visual motif of contemporary graphic patterns, which are meant to add splashes of color to the mostly neutral-flavored surroundings.
(Our favorite detail of the Grand Hotel? Easy – apparently channeling Hard Rock Hotel with its signature fragrance as you walk into the lobby, this Asian destination will have the scent of orange blossoms waiting for you when you first enter.)
There is a completely different feel over at NUO Resort Hotel, the first such concept from the Chinese luxury resort chain. The point here is to turn back to the country's past, parlaying the beauty of the ancient royal gardens into a present-day "serene oasis." This can be found both in the property's public spaces as well as its guest rooms, using natural materials and providing a traditional tea set in every room (there's also a tearoom at The Lobby Lounge, which is similarly meant to feel grand and historical). And lest this emphasis on traditional design and cultural aesthetics seem too archaic to you, Universal is quick to point out that NUO will also come packed with "modern conveniences and luxury."
What are the amenities at Universal Beijing's two hotels?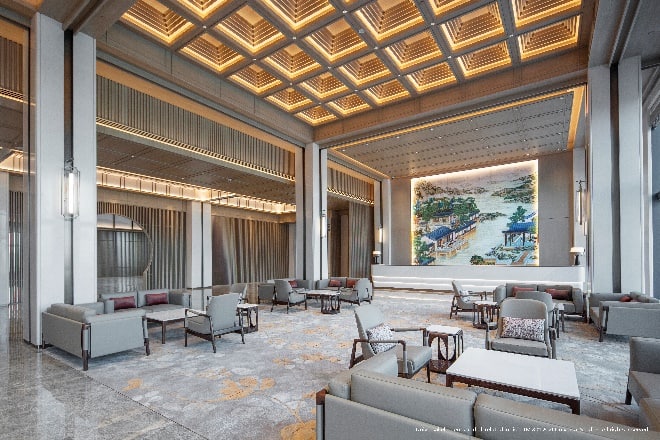 We've waited a long while to receive the first word on what amenities Universal's two newest resorts will come equipped with, and, unfortunately, we'll have to wait a little while longer yet in order to get the full specs. However, the quick breakdown that we were just offered is more than enough to whet our appetite (no pun intended!) and to get us excited for a potential future hotel stay.
First on our plate: food. Universal Studios Grand Hotel comes loaded with three different themed dining options:
Universal Studios Lotus Garden – serves both Asian dishes and "international favorites" family-style.
Universal Studios Red Dragon Lounge –"refreshing great drinks and laid-back meals" are the order of the day here.
Peet's Coffee – the Californian institution is making its way into Beijing for grab-and-go offerings.
We would be remiss not to mention what could be an early gastronomical highlight – the Character Breakfast, which will offer movie-themed meals (and brunches) each and every day, along with the chance to meet with characters from either the Minions or Kung Fu Panda franchises.
NUO Resort Hotel also brandishes three restaurants or bars, but its offerings are – unsurprisingly – weighted more towards the luxurious end of the dining spectrum:
JIA – enjoy upscale Cantonese cuisine within furnishings that are styled after yet another ancient Chinese royal garden.
Café Royal – diners will be able to watch the chefs prepare their Mediterranean-inspired food.
The Lobby Lounge – swing by for tea and pastries during the day and "well-crafted" cocktails at night.
(Universal also makes mention of the Executive Lounge, which will have "dedicated benefits" on-hand for executive-room guests, but no elaboration was offered.)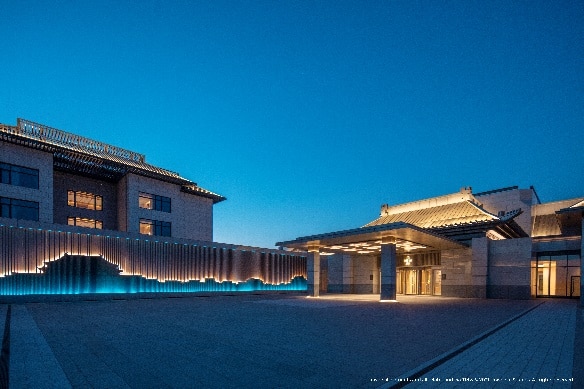 Rounding out the two resorts' announced amenities are a few other items that only serve to reinforce their respective mission statements. With Grand Hotel's focus on families, you can expect to find a movie theater, which comes stocked with director-style chairs and "adorable popcorn container-shaped stools," and the Kids' Club, where families can engage in some crafts and videogames together. And if there was any doubt left over at all about what NUO Resort's clientele will be, wonder no further: a "pampering" spa will be on-site, along with the Magnolia Room, where special events and corporate events will be held.
---
Which Universal Beijing hotel would you be willing to stay at? Which would you want to see come to Orlando? Share your thoughts with 125,000+ other theme-park fans in our Orlando Informer Community on Facebook.
And be sure to follow Orlando Informer on Facebook, Twitter, and Instagram for the latest news and tips at Universal Orlando, Walt Disney World, and other Orlando destinations.