It may seem like we've had nearly a metric ton of information regarding Universal Studios Beijing, Universal's upcoming seventh park that's located in China, already released – we know, for instance, that it's going to be the most expensive theme park in the world, or that it'll contain seven expansive lands, or that it'll boast some potentially game-changing elements. What we haven't known thus far, however, is just what, exactly, Beijing's various experiences would actually consist of.
Until now, that is.
Early this morning, Universal issued a press release going over what guests can expect when they set foot in the company's largest-yet park in May 2021 – and the information is, indeed, enticing. After taking this brief mini-tour, one can't help but be excited by the possibilities for immersion and thrills both – even with the COVID-19 pandemic still raging around the globe, the future of the themed-entertainment industry continues to remain bright.
The lay of the Universal Studios Beijing land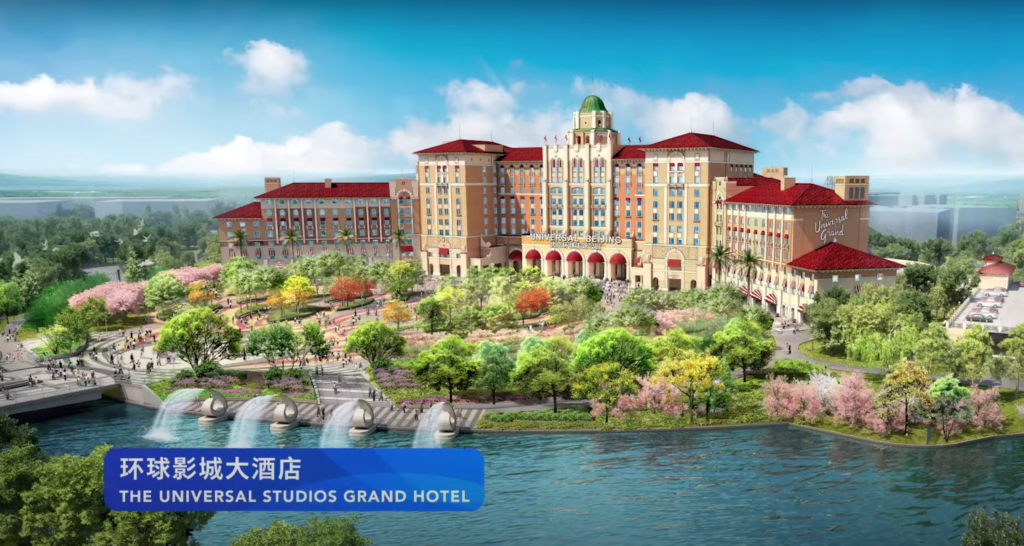 Before we can get to those just-unveiled attractions, however, we first need to go over something a little more pedestrian (no pun intended) but which is nonetheless important in its own way: the layout of what will one day be a fully-fleshed-out Universal Beijing Resort.
We may have already known that guests will first arrive at Universal CityWalk Beijing, just as they do here at Universal Orlando Resort, and, furthermore, we may have already known that the first of China's two "extraordinary" hotels, The Universal Studios Grand Hotel, will sit right at the beginning of Universal Studios Beijing, acting as the park's gateway – but the detail that an "enchanting" waterway will connect these to the second "magnificent" venue, NUO Resort Hotel, is new.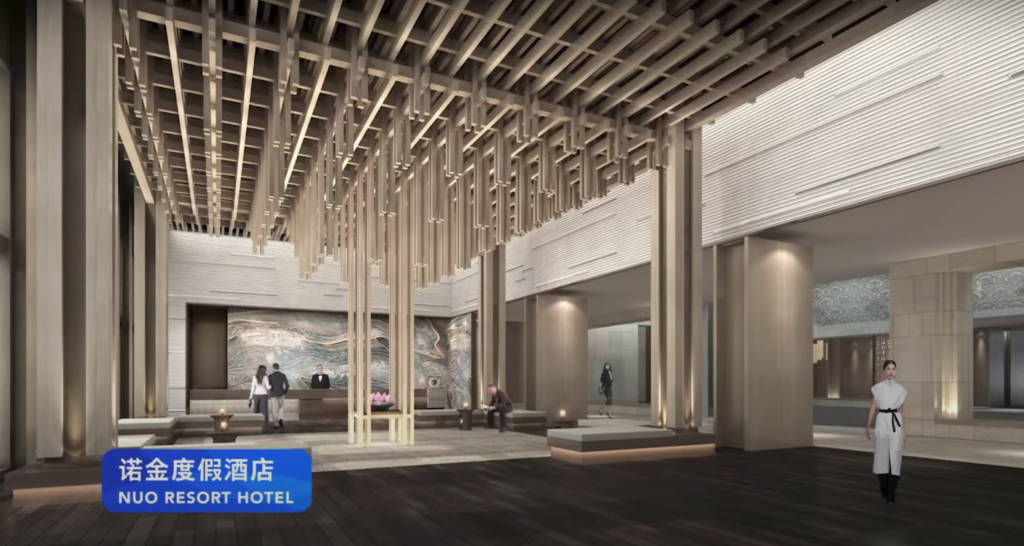 Also new are the very first pieces of concept art of what these hotels will look like (unsurprisingly, they're nothing short of gorgeous), and, also, word that The Cowfish Sushi Burger Bar will be arriving at the Asian CityWalk.
(Additionally, as a quick side note, Universal also explicitly mentioned the slew of artisans and technicians it's employed to create this latest theme-park enterprise: over 100,000 constructors, 500 designers/artists, and 500 suppliers from around the globe have been working together to fashion the very beginnings of Universal Beijing Resort.)
Universal Studios Beijing's rides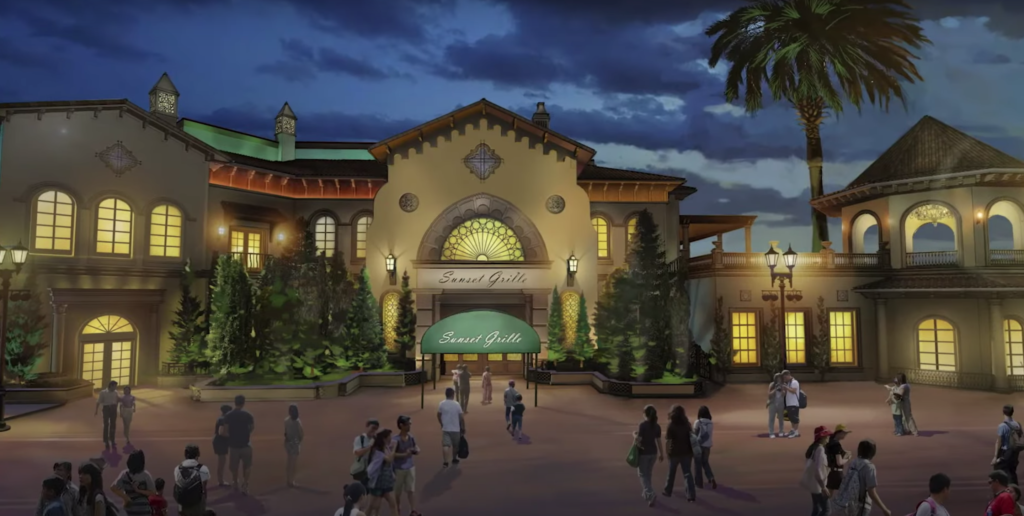 The real meat of this morning's reveal was, of course, our very first concrete details on a whole host of rides and, in some cases, restaurants that will comprise Universal Studios Beijing's seven lands. A number of these attractions will be culled from other Universal parks around the world (this is where, for example, the WaterWorld stunt show from Universal Studios Hollywood comes into play), while the remainder will be a group of "specially themed experiences reflecting China's rich cultural heritage." Both work in conjunction with a string of exclusive merchandise and culinary offerings to make each land as immersive as possible – basically, replicating the paradigm that the company first pioneered with Orlando's The Wizarding World of Harry Potter and further refined with Japan's Super Nintendo World. When taken altogether, Universal promises "immersion beyond imagination."
And just what, exactly, are those themed areas again? Easy – Hollywood, Kung Fu Panda Land of Awesomeness, Minion Land, Jurassic World Isla Nublar, Waterworld, Transformers Metrobase, and The Wizarding World of Harry Potter (yes, the fourth copy of Hogsmeade). While we didn't necessarily receive a significant reveal for every one of these domains, we did get some new info for most of them, including the tidbit that the introductory Hollywood land will contain an eatery called Sunset Grille.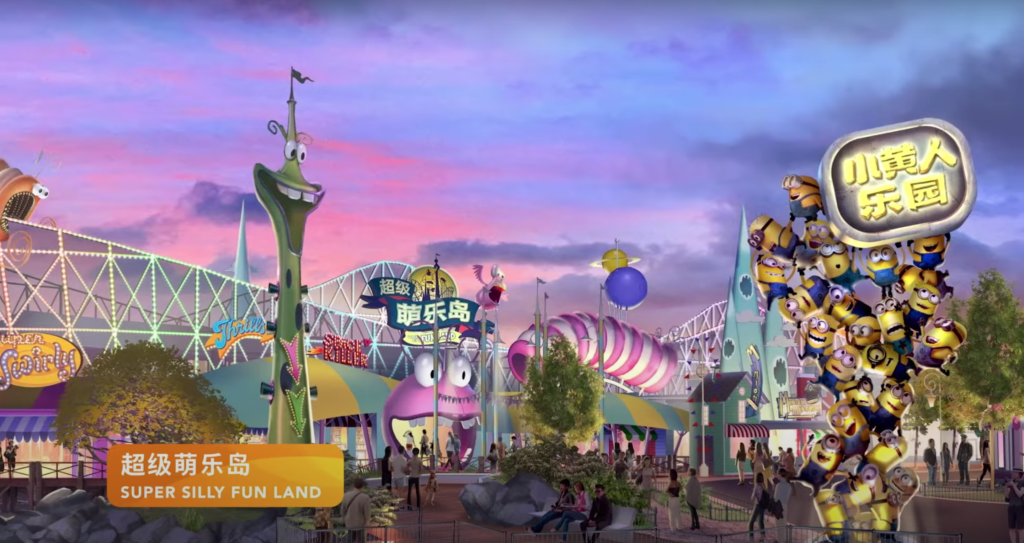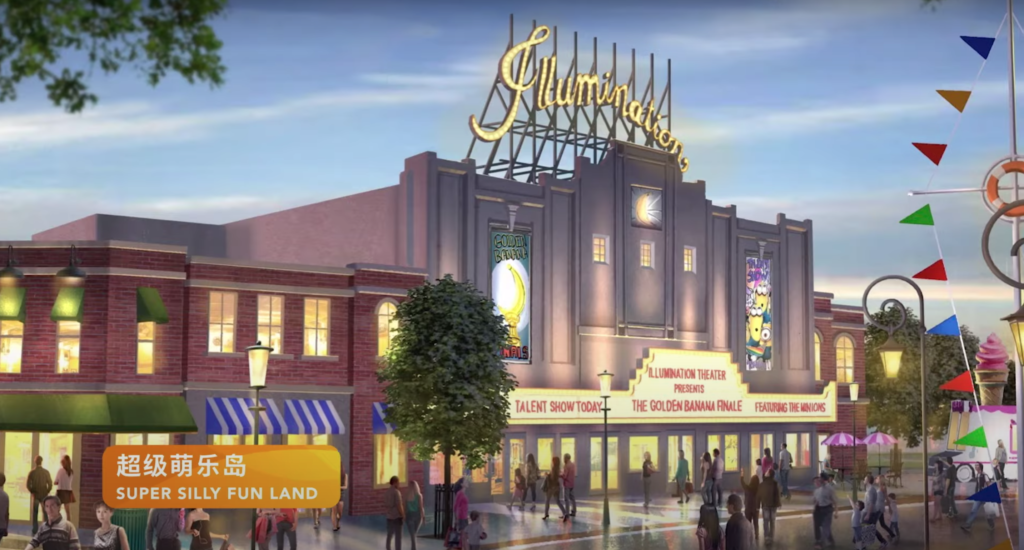 And we also got confirmation that Minion Land will, essentially, be a combination of Universal Studios Florida's Despicable Me Minion Mayhem with Universal Studios Hollywood's Super Silly Fun Land (an outdoor play area that joins water features with the Kang & Kodos' Twirl 'n' Hurl-esque Silly Swirly Fun Ride spinner). Not to be left out of the compilation action, Universal Studios Japan will also be contributing its Sing on Tour live-action show, which highlights another film franchise from Illumination Entertainment (and which is located in the Illumination Theater in both Asian parks).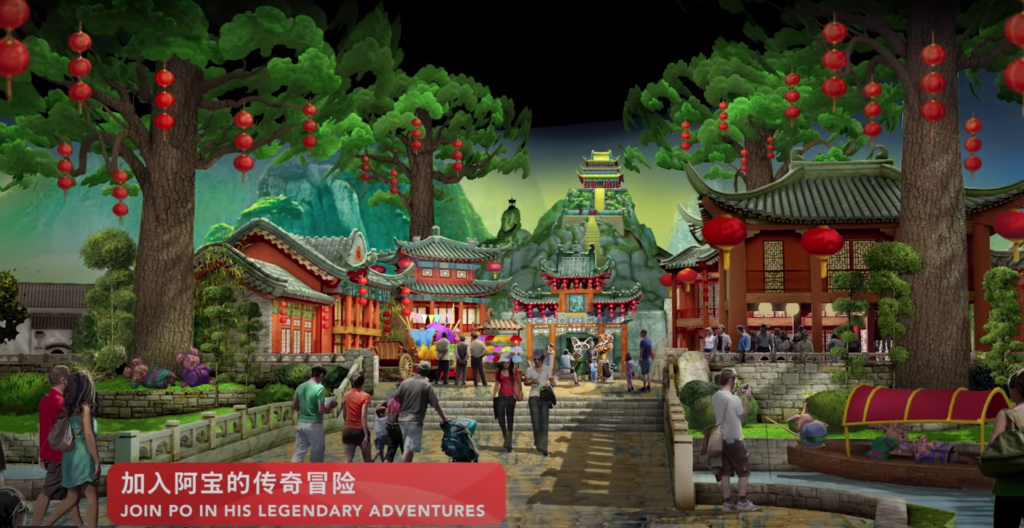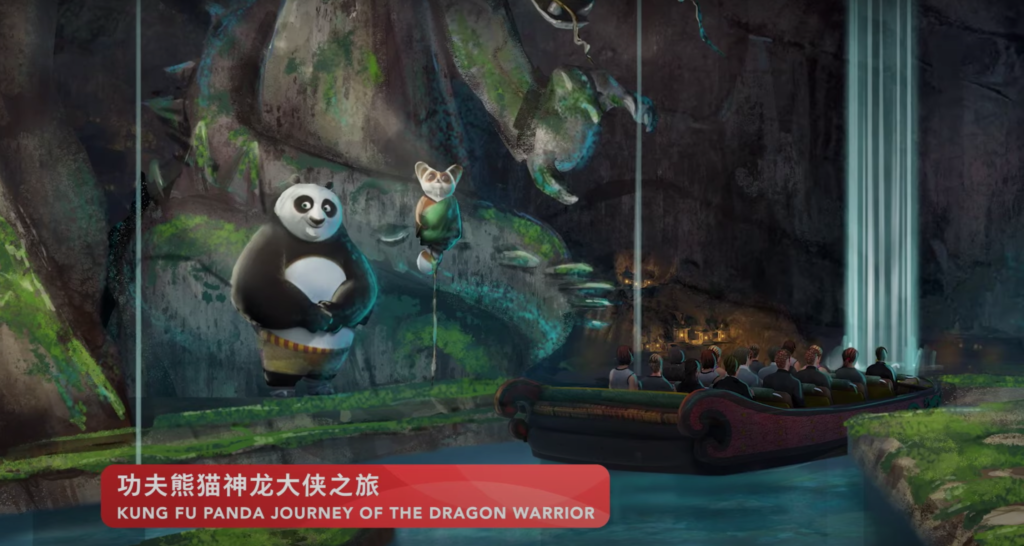 Then there's Kung Fu Panda Land of Awesomeness. This indoor-only area of Universal Studios Beijing has now been announced to recreate the Valley of Peace, the home of Po, the titular martial-arts panda; it'll also be the home to what looks like a next-generation water flume ride, Kung Fu Panda Journey of the Dragon Warrior – think Dudley Do-Right's Ripsaw Falls with a little bit of The Amazing Adventures of Spider-Man thrown into the mix. It looks like a fun, immersive, wet experience.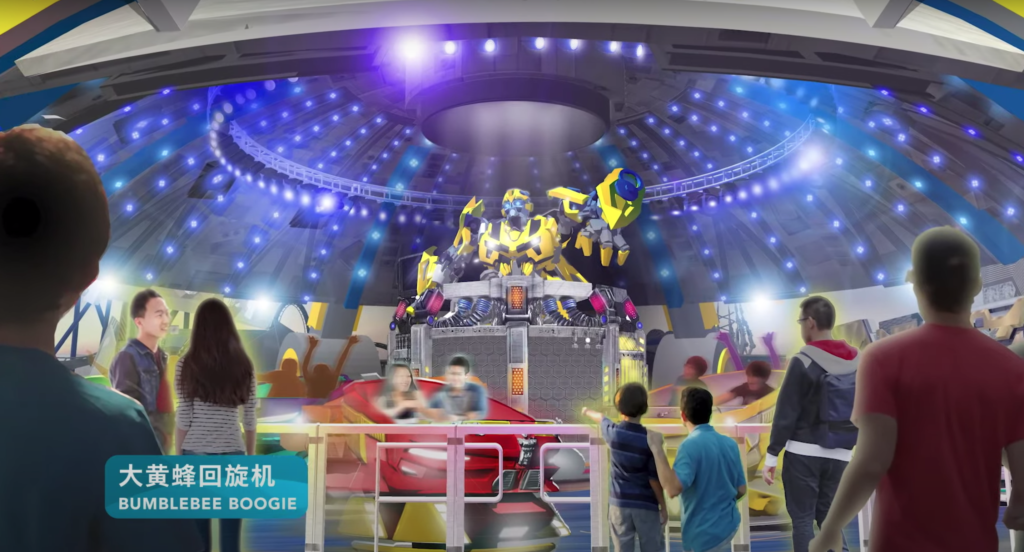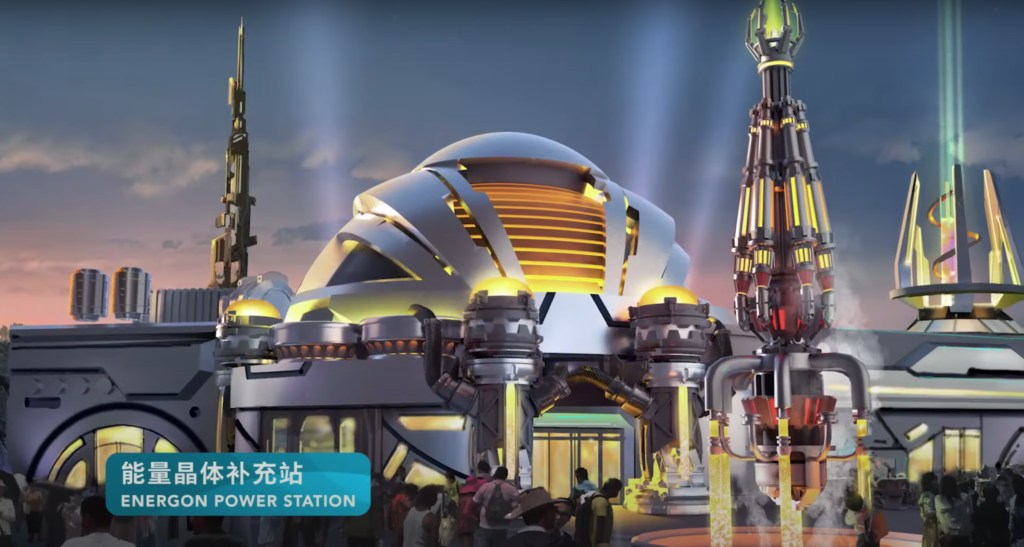 The revelatory action really starts to heat up with Transformers Metrobase, the first land anywhere in the world to be devoted to legendarily popular Transformers franchise. We already knew that the area is themed to a city-sized Transformer named (what else?) Metrobase that has plunked himself in the middle of an Energon-rich location in the Chinese landscape; what's new here is the detail that visitors will be rebranded as "guest agents" and will align themselves with the Autobots to help defeat the evil Decepticons at the Beijing N.E.S.T. headquarters.
All of which serves as the backstory to the Decepticoaster, what would appear to be a re-skinning of Islands of Adventure's The Incredible Hulk Coaster (just with the launch hill's tunnel now being themed as the Decepiticon known as Devastator as opposed to General Thunderbolt Ross's gamma-ray prototype). More than continuing Universal's newfound playfulness with its roller coaster names – as we saw with the recent Jurassic World VelociCoaster announcement here in Orlando – the Decepticoaster will easily be the biggest and most thrilling coaster at the new park.
And if such a behemoth intimidates you as you potentially contemplate a Chinese vacation next summer, don't worry – there's still the likes of Transformers: Battle for the AllSpark, an apparent rename of our (and California's and Singapore's) Transformers: The Ride – 3D, and the just-revealed Bumblebee Boogie, a kid-friendly spinner that looks a lot like Mater's Junkyard Jamboree over at Disney California Adventure.
The last of the Metrobase experiences detailed today is, interestingly enough, a food-and-beverage stop that may have a surprising history behind it. Called the Energon Power Station, and themed like something right from the planet Cybertron itself, this venue just may be an import from Universal Studios Hollywood; when that park's version of Transformers: The Ride first debuted in 2012, it had an accompanying (and remarkably plain-looking) drink counter called the Recharging Station, which served the exclusive Energon, a cream orangeiscle-flavored beverage. Unfortunately, neither the property nor its headlining offering would last for a full two years, with some believing that the libation was retired in order to make room for the similar-tasting Flaming Moe – but with Beijing not possessing a Simpsons-themed land, this won't be an issue at all.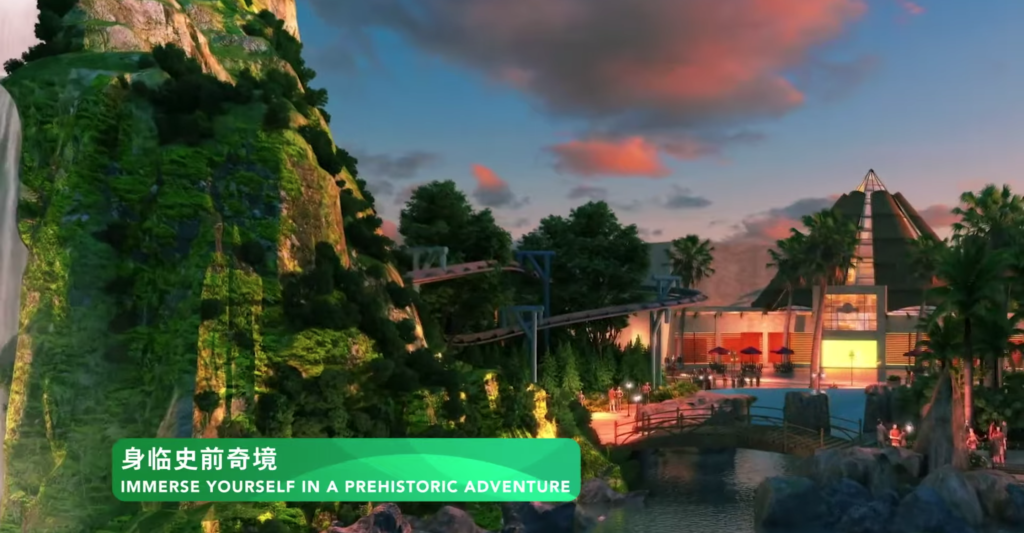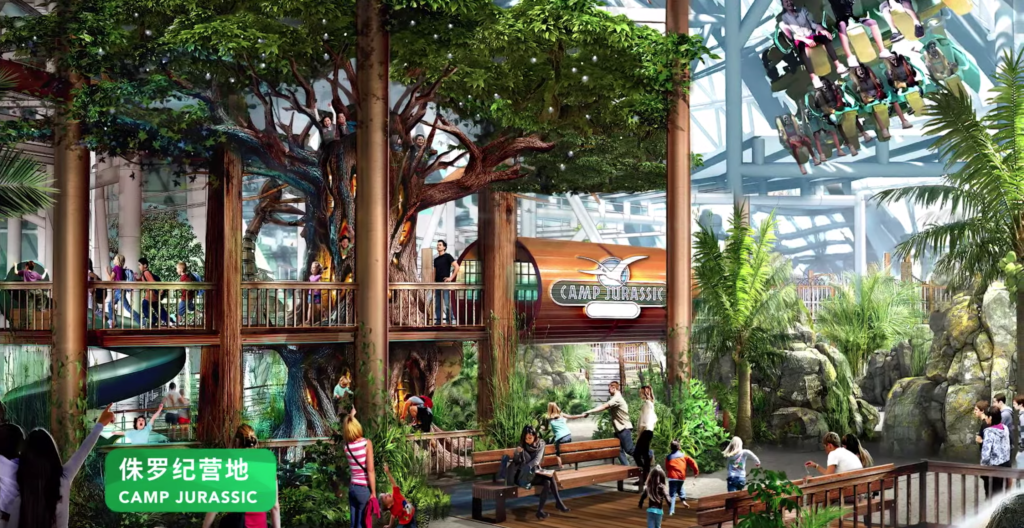 All of which, finally, leads to the crux of the theming matter: Jurassic World Isla Nublar, the land that Universal just last week said would contain "brand-new things you've never seen before in a Universal park." Today comes word that this area will feature four different zones that are filled with interactive experiences, and two of them may have already been disclosed: The Aviary and Hammond's, although the latter could easily be some type of dining option. Universal, furthermore, is promising that Isla Nublar will be "expertly brought to life in jaw-dropping detail."
To wit: the flagship ride of the land will be Jurassic World Adventure, which will see guests board the All-Terrain Luxury Automatic System (ATLAS) to explore the various reaches of the fictitious Jurassic World park, encountering a whole host of dinosaurs as they do (including velociraptors, Tyrannosaurus rexes, and, of course, the Indominus rex).
And then there's Camp Jurassic, an import from Islands of Adventure. But just because the name and premise (an expansive children's play area replete with multiple levels and slides) is familiar, don't think that its exact contents will be, as well – the concept art released this morning show an indoor area that looks a fair bit different in its exact execution. Remaining the same between the two versions, however, is the presence of a roller coaster above (or, perhaps in this case, within) Camp Jurassic: while Universal Orlando features the kid-friendly Pteranodon Flyers, Universal Beijing will boast a for-adults inverted affair.
---
There is still much more in the way of specifics to go, but it's increasingly easy to see how Universal's latest project will fit its rather grandiose slogan of "redefining the modern vacation destination." Now, let's just see how its resort here in Florida will respond in the years to come.
What would you most like to see come to Universal's theme parks – whether in Orlando or Beijing? Discuss your wildest fan desires with 150,000+ other die-hard fanatics in our Orlando Informer Community on Facebook. And then be sure to follow Orlando Informer on Facebook, Twitter, and Instagram for the latest news, tips, and more at Universal Orlando, Walt Disney World, and other Orlando attractions.