Universal Orlando is making changes and upgrades on a daily basis. With the Transformers: The Ride, Springfield USA, and Diagon Alley additions just to name a few, the opportunities for new guest enjoyment seem to be endless.
But while all of these new additions are surely amazing, many fans are looking back to the past to remember where it all started. Today I'm going to let you know about my Universal memorabilia that keeps the memories alive and how you can get your own.
Blast from Universal Orlando's past
My favorite piece of Universal memorabilia is a poster advertising the Universal parks.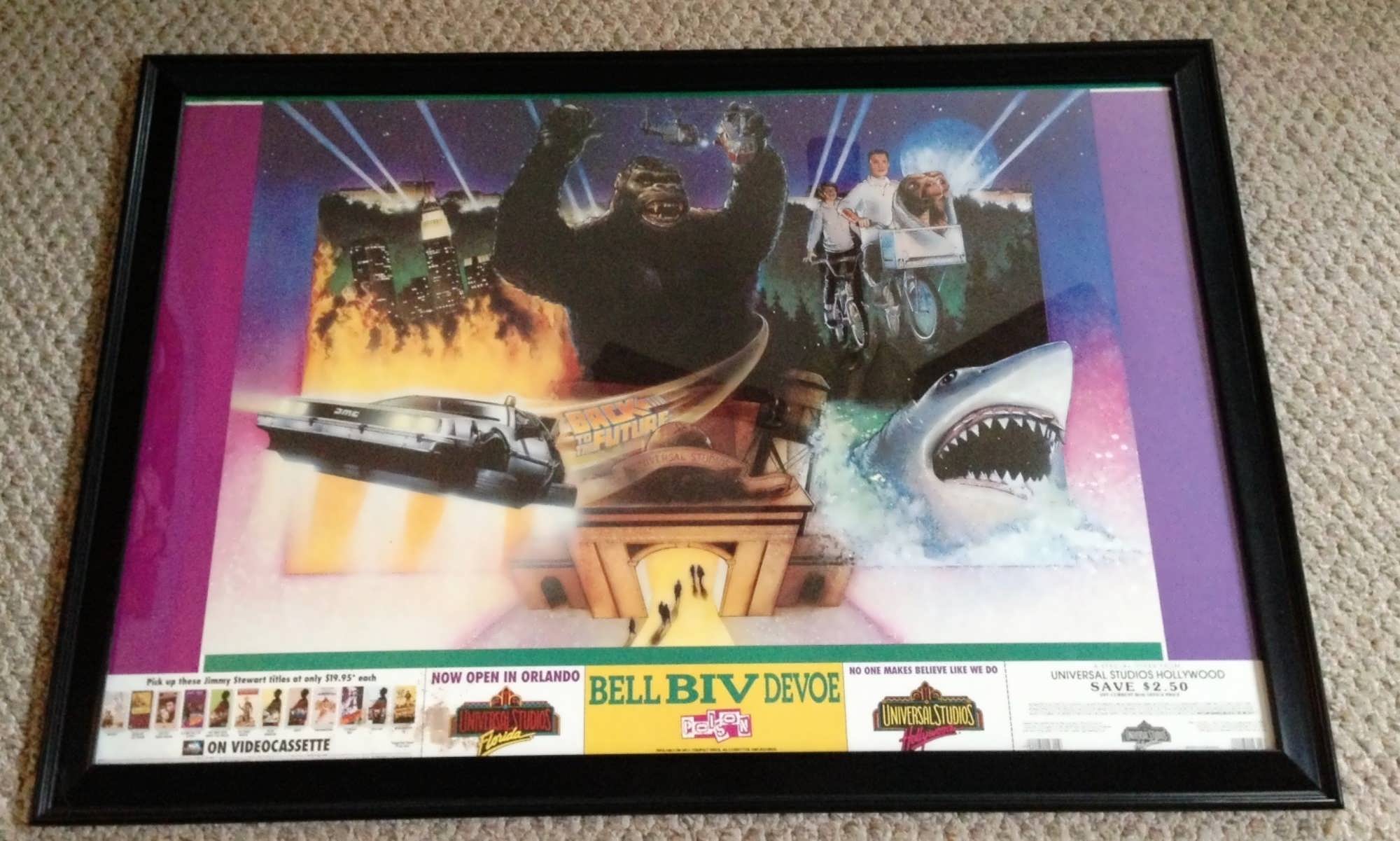 The photo features King Kong, Back to the Future, E.T., and JAWS, with the Universal arch beneath King Kong. On the bottom are original (and only slightly water stained) coupons for Universal Studios Hollywood, advertisements for their movies on videocassette, and advertising that Universal Studios Florida is "Now Open in Orlando!" I proudly framed the poster and hung it on my wall.
My other favorite piece of Universal history is a pennant flag advertising for Kongfrontation, with a large photo of King Kong grabbing the tram of people with "Universal Studios Florida" written on the side.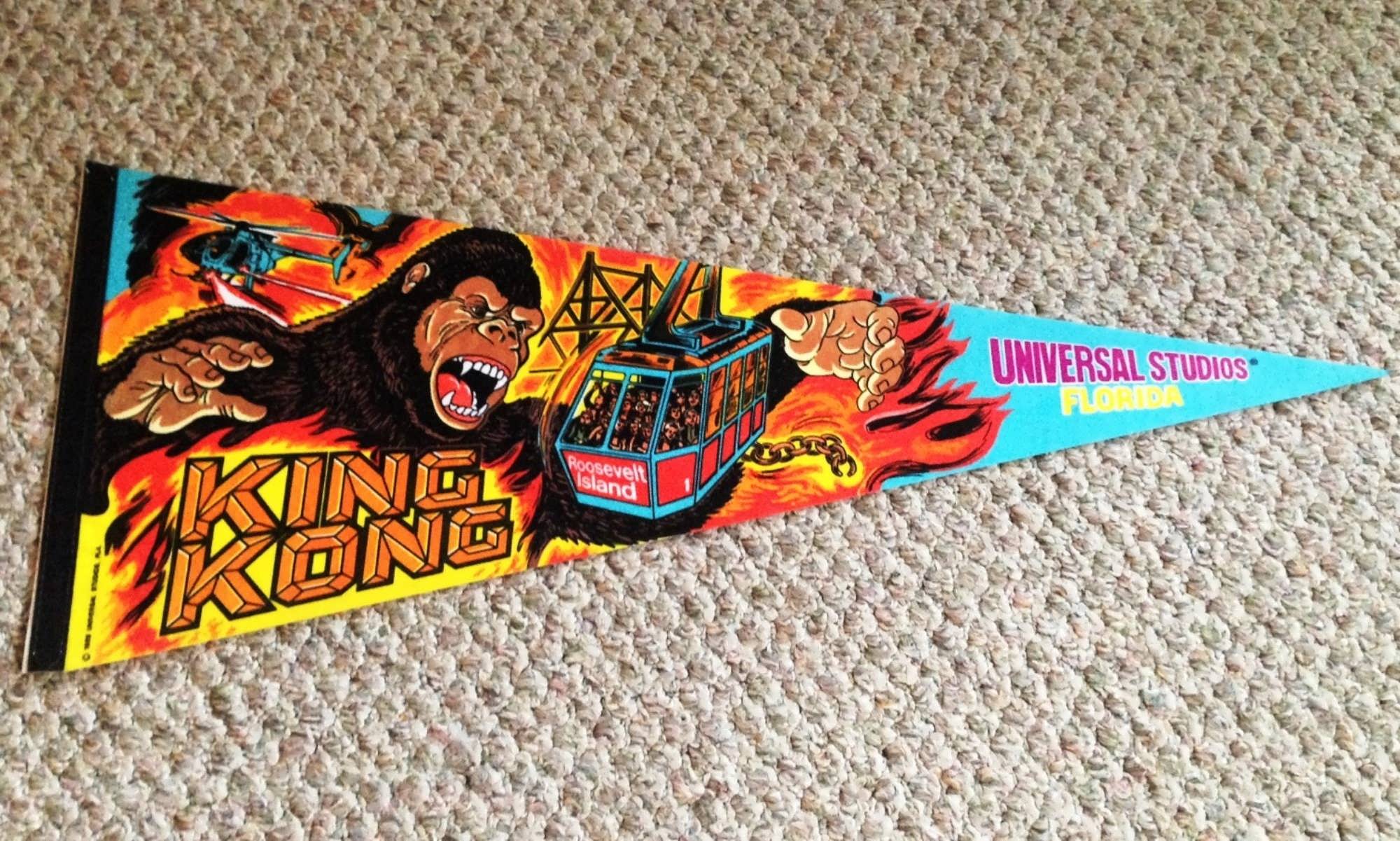 When searching online for historical pieces, much of the search results are generally little things such as old pins from the park and park maps from over the years. While this may mean little to some, it can mean a lot to Universal's biggest fans.
Commonly listed are pins from rides that have closed (such as Back to the Future, Jaws, or Jimmy Neutron), and older maps that feature these closed rides. For someone who has a favorite ride that has unfortunately closed, this memory can bring them back to when these rides were still operating. I am lucky enough to own an original map from when Universal opened in 1990.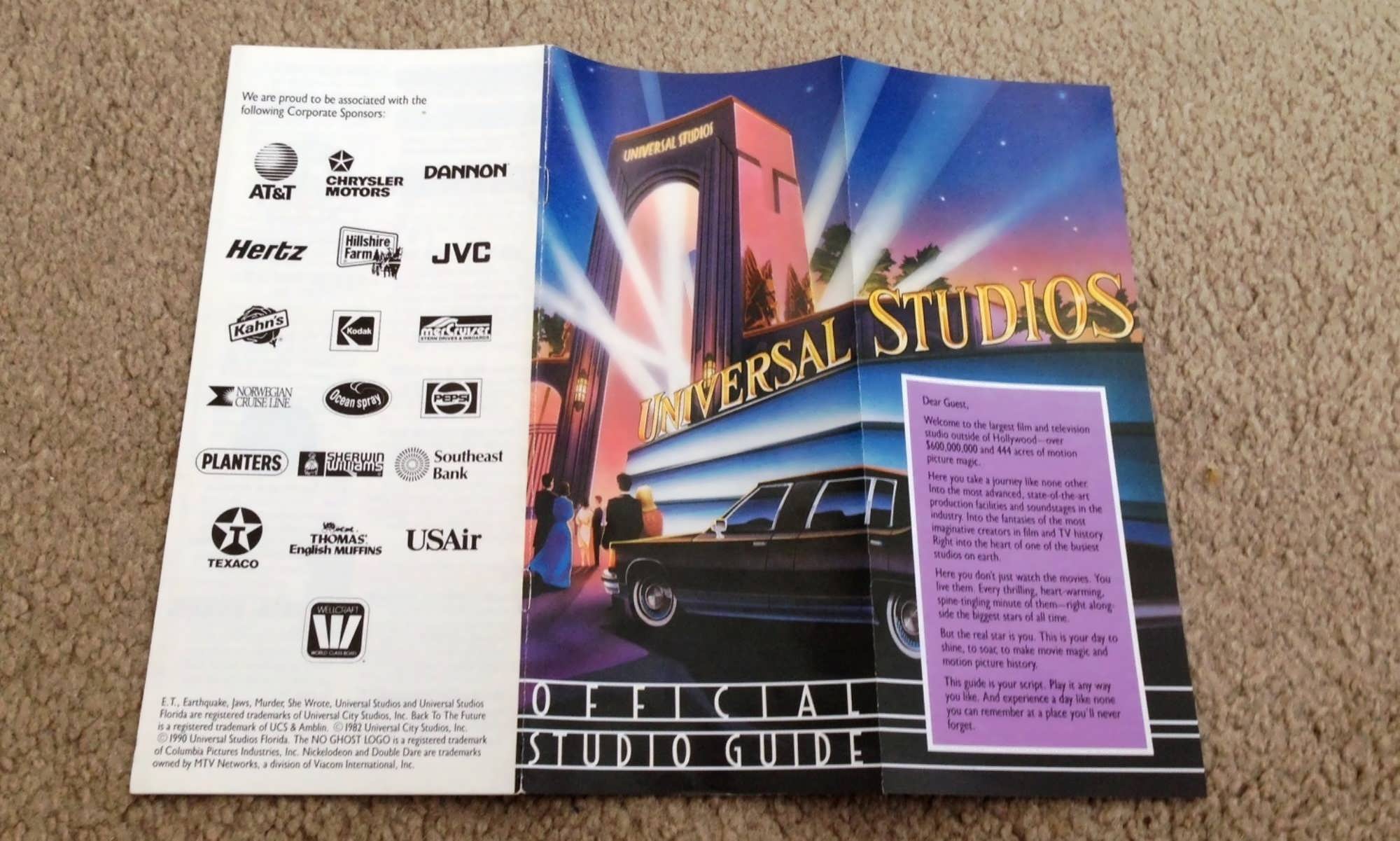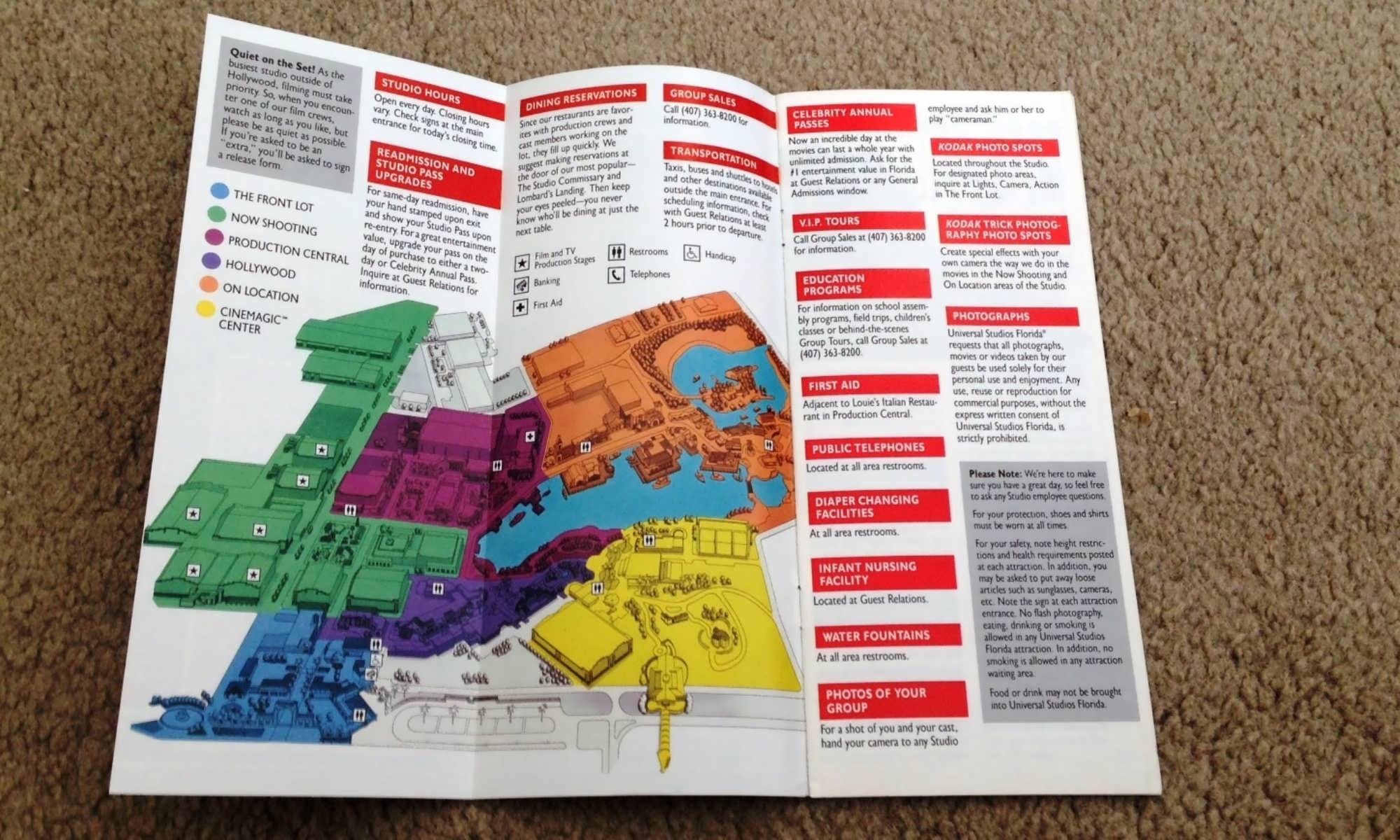 The cover features the archway that you walk through upon entering Universal Studios Florida and titles it the "Official Studio Guide". We're then introduced to the park with a statement that still gives me goosebumps:
Dear Guest,
Welcome to the largest film and television studio outside of Hollywood – over $600,000,000 and 444 acres of motion pictures magic.
Here you take a journey like none other. Into the most advanced, state-of-the-art production facilities and soundstages in the industry. Into the fantasies of the most imaginative creators in film and TV history. Right into the heart of one of the busiest studios on earth.
Here you don't just watch the movies. You live them. Every thrilling, heart-warming, spine-tingling minute of them – right along-side the biggest stars of all time.
But the real star is you. This is your day to shine, to soar, to make movie magic and motion picture history.
This guide is your script. Play it any way you like. And experience a day like none you can remember at a place you'll never forget.
Even though I love the Universal of today, I can't help but feel that it has lost some of its class and mystique, as the role of motion pictures and TV on-site has given way to thrill rides (as amazing as those rides may be).
Back to the map: the difference between this original edition and the maps of today – except for the ride differences, of course – is the fact that this map is nearly twenty pages long featuring full-length descriptions of each ride, restaurant, and shop on property. An example of these descriptions:
Back To The Future: Coming 1991. Buckle up! Doc Brown's climbing, diving wonder car blasts you into the past. Rockets you into the future. And hurls you on an unbelievable 21,000,000 Jigawatt adventure that spans one million years and makes other thrill rides seem tame!
Rides from this map include Kongfrontation, The Funtastic World of Hanna-Barbera, and shops include The Bates Motel Gift Shop, Animal House, Back to the Future Gifts, and Ghostbusters Paranormal Merchandise. This map provides a look back into Universal's past and where it began, showing how far it has come today and how much has truly changed over the years.
<script async src="//pagead2.googlesyndication.com/pagead/js/adsbygoogle.js"></script>
Also found commonly online are things from the original opening of Islands of Adventure. One of my favorite items (that I just purchased for myself!) is a medallion/coin celebrating the grand opening of Islands.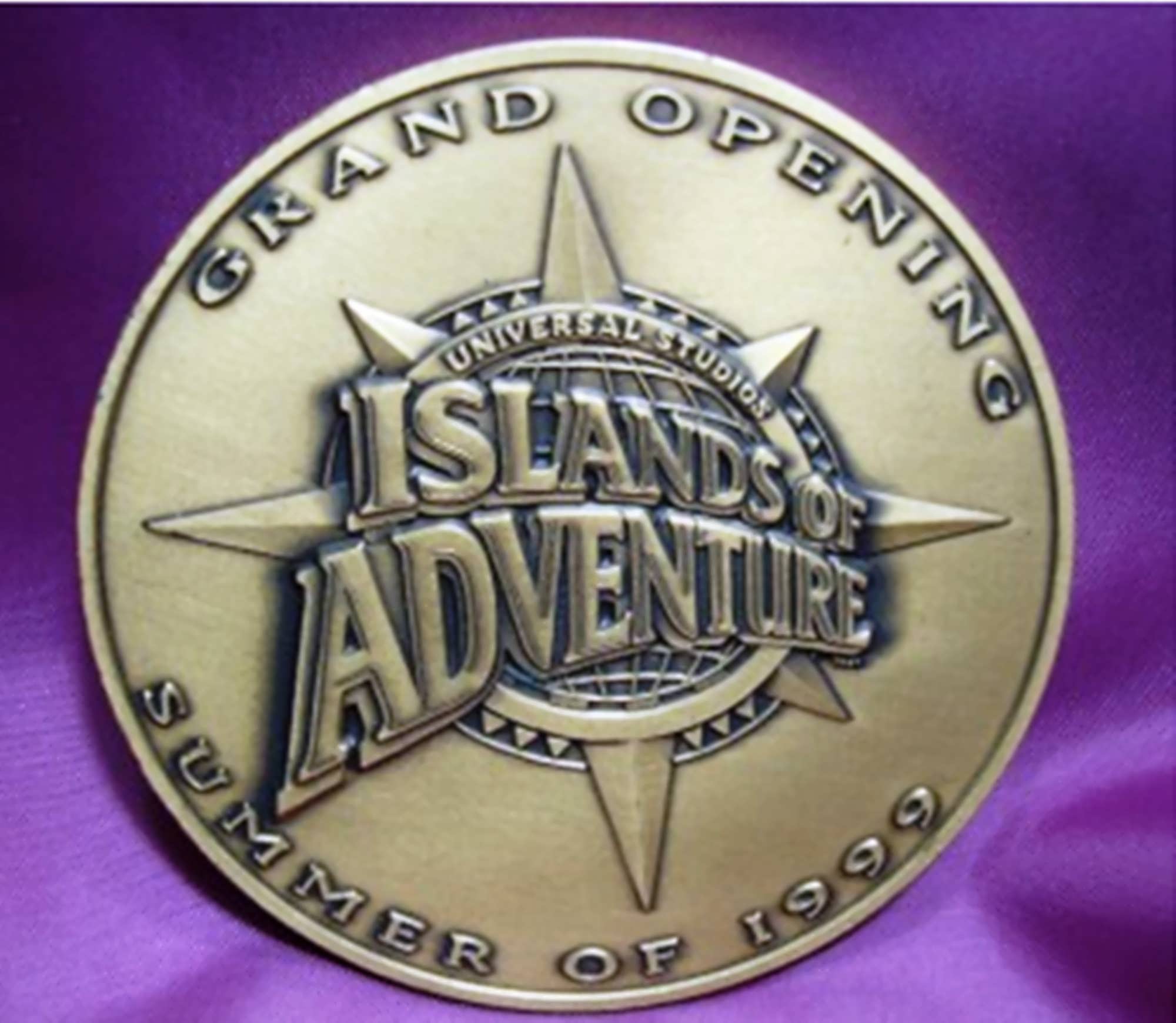 On the front is the Islands logo with "Grand Opening – Summer of 1999" and the back features a collage of some of the favorite rides from Islands (former Dueling Dragons, now Dragon Challenge, Dr. Doom's Fearfall, Jurassic Park, etc.). If you're lucky, you can also find the Islands of Adventure grand opening CD which features songs from all of the islands.
Are you a fan of Universal's annual events? That's great, because you can find merchandise from all of their celebration without actually being at the theme parks. You'll find t-shirts, pins, cups, and more from all of the celebrations. Currently there is a lot from Halloween Horror Nights, including maps and t-shirts, and a few Mardi Gras items, including beaded necklaces and light up drink cups. If you're lucky you can also find a few interesting/rarer items within your searches such as 3D glasses from past Halloween Horror Nights or older pins from the opening of restaurants or rides.
Find your own piece of Universal Orlando history
I love remembering what Universal was while on its journey to see what it becomes. Living hundreds of miles from Orlando, there is no way to find any Universal memorabilia up here, so I turn to the Internet. The best way to find memorabilia is to go to eBay. There are many people (some past employees, for example) who are selling pieces of Universal's history. Upon typing in, "Universal Studios Orlando" into the search bar, hundreds and thousands of results appear. To find just the memorabilia, on the left side of the screen is the option "historical memorabilia", which you can click to narrow down the search results. In this section, you usually can hit gold and find what you are looking for.
Generally, many of these incredible items are not wanted by the public. Either they are not looking or not interested, but this definitely benefits the rest of us! The prices range depending on the rarity and type of the item, but most of the pins are usually $15 and under, t-shirts generally range from $10 – $30, and maps can be anywhere from $5 – $25.
I am continuously looking for things to add to my collection, and even though there may not be a lot of items up on any given day, keep checking back! Items are added on a daily/weekly basis — you never know what you'll be lucky enough to find.
Happy hunting!
Have your own favorite piece of Universal history? Show it off below.