Always found yourself to be the most ambitious, cunning, and resourceful member of your friend group? You might just be a Slytherin. While only the Sorting Hat can truly say for sure, if you have a propensity for the color green on top of all that, I would say it's more than likely.
Now that you've joined the house of the serpent, you may be thinking, what now? Well, explore the best spots for Slytherins at The Wizarding World of Harry Potter, of course! Being the true leader you are, you'll certainly be doing the planning anyway, so you might as well have some extra fun while exploring the parks. Here's the guide for you.
Experiences for Slytherins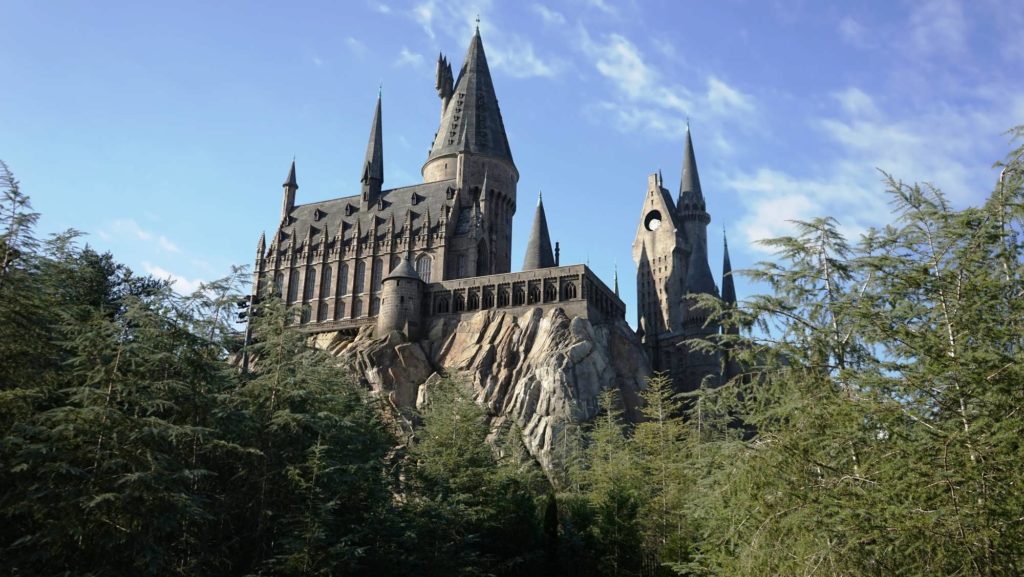 First stop, Hogwarts School of Witchcraft and Wizardry for a captivating adventure. Like most Slytherins, I love a good competition. Harry Potter and the Forbidden Journey is the perfect attraction to get in the competitive spirit as you join Harry Potter mid-flight for the big Quidditch match between Gryffindor and Slytherin. The exhilaration of swooshing through the Quidditch pitch to chase down the elusive Snitch is a truly unmatched experience. Win or lose, you'll definitely get into the Slytherin spirit of a challenge.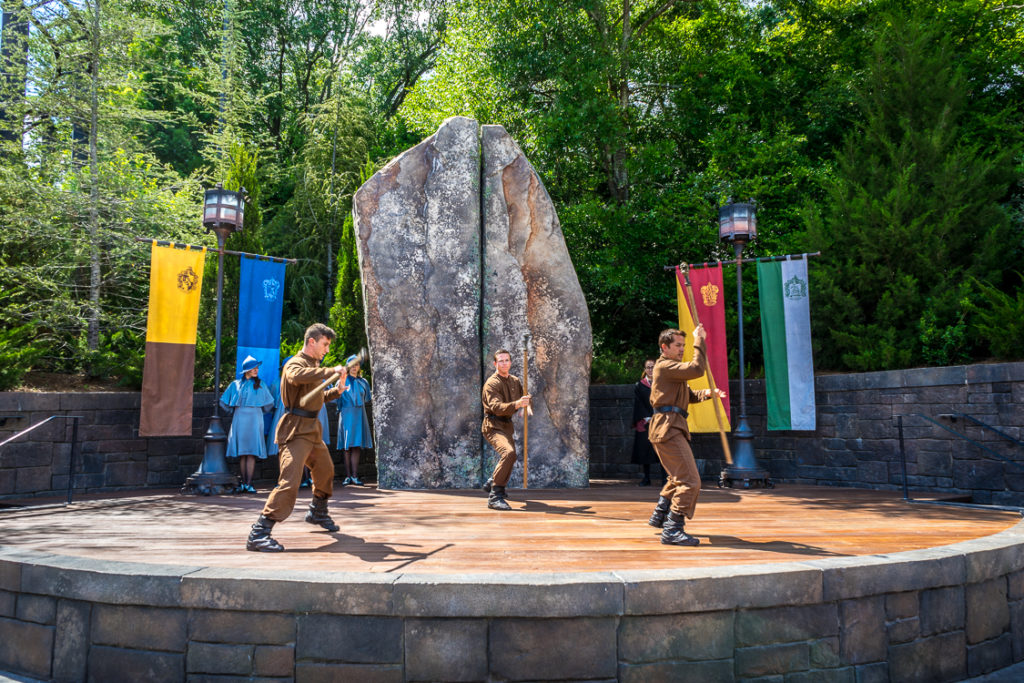 Looking for further excitement? Check out the Triwizard Spirit Rally! Filled with physical stunts, enchanting performances, and anticipation for the impending Triwizard Tournament, it's the perfect place to scope out the opponents from other Wizarding schools.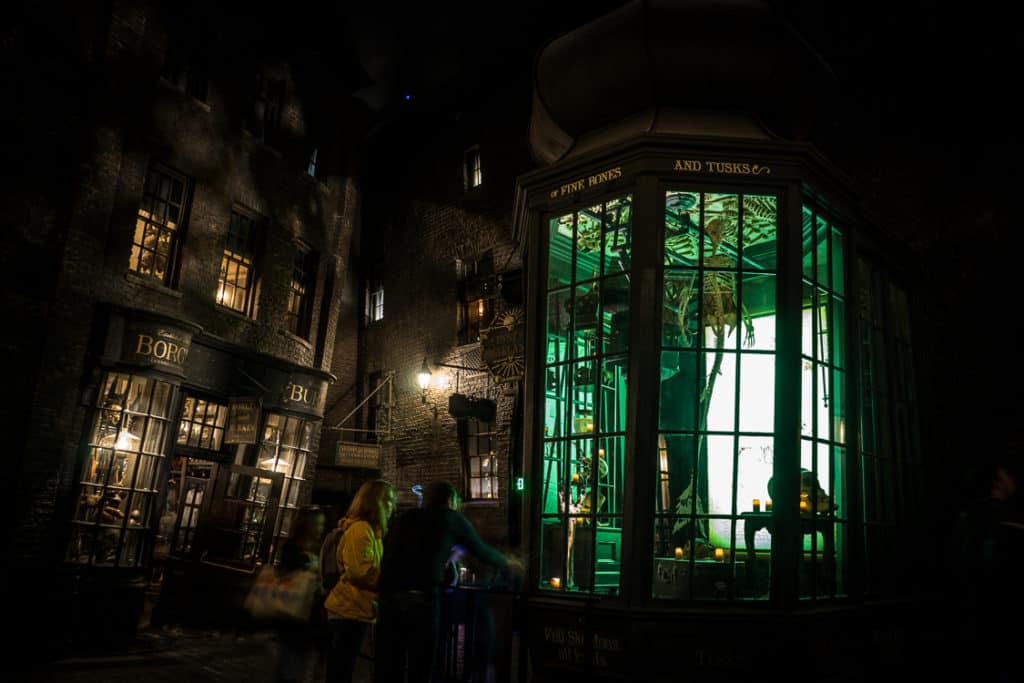 For those intrigued by the Dark Arts, Knockturn Alley is the place for you. Nearly stepping from day to night as you are enveloped by the alleyway, you'll immediately feel the slight chill and mystique that accompanies that area. Beyond the atmosphere, the notorious spot also features numerous interactive spells, nods to iconic characters, and hidden gems waiting to be discovered.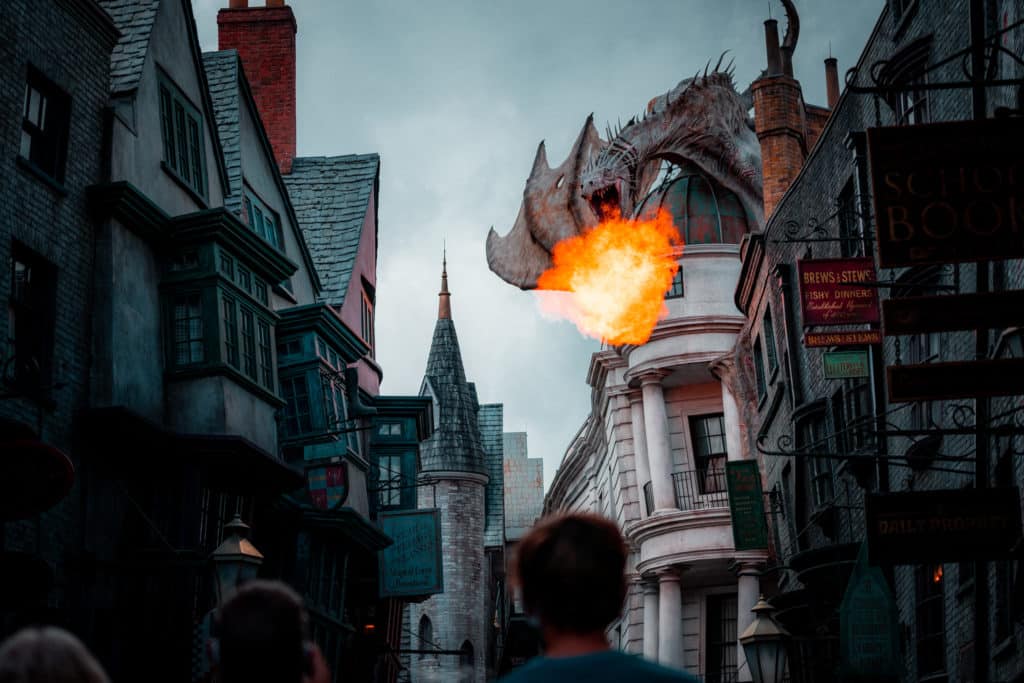 Finally, if you're looking to fully immerse yourself in The Wizarding World, look no further than Harry Potter and the Escape from Gringotts. Deep amongst the vaults, you'll receive the most thrilling tour Gringotts Wizarding Bank has ever offered. From chilling up-close encounters with Bellatrix Lestrange and Lord Voldemort himself, this attraction will be sure to excite your Slytherin heart.
Shopping for Slytherins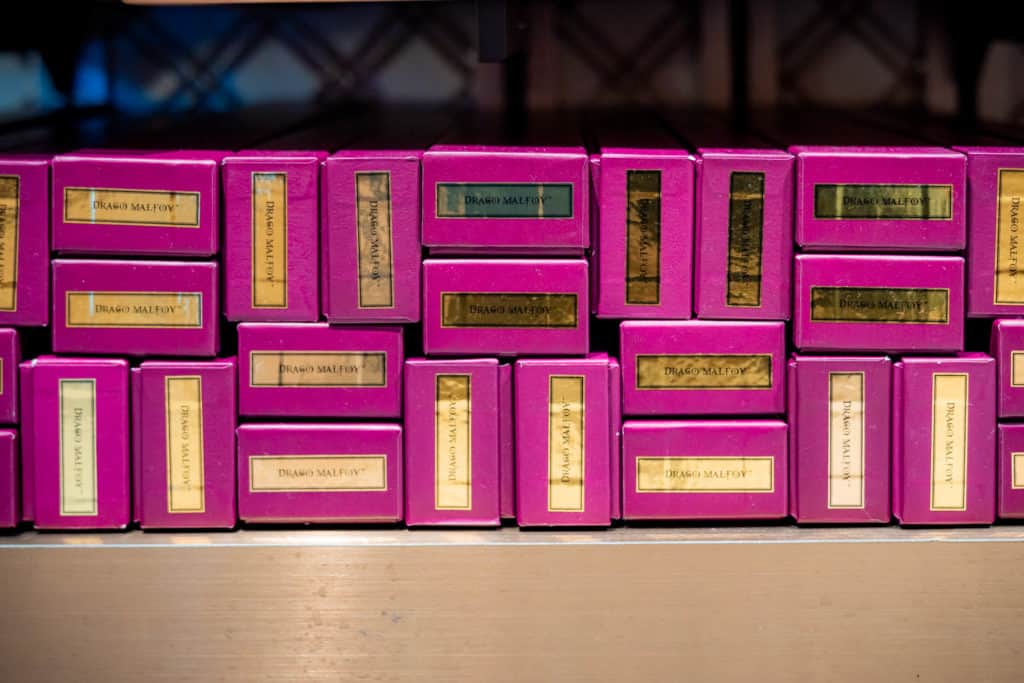 Next, it's time to follow in the footsteps of our Slytherin predecessors at Olivander's wand shop. Here, you can find some of the most famous wands in the Wizarding World, including the legendary Elder Wand. You'll also find wands of some of the greatest (and occasionally most infamous) Slytherins in history. However, you'll have the chance to begin your own story while participating in the Wand Ceremony, where your perfect wand will find its way to you.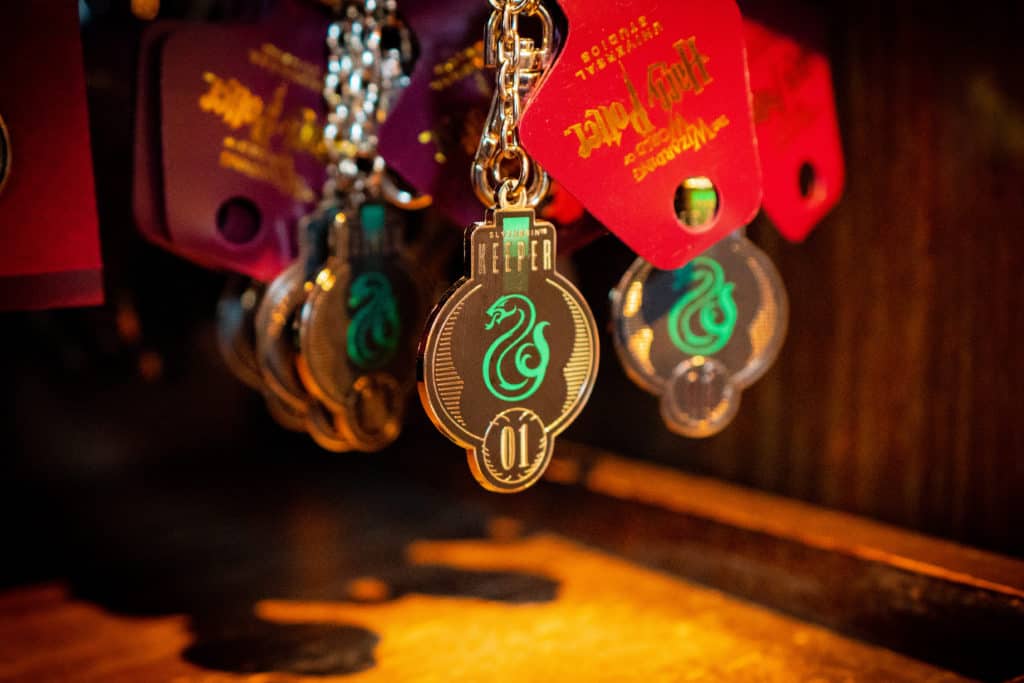 Dervish and Banges – Hogsmeade in Universal's Islands of Adventure
If you are ready to show off your Slytherin pride, head to Dervish and Banges to stock up on your green and silver gear. House robes, scarves, and more can be found for sale here, along with other little wizardly wonders. Truly, nothing makes an outfit like a Slytherin scarf.

You can also find Slytherin spirit wear at: Madam Malkin's Robes For All Occasions, Filch's Emporium of Confiscated Goods, and Quality Quidditch Supplies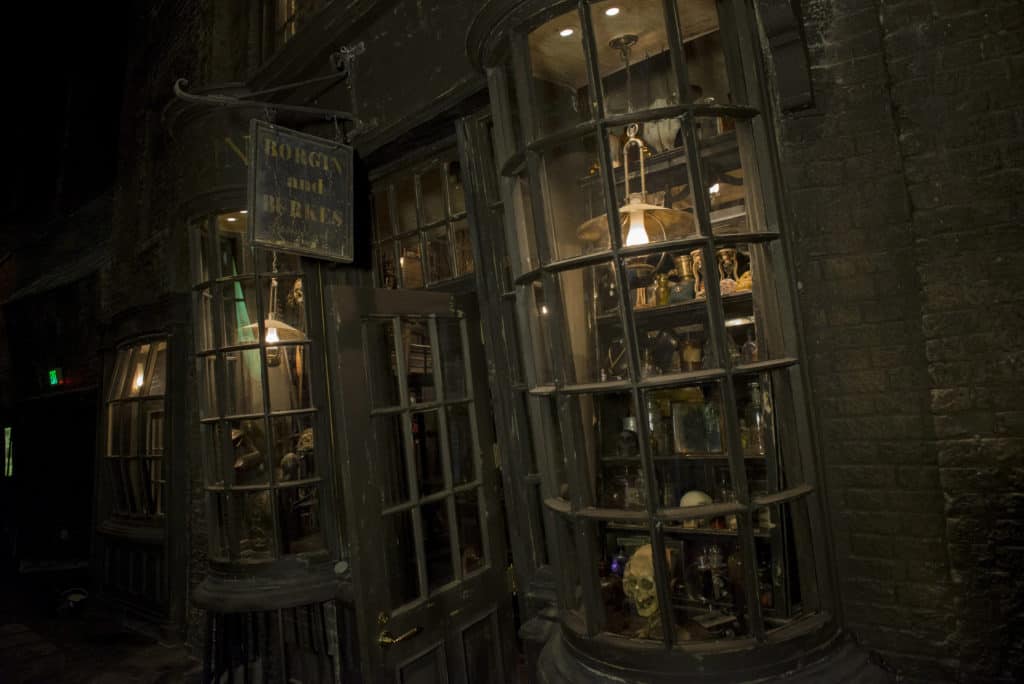 Borgin and Burkes – Diagon Alley in Universal Studios Florida
Filled with curiosities, Borgin and Burkes in Knockturn Alley is a terrific place to explore. The objects you'll find here are a complete contrast to the bright baubles sitting in the windows of Diagon Alley's central shops. Once a place Tom Riddle himself was an employee, there is a certain eeriness that lingers amongst the shelves. If you're looking for a unique artifact or are fascinated by relics of the mythic Death Eaters, you will surely be pleased.

Fun fact: Approximately 90% of the items on the second floor of the shop are actual props from the films.
Food and Drinks for Slytherins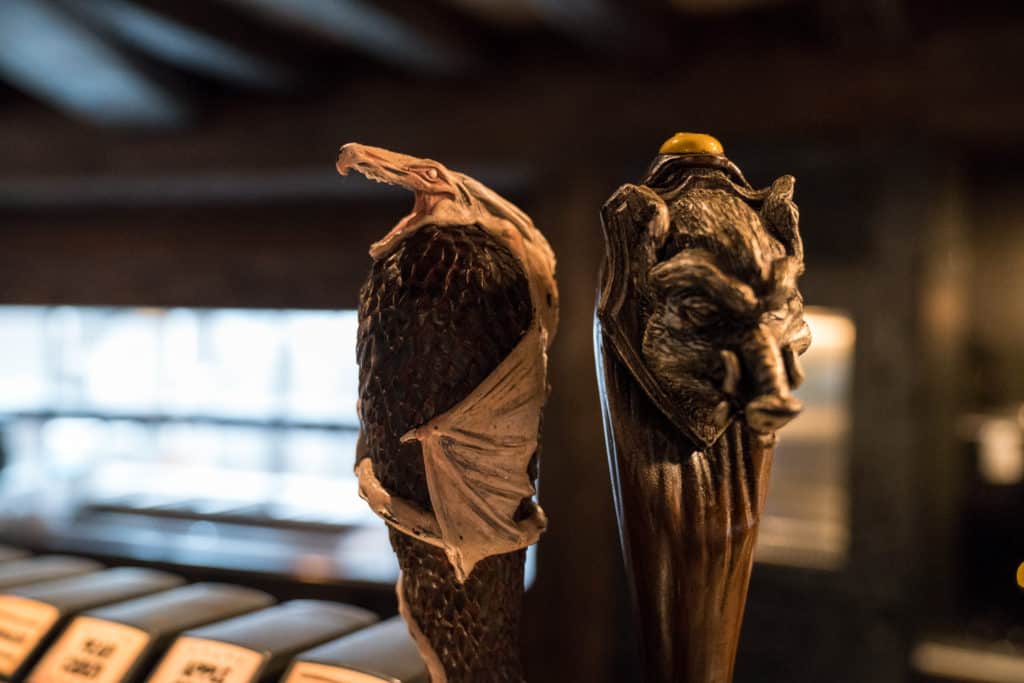 Hog's Head– Hogsmeade in Universal's Islands of Adventure
Nestled to the right corner of Three Broomsticks is Hog's Head Pub, a personal favorite of mine. Here, you can grab a Butterbeer, some Hog's Head Brew, or other specialty drinks you won't find anywhere else. What really makes Hog's Head stick out, however, is the theming. Approaching the dimly lit bar with the snarling Hog Head looming above, you truly get the sense that adventure awaits you.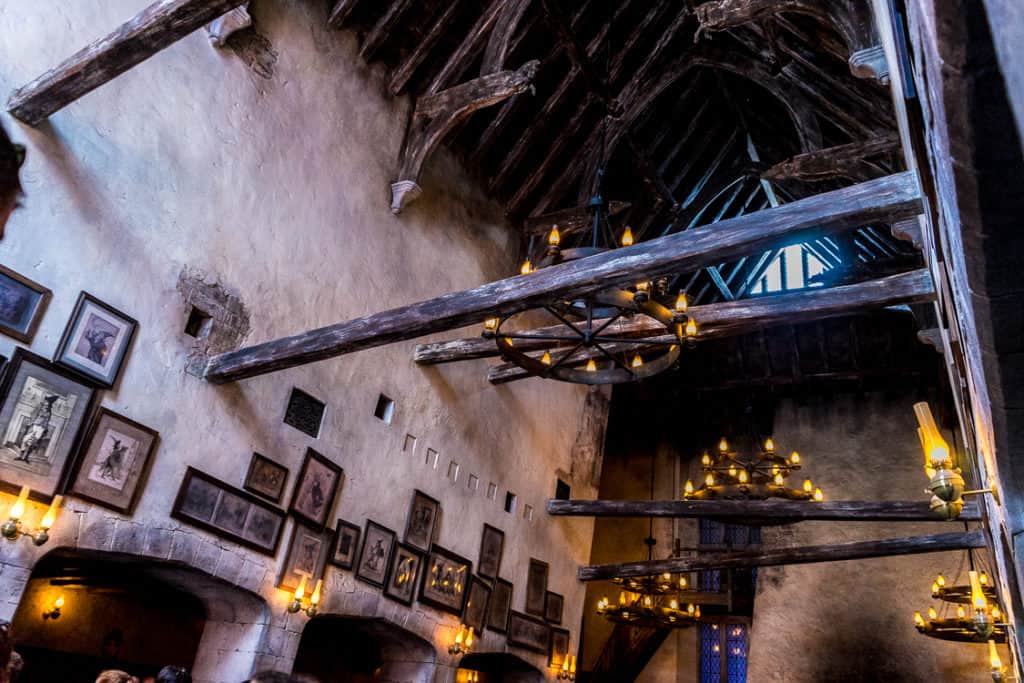 The Leaky Cauldron – Diagon Alley in Universal Studios Florida
When you're ready to grab a bite to eat, head towards the Leaky Cauldron. Here, you'll find an array of English delights on top of great atmosphere. Dig into some Scotch Eggs while feeling like you've stepped into the pages of one of the novels.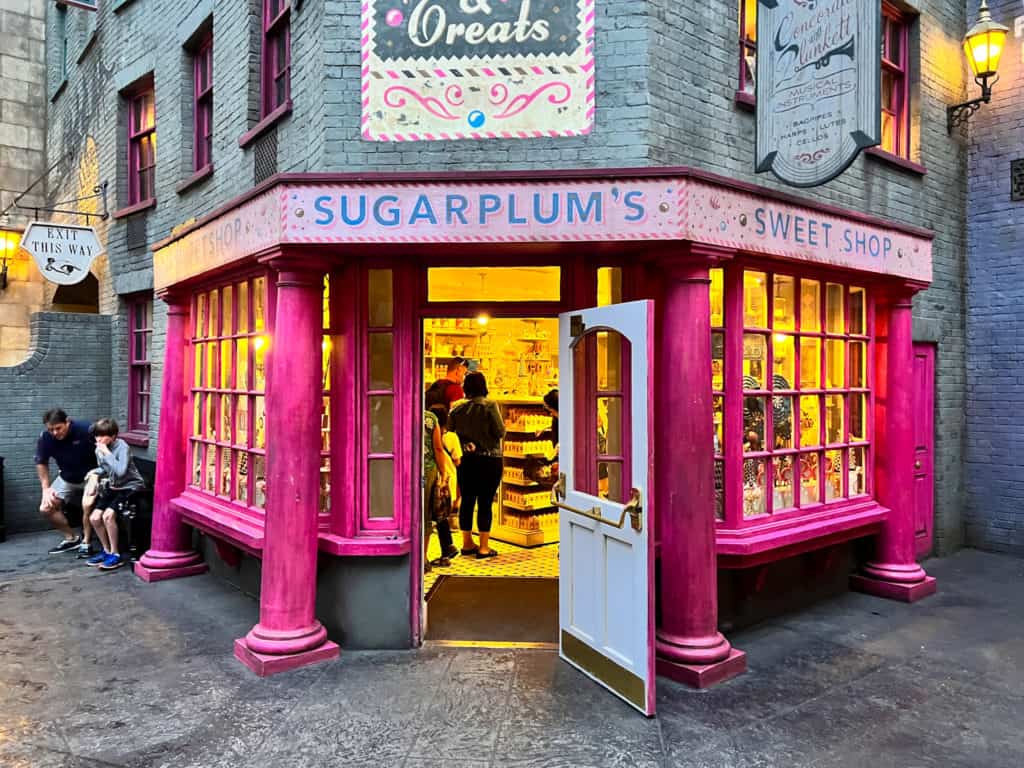 Sugarplum Sweet Shop – Diagon Alley in Universal Studios Florida
Topping off the day with a sweet treat? Wander over to Sugarplum's Sweet Shop where you'll be greeted by a variety of delectable desserts. Here are a few of my favorites: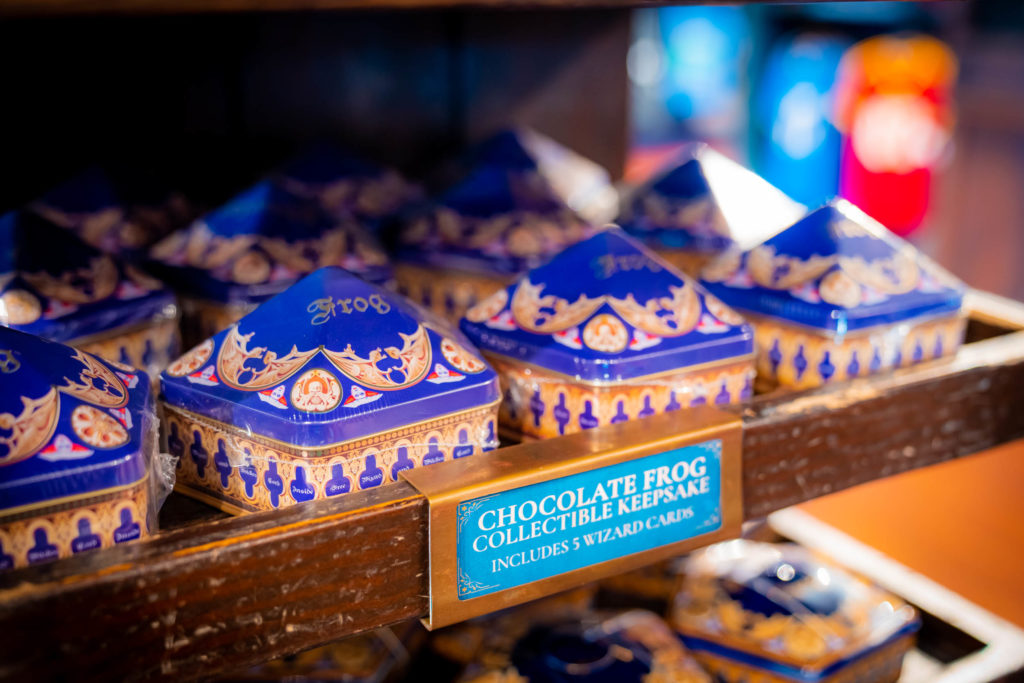 Chocolate Frog

What sweet treat is quite as iconic as the Chocolate Frog? Like many Harry Potter fans, I had been dying to try one since reading about them as a child. It's always a joy to see what character I'll get this time. Try one for yourself and you may see the original Slytherin himself, house founder Salazar.

Dark Mark Lollipop

For my Death Eater fans out there, I recommend trying the Dark Mark. Not only is it tasty, but it's also great for photo ops!

Chocolate Cauldron

Maybe it's just my penchant for green, but something always draws me to the Chocolate Cauldron. Luckily, these ones have not been spiked with a Love Potion like Harry once encountered in the books.
Many of these goodies can also be found at Honeydukes in Universal's Islands of Adventure.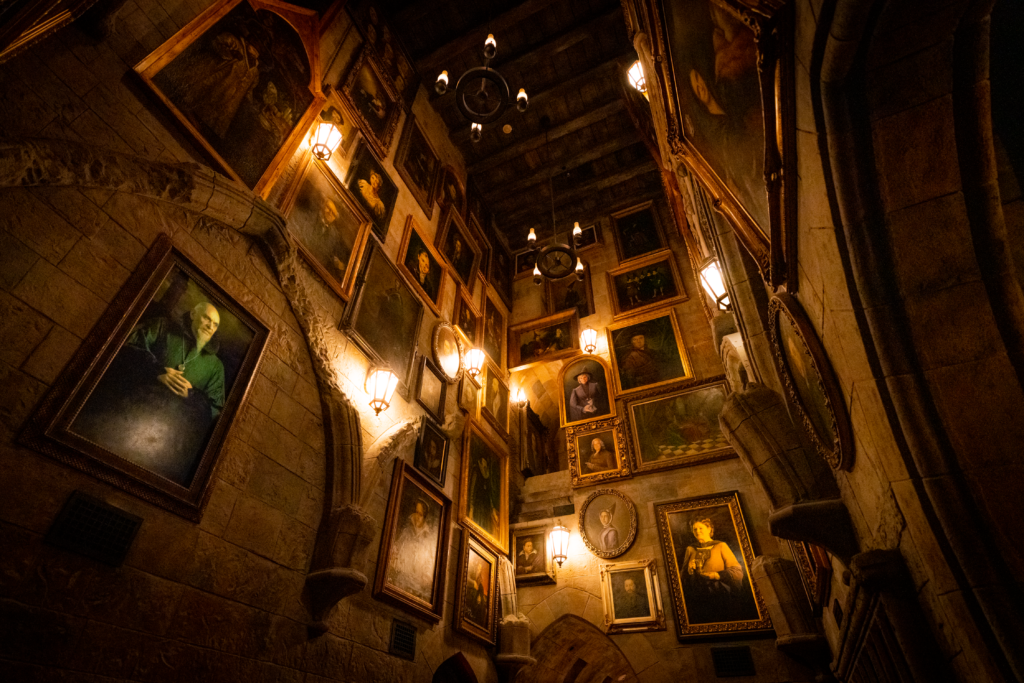 Salazar Slytherin – Harry Potter and the Forbidden Journey – Hogsmeade – Universal's Islands of Adventure
While exploring the halls of Hogwarts, make sure to keep an eye out for the Slytherin founder, Salazar Slytherin. You'll find his portrait nestled in with the other founders in a gallery on the castle walls. Here, you may catch him and the other founders deep in a discussion about a certain Gryffindor student.

Fun fact: This was the first canonical portrayal of the house head.
The Hand of Glory – Borgin and Burkes – Diagon Alley – Universal Studios Florida
In a particular glass case sitting in Borgin and Burkes, you'll find the Hand of Glory. Fans of the books may remember Draco Malfoy wanting to purchase the hand while visiting the shop with his father, before eventually doing so prior to the plot of the 6th book. Said to be the "best friend of thieves and plunderers," this candle holder will only provide light to the one holding it.
12 Grimmauld Place – London – Universal Studios Florida
Amongst the London flats secretly obscuring Diagon Alley, there is a peculiar section of the building with darkened stones. Here lies the home of the notorious Black family, a lineage which includes some of the most infamous Slytherins in The Wizarding World. Once in a while, you may see the familiar face of their house-elf, Kreacher, pull back the curtains and peer onto the street below.
Defense Against the Dark Arts Classroom – Harry Potter and the Forbidden Journey – Hogsmeade – Universal's Islands of Adventure
Another favorite of mine is the Defense Against the Dark Arts classroom, located in the queue of Harry Potter and the Forbidden Journey. A classroom that has hosted many great professors, including Severus Snape, (former head of Slytherin), this room features homages to each Defense Against the Dark Arts teacher included in the books. While making your way there, make sure to also keep an eye out for Professor Snape's office door.

You're now ready to take on The Wizarding World for yourself! Go forth and make Slytherin proud.
---
Be sure to also check out our other guides for each Hogwarts House as well as our Universal Orlando Vacation Planning Guide. Follow us on Facebook, Twitter and Instagram for the latest news, tips and more at Universal Orlando, Walt Disney World and other Orlando attractions.