When you've made the decision to visit Universal Orlando it is exciting, but can also be a little intimidating. There is so much to do and if you are unfamiliar with this dynamic destination it can be overwhelming. Keep in mind you're going on vacation, not prepping for brain surgery, just have fun. Don't take it too seriously. The second thing to keep in mind is to make research and planning your trip part of the vacation.
The good news is you're already well on your way to researching and planning by reading Orlando Informer. If you're new to Universal Orlando then read on to learn how to avoid common first time visitor mistakes. And if you are familiar with Universal Orlando, maybe you'll learn a thing or two.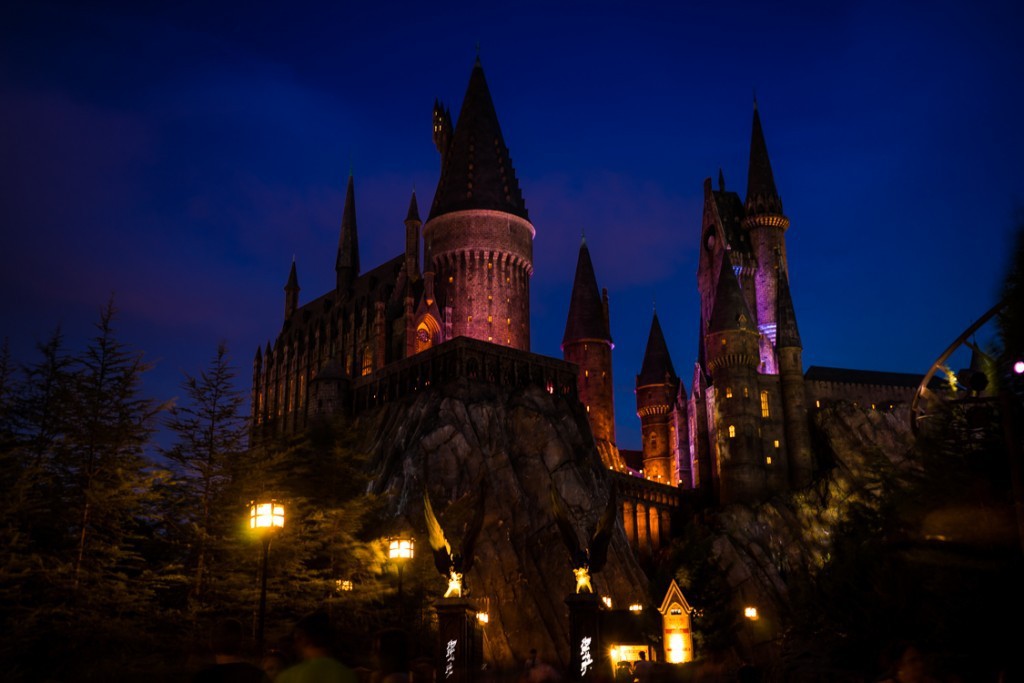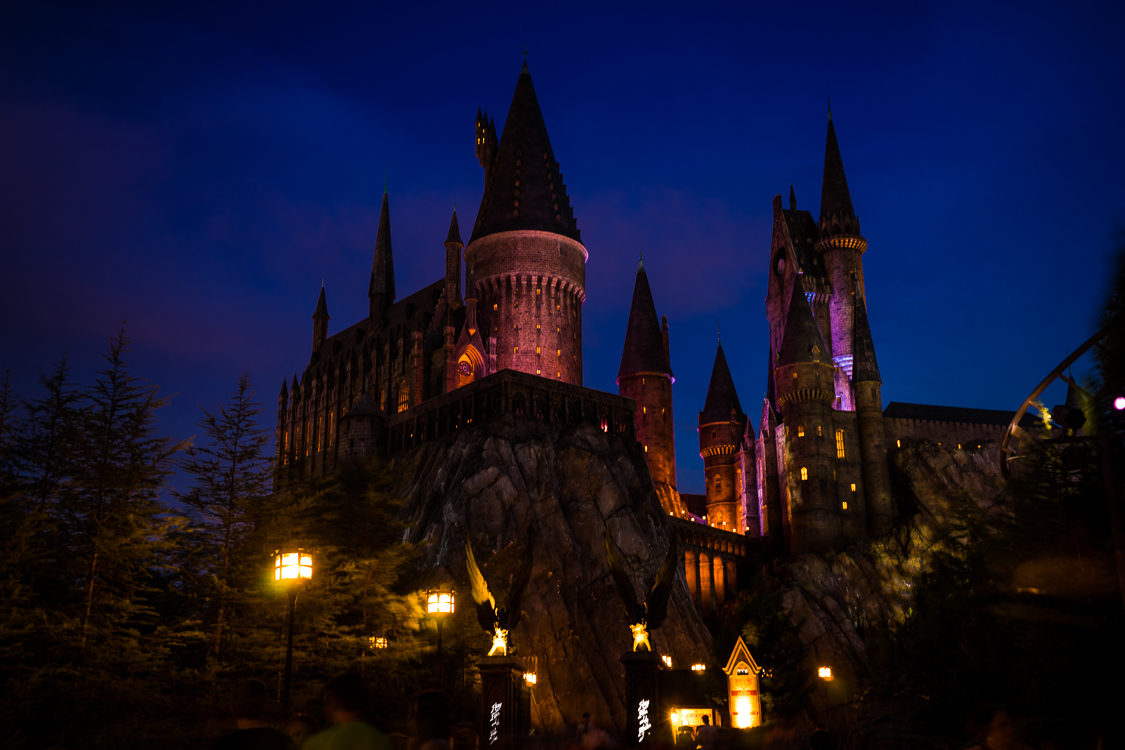 Hogwarts Castle – Hogsmeade Village
Mistake #1: Only visiting for one day or only visiting one park
True, Universal Orlando Resort is compact and easy to navigate. True, it is entirely possible to "get stuff done" in one day. But is that really what vacation is about? All too often people think that one day at Universal is enough since everything is so close together. Others think that Universal is all about the adrenaline rush and not so much about relaxation, therefore there's no need to plan any down time to enjoy a more leisurely experience.
By giving yourself extra time, perhaps a second or third day, you'll give yourself more time to soak up all the details throughout both parks as well as the attractions. You can enjoy a delectable dining experience at one of the many great restaurants at CityWalk or one of the on-site hotels. You'll have more time to sit in some of Universal's best spots to take a break, including Orlando's best park within a theme park, Universal Studios Central Park. More time to savor it all.
Mistake #2: Purchasing Express Pass when you don't need it
It can be real tempting to fork over the extra dough for Express Pass when you're tight on time or worried that you won't get all your must-dos done without it. Do yourself a favor and scope out the OI crowd calendar so you can get an idea of it is necessary to spend the extra money on Express Pass.
Also, sit down with everyone in your family and read through the various attraction descriptions found on the OI Universal Center. Then, have a good discussion about what attractions interest each person, maybe have each person rate their level of interest on a 1-5 scale. This way you'll know if there are enough major attractions to warrant any consideration for Express Pass. Still, there are two more things to consider before deciding if you should pay the extra money, read on.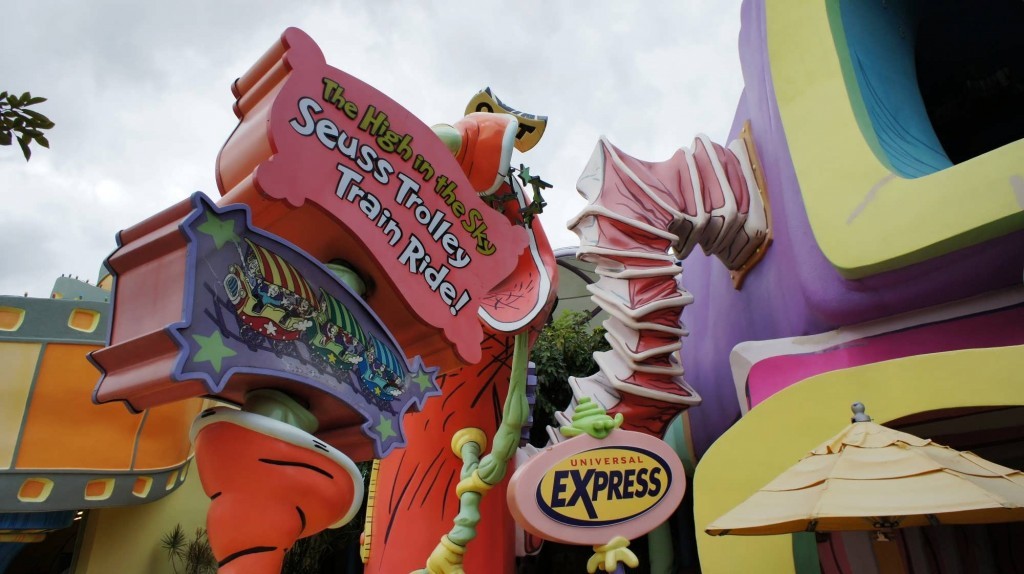 Express Pass entrance at Seuss Trolley Train Ride
Mistake #3: Not making use of single rider or child swap
Depending on who you are traveling with, not everyone in your party may want to go on all the rides. If only one or two members of your party are interested in a particular ride then use the single rider line, if one is available. Typically wait times are cut in half using this option. Just know your party will be on separate ride vehicles, most likely.
Child swap is another great options for families with small kids. One member of your party can sit with any children who aren't going on a ride in a designated child swap area, usually near the loading platform of the ride. Your party will go through the regular queue first, then whomever stayed in the Child Swap area can go on the ride right away while someone else stays in the Child Swap area.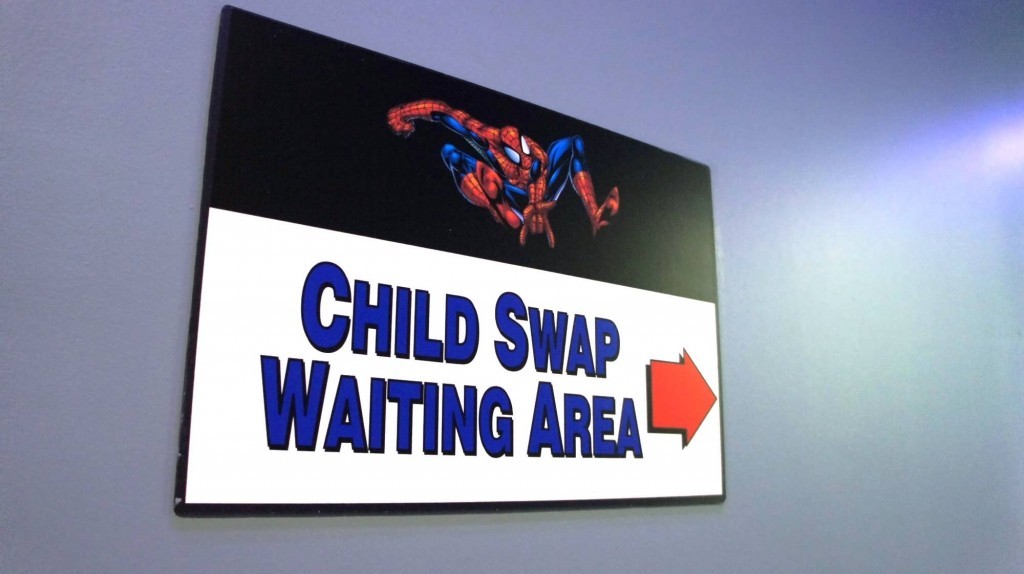 Child Swap at Islands of Adventure's Spider-Man
Mistake #4: Food and beverage fouls
All too often first timer visitors fail to plan out their meals and end up missing out on some pretty great dining experiences. The typical choice is to pop into the nearest counter service location and grab a burger or sandwich. Yes, this meal will get the job done, but there are so many better choices out there.
My counter service picks at Islands of Adventure are Thunder Falls Terrace at Jurassic Park and of course Three Broomsticks. Over at Universal Studios you can't go wrong with the Leaky Cauldron at Diagon Alley. You'll also find some good variety at Fast Food Blvd at Springfield USA.
Personally I recommend making some room in your schedule to have time to enjoy a full service restaurant at CityWalk or one of the on-site hotels. Anyone who has been reading my blog posts long enough, or my Twitter feed will know that my absolute favorite spot at CityWalk is Jimmy Buffett's Margaritaville Café, just outside the gates of Islands of Adventure. No other place offers a better vacation vibe. For something closer to Universal Studios I recommend the Hard Rock Café or take a nice stroll over to the Hard Rock Hotel.
Hard Rock Hotel's The Kitchen Restaurant.
If you want to stay in the parks then make a reservation at Mythos at Islands of Adventure; one of the most unique dining environments you'll ever experience. Or over at Universal Studios you'll find Finnegan's, one of the most impressive Irish pubs anyone could ask for, and for it to be smack dab in the middle of a theme park puts it over the top.
Another small food and beverage foul I've observed is to purchase a Butterbeer as well as a regular beer and combining the two. Please don't waste your money. Such a concoction turns out to be gross, like Polyjuice Potion level gross.
Mistake #5: Not visiting one of the on-site hotels
Even if you chose to dine inside the parks, it is a good idea to take a break and escape to one of the on-site hotels. Water taxis await at a dock across from NBC Sport Grill Brew. The journey along the water is relaxing and scenic. I highly recommend taking a trip to Loew's Royal Pacific Resort to explore the exotic setting that permeates the resort. Or for a recommend rendezvous, coast along the water to Loew's Portofino Bay Resort. This resort perfectly recreates the beauty and romance of the countless bayside towns found in Italy.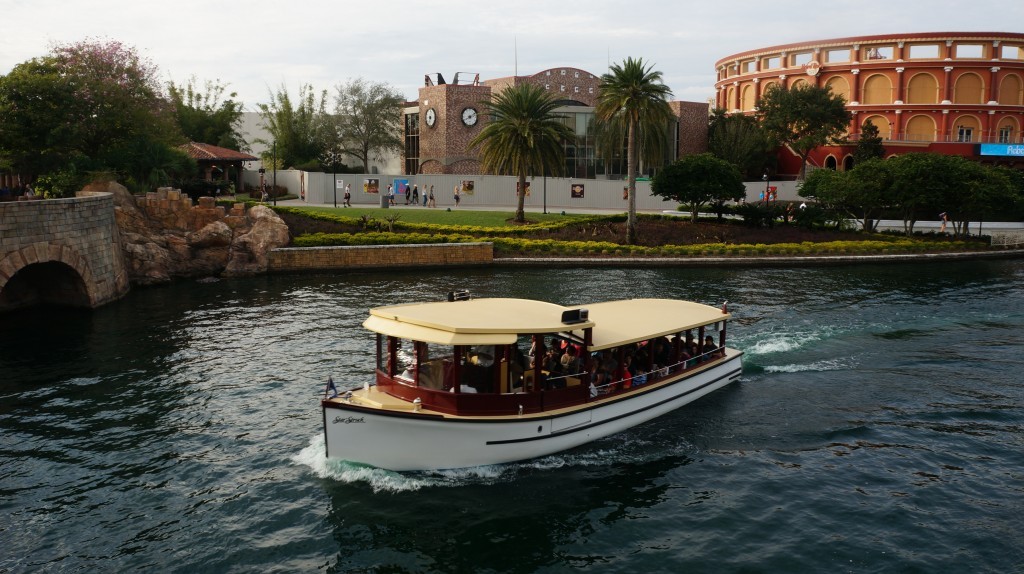 Water taxi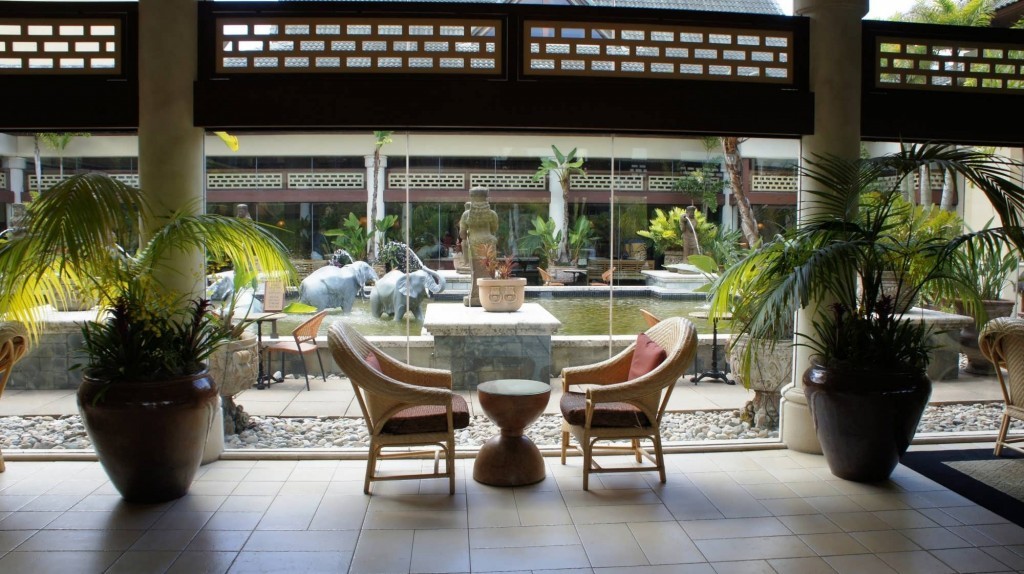 Registration & lobby area at Loews Royal Pacific Resort.
Mistake #6: Blowing past CityWalk
I'm more of a visit CityWalk at night kind of gal, I love the energy of the place especially after 9:30 PM on a Friday or Saturday night. Unfortunately, many people assume CityWalk is only for adults or bar hopping. Over the years CityWalk has evolved and now there's a good variety of shops as well as dining options that run the spectrum of quick and casual to fine dining. There's also a fantastic mini golf course and movie theater.  Besides, you'll have to pass through CityWalk to get to and from the parks, you might as well take a stroll and wonder around.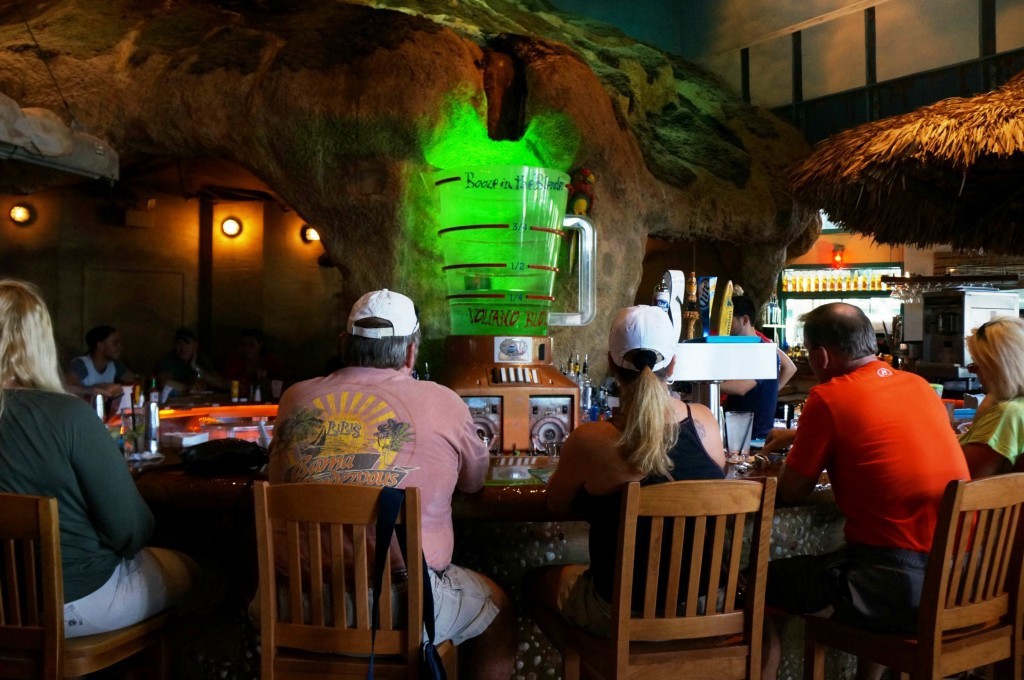 One of the highlights of CityWalk: Jimmy Buffett's Margaritaville
Mistake #7: Forgetting where you parked
I'll end this list with a simple, but unfortunately necessary tip about parking. It happens at any theme park parking lot, guest wandering around forgetting where there car is parked. Do yourself a favor and take a picture of the sign at the end of your row. Make sure the name of the character and the row number are in the picture.
I hope that this list has helped you learn some of the typical mistakes of first time visitors to Universal Orlando and will make your visit easier and more enjoyable. If you slip up, don't stress, you're on vacation. Something is bound to go awry at some point, take a deep breath and simply enjoy the fact that you're in Orlando's most exciting destination.
Have any tips to add? Let us know in the comments.