When Universal originally decided to establish a presence in Orlando, Florida in the early 1980s, the company settled on essentially duplicating its Universal Studios Hollywood formula: a working film lot as the foundation, with a production tram tour as the main themed element.
Such an approach, however, was not meant to be. Disney learned of its new competitor's plans and coopted them, creating what is today known as Hollywood Studios in record time and managing to open it a year before Universal Studios Florida would finally materialize in 1990; on that first day of operation, approximately half of the park was off-limits to guests, as it housed working soundstages and animation studios that were only accessible to visitors via production tours. Universal knew it couldn't be the studio-park hanger-on in the Mouse's own backyard of Orlando, so it opted to flip the original script – from here on out, Universal Studios Florida would be a theme park first and foremost, with the production aspect being the after-thought.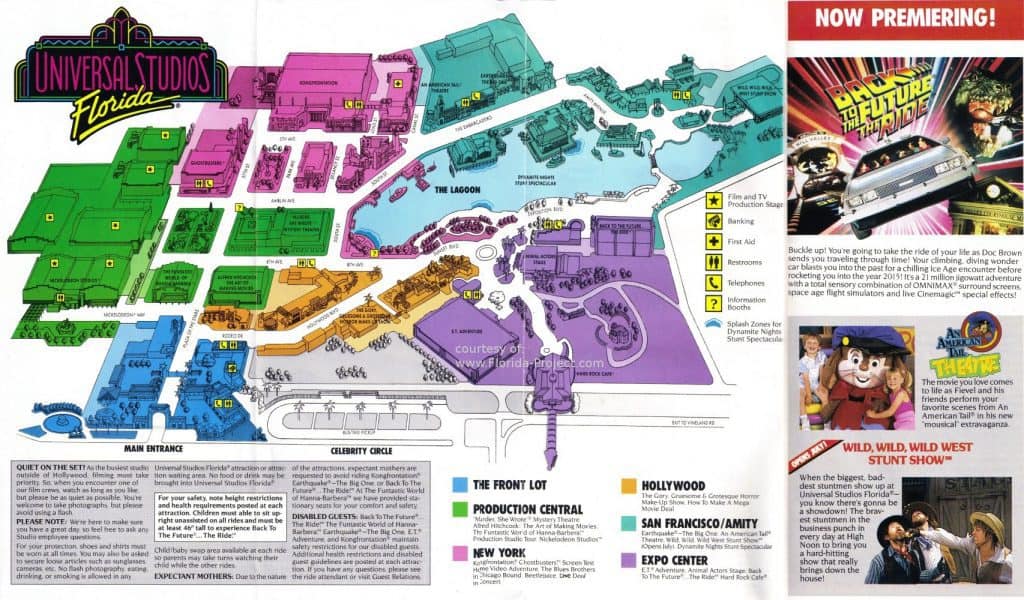 Still, revealing the secrets of the filmmaking process would inform much, if not all, of the park's various attractions and experiences, and this was nowhere clearer than in Production Central, the first "land" that patrons would visit as they began their tour of USF. Back on opening day, June 7, 1990, this section more than lived up to its name, recruiting audiences to be filmmaking partners – and, even, housing its own share of real, live productions, ranging from movies to Nickelodeon's then-massively-popular gameshows.
Universal Studios Florida's slow-but-steady drift away from this moviemaking onus, becoming a straight-up traditional theme park, means that every single one of Production Central's seven original attractions have been eradicated, lost to the ravages of time.
It's time for us to dig them back up and rediscover USF's original identity.
The Funtastic World of Hanna-Barbera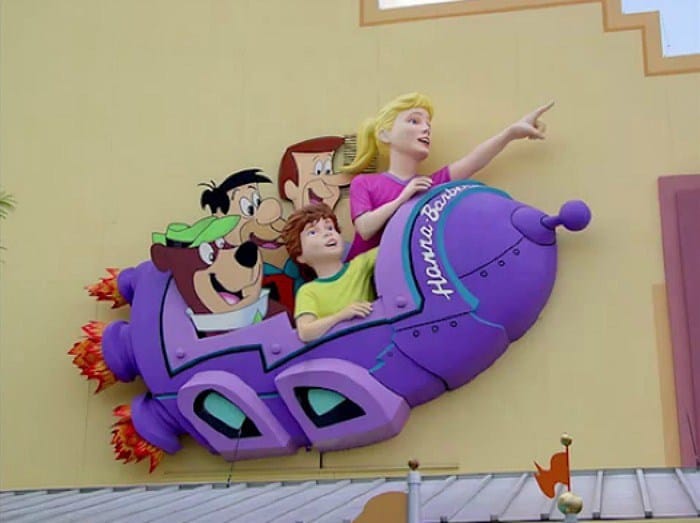 Opened: June 7, 1990
Closed: October 20, 2002
Currently replaced by: Despicable Me: Minion Mayhem
Production Central's most traditional ride – a motion-simulator trek through, well, the funtastic world of Hanna-Barbera – was still moored in the land's and the park's filmmaking bent: guests are on a tour of the Hanna-Barbera animation studio (given by Bill Hanna and Joe Barbera themselves) when something goes terribly wrong, as things are wont to do in a theme park.
The story went a little something like this: much like Who Framed Roger Rabbit, the cartoon characters of Funtastic World are actually living, breathing creations that leap off the animator's paper as soon as they're completed. Given this, it's not too surprising that Dick Dastardly – who is jealous that Elroy Jetson was chosen to be the subject of the company's next project – should be true to his nature and abscond with Elroy. It's up to Yogi and Boo-Boo Bear – along with you, the guest – to take off after the diabolical villain. An interactive entertainment area awaited riders once the wild chase was successfully completed, allowing them to play a Flintstones piano with their feet, explore an oversized Pebbles's playhouse, or, even, to try their own hand at animation.
This is how Universal originally pitched The Funtastic World of Hanna-Barbera to visitors on that opening day:
Board your spaceship and jump into the ultimate animation adventure as Yogi Bear, the Flintstones, the Jetsons, Scooby Doo, and many more take you on a cartoon chase that'll squeeze and stretch you and your imagination.
Present-day Universal fans shouldn't be too surprised to see that most of the attraction – particularly the ride vehicles themselves – is remarkably similar to Despicable Me: Minion Mayhem, the experience that would ultimately, a full decade after Hanna-Babera's closure, replace it. However, the differences between this location's first and latest rides speak volumes as to Universal Studios Florida's ever-changing identity; the fact that the façade of the show building has gone from being a standard, drab soundstage to Gru's house demonstrates the degree to which the company has changed its approach to theming overall.
If this sounds like a small aesthetic distinction, it's really not – it's precisely this type of alteration that has allowed Universal to build fully-themed lands for the first time in USF's history, such as Springfield, USA and The Wizarding World of Harry Potter – Diagon Alley.
Alfred Hitchcock: The Art of Making Movies
Opened: June 7, 1990
Closed: January 3, 2003
Currently replaced by: Shrek 4D
Later renamed Hitchcock's 3D Theater, this attraction was not only devoted to the legendary director, but also to giving guests a taste of how the filmmaking process unfolds – exactly as the original title would indicate.
At designated show times, guests would be let into two different theaters, with one showing a mashup of some of Alfred Hitchcock's most iconic scenes (including a 3D rendition of 1963's The Birds) and the other containing a rather detailed recreation of the Psycho house (which was a neat bit of meta-theming, as a nearly-lifesize model also existed over in World Expo [which was then called Expo Center]). It was here that audiences got a detailed breaking-down of how Hitchcock crafted the infamous shower scene from the 1960 classic, thanks to some prerecorded footage from actor Anthony Perkins and a bit of audience participation, of course.
Here's how Universal billed the show:
Come witness Psycho's famous shower scene and learn more of the master's suspenseful techniques. Shows scheduled from 9:30 am to 9:00 pm. Approximate running time: 40 minutes
Rounding out the experience was a somewhat elaborate post-show area, which came replete with props and sets from Alfred Hitchcock's cinematic repertoire, along with some monitors that played episodes of his television series, Alfred Hitchcock Presents (and let's not forget the obligatory gift shop, which sold – of course! – shower curtains). Just as the attraction proper was on the longer side, this additional experience could easily take guests another half-hour (or more) to absorb it all, depending upon one's interest in Hollywood, generally, and the master himself, specifically.
Alfred Hitchcock: The Art of Making Movies gave its last performance on January 3, 2003, making way for Shrek 4D just five months later. Much like with Funtastic World of Hanna-Barbera, Hitch's successor is fully indicative of the overarching transformation that Universal Studios Florida was going through: gone were behind-the-scenes peeks at Hollywood's moviemaking secrets; here to stay were experiences that attempted to place you directly into the films themselves.
Fun fact: The Art of Making Movies was originally presented by Kodak (yes, Universal took a page out of Disney's playbook back in the early '90s).
The Boneyard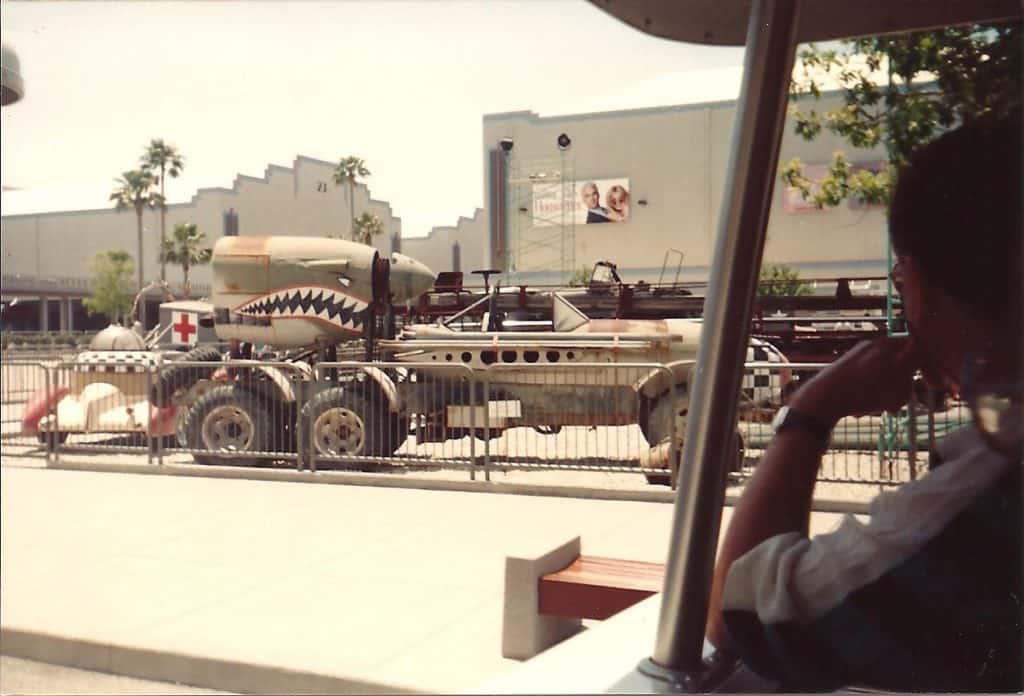 Opened: June 7, 1990
Closed: September 8, 2008
Currently replaced by: Universal Music Plaza
The Boneyard was neither a ride nor a show – it was, instead, a collection of "filmdom's most memorable props" that were too large to be put into storage. Guests could stroll past – and take pictures of – them to their hearts' content, and the company certainly attempted to live up to its marketing here: over the 18 years of its existence, The Boneyard was home to one of the sharks from Jaws, the Ecto-1 from Ghostbusters, and a massive T-rex and one of the signature jeeps from Jurassic Park (years before their like would show up at Islands of Adventure's Jurassic Park).
(This prop repository also served double duty as being one of the many sights that tourists could take in while on the Production Tour, which we'll get to in just a bit.)
The whole point of this little corner of Production Central was, of course, to more fully immerse visitors into the world of filmmaking, but The Boneyard's real-estate usage might sound positively questionable to a modern sensibility. Ultimately, Universal agreed with this assessment; on September 8, 2008, this section of the park was cleared out to make way for the Universal Music Plaza, which officially opened five-and-a-half months later. Now, instead of being home to a museum-esque experience, Production Central would host multiple concerts a year to audiences that can reach several thousand members in size.
"Murder, She Wrote" Mystery Theater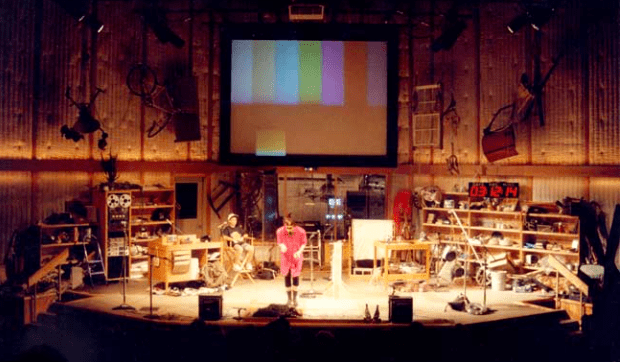 Opened: June 7, 1990
Closed: summer 1996
Currently replaced by: Transformers: The Ride – 3D
To understand this particular attraction, one must first be familiar with both the source material (a long-running and highly-popular series that was just wrapping up its sixth season when Universal Studios Florida opened) and with the scarcity of filmmaking knowledge in the larger society (being at a time well before either the internet or behind-the-scenes bonus features of DVDs or Blu-rays were around).
The gist of "Murder, She Wrote" Mystery Theater, then, was this: you, dear guest, have just been cast as the newest executive producer of Angela Lansbury's hit show, and you need to help usher the latest episode through the post-production process. Across three different theaters, you and your fellow exec producers learn about the intricacies of editing, visual effects, and sound design while engaging in that hallowed theme-park tradition called audience participation. (The team members who played the various production roles were improv performers, meaning that Mystery Theater could oftentimes wind up feeling something like the Horror Make-Up Show.)
This is how Universal put it in its in-park maps from the early '90s:
Your role is executive producer, working with Angela Lansbury. It's your chance to pick the stars, storyline, and crooks. Pick the best "takes" – and try to get the show done right, on time and on budget! Shows scheduled from 12:00 pm to 6:20 pm. Approximate running time: 35 minutes
When Murder, She Wrote ended its 12th and final season in May 1996, Universal Studios Florida's attraction quickly followed suite. (Not to worry, though – all future film-school hopefuls could still experience the joys of post when the experience simply got reskinned to another popular Universal series at the time, Hercules [and its spinoff, Xena].) The entire soundstage that Mystery Theater was contained in would ultimately suffer a more drastic fate, however: it was torn down in 2012 in order to make way for the massive Transformers: The Ride – 3D show building that currently stands there.
Fun fact: "Murder, She Wrote" Mystery Theater was originally presented by JVC.
MCA Recording Studio
Opened: June 7, 1990
Closed: summer 1996
Currently replaced by: Transformers: The Ride – 3D
MCA Recording Studio was less an out-and-out attraction and more of a studio-park experience (in fact, in Universal's first in-park guide maps, the Recording Studio is listed under "studio extras" as opposed to "attractions"). Its premise was simple – in the company's own words, it was a "professional recording studio to create your own hit single or music video." Think of this as karaoke meets Shutterbutton's Photography Studio over in The Wizarding World of Harry Potter – Diagon Alley: guests could sing along with recordings of hit songs and then purchase a copy either on cassette (that's an audio medium, for you millennials) or VHS (video). Along the way, they could also play with various sound-editing effects or techniques, linking back to Universal Studios Florida's overriding focus on production.
MCA Recording Studio, unfortunately, seems to be one of several different opening-day experiences that have been lost to the mists of time; no recordings or, even, photographs seem to still be in circulation. (This is also true of the two other venues that were located in the same building: Studio Stars Restaurant [an eatery that served "California Cuisine" in a casual atmosphere, replete with an all-you-can-eat buffet] and the Kodak Trick Photography Photo Spot [which allowed you to "capture your cast in the bustling magic of midtown Manhattan]).
Much like its next-door neighbor, "Murder, She Wrote" Mystery Theater, this entire structure was similarly torn down to make way for Transformers: The Ride – 3D.
Production Tour

Opened: June 7, 1990
Closed: fall 1995
Currently replaced by: N/A
Originally meant to be the centerpiece of the entire park, the Production Tour as finally realized in the summer of 1990 was little more than an add-on experience, something to do to help fill out an entire day at Universal Studios Florida rather than being a full attraction in and of itself.
A tram would sit in front of soundstage 19 on a road that was then dubbed Nickelodeon Way, waiting for passengers to climb aboard. Once they were settled in, it would take a leisurely stroll through the entire park, starting with Production Central and then circling around the lagoon (yes, other guests touring the park would have to make way for the regularly-appearing trams) in order to spot some of the "famous Hollywood landmarks and metropolitan street sets from your favorite movies and television shows." Along the way, it would make stops at those behind-the-scenes soundstages that were engaged in one film or TV shoot or another – assuming, of course, that any production was, indeed, going on that day.
And this, ultimately, proved to be the Production Tour's downfall – as production companies realized that Orlando wasn't destined to be an East Coast Hollywood, after all, many decided to pack up shop, leave both Universal Studios Florida and Disney's Hollywood Studios behind, and return to their more hospitable native climate of California. With no more film crews for guests to ogle at, Universal rightfully concluded that doing a 15-minute guided tour just of the park's various locations wouldn't be enough to sustain audience interest. In the fall of 1995 (again, hard dates are difficult, if not outright impossible, to come by), the plug was pulled on the tram tour once and for all – although, interestingly enough, The Boneyard would continue to exist for the next 13 years, acting as the last vestige of Production Central's filmmaking premise.
Nickelodeon Studios
Opened: June 7, 1990
Closed: April 30, 2005
Currently replaced by: Blue Man Group
What would a working film and television hub be without facilities dedicated to permanent productions? And, furthermore, how could Universal get the ultra-lucrative children's market that Disney had so thoroughly dominated without recruiting someone like Nickelodeon, the biggest kids' channel at the time?
Nickelodeon Studios, then, was meant to kill two theme-park birds with one stone. Occupying soundstages 18 and 19, it actually began filming what would eventually become dozens of Nick's popular gameshows there a full year before Universal Studios Florida would open its doors to visitors, making it something of a Mecca for kids and young teenagers the nation over – seeing the Green Slime Geyser constantly erupting out front was nearly a rite of passage for an entire generation. Park benches stationed around the buildings were orange and fashioned in the shape of many of the cable channel's iconic logos; its bathrooms contained Gak soap, the same goo that was dumped in copious amounts on contestants in the flagship Double Dare show.
Unfortunately, by the end of the decade, Nickelodeon's programming slate started to evolve, moving away from its various sports and game shows to scripted content, which didn't require studio audiences – and which benefited from being closer to where the actors, producers, and executives lived (in Hollywood and, to a lesser extent, New York City). By the time 2004 rolled around, only one series was left being filmed there (the final one was Nickelodeon Splat!, and it wasn't even a full-fledged show – it was merely a block of interstitial segments); the following year, the lights and the Slime Geyser were turned off for the final time.
Soundstage 18 was rechristened the Aquos Theater, made to be the home of the Blue Man Group, and was organizationally removed from Universal Studios Florida and officially made part of CityWalk. Blue Man's first performance was held on June 6, 2007, and the group has been a Universal Orlando staple ever since.
–
Want to tour the rest of Universal Studios Florida on its opening day in 1990? Be sure to check out our in-depth retrospective.
And for even more on Universal Orlando, Walt Disney World, and other Orlando experiences, be sure to follow Orlando Informer on Facebook, Twitter, and Instagram.