With great rides come great responsibility – the responsibility to stay properly sustained with food to dominate those rides at Universal Orlando Resort, that is. Luckily, Universal's snack game is a feat in and of itself. We could honestly just spend a day eating through the parks, because the unique snacks are just that good.
Across Universal Studios Florida, Islands of Adventure, Volcano Bay, and CityWalk, there's an abundance of flavors for you to experience. But don't worry about those ample options – we've taken the liberty of narrowing them down for you. We're here to share the seven best snacks at Universal Orlando.
Chicken & Waffle Sandwich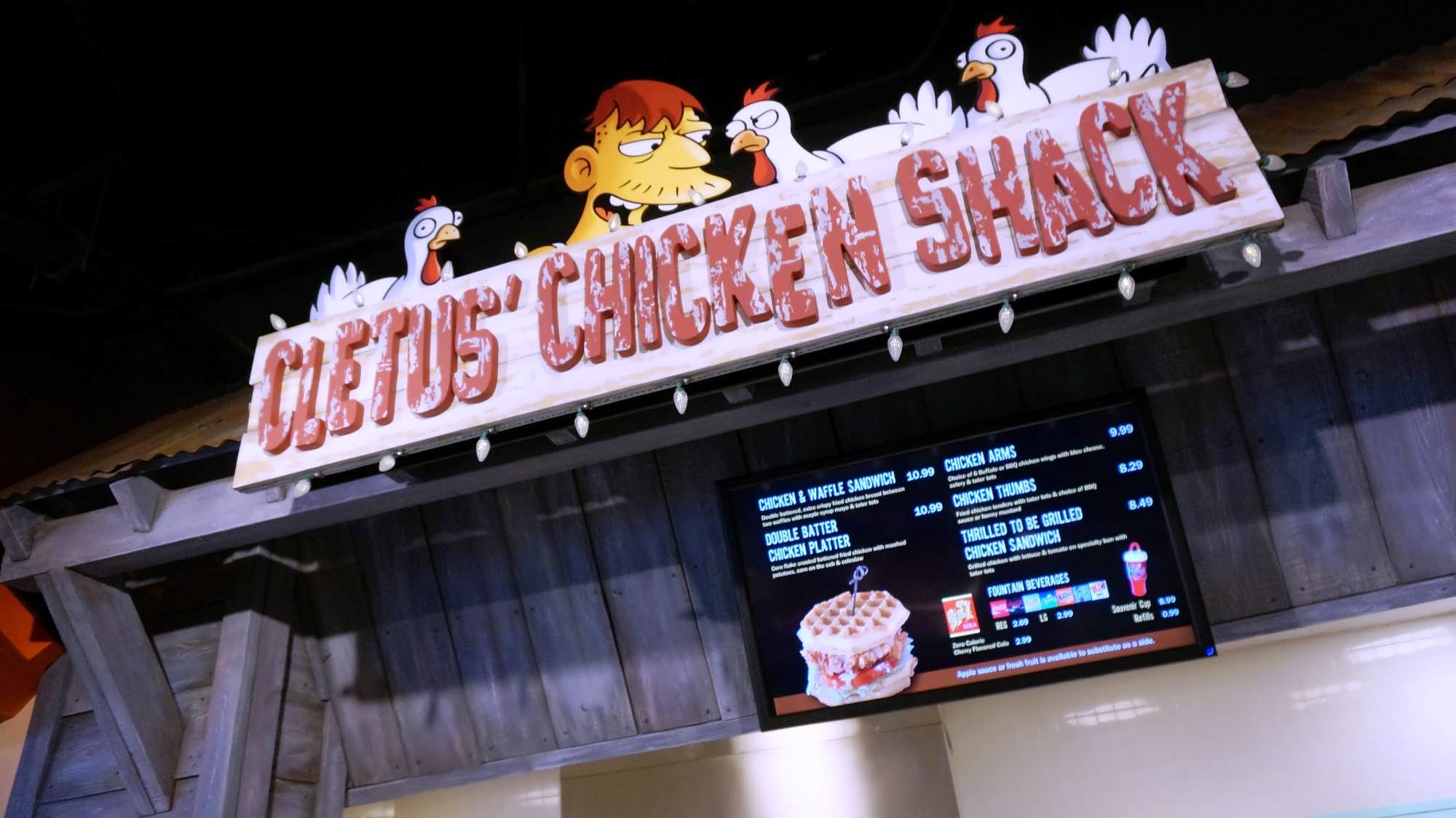 Location: Cletus' Chicken Shack in Springfield, USA, Universal Studios Florida
Description: double-battered, extra-crispy-fried chicken breast between two waffles with maple-syrup mayo and tater tots ($10.99)
The exquisitely sweet-and-salty combination of crispy fried chicken and fluffy waffles makes this one of our favorite snacks at Universal. Not to mention, if we had a "best sauces of Universal" list, Cletus's maple-syrup mayo would be at the top. We recommend asking for it both on the sandwich and extra on the side.
Smoked Turkey Leg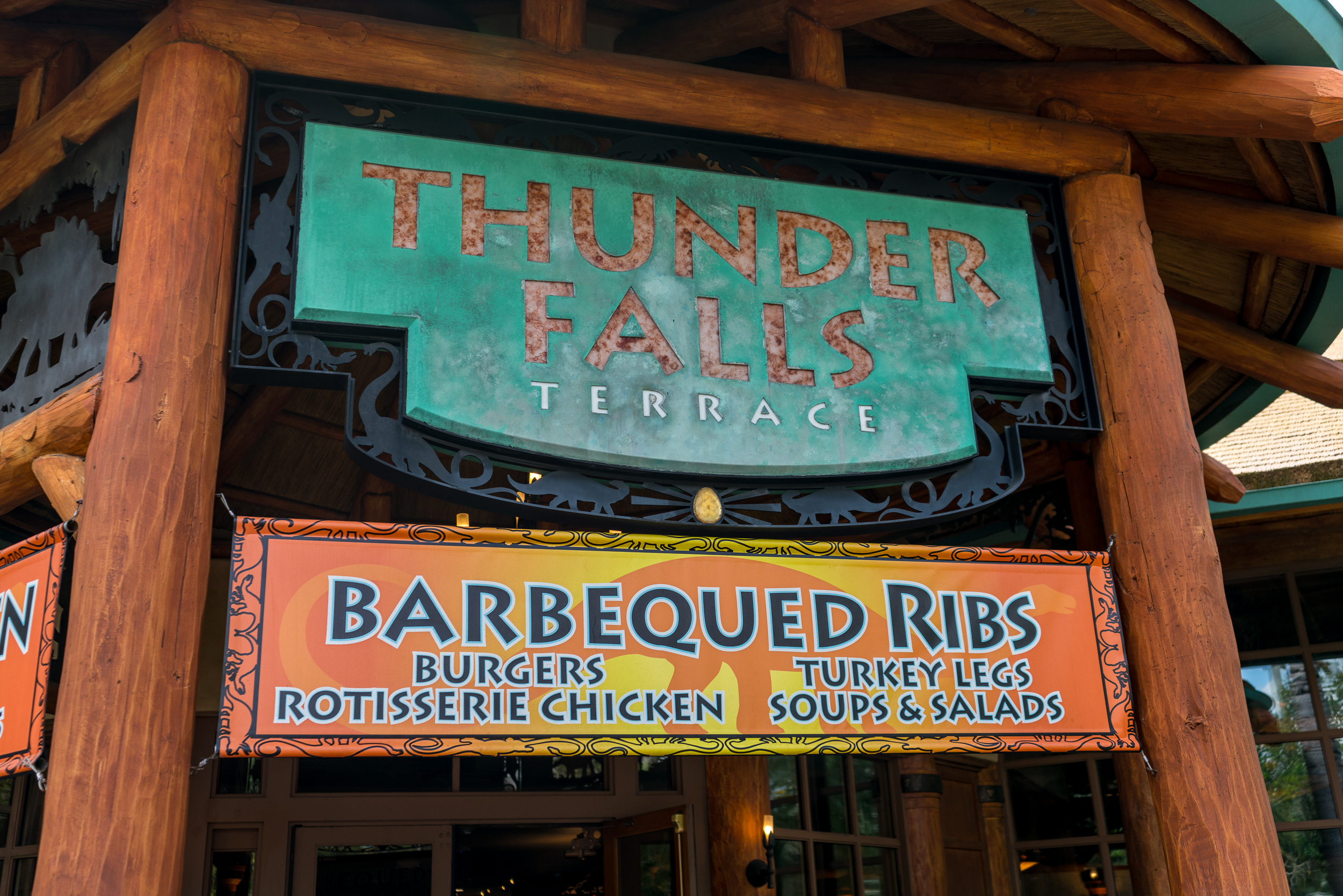 Location: Thunder Falls Terrace in Jurassic Park, Islands of Adventure
Description: served with French fries ($14.99)
Thunder Falls Terrace serves up an assortment of carnivorous options, but nothing quite makes you feel connected to the ferocious dinosaurs nearby than devouring a turkey leg. With portability as a huge plus, the Smoked Turkey Leg is an awesome way to fuel up as you stroll through Jurassic Park and make your way to face off against Skull Island: Reign of Kong.
Buffalo Chicken Tots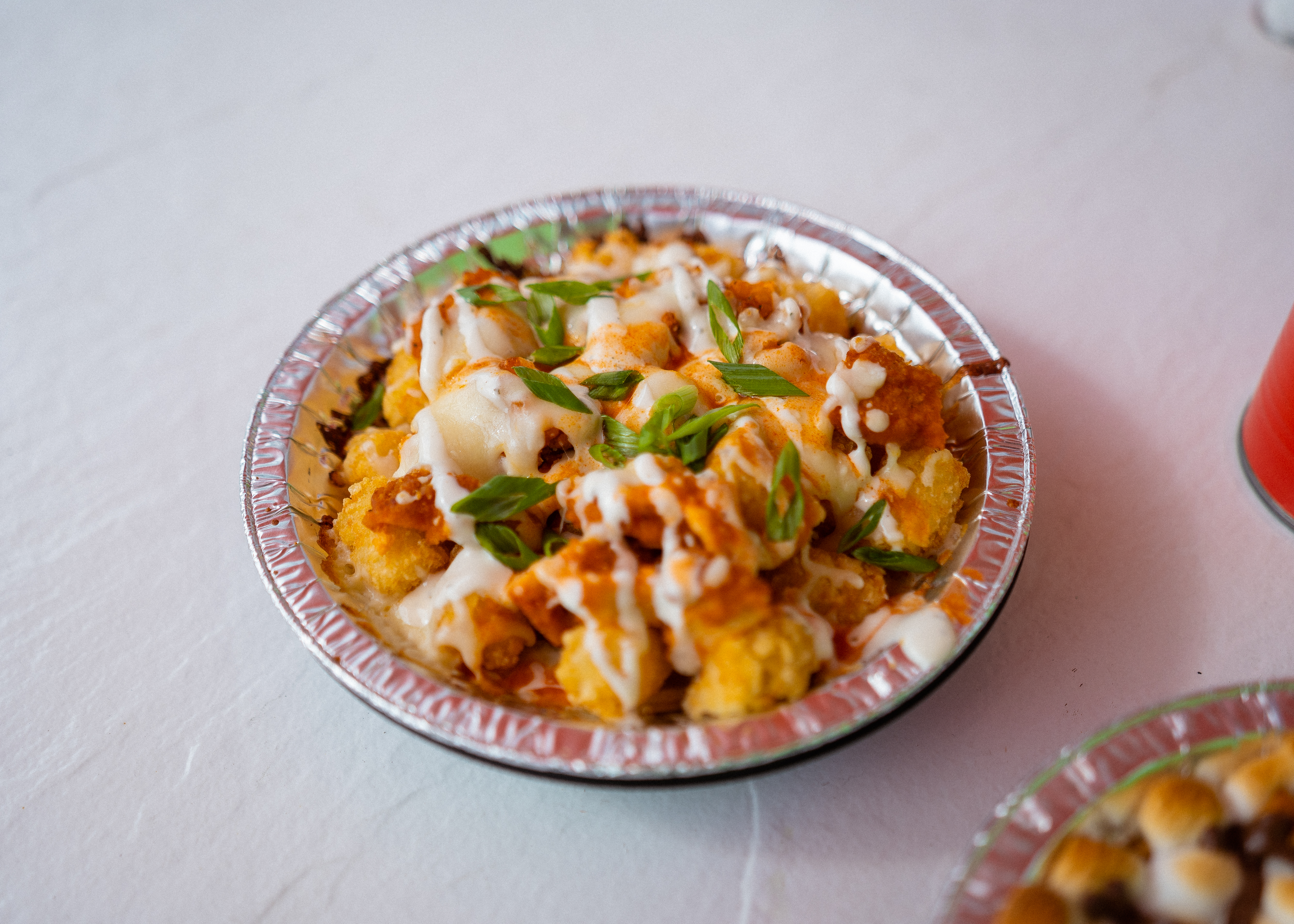 Location: Green Eggs and Ham Cafe in Seuss Landing, Islands of Adventure
Description: chicken tenders, mozzarella cheese, ranch, and buffalo sauce over tater tots ($9.99)
Since its 2019 rebirth, Green Eggs and Ham Cafe has been serving up a solid variety of specialty tots – and we couldn't be more pleased with this evolution. Even with Pizza and Green Eggs and Ham tot options also available, the Buffalo Chicken dish holds up as our top choice. These tots offer an A+ harmony of salty and spicy, with enough toppings to make every bite just as scrumptious as the last.
Ploughman's Platter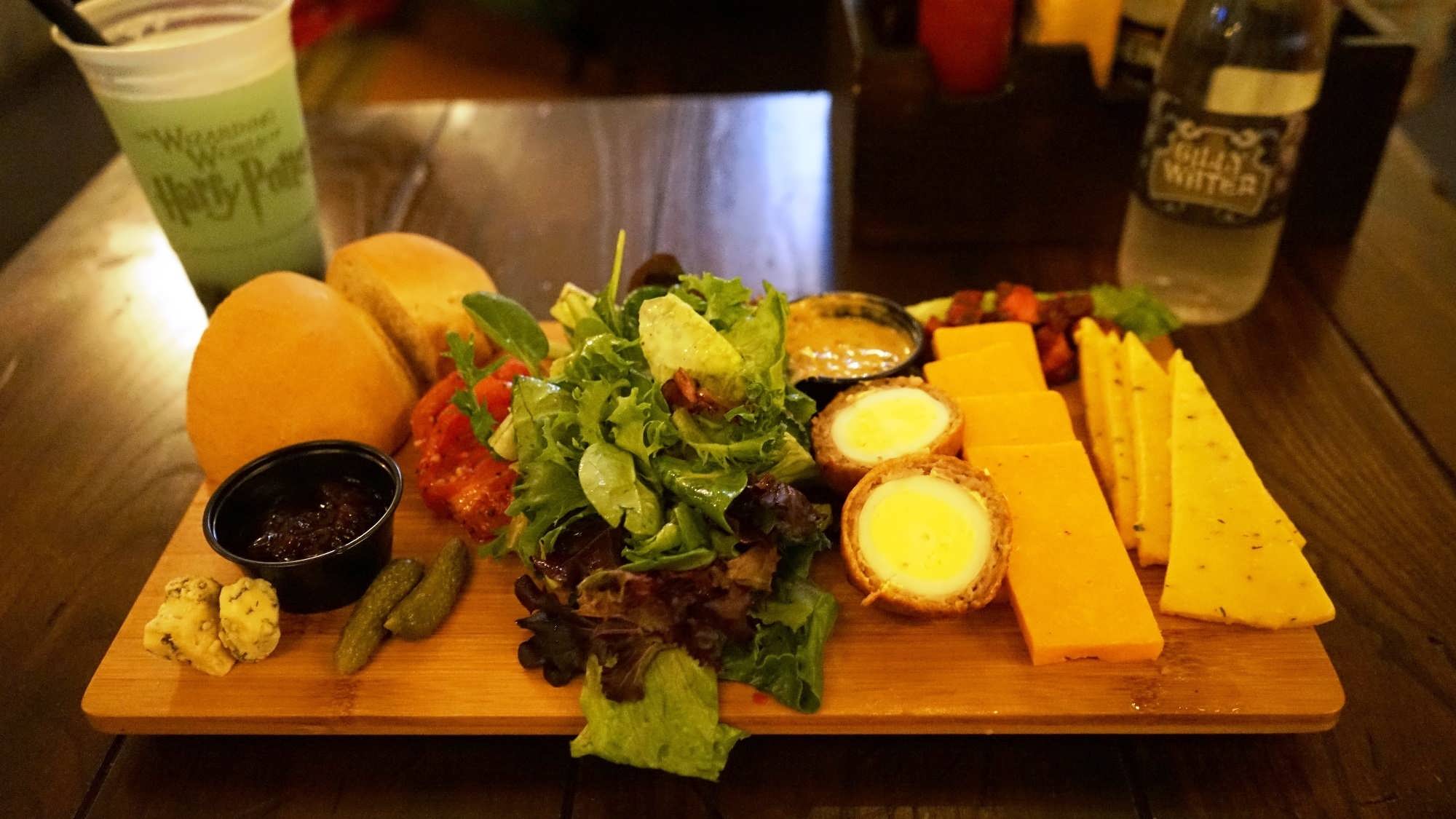 Location: The Leaky Cauldron in The Wizarding World of Harry Potter – Diagon Alley, Universal Studios Florida
Description: a feast of English cheeses, crusty bread, field green salad, oven-roasted tomatoes, cornichon pickles, apple and beet salad, Branston pickle, and Scotch eggs ($19.99)
A full feast's worth of snacks, the Ploughman's Platter is enough to serve two as a full meal. We love a good charcuterie board, and this is a heartier (vegetarian!) take that's full of English specialties. You won't feel like you're eating theme-park food when you indulge in this plentiful and unique array of cheeses, salads, and more.
(Don't be afraid to try the Scotch eggs – they're more delicious than expected and the perfect bit of protein to keep your energy levels up between attractions.)
Large, Warm Soft Pretzel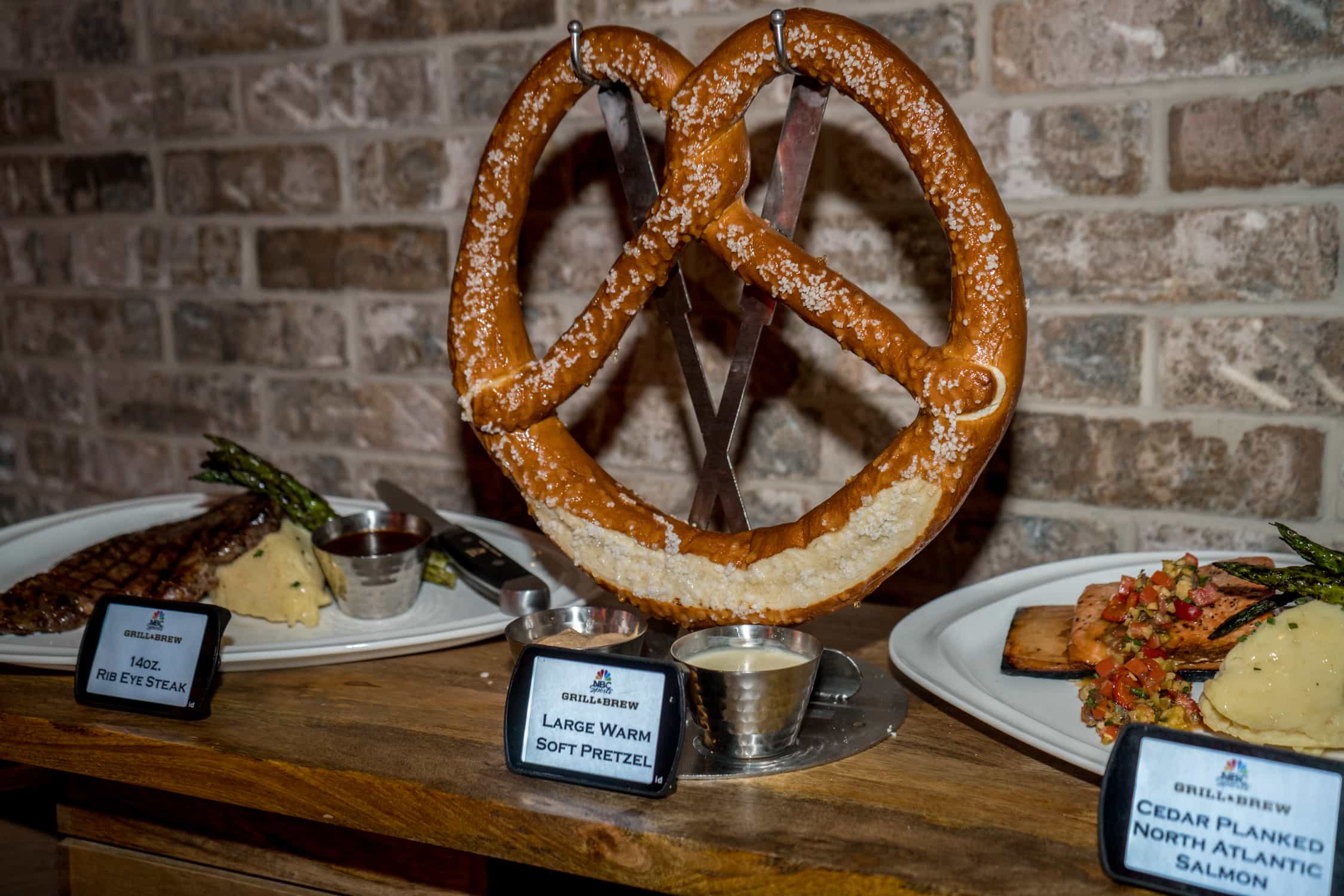 Location: NBC Sports Grill & Brew in Universal CityWalk
Description: lightly salted, jalapeño queso, Bertman Ball Park mustard ($12.95)
You can't go wrong with a soft pretzel, but – boy – does NBC Sports Grill & Brew do it right. We love NBC Sports for its expansive menu with something for everyone, and the Large, Warm Soft Pretzel is the epitome of that. The appetizer is a gigantic take on a classic soft pretzel, plus it's served warm with queso and mustard. What's not to love?
If you want to order something for the table next time you eat here, your friends will thank you for this one.
Arugula Salad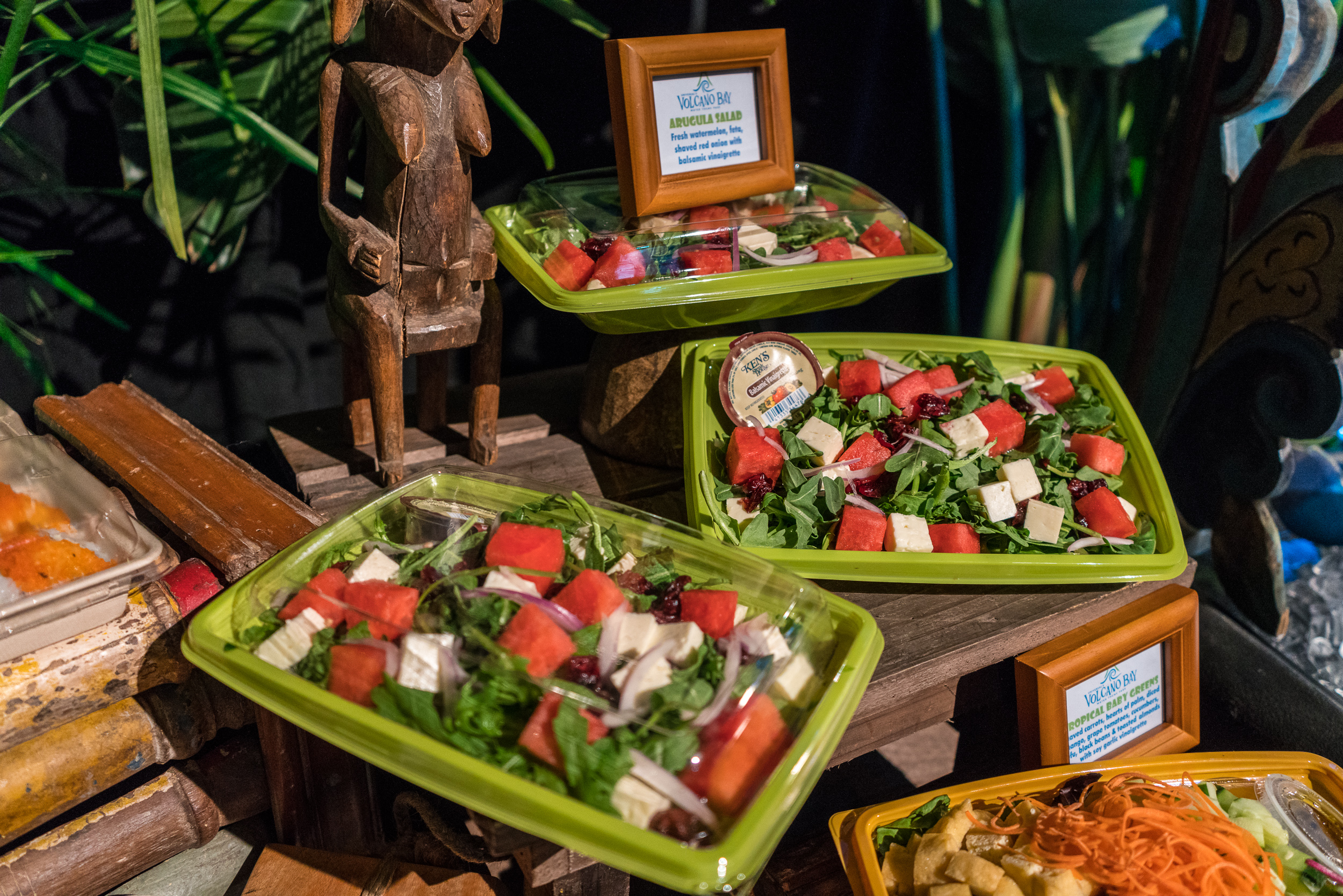 Location: Kohola Reef Restaurant & Social Club in Wave Village, Volcano Bay
Description: fresh watermelon, feta, shaved red onion with balsamic vinaigrette ($9.49)
We would be amiss if we didn't include a healthier option somewhere on this list. When it comes to snacking at Volcano Bay, this fresh Arugula Salad is exactly the light option you need before hopping on Krakatau Aqua Coaster. It might sound silly, but the watermelon not only tastes delicious, it also helps to quench your thirst and add a little extra hydration on a hot day. All of the flavors mesh super well together for a fresh snack.
I Heart Vegan Sandwich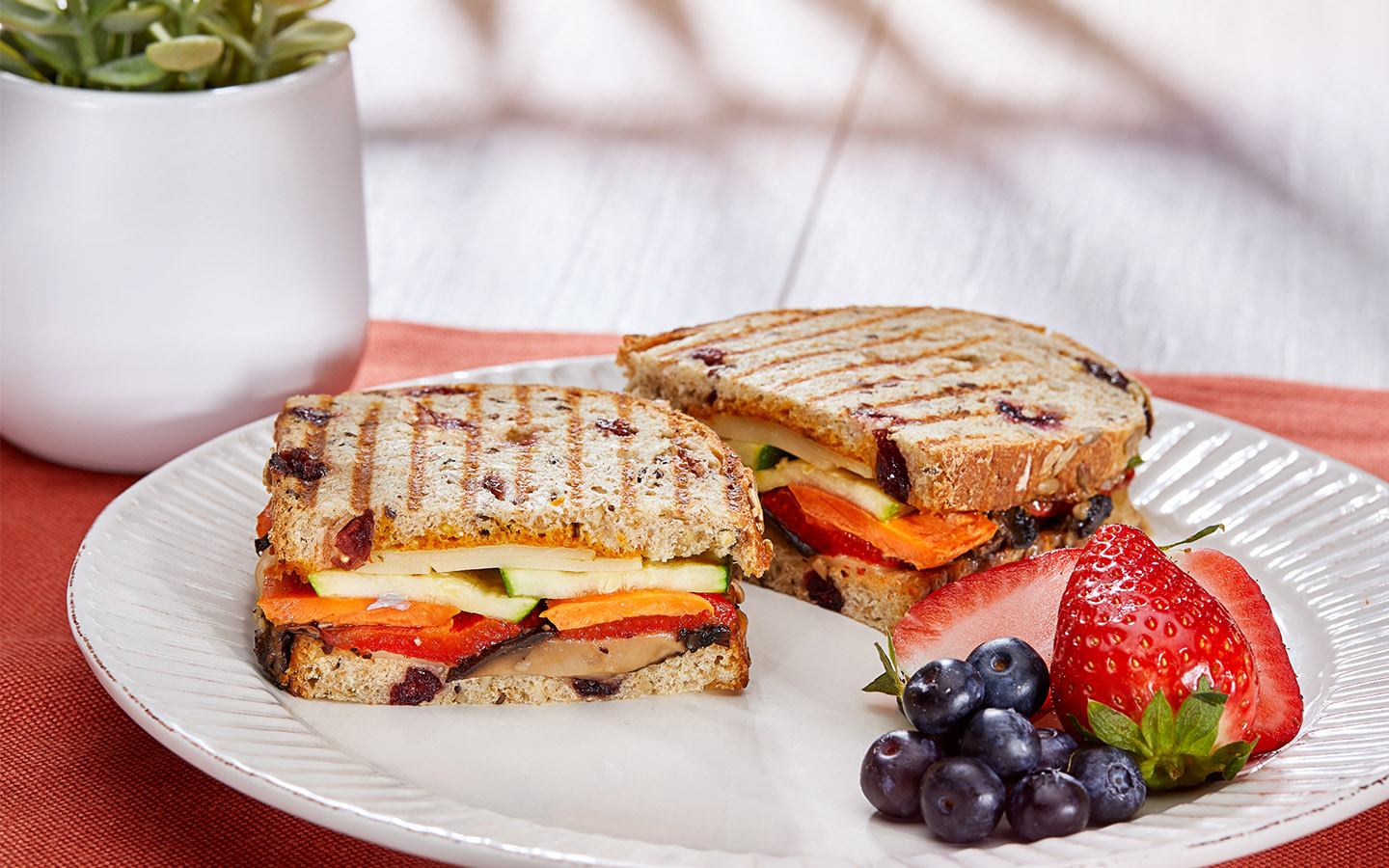 Location: Today Cafe in Hollywood, Universal Studios Florida
Description: roasted portobello, peppers, zucchini, carrots, vegan jalapeno cheese, sun-dried tomato pesto, pressed cranberry artisan bread served with fresh fruit ($12.99)
Calling all vegans! We may only have one option for you on this list, but, man, it's good. Universal has recently stepped up its game with vegan options, and this Today Cafe masterpiece is a prime example. We love that the company didn't compromise on flavor when it comes to Today's signature vegan menu item – this artisan-style sandwich is loaded with bold flavors.
Honorable mention: Pizza Fries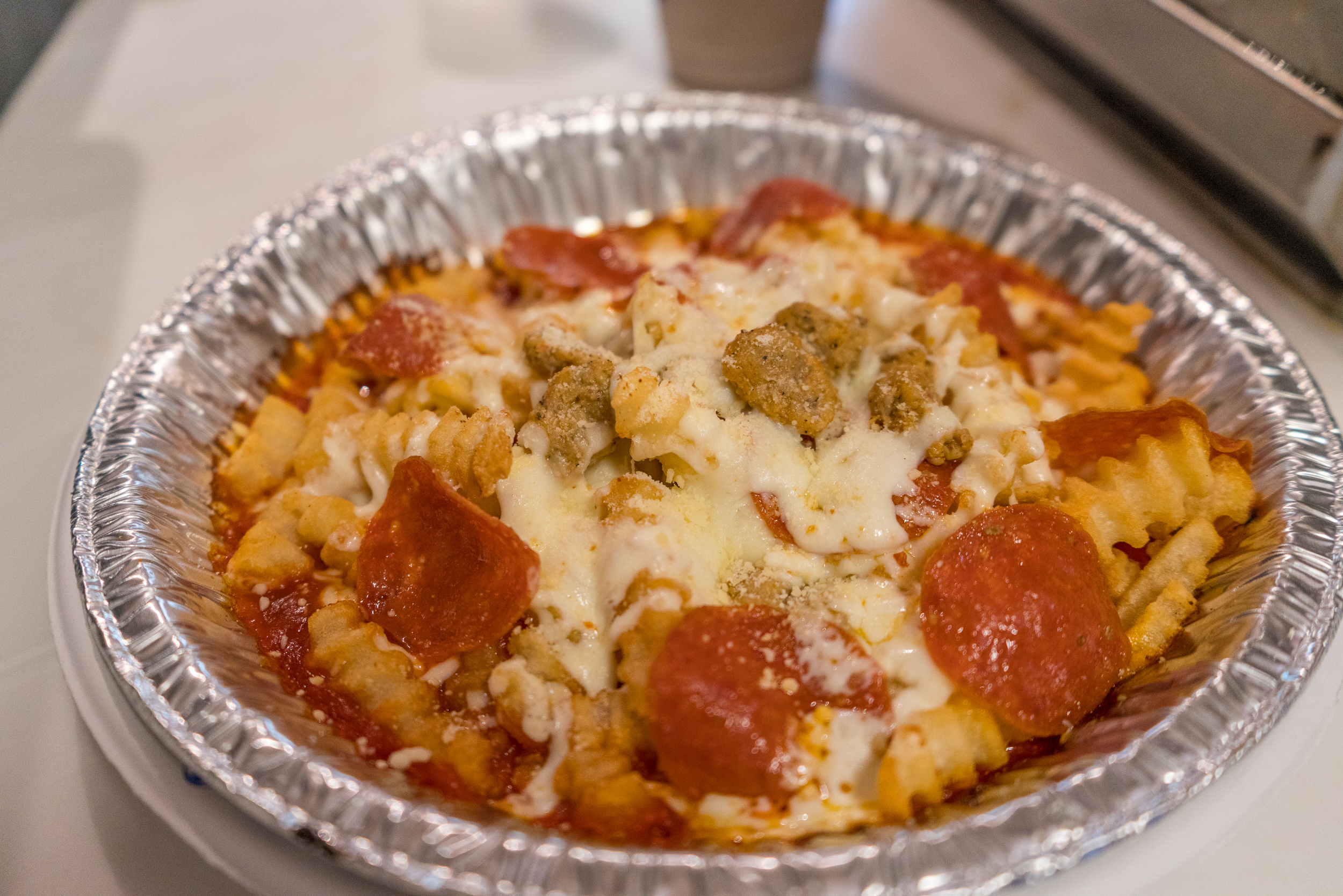 Location: Halloween Horror Nights at Universal Studios Florida
Description: pizza sauce on the bottom, fries in the middle, and mozzarella cheese, pepperoni, and sausage on top
You've heard of icon characters for Halloween Horror Nights, but how about icon snacks? Pizza Fries are arguably the culinary mascot of our favorite Universal Orlando seasonal event – there's no sweeter marriage than that between French fries and pizza, and the end result is a work of delicious art.
–
There you have it, folks – the best snacks at Universal Orlando Resort. Now, your homework is to try them all (you're welcome!). Do you have your own mouthwatering favorite to add to the list? Share your passion for theme-park food with 90,000+ other Universal fans over in our OI Community Facebook group.
And don't forget to follow Orlando Informer on Facebook, Twitter, and Instagram for the latest news and tips at Universal Orlando, Walt Disney World, and other Orlando experiences.