Universal Orlando Resort is constantly evolving its attractions, experiences, and, most importantly (arguably), its desserts. These aren't your average desserts, either – Universal dreams up the wildest flavors and combinations of goodies to bring unique character to each of its lands and destinations. The best part? Hustling around theme parks all day is the perfect excuse to consume an insane amount of delicious sugar.
We recently shared the seven best snacks to find at the parks, but what's a snack without an even bigger dessert to follow? Get ready for a sugar rush, because we're taking you through our top six must-try sweets and treats at Universal Studios Florida, Islands of Adventure, Volcano Bay, and CityWalk.
Waturi Fusion ice cream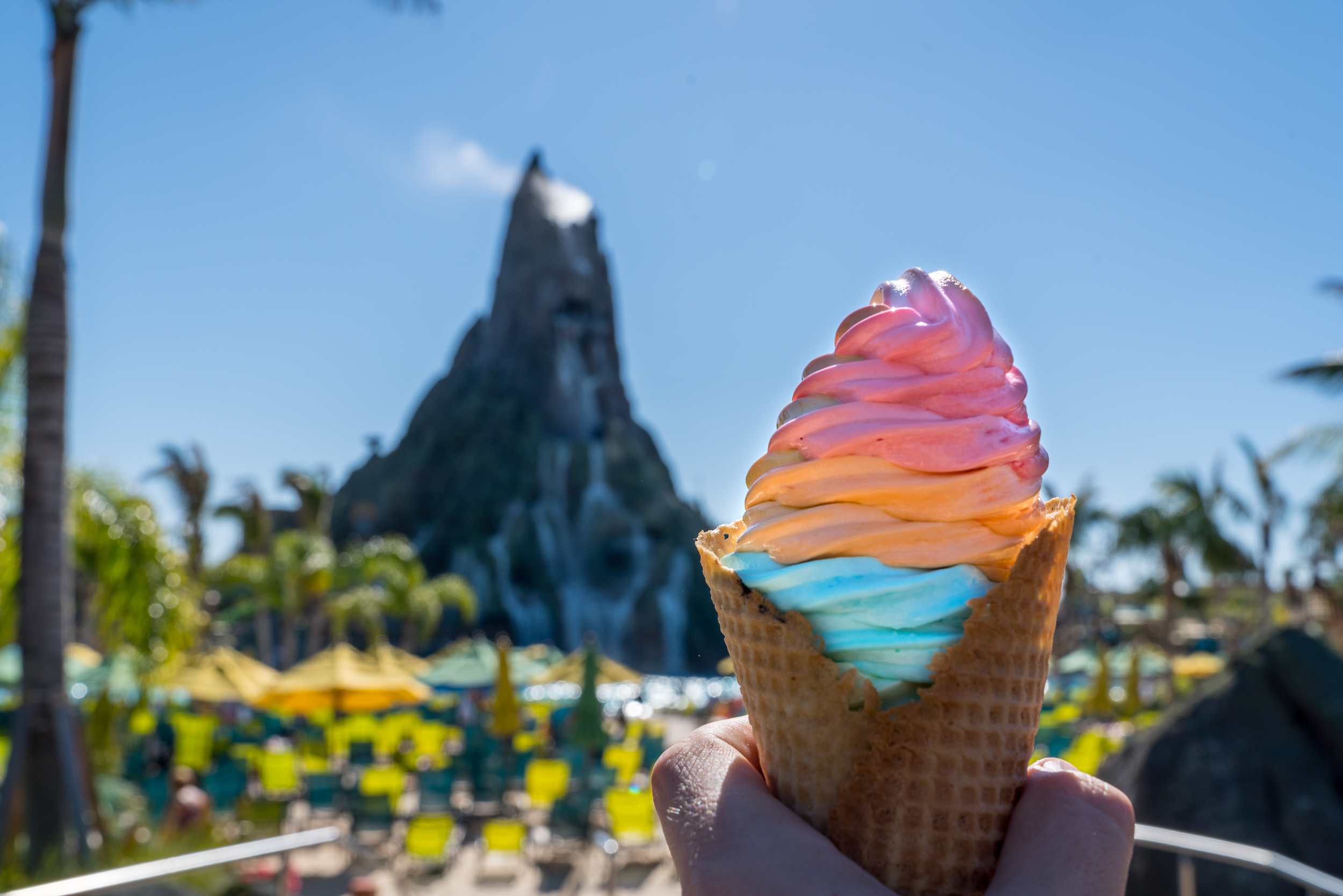 Location: Koka Poroka in Wave Village, Volcano Bay
Description: a waffle cone filled with a combination of four different soft-serve flavors: banana, blue raspberry, orange, and strawberry ($6.49)
Easily Volcano Bay's most Instagram-worthy snack, the Waturi Fusion ice cream melds together four tropical flavors in the form of a creamy soft serve, perfect for those hot days around Krakatau. Not only does it look beautiful and perfectly match Volcano Bay's colorful vibes, but the combination of flavors makes it a unique ice cream experience worth splurging on.
Cookie Jar milkshake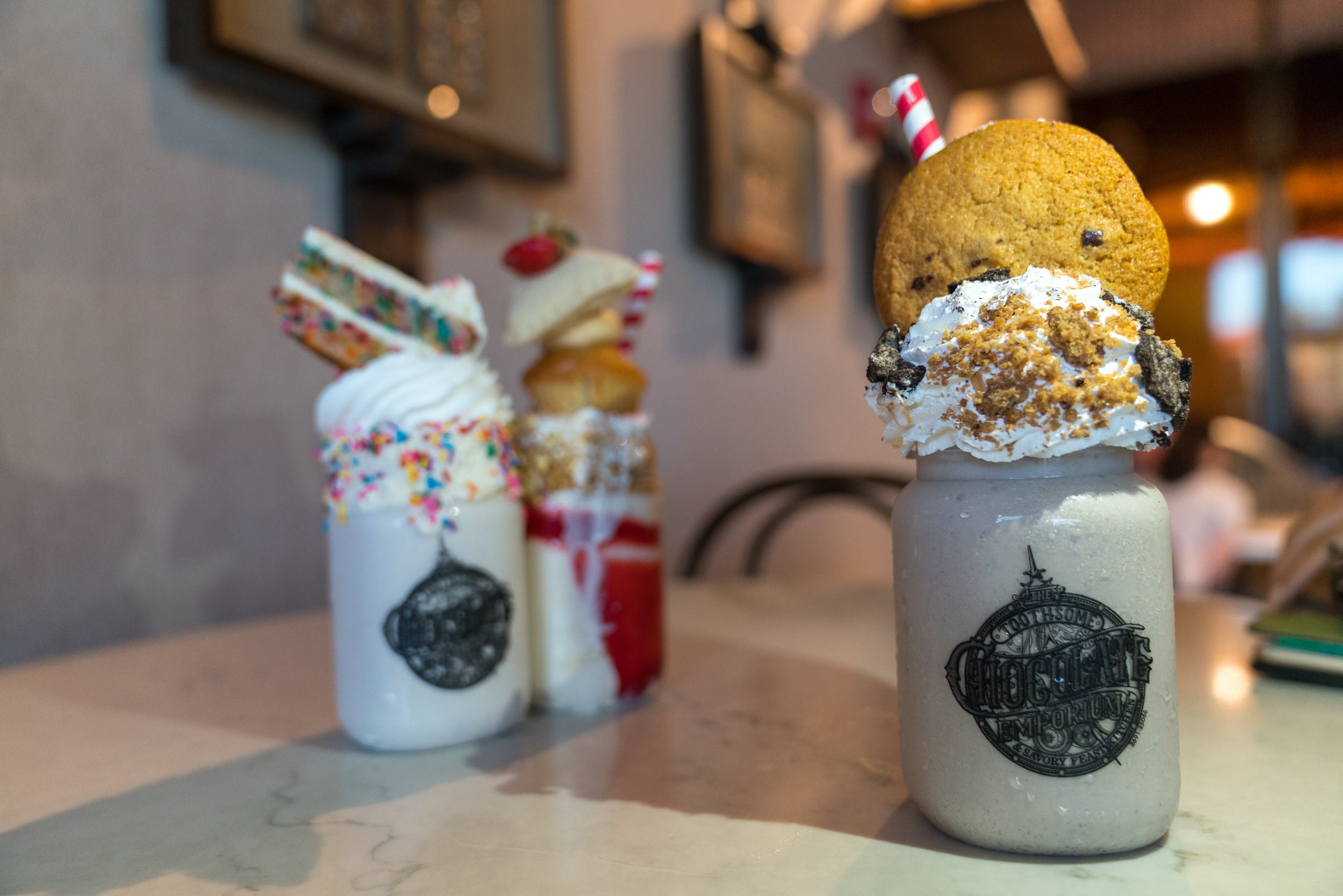 Location: Toothsome Chocolate Emporium in Universal CityWalk
Description: vanilla ice cream, Oreo, oatmeal, and chocolate chip cookies, topped with fresh whipped cream ($14.00)
Toothsome whips up a huge variety of ridiculously indulgent milkshakes, but the Cookie Jar is like our childhood dessert dreams brought to reality. The sweet symphony of three different types of cookies (plus ice cream) makes for one perfectly sip-able concoction. Since these milkshakes are often too sweet and gigantic to tackle alone, the Cookie Jar is the perfect crowd favorite to split with a friend (or not!).
Strawberry & Peanut Butter ice cream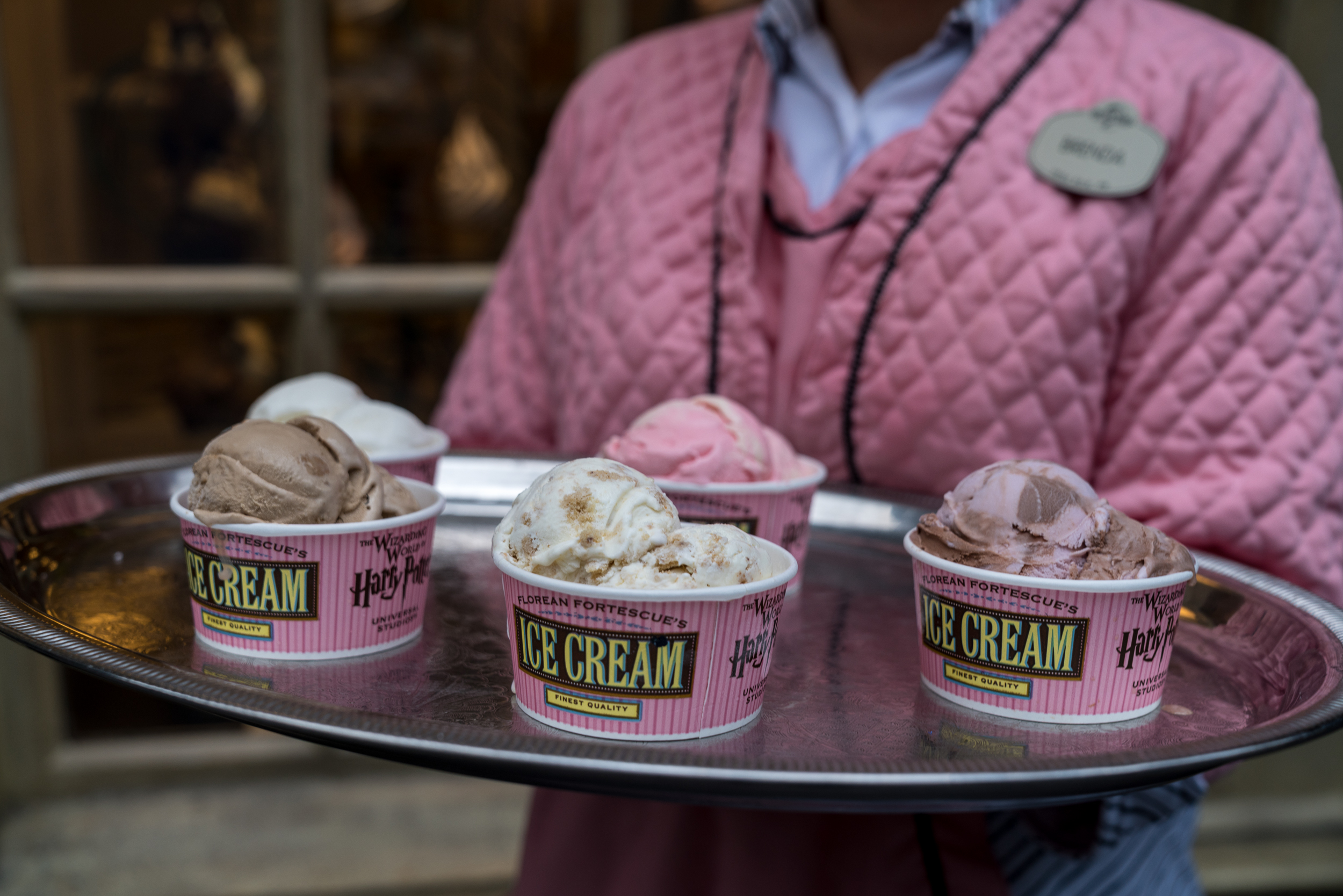 Location: Florean Fortescue's Ice-Cream Parlour in The Wizarding World of Harry Potter – Diagon Alley, Universal Studios Florida
Description: separate strawberry and peanut butter flavors swirl together in a hard-pack ice cream, served in a waffle cone ($6.99)
Florean Fortescue's scoops some delightfully weird flavors – and we highly recommend Chocolate Chili, by the way – but Strawberry & Peanut Butter is our go-to. What we've deemed the "most pair-able" flavor Florean offers, Strawberry & Peanut Butter brings familiar PB&J tastes to the next delicious level and is an awesome complement to basically anything else on the menu.
Memphis Mafia Fritter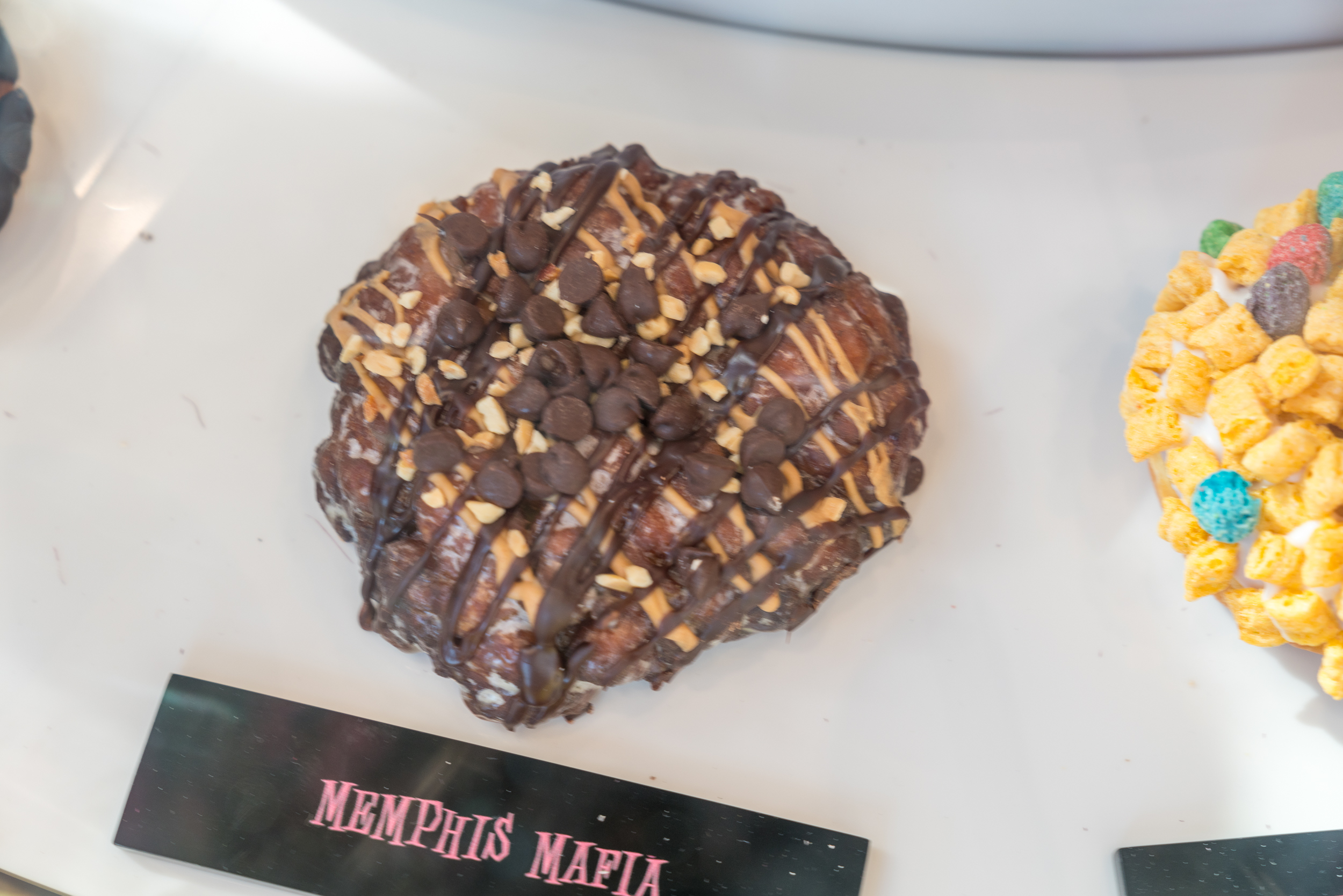 Location: Voodoo Doughnut in CityWalk
Description: fried dough doughnut with banana chunks and cinnamon, covered in glaze, drizzled in chocolate and peanut butter, and topped with peanuts and chocolate chips ($5.25)
Like the flavors at Florean Fortescue's Ice-Cream Parlour, you really can't go wrong when choosing something on the menu at Voodoo Doughnut. That's why we're here to draw your attention to a lesser-known gem, the Memphis Mafia. Because it doesn't fall under the "doughnut" variety, you may have overlooked this treat during past visits – but, trust us, it's worth your attention (and taste buds). This fritter is absolutely loaded with banana, chocolate, and peanut butter goodness.
Brain Freezin' D'oh-Nut Sundae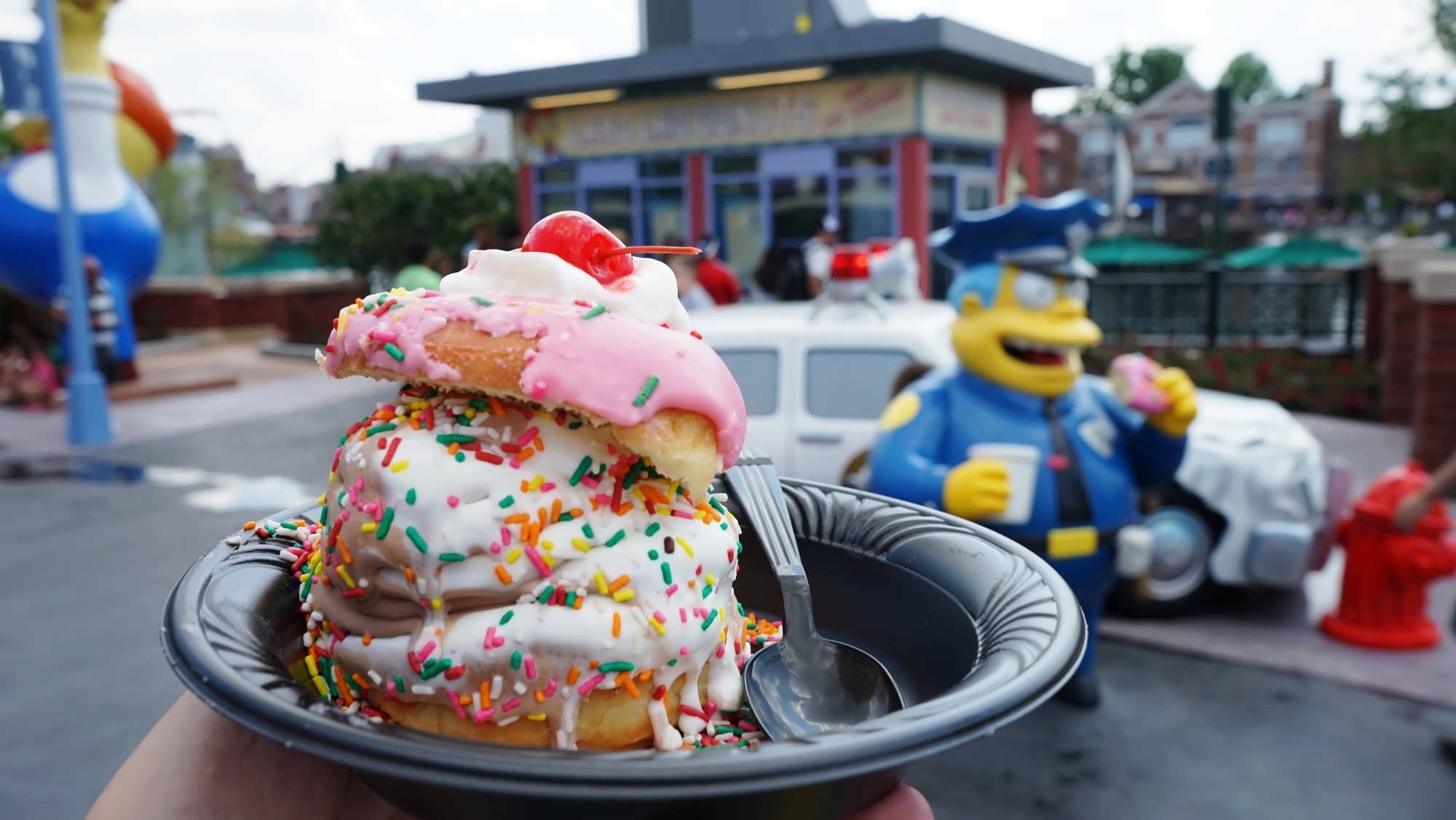 Location: Lard Lad Donuts in Springfield, USA, Universal Studios Florida
Description: soft-serve ice cream sandwiched between a frosted, pink donut, and your choice of one topping ($6.59)
If you were looking at our last two items and thinking, "But how do I have doughnuts and ice cream together?" look no further than Lard Lad. The Brain Freezin' D'oh-Nut Sundae is our favorite use of that classic pink doughnut we know and love from The Simpsons. After trying this sundae, you'll understand why Homer is so obsessed with Lard Lad.
Butterbeer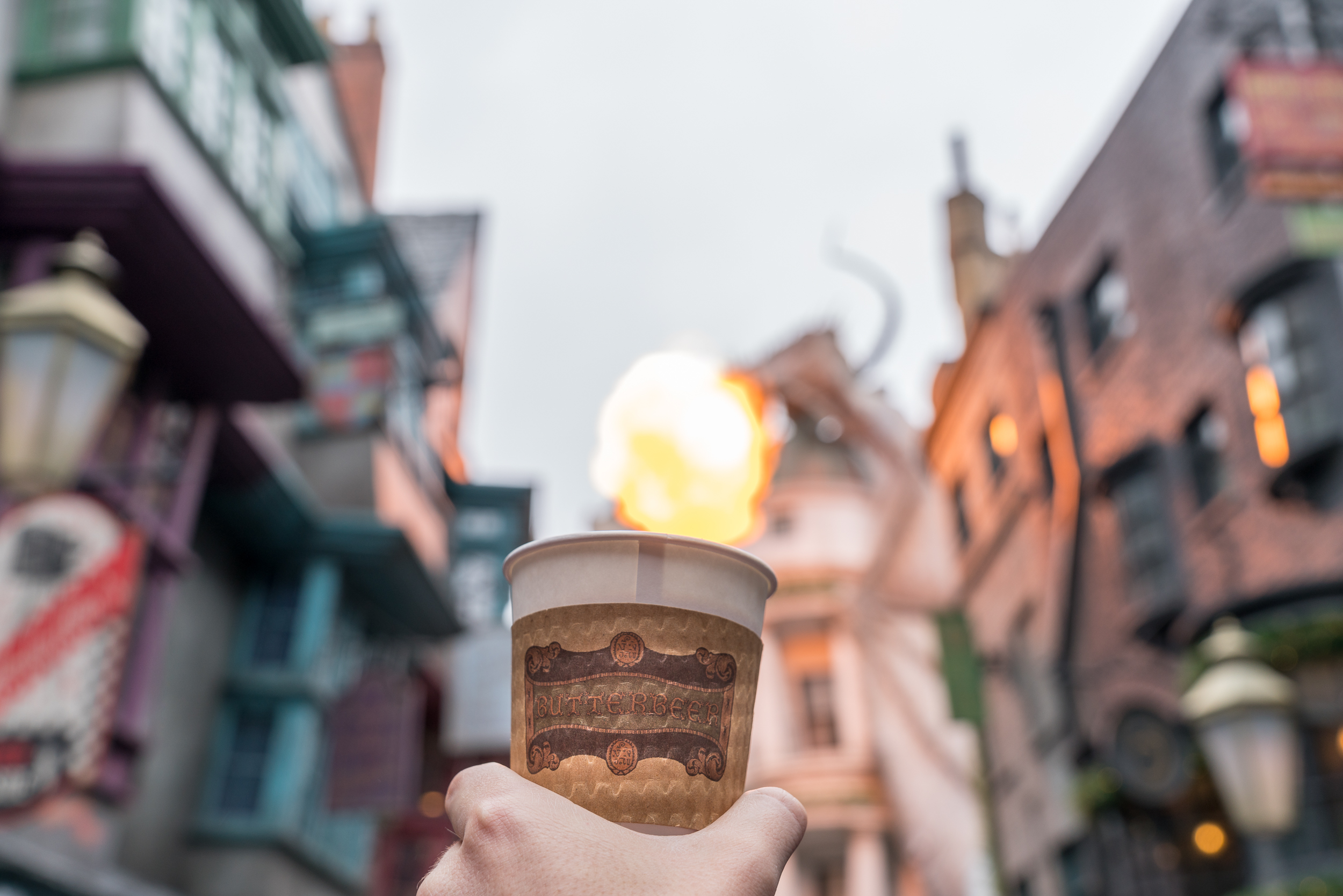 Location: The Wizarding World of Harry Potter – Diagon Alley or Hogsmeade, Universal Studios Florida or Islands of Adventure
Description: Butterbeer comes in cold, hot, and frozen versions, plus in the form of soft-serve and hard-pack ice cream, fudge, and potted cream
Our favorite part of the fruition of the Wizarding World at Universal just might be the abundant incarnations of the classic Harry Potter treat, Butterbeer. Our insider's guide breaks down all its forms, each with a different ratio of butterscotch to cream soda-like flavors, and varying sweetness. With so many options, there's a Butterbeer treat for every fan to enjoy!
–
Is your mouth watering yet? We love how Universal uses sweets and treats to bring life and authenticity to all of our favorite fictional worlds and beyond. What delectable dessert would you add to the list? Share your go-to Universal sweets with 90,000+ other Universal fans over in our OI Community Facebook group.
And don't forget to follow Orlando Informer on Facebook, Twitter, and Instagram for the latest news and tips at Universal Orlando, Walt Disney World, and other Orlando experiences.