We've already jumped in our trusty time machines and prowled the space-time continuum in order to experience all of the now-lost attractions at both Production Central and New York, the first two lands at Universal Studios Florida. Now that we've had the chance to recover from our nostalgic adventures and have gassed the DeLorean back up for another outing, it's time to continue our chronological romp, hitting up the next themed area as we make our way around the park's lagoon: San Francisco/Amity.
Yes, that's right – back at this extremely early juncture of the park's lifespan, San Fran was attached at the hip to a giant watery expanse of real-estate that was Amity Harbor, the home of Jaws (confused as to how a West Coast location can be tag-teamed with a New England destination? Let's just go with the waterfront theme and leave it at that). This would actually be the state of affairs for a remarkable 22 years, until Universal shut down Jaws and his always-Fourth-of-July area in order to make room for The Wizarding World of Harry Potter – Diagon Alley, which would open two years later, in 2014. While this would constitute a major step forward for Universal Studios Florida, generally, helping (along with Springfield, USA) to usher in an era when lands could be themed to intellectual properties instead of vague movie-backlot "sets," it would be a major blow to San Francisco, specifically, taking away roughly half of its acreage. (The loss would be compounded just a year or so later, when Fear Factor Live would be topographically chopped off and made a part of the next-door World Expo – it made no sense to have SF start, be interrupted by Diagon Alley, and then continue for just one more attraction, before giving way to World Expo, after all.)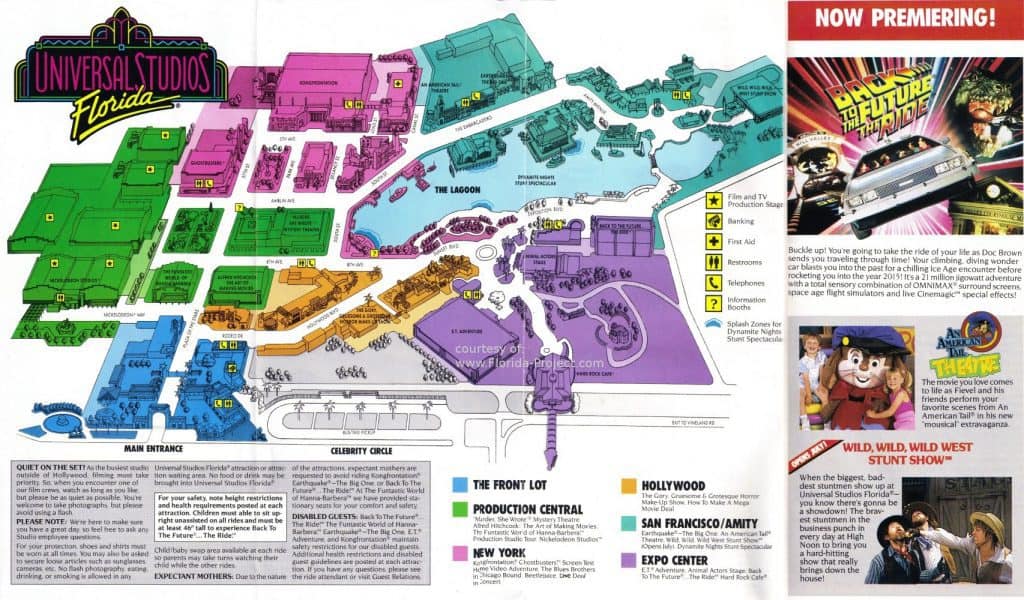 Just as with our chronological journeys to New York, our excavation of San Francisco/Amity's extinct attractions will be all-encompassing – only six have both started and then ended since the park's opening day of June 7, 1990, allowing us to catalogue each and every one of them. And again like our NY retrospective, one will notice a general shrinking of the number of experiences that the land has had to offer over the past three decades – a byproduct not only of losing Amity and Fear Factor Live's massive amphitheater, but also of having Fast & Furious – Supercharged claim two attractions in order to house its absolutely mammoth showbuilding. (Speaking of which, here's a quick little fun fact for you: when the theme park first opened, it assigned its very first lagoon show, Dynamite Nights Stunt Spectacular, to San Fran/Amity, which technically makes for yet another entry in the land's dwindling roster.)
An American Tail Theater
Opened: June 7, 1990
Closed: 1992
Currently replaced by: Fast & Furious – Supercharged
We've already seen, in our tour of Universal Studios Florida's first two lands, how Universal capitalized on a number of properties that had their heyday in the late '80s and early '90s – such as Murder, She Wrote in Production Central and Ghostbusters in New York – and San Francisco was no exception to this endeavor. An American Tail, an animated feature film that almost instantly became a classic, released in 1986, with a series of sequels, on both the big and small screens, following on through '92, making the franchise a shoo-in for the new theme park.
An American Tail Theater was a cutsey, kid-friendly stage show – at a time when Woody Woodpecker's KidZone was still nine years away from materializing – loosely retelling the story of the first movie (and, once Fievel Goes West hit theaters in '91, the second film, as well) while including several of its songs, most notably its signature "Somewhere out There." During the performance, the characters would occasionally make their way off the stage and float out throughout the audience, saying hi to the little ones, and an occasional "burst" of fireworks would accentuate the musical numbers on-stage.
The remarkably short lifespan of the attraction – it closed just two years after first debuting, which is short even by Universal standards – can be attributed to two factors: the necessity of Beetlejuice getting his very own dedicated venue, after spending the last two years headlining his own street shows at the next-door New York, and the arrival of Fievel's Playland, an interactive playground for kids, over on the other side of the park (which would eventually be converted into KidZone). In this way, Steven Spielberg's little franchise still has life in it, as the little mouse immigrant still has a spot at the park, 28 years later.
Earthquake: The Big One
Opened: June 7, 1990
Closed: November 5, 2007
Currently replaced by: Fast & Furious – Supercharged
Earthquake: The Big One scratched both of Universal's early-theme-park itches: utilizing as many properties from its own movie library as possible (in this case, Earthquake from 1974, even though it was already 16-years-old and didn't have a continued franchise footprint, like Fievel did) and educating audiences about the filmmaking process, which explains why the beginning of the attraction featured a series of short films, hosted by none other than Charlton Heston (one of the actors from Earthquake) himself, explaining how the movie's special- and visual-effects sequences were created.
Audience participation would come into play – in a gag involving the recreation of one memorable stunt from the film, the plummeting of an office worker down some 25 stories of a collapsed stairwell – as would, ultimately, a ride portion, which saw guests being seated in a recreation of a BART subway vehicle, departing the West Oakland Station, and then being stuck while the movie's titular earthquake struck all around them, with sections of the ceiling collapsing, fires erupting, and, finally, water flooding down a staircase and into the station. When combined with the attraction's façade (an immaculate recreation of the Ferries and Cliff House Railway cable-car barn) and collection of props (including a $2.5 million model of San Fran that was actually used in the 1974 film), The Big One provided the ultimate Earthquake experience.
This last point came to be something more of a weakness than a strength, however, as the years started to creep by. In 2002, a slight revamp of the experience was deemed necessary, replacing some of the Earthquake-specific elements with a wider collection of other Universal Pictures entries, from the queue's props to the preshow's visual-effects video and scene reenacements – now, the likes of E.T. the Extra-Terrestrial, U-571, and How the Grinch Stole Christmas would get their turn in the filmmaking sun (although the ride portion through the crumbling San Fran subway would remain untouched). This move to make Earthquake: The Big One more generic was successful enough to give the attraction an extra five years on its lifespan, but it wasn't enough to ultimately save it.
Jaws
Opened: June 7, 1990
Closed: February 2, 2012
Currently replaced by: The Wizarding World of Harry Potter – Diagon Alley
For many a theme-park fan, Jaws still is – perhaps somewhat ironically – the one that got away, one of the last remaining opening-day rides that they fully expected to stand the test of time. Indeed, the iconic movie monster is still a rallying cry to this very day, several years after its closure, with the hope it can somehow be resurrected as a new attraction somewhere on Universal Orlando property – exactly what happened with New York's Kongfrontation, which would ultimately resurface, 14 years later, as Skull Island: Reign of Kong.
But before Jaws would become the second-longest running ride at Universal Studios Florida, it became one of its very first disasters. Originally opening with the park on June 7, 1990, the attraction immediately faced mechanical problems that would regularly shut it down for the remainder of the day, thanks in large part to the massive amounts of water that it operated within – guests would board boats that would be taken out through Amity Harbor, with several different audio-animatronic sharks progressively attacking the ride vehicle. Ultimately, having had enough, the boat's skipper (a real, live employee, just as with the nearby Kongfrontation) used his or her handy grenade launcher to dispatch the beast once and for all, making him explode underwater with a heaping helping of "blood" in the water to help sell the effect. (To be fair to Jaws and its now-legendary technical difficulties, its two opening-day brethren of Kongfrontation and Earthquake: The Big One would also similarly suffer daily breakdowns back in the heady summer of 1990, but the company was quickly able to curtail those whie poor Jaws, meanwhile, still saw regular evacuations.)
Finally being forced to admit defeat, Universal closed the ride down just three months after opening it, ripped nearly all of it out, and reinstalled it (with better waterproofing and a new contractor). Jaws 2.0 had its own grand opening early in 1993, replete with a few new ride scenes that were necessary in order to make the attraction operational – including a brand-new finale, which saw the skipper electrocute the bothersome shark instead of blowing him up.
Why was this fan-favorite ride eventually boarded up and drained? One answer: its location. After the phenomenal success of The Wizarding World of Harry Potter – Hogsmeade, Universal knew it wanted to do Diagon Alley – and the ability to place it directly across from the original wizarding area, thereby allowing a recreation of the Hogwarts Express to connect them (and thereby allowing Universal, in turn, to sell more park-to-park tickets), was just too good of a themed innovation to let go. Amity, therefore, was no more, making San Francisco lose half of its real-estate in one fell swoop.
Wild, Wild, Wild West Stunt Show
Opened: July 4, 1991
Closed: September 1, 2003
Currently replaced by: Fear Factor Live
San Francisco/Amity was anchored by a stage show on the one side in the form of Fievel, so it only made sense to mirror that on its other side (and, also, to try and cram more experiences in the park in order to make Universal Studios Florida into more of a full-day affair). In July 1991, 13 months after the theme park first opened, the Wild, Wild, Wild West Stunt Show premiered, getting its very own massive amphitheater (capable of holding some 2,000 people) in the process – which still, 27 years later, is the biggest performance space at Universal Studios.
The Wild West Stunt Show was intended to be both a tribute to all those classic Western films that had helped launch Universal Pictures into the big leagues decades earlier and to add a certain amount of punch – in more ways than one – to the park's lineup, which was deemed to be in need of a certain amount of extra flair (the very same reason why Beetlejuice Live Dead in Concert and the Blues Bros. Show were added around the exact same time over in New York). The company itself described the production this way:
When the biggest, baddest stuntmen show up at Universal Studios Florida, you know there's gonna be a showdown! The bravest stuntmen in the business punch in every day at High Noon to bring you a hard-hitting show that really brings down the house!
That last bit was a (not so) sly reference to the performance's climax, when one of the facades that formed the Old West backdrop would fall directly onto a performer, who would only be saved by the luck of standing directly in the spot where its window is located (and why would the front of the building fall over? Why, because of an accidentally-triggered TNT explosion, of course!).
(Since we're already involved with one time-travelling adventure, why not dabble in a second one, as well? When Universal announced the cancellation of Halloween Horror Nights's long-running Bill & Ted's Excellent Halloween Adventure last year, we wrote up a comprehensive retrospective of the show, including how its very earliest years were wholly inspired by the Western antics of its borrowed stage, The Wild, Wild, Wild West Stunt Show. You can find all that information, plus a classic video, in our in-depth feature.)
Beetlejuice's Graveyard Revue
Opened: May 1992
Closed: January 5, 2015
Currently replaced by: Fast & Furious – Supercharged
Yet another stage show added to the ranks in Universal Studios Florida's first few years, Beetlejuice's Graveyard Revue replaced a fellow production – An American Tail Theater, which closed specifically to make way for Beetlejuice's permanent residence (the Ghost with the Most had previously hosted three[!] different street performances over at the next-door New York backlot since the theme park's opening day, proving the feasibility of the concept and cementing the character's popularity with park guests to this very day).
Despite the permanence of his new shindigs, Beetlejuice's show would be remarkably fluid over the course of its impressive 23-year run, undergoing a number of name changes (including Beetlejuice's Rock 'n Roll Graveyard Revue and Beetlejuice's Graveyard Mash-Up) and production overhauls, from the cast of characters to the musical lineup. All these changes, however, are just minor variations on the theme – the underlying premise of Beetlejuice inviting all his classic Universal Monster friends up on stage to join him in singing various pop-culture songs would remain the same. (Still, if one wanted to list out all of the various iterations of the show, he would find the four versions with the following premiere dates: 1992, 2002, 2006, and 2014.)
Some of the alterations, however, are worth quickly singling out. The original cast member of the Phantom of the Opera was replaced with the new creations of Hip and Hop, who initially were introduced as backup dancers before getting revamped into "Transylvanian cheerleaders" four years later. (But worry not – the Phantom's legacy would live on in the form of his daughter, Phantasia, being introduced in 2014, alongside the other newcomer of Cleopatra.) And not only would the music make the shift from more rock-'n-roll classics, such as "Great Balls of Fire" and "(Your Love Keeps Lifting Me) Higher and Higher," to more recent mainstream releases, like "Let's Get It Started" and "Watch Me (Whip/Nae Nae)," but the tone would also become more adult-oriented, including more topical references and jokes, making it feel more like a Halloween Horror Nights production.
The final nail in Beetlejuice's coffin may have been the arrival of Fast & Furious – Supercharged, but the character continues to live on as a popular meet-'n-greet presence on the park's streets (and in Universal Studios's entrance plaza musical mix).
Disaster: A Major Motion Picture… Starring You
Opened: January 17, 2008
Closed: September 8, 2015
Currently replaced by: Fast & Furious – Supercharged
Disaster: A Major Motion Picture… Starring You is perhaps the best – and the only – illustration of what we could call a hybrid attraction, one that is part overhaul of a pre-existing experience and part brand-new adventure.
The basic gist of the attraction followed the exact same contours as its predecessor, Earthquake: The Big One, with guests viewing a lengthy pre-show, watching audience members get to film certain sequences, and then riding the subway train of doom as it's still struck by that near-mythical earthquake. But the narrative was entirely new, focusing on the fictitious Disaster Studios (which specializes in disaster movies, but of course) and its president, the "Master of Mayhem" himself, Frank Kincaid (played by the legendary Christopher Walken); with the production company going bankrupt, Frank needs cheap talent and fast, so he has Universal Studios Florida guests corralled into being extras for the giant earthquake finale of his latest picture, the aptly-named Mutha Nature (as guests ride the subway, they are surreptitiously filmed, with the real-time shots being inserted into a pre-made movie trailer to humorous effect).
The tweaking of The Big One's overall experience was done just thoroughly and, more importantly, entertainingly enough to be effective, with the integration of the pre-recorded Christopher Walken with a real, live actor, the timely insertion of Dawn "The Rock" Johnson (as the star of Mutha Nature, an altruistic park ranger who tries to save innocents through all manner of over-the-top natural disasters), and the tongue-in-cheek ribbing of Hollywood (the new queue, for instance, contained props from such Disaster Studios movies as Apocageddon and Super Mega Ultra Atomic Chaos) all combining to create a genuinely funny experience – a rarity for theme parks, both then and now. But that still did nothing to address all the carryover problems from the original Earthquake iteration, such as aging infrastructure and a run time of some 25 minutes – a hefty investment for the modern theme-park tourist. The writing was on the wall for Disaster: A Major Motion Picture… Starring You well before Fast & Furious – Supercharged opened over at Universal Studios Hollywood in the summer of 2015, enticing Universal to shut down the long-running Earthquake/Disaster three months later in order to make way for the West Coast import (which still, funnily enough, starred the Rock).
–
Want to tour the rest of Universal Studios Florida on its opening day in 1990? Be sure to check out our in-depth retrospective, and then share all your old memories – and nostalgic wishes – with 50,000 other fans and vacation-planners in our Universal Community Facebook group.
And for even more on Universal Orlando, Walt Disney World, and other Orlando experiences, be sure to follow Orlando Informer on Facebook, Twitter, and Instagram.