How many big developments can happen in a single month? If you're Universal Orlando Resort and it's March, it turns out the answer is quite a lot. From new sneak peeks at upcoming attractions and restaurants to the latest behind-the-scenes deliberations being leaked, the past four weeks have been a nearly nonstop rip-roaring adventure.
Oh, yeah – there's also the little fact that a few bigger-than-big happenings transpired here at Orlando Informer HQ, not only transforming the way you'll use the site, but also how you'll plan your next Universal vacation, as well.
1. Universal gets toothy
After closing the lackluster (but delicious-dessert-laden) NBA City last August, Universal remained mum on what would replace the large venue – save for the vague "exciting new concept" statement it issued, of course. It just so happens that, in retrospect, that tease was precisely accurate.
Toothsome Chocolate Factory and Savory Feast Emporium is a brand-new, original concept that essentially takes the basic premise of the national Cheesecake Factory franchise (which Universal had originally courted to be installed here but failed to pull off) and expands it to the nth degree. The basic menu of steaks, seafood, and pastas will be given a "unique twist," but the real emphasis will be, of course, on the desserts, from crazily-adorned milkshakes (the Key Lime Pie shake even comes with a slice of pie on top) to intriguing custom sundaes (Salted Caramel Flan, anyone?)
And then there's the décor: steampunk, which is a first for either Universal Orlando or Walt Disney World. The exterior of the building will look like something out of Willy Wonka's chocolate factory if it were operational in Elizabethan England, while the wait staff on the inside will seem to be taken out of the anime Steamboy.
We can't wait.
Read more: the announcement (our most popular story ever!)
2. More Potter + more holidays = happiness
Every so often, Universal – much like Disney – will issue surveys to various segments of its visiting public, attempting to get their feedback on items that have already been greenlit and designed or that are far-off, blue-sky daydreams. The responses help to make up management's mind and to reassure the bean-counters about a given potential course.
While these surveys are a regular – dare we say pedestrian – occurrence, no one saw this coming.
In a news story that we broke (and that got picked up by MTV and Buzzfeed, among hosts of other sites), it looks like Universal is gearing up for upgraded holiday festivities – and about time, seeing as how the Macy's Thanksgiving Day Parade has been running for nearly 15 years now. But in addition to a hypothetical new holiday-themed Cinematic Spectacular or new (glowing nighttime!) parades, the real kicker is that Universal is thinking of including the two Wizarding Worlds of Harry Potter into the mix.
That's right – exclusive Christmas treats at exclusive Christmas parties in both Hogsmeade and Diagon Alley are being considered, along with special holiday performances by the Frog Choir and the London street buskers and, the icing on top of the Christmas cake, a special Yule Ball dinner and dance. (Yes, it would be a hard-ticketed event, so get your wallets out all over again.) This would easily be one of the single greatest things Universal has ever done in its theme-park history.
Now, please keep in mind these are just considerations, not definitive plans, and it's most likely that just one or two of these hypotheticals would pan out, if any at all. Still, color us festively excited.
Read more: the record-breaking first report
3. Reign of previews
Universal Orlando's biggest ride of all time has gotten some of the biggest updates yet. There are two items here for our perusal, in fact – one official, and one very much unofficial.
The PR-sanctioned information first: in a series of announcements on its official blog, Universal has started to pull the curtain back more and more on Skull Island: Reign of Kong, showing off the attraction's massive ride vehicles and bevy of (comparatively) small creatures that will be harassing you and your expedition team before the King himself comes a-roarin' around.
The ride vehicle, in particular, is worth singling out: it's 40 feet long, 13 feet high, and can carry a total of 72 people, making Reign of Kong one of the biggest people eaters at the resort. Even better, it features one of five different drivers, whose personalities and commentaries will help deliver five unique ride experiences (making it one of the most re-ridable attractions, as well). Even better is an extra piece of intel on this front that OI's sources were able to provide – these drivers are all audio-animatronic figures.
And what of that last piece of unofficial information? Easy – based upon a flurry of activities both in front of and behind the scenes at Universal Orlando (such as a bevy of blackout dates suddenly all aligning on the exact same day), we feel that the most likely opening date for Skull Island will be June 23.
Read more: our speculation on the opening date
4. Jurassic testing
For a two-week period this past month, Universal did something that it typically doesn't do: it changed the rules on Pteranodon Flyers. Well, sort of.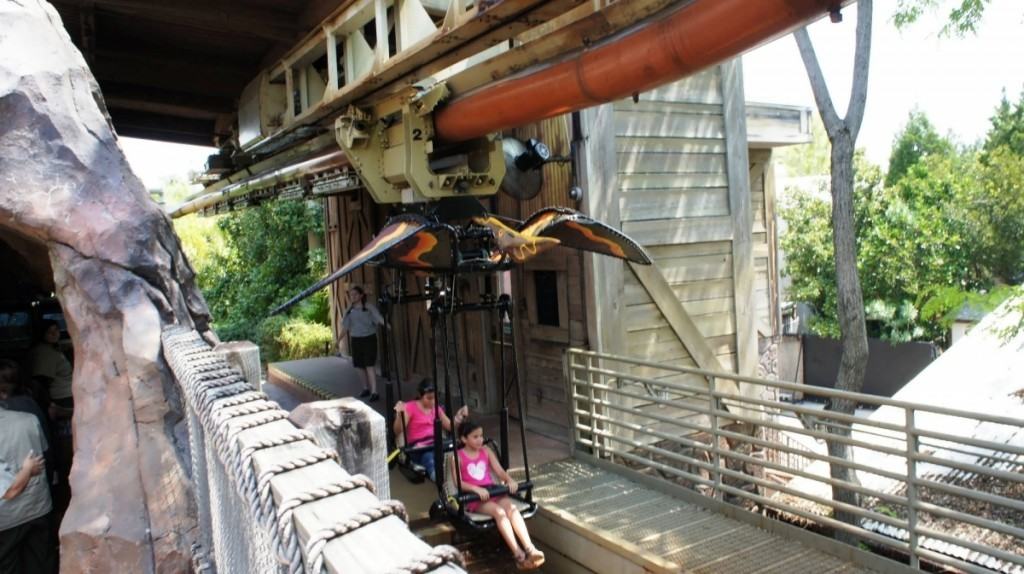 Here's the dealio: Pteranodon is one of the most-sought-after rides at the entire resort, routinely nabbing wait times throughout the day that are even higher than what you find at Harry Potter and the Forbidden Journey – which, okay, yes, is just as much a product of its extraordinarily low through-put each hour as it is of its ride experience. To help mitigate the would-be crowd flow, there are usually strict guidelines on who is eligible to ride – namely, children, who can bring along just one measly adult.
But from March 11 through the 24, Universal opened the veritable flood gates and allowed anyone to hop on board the dino-coaster during the last hour of the day, when lines are typically nonexistent. We don't know what, exactly, caused this testing phase to begin (or end, for that matter), and, no, we don't know if or when it'll come back. What we do know is that it caused a great deal of hullabaloo amongst the themed community.
Here's to hoping that it hasn't gone permanently extinct (get it?).
Read more: the beginning and ending of the testing phase
5. Facebook me!
Remember the Orlando Informer Community Forums? They were started almost exactly two years ago in order to provide the biggest platform available for all vacation planners, both big and small, expert and novice, to congregate and share tips (and without any of that stomach-turning snark that seems so prevalent in some online forums). It was a huge success in terms of users registered, topics posted, questions answered, and a community formed, but it wasn't quite so lucky when it came to that existential threat to nearly every single internet bulletin board: social media.
Facebook and Twitter, which have become second homes in our online travails, have proven to be the more natural platform for relationships to flourish and conversations to be had, and the OI Forum was, unfortunately, no exception to this evolutionary rule.
So if you can't beat 'em, join 'em! By moving our forums directly to Facebook – the official name is Universal Community by Orlando Informer – we manage to become a direct extension of the site that has already become a direct extension of your personal life. All the same great people are there, and all the same great vacation-planning expertise is, as well, but now without the added hassle of having to log in or remember that pesky password.
Read more: the Facebook group
6. The one tool to rule them all
Did we save the best for last? Just maybe.
Our crowd calendar is easily one of the most popular parts of the site, and it has been since day one, all the way back in the dark period before Diagon Alley opened its doors to muggles everywhere. But we're not ones to rest on our laurels – no, sir. We've just unveiled a massive update to the calendar, adding in all sorts of extra functionality.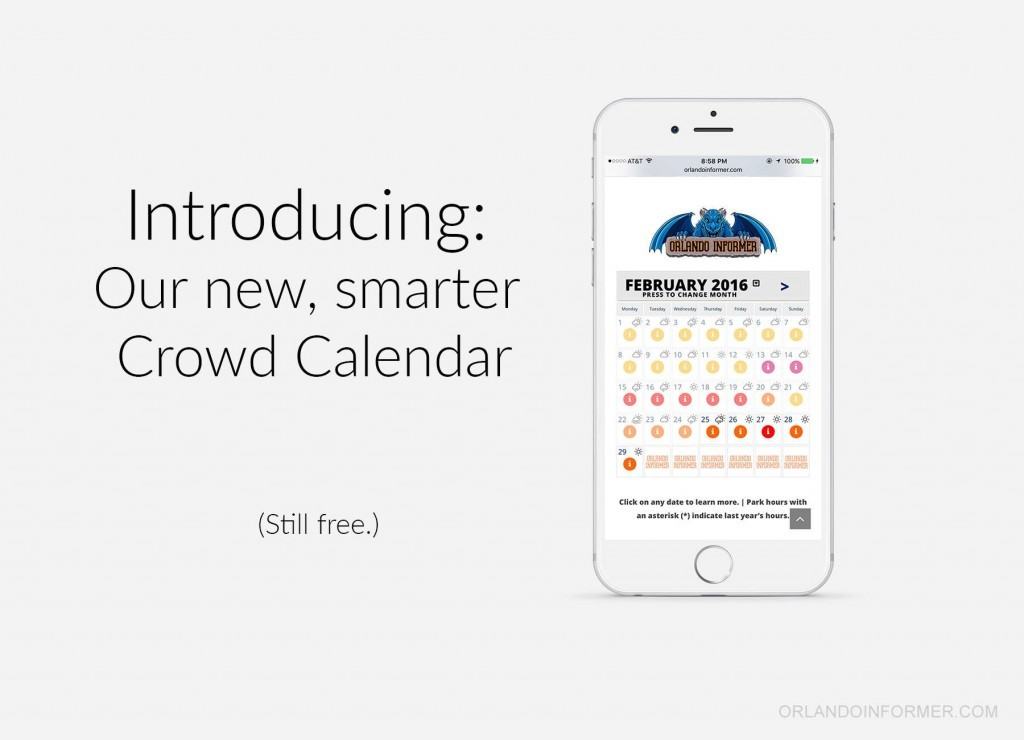 What did we include? How about up-to-the-minute weather data, expected wait times for the popular attractions, info about Early Park Admission for that day, and increased accuracy for all of the above?
Oh, yeah – did we mention it's also still absolutely free? It's literally the one tool you'll need to plan your perfect vacation – and then to help make on-the-fly decisions once you've arrived in the parks.
Check it out and behold the power of technology.
Read more: the announcement
What do you reckon was the biggest update this past month? Which are you the most excited to experience for yourself? Let the world know in the comments below.