The ride experience itself might be the heart of an attraction, but the queue just may be its very best part – establishing the tone, laying out the backstory, and building up the anticipation step by expert step, the line is that theme-park element that routinely makes us feel like we're kids excitedly counting down the days to Christmas all over again. What's not to love?
Even better, queues have become even more exquisite in the modern era of themed design, with so much money and technology being packed into them that they would have easily passed as walk-through attractions all on their own in previous theme parks in previous decades. It's not uncommon to see these pre-ride sections be packed with audio-animatronic figures, interactive displays, or, even, live actors and performers – sometimes all in the same stretch of real-estate – and as if that somehow weren't enough, Universal has even begun delving into the next generation of queue design, constructing non-linear experiences that guests can tackle in any order they choose. (If only waiting were this fun in every other facet of our day-to-day lives – no one would ever mind getting his oil changed or waiting for a table at a restaurant ever again!)
With such a bounty of options at Universal Orlando Resort, we thought it'd only be appropriate – not to mention plain ol' fun – to count down our top six favorite queues at either Universal Studios Florida or Islands of Adventure. Afterwards, we'd love to hear your own lists in the comments below or over in our Facebook community.
Without further ado, it's time to exit the queue of this article and enter the experience proper…
6. The Simpsons Ride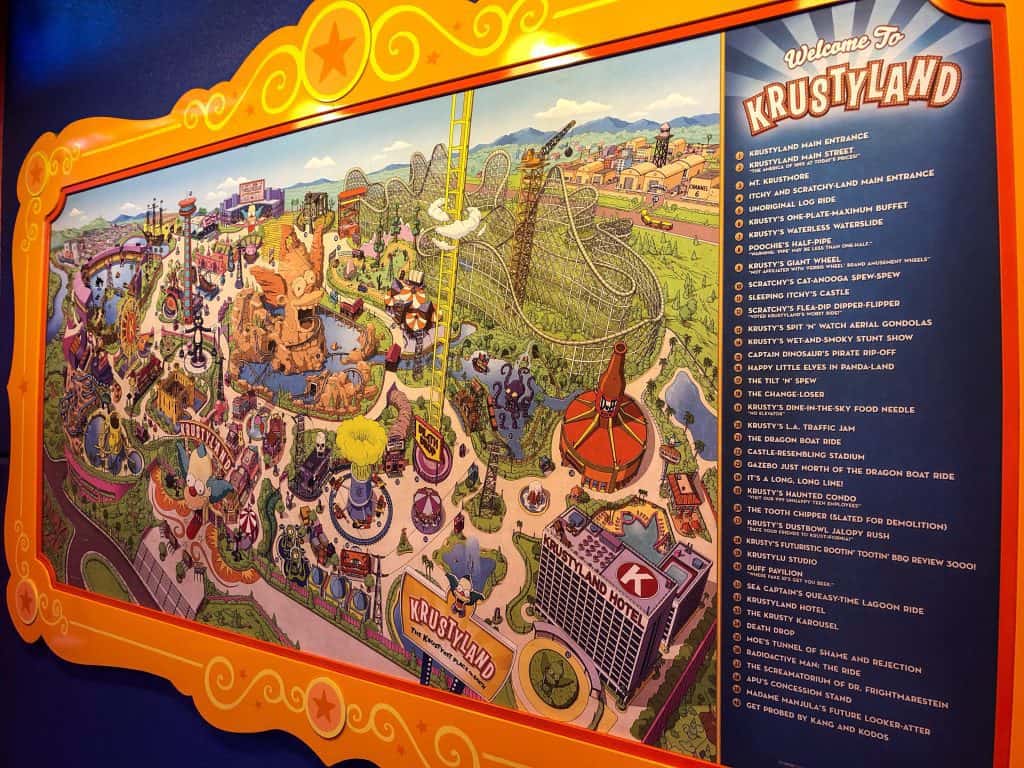 Location: Springfield, Universal Studios Florida
Opening date: 05.15.08
The Simpsons Ride, as fun as it may be, absolutely hails from a different era of theme-park design – and it was a pretty straight-up retrofitting of its predecessor, Back to the Future: The Ride, to boot, meaning that the experience waiting to be had in its queue is remarkably constrained as compared to nearly every other entry on this list.
But this is where the brilliance of the attraction's writing comes through. The (original) clips that are shown on the various television screens that are scattered throughout the Krustyland entryway (including a Christopher Lloyd-voiced Dr. Emmett Brown being evicted from the show building), along with the various posters that are plastered all over its walls (such as the one that proudly proclaims Krustyland as being "more fun than sitting home!"), crackle with the same wit and wry sarcasm that is to be found on the 29-year-old (and still counting!) TV show. When combined with the giant, 32-foot-tall Krusty the Clown head that serves as the ride's entrance, the unabashed glee and parody of the themed industry are hard to miss.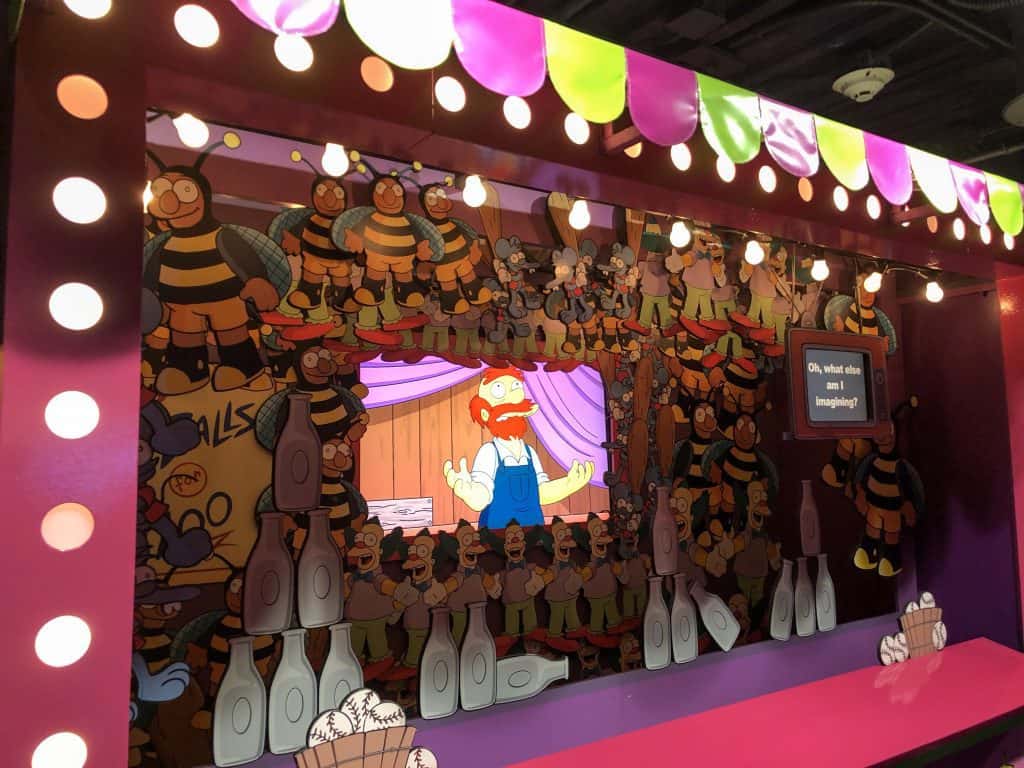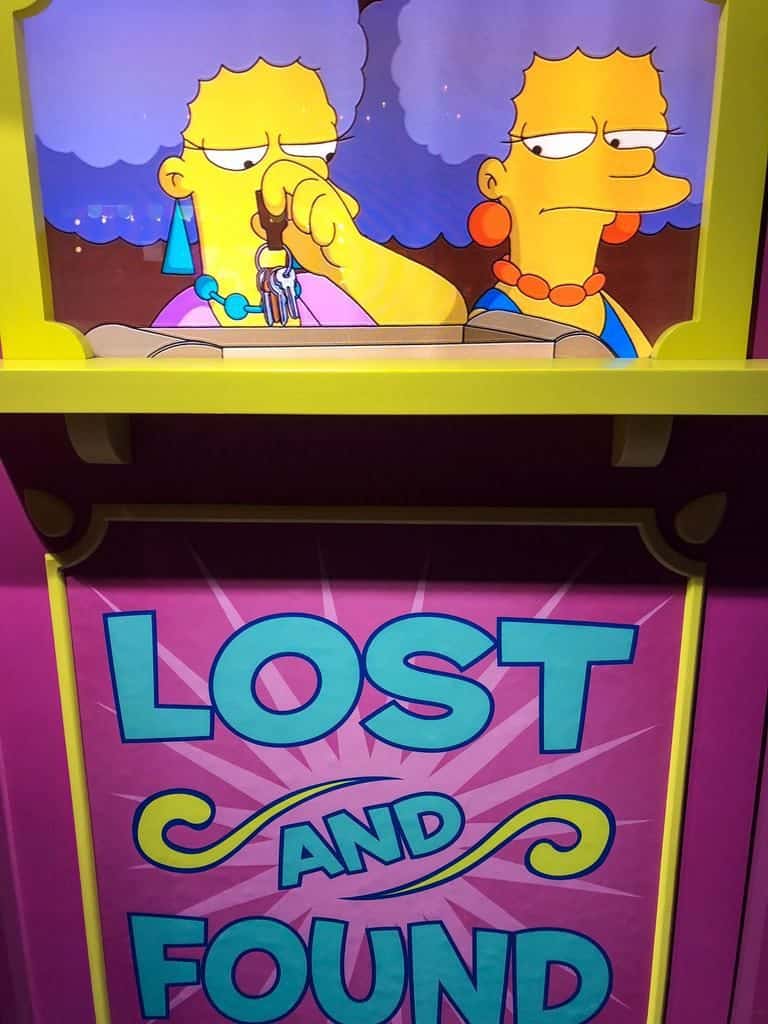 But where the queue really shines is in the building proper, where rides wait to be split off into smaller groups and sorted into the various pre-show rooms. While in this waiting room, guests are surrounded by the obligatory midway stops of any amusement park, such as the snack stand or the lost-and-found booth, but they are, in this instance, populated by The Simpsons's numerous recurring characters – who occasionally come alive with absolutely hilarious one-liners. This is one of the few – if not, in fact, the only – queues that can literally make us laugh out loud (especially the advertisement for the Hall of the Secretaries of the Interior attraction [wait time: 0 minutes]).
5. Revenge of the Mummy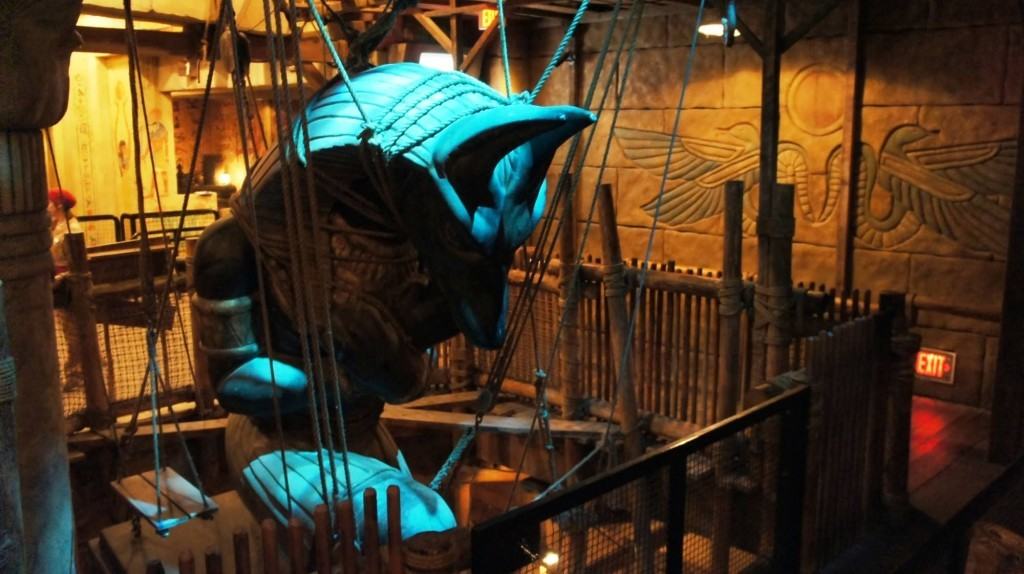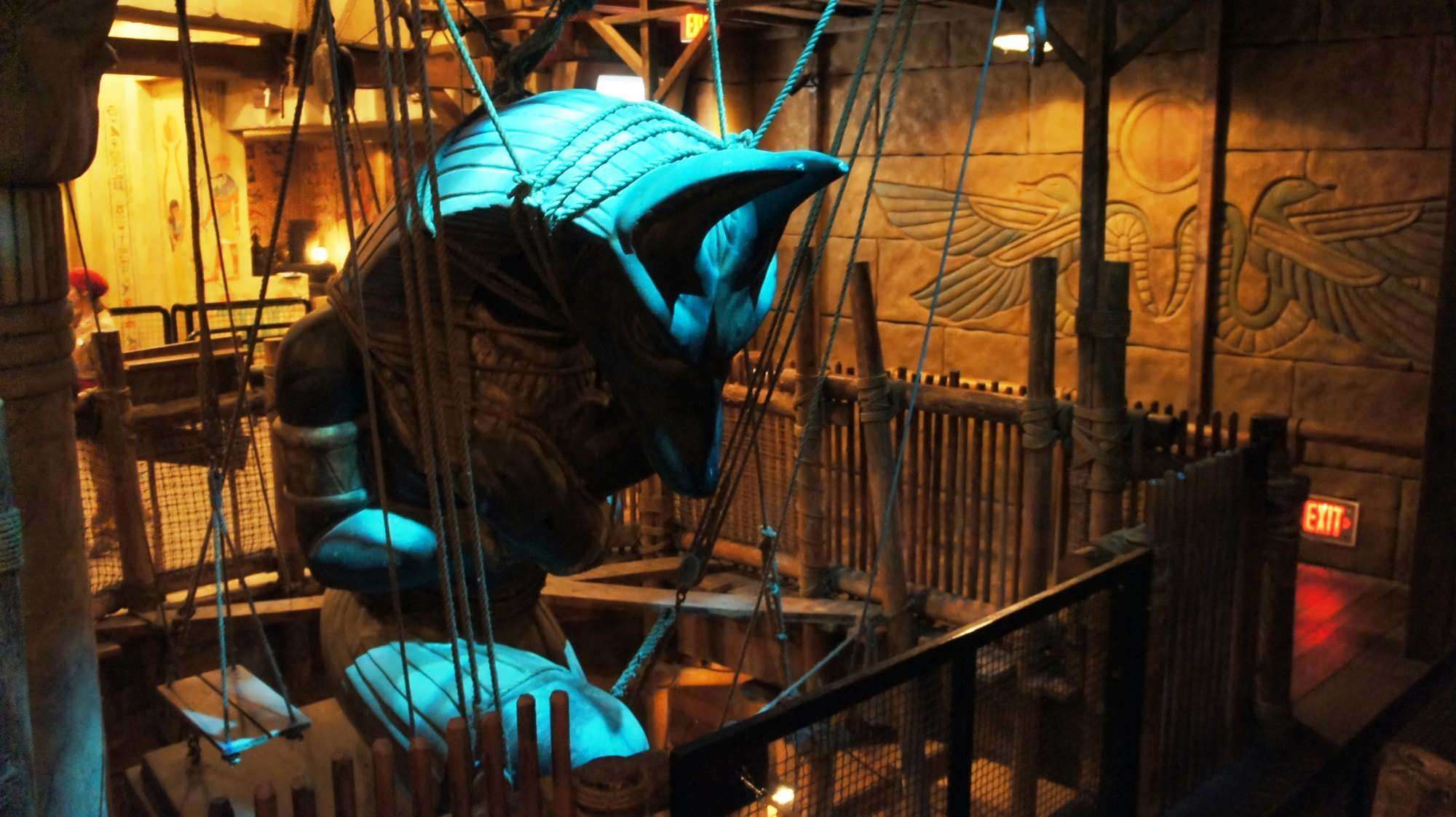 Location: New York, Universal Studios Florida
Opening date: 05.21.04
There are two elements that make Revenge of the Mummy's queue as absolutely iconic as it is, starting with a certain level of variety – the façade, for example, is of the impressive (and fictitious) Museum of Antiquities, where a film shoot is busy taking place. This not only allows guests to walk through various props, costumes, and concept drawings, it also acts as something of a link to Universal Studios Florida's past as a filmmaking-focused park, where every attraction had to tie into the crafting of movie magic to some degree or another.
But then riders are suddenly plunged into the darkness of an Egyptian catacomb as they make their way through a 1930s-themed archaeological dig. It is here where the second element really kicks in: Revenge of the Mummy's atmospherics, generally, and its creepiness, specifically. The queue just oozes mystery and danger and foreboding and intrigue, with its sublime music (taken directly from the 1999 film), its Egyptian artifacts and hieroglyphics, and its dim lighting (seriously – we've had to double-check where we're going on more than one occasion). There's a giant statue of a deity that dominates two floors(!), providing for some of the best pictures you can nab anywhere on Universal Orlando property – and then there's the nifty (if gimmicky) little alcove where brave visitors can stick their hands in some sort of slot, which rewards them with a simple-but-effective startle effect. Taken altogether, the experience is so creepy, we have heard several stories of children (even older ones) who cannot make it through the queue, let alone reaching the ride itself.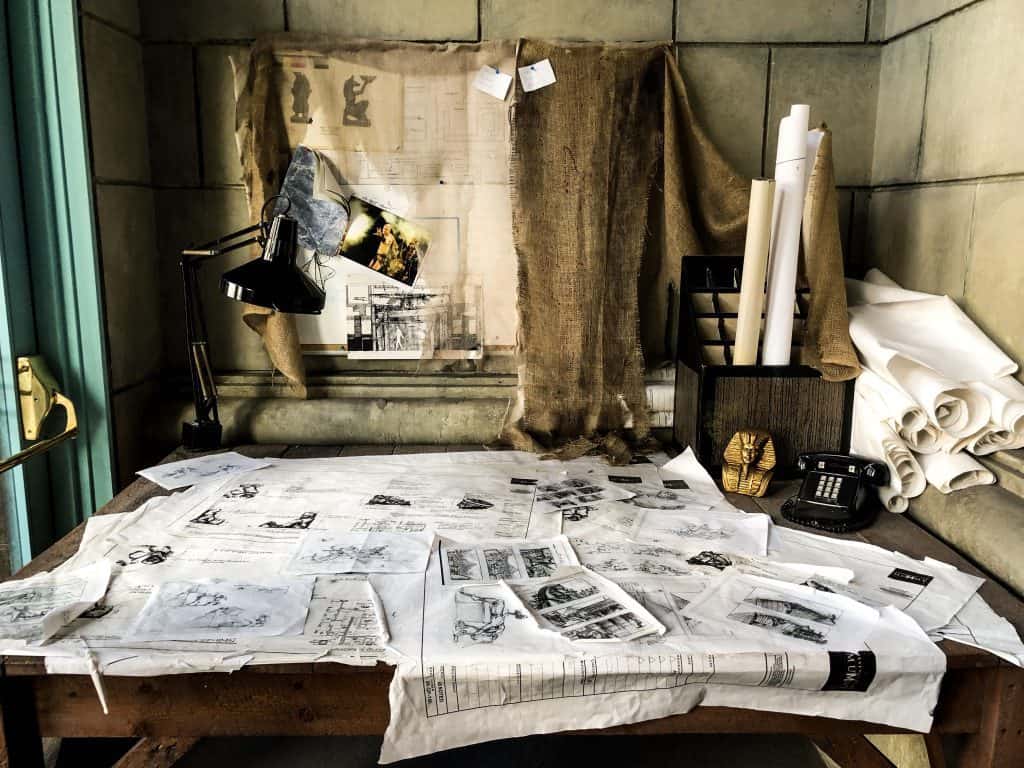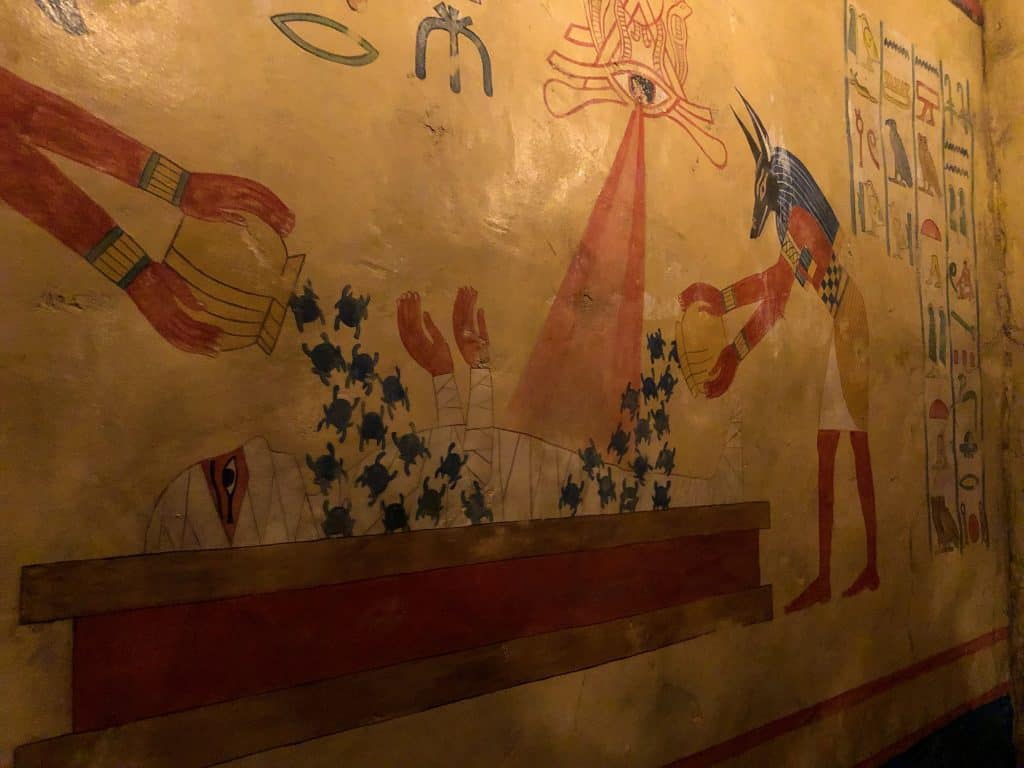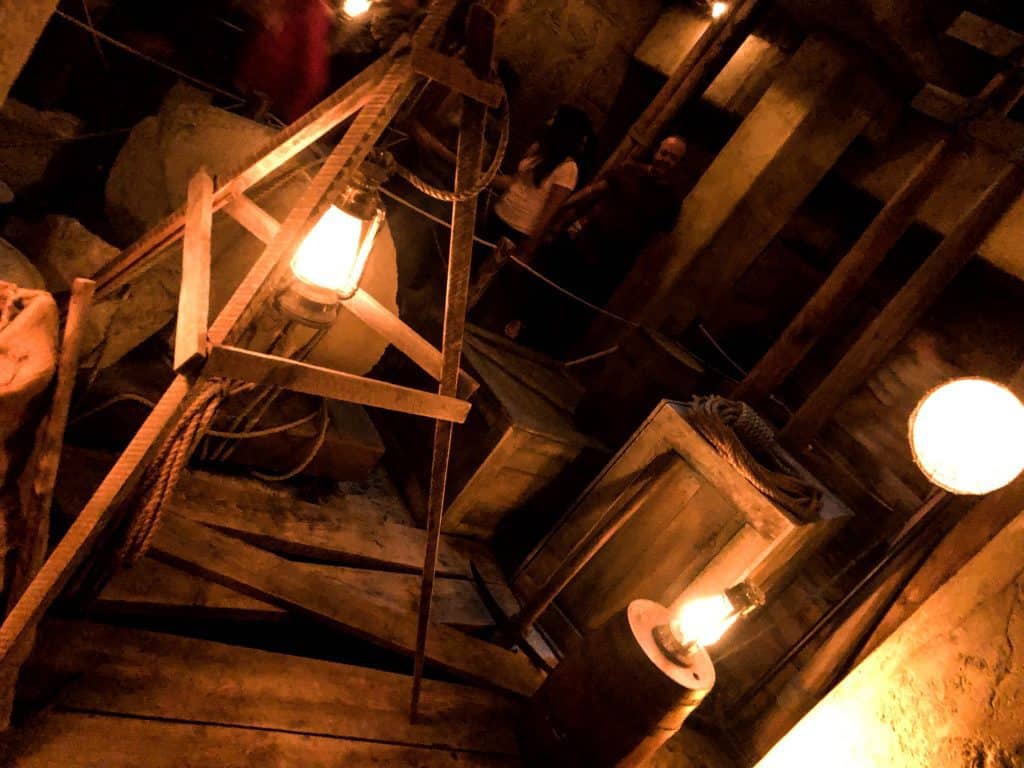 Revenge of the Mummy might be near the bottom of our list, but that has everything to do with the overwhelming quality of Universal's themed designs and nothing at all to do with a deficiency on the attraction's part. Make no mistake – this is one of the most effective queues out there, period.
4. Race through New York Starring Jimmy Fallon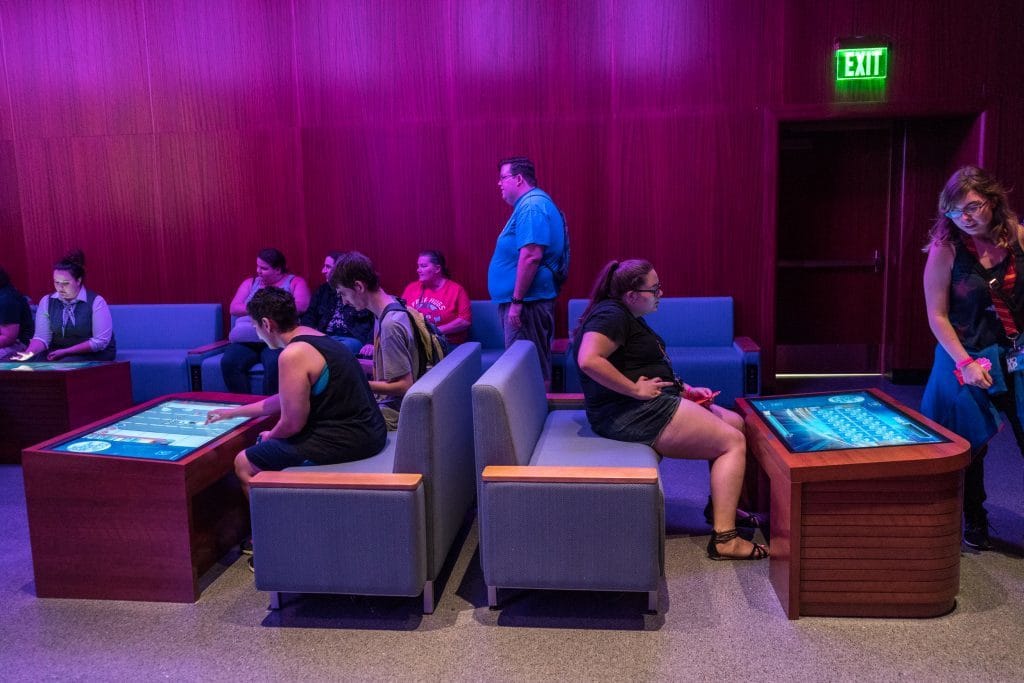 Location: New York, Universal Studios Florida
Opening date: 04.06.17
We mentioned that some of these queues in question could very well function as their own independent attractions. In the case of Race through New York Starring Jimmy Fallon, the line portion actually makes for a better experience than the ride itself.
Here's what's so compelling about Fallon: rather than waiting in a literal line, guests are able to mill about one of two waiting areas, flitting from one exhibit or activity to the next as they see fit. Downstairs, it's something of a museum to The Tonight Show, covering all 64 years and all six (main) hosts of its run; upstairs is a potpourri of different experiences, ranging from retro videogames to clip montages to meet-'n-greets (with Hashtag the Panda, an absolutely worthwhile endeavor). Each has its own charm – even if you're just chilling in the lounge area, doing nothing else but cooling off – but the clear winner here, for our money, is the Ragtime Gals performances, in which a barbershop quintet takes to the stage for comical as much as musical effect. The whole she-bang is absolutely worth experiencing at least once, even if a family-friendly motion-simulator ride isn't your bag and you end up ditching the ride proper.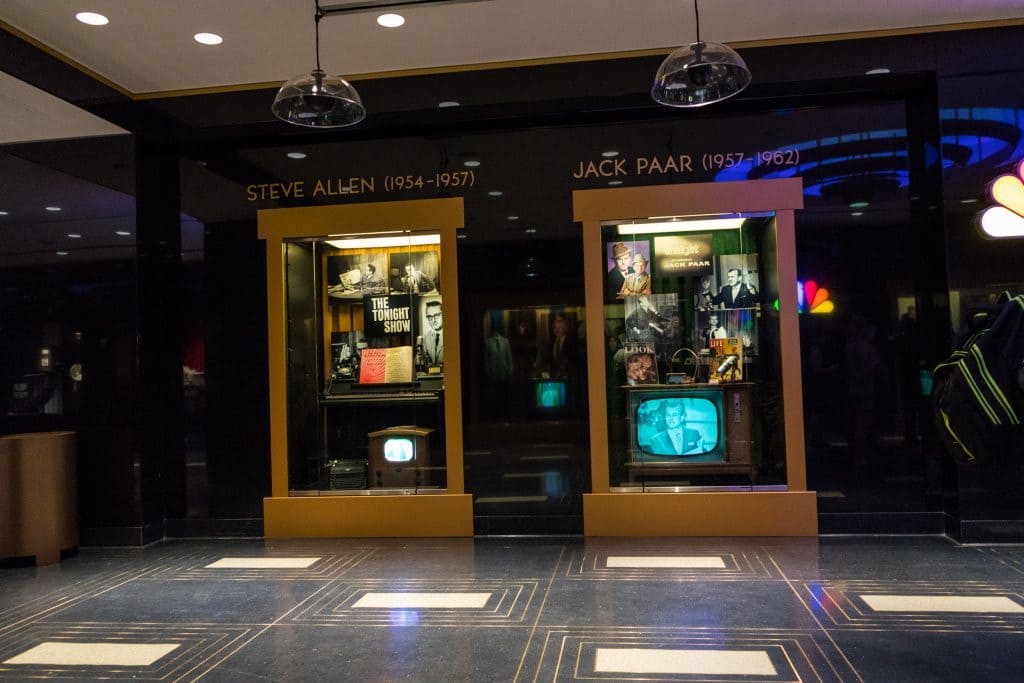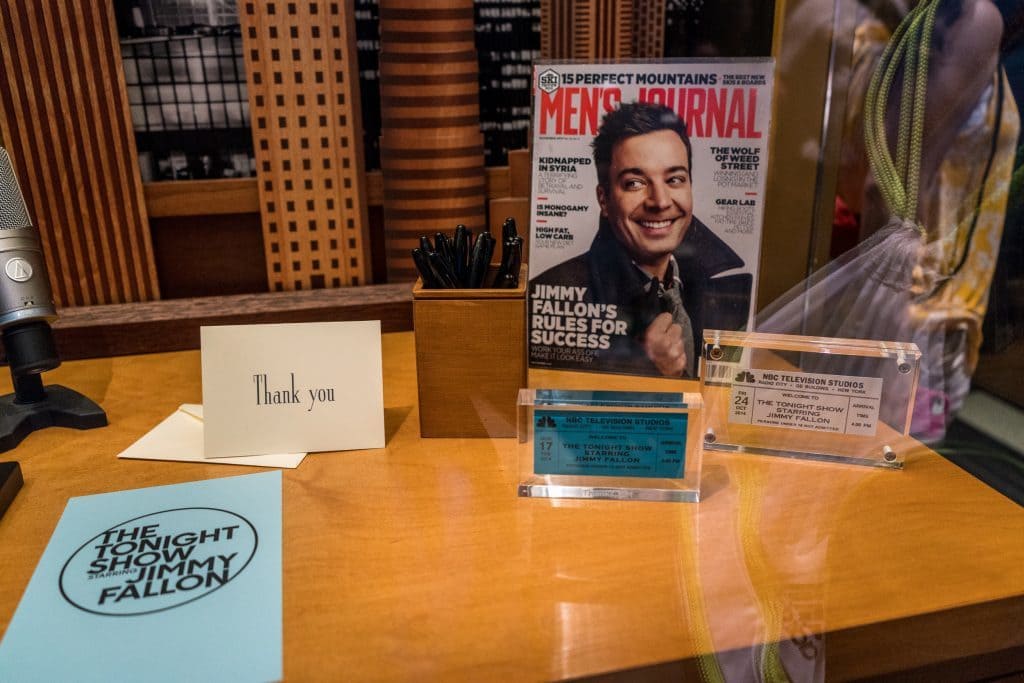 If Race through New York's queue is so captivating, why is it placed so (relatively) lowly on our list? There are a few drawbacks to this entire system: during certain periods, such as the slower times of the year, the Ragtime Gals aren't on hand, which actually takes a big chunk out of Fallon's enjoyment; Universal, at times, has removed the timed barrier from the downstairs portion of the queue, which means that nearly every last guest immediately rushes upstairs, making that crowded area even more packed; and, finally, the whole process can take a good half hour (there's no option to rush through anything on repeat rides), making it a considerable time commitment.
3. Skull Island: Reign of Kong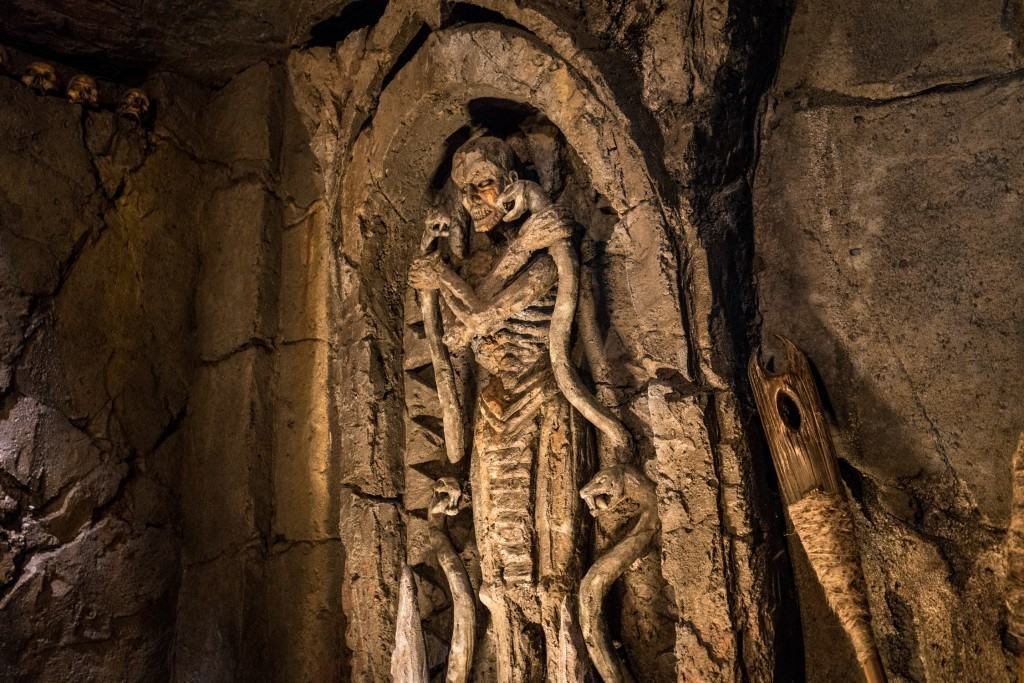 Location: Skull Island, Islands of Adventure
Opening date: 07.13.16
Temple ruins that sit in the middle of a jungle. An audio-animatronic shaman who summons King Kong, resulting in flickering lights and crescendoing drums. A scare actor who pops out of several "peep holes" in a cavern, making unsuspecting guests scream (and granting Skull Island: Reign of Kong the perhaps-dubious honor of being the scariest queue in the world). Another audio-animatronic figure, this time a grotesquely large worm, flops about in its cage. And throughout it all, there are skulls, hand-carved rock statues, and radio dispatches from those expedition vehicles that have already been dispatched.
If you add all those up – at the risk of being too repetitive here – it can easily amount to an attraction in and of itself, a complete experience from beginning to end. There is a treasure trove of detail in almost every single nook and cranny, from the 1930s music to the mesmerizing audio-animatronic shamaness to the stacks and crates of supplies that the Eighth Wonder Expedition Company has amassed near the loading dock. Even Reign of Kong's sign, out near the queue's entranceway, is exquisitely detailed and appropriately atmospheric.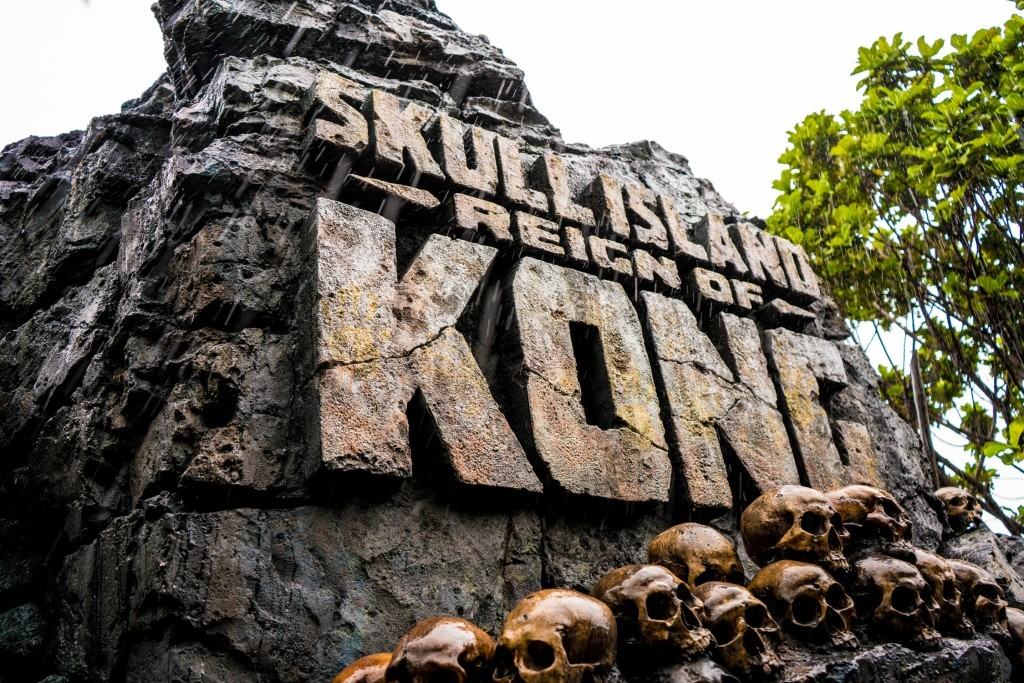 It's almost as if Universal took everything it had learned from doing its Harry Potter attractions (which we'll get to in just a moment) and applied it to Revenge of the Mummy's spooky immersiveness. (And c'mon – just how many theme-park queues employ real, live scareactors? That's something of a spectacle all on its own.) It is, quite frankly, hard to get much better than this.
Fortunately, Universal managed somehow to do just that.
2. Harry Potter and the Forbidden Journey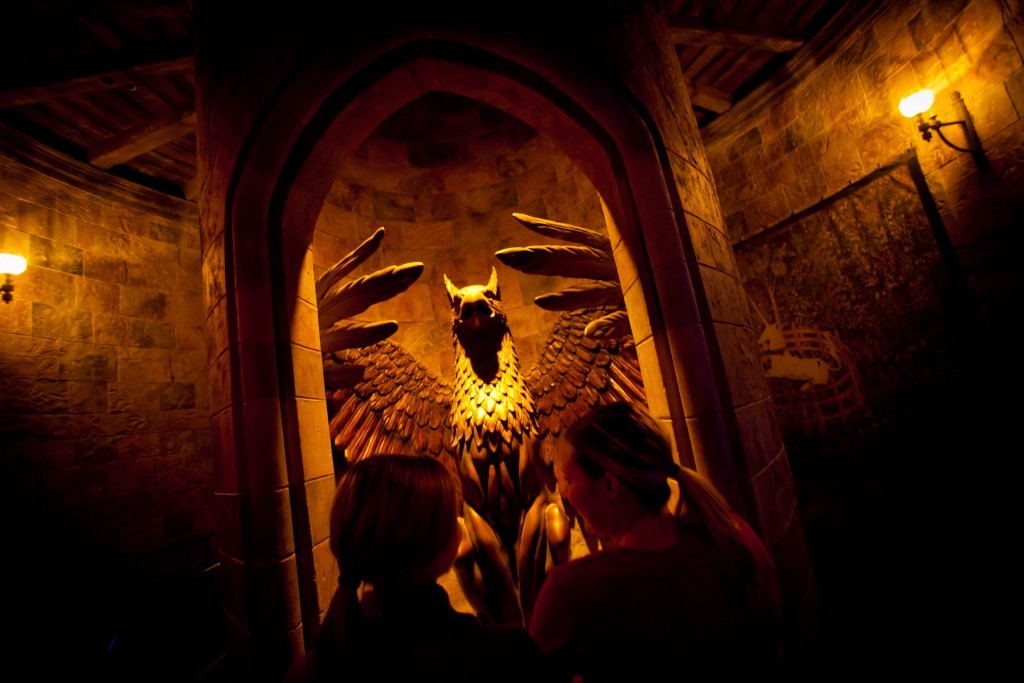 Location: The Wizarding World of Harry Potter – Hogsmeade, Islands of Adventure
Opening date: 06.18.10
We will admit up front that there may be a bit of subjectivity being employed with this pick, at least in terms of its placement on our list. We're also going to make another admission: it doesn't bother us at all.
While the long, involved, absolutely delightful queue for Harry Potter and the Forbidden Journey doesn't feature any nonlinear components or live performers or haunted house-esque scare tactics, it does brandish some of the most authentic and painstaking recreations of a given source material. Hogwarts Castle's impressive, towering façade; the cluttered (and spell-ridden) Defense against the Dark Arts classroom; the likenesses of Professor Dumbledore and the trio of Harry, Ron, and Hermione speaking to us – all of it adds up to put us in our favorite films (or books) in a way that had never really occurred before.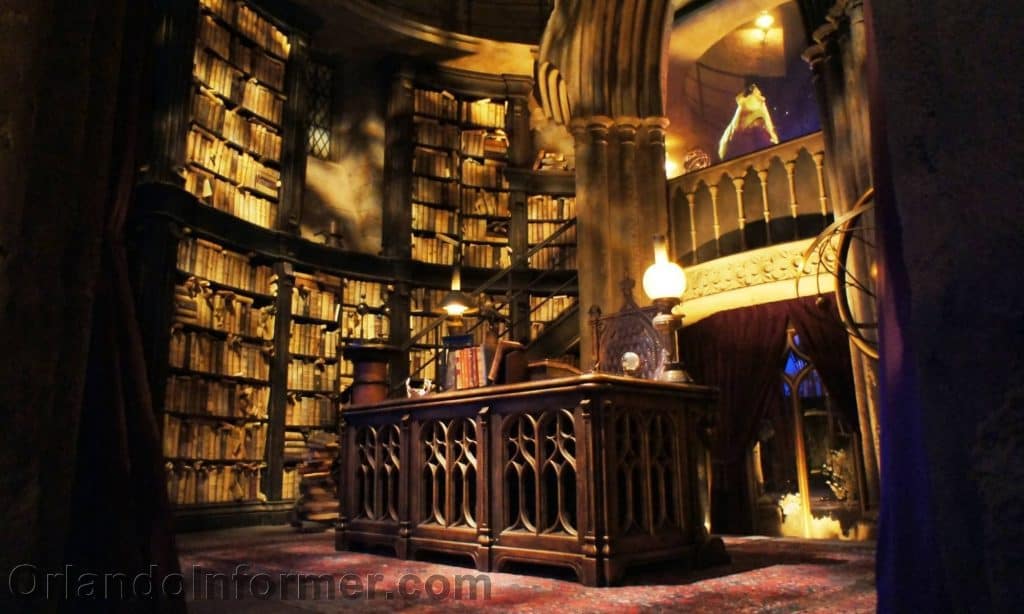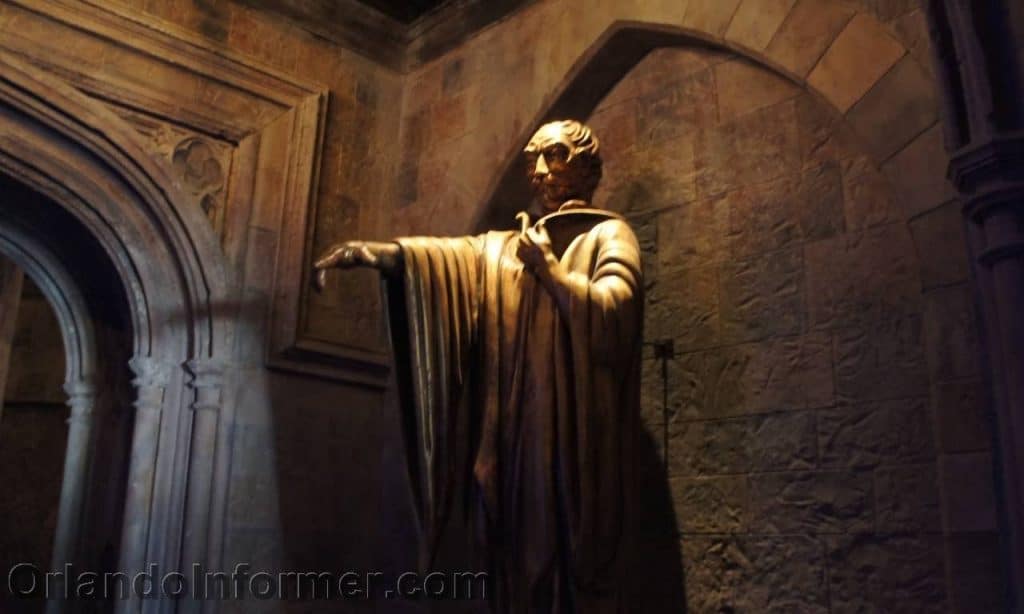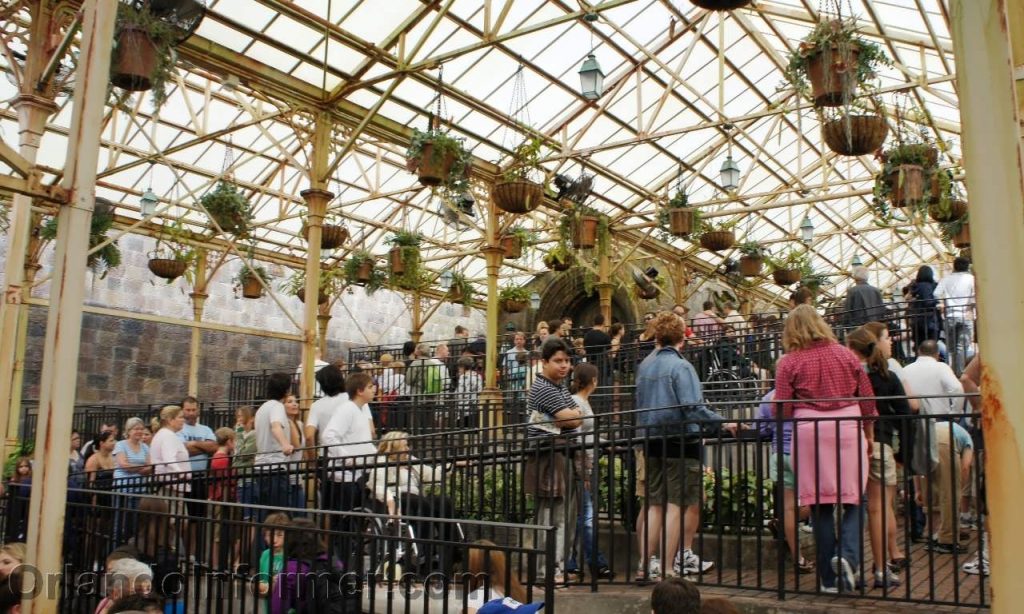 Much more than that, however, every last little detail has been carefully inserted for the express purpose of fun or joy, which helps to explain why every step along the way feels magical – even in the greenhouse section, which was essentially intended for overflow purposes only but which still is packed with loving detail. When you throw in John Williams's classic, iconic score and the fact that Universal managed to sneak in some brand-new elements of Harry Potter mythology (we get to see the four founding members of Hogwarts School of Witchcraft and Wizardry for the very first time!), one can't help but have a giant smile on his face the entire time.
How many queues manage to do that?
1. Harry Potter and the Escape from Gringotts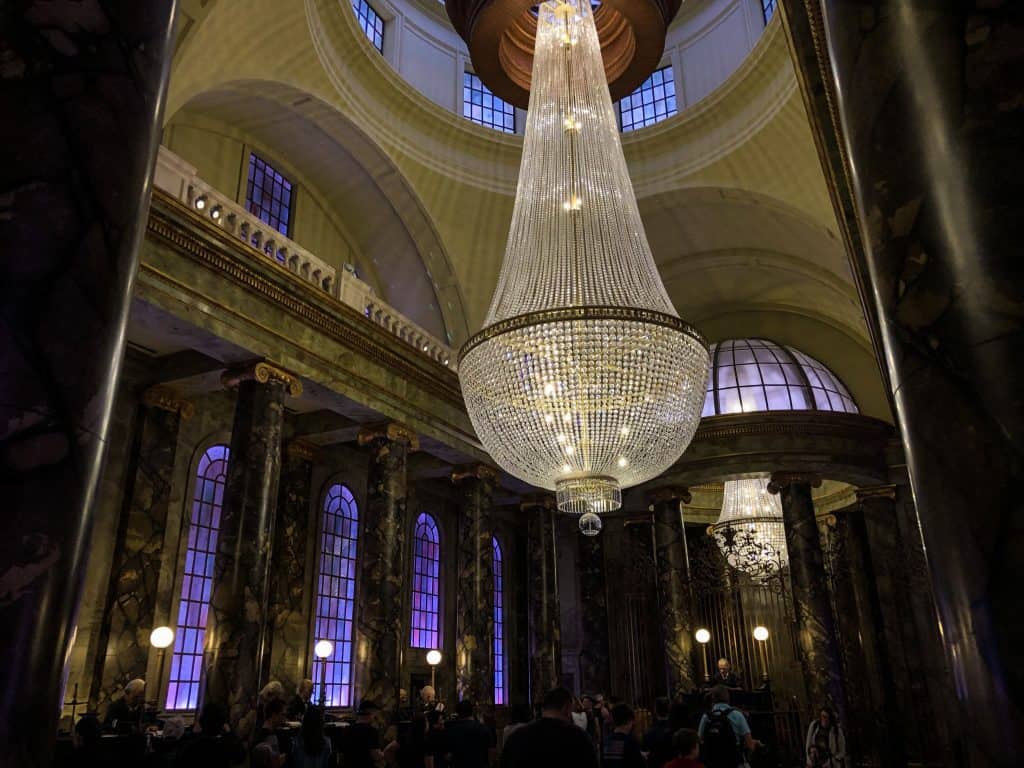 Location: The Wizarding World of Harry Potter – Diagon Alley, Universal Studios Florida
Opening date: 07.18.14
There is no conceivable world in which Harry Potter and the Escape from Gringotts's queue isn't the best in Orlando, if not, possibly, the world.
When guests first enter the marble-lined entry hall of Gringotts Wizarding Bank, with that massive, 50-foot chandelier hanging from the ceiling and the two rows of audio-animatronic goblins that flank either side, they're stopped dead in their tracks. It's easily one of the most impressive sights in all of Universal Orlando – no simple achievement.
Then there are the intricately-detailed vaults, the next-generation magical newspapers and portraits (which represent a clear step up from Harry Potter and the Forbidden Journey's usage of the tech, even though it was only four years later), the curving staircases that stretch up through the subterranean caverns, and the impressively-decorated set that doubles as Bill Weasley's office. Topping it all off, however, is the faux-elevator ride, which uses a combination of screens, lights, wind effects, and a moving floor to truly make you feel as if you're plunging down several hundred feet deep into the Earth, where magic and mystery await.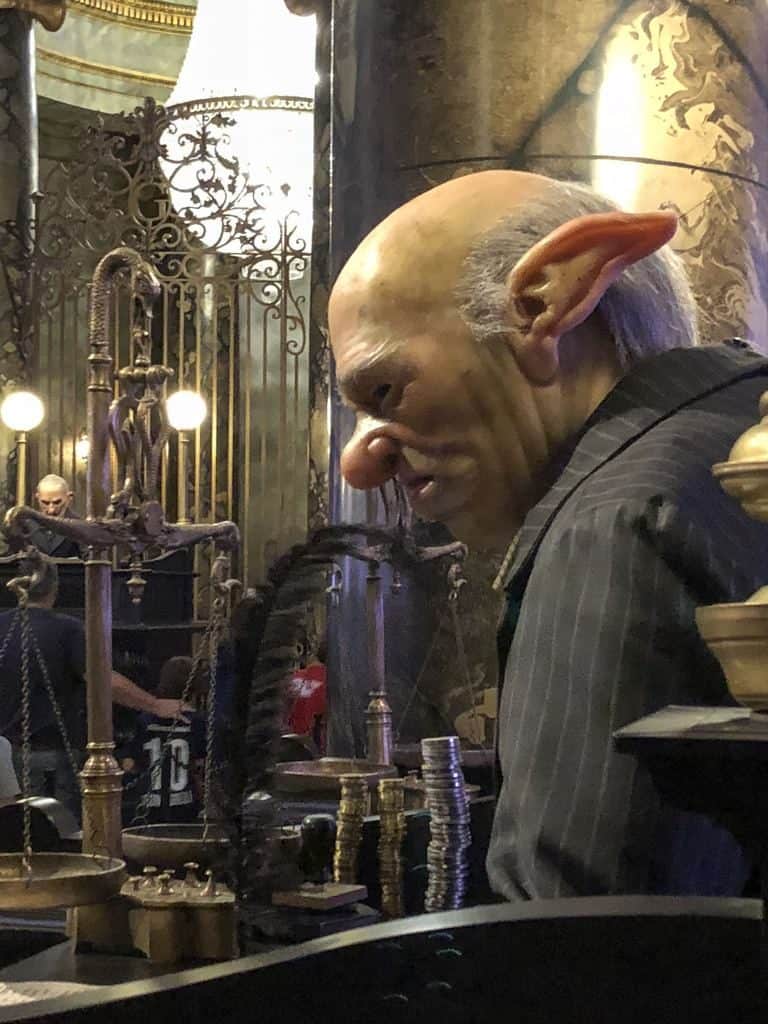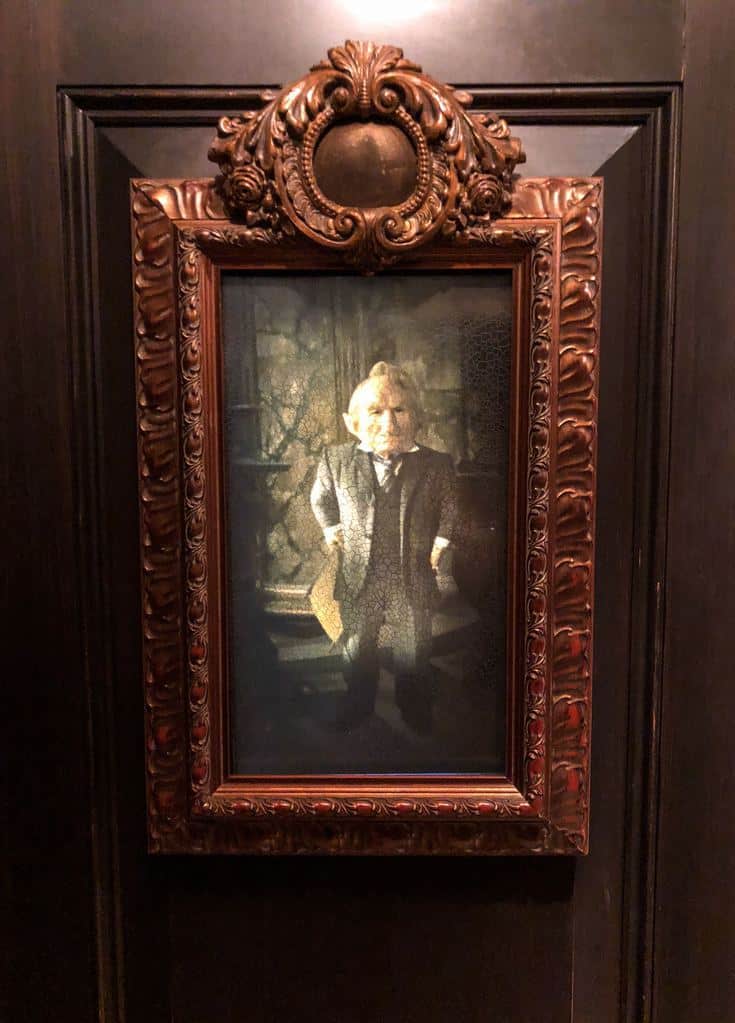 There's another intriguing element in Escape from Gringotts's queue, although it's one that more fits into the category of theme-park operations as opposed to immersion or storytelling: the ride photo. Since the ride itself doesn't allow for the opportunity to grab a picture of its occupants, its designers moved the obligatory feature to about halfway through the queue; Gringotts Bank employees whisk those ever-present muggles off to a private booth, replete with a "period"-specific camera, where their photo is taken against a green screen. After the visitors have managed to survive their encounter with Lord Voldemort and Bellatrix Lestrange, they can then pick up their souvenirs, replete with the appropriate wizarding background and other such touches (including the note that "Gringotts Bank Registered with the Consortium of Goblinary Finance and Red-Nosed Wizard Investors" and, if you're lucky, that "All visitors are subject to Probity-Probe searches upon arrival").
The resultant effect is one that, quite frankly, is hard to match or, unfortunately for themed designers everywhere, to top – though we can't wait to see how they'll try.
Honorable mention: Poseidon's Fury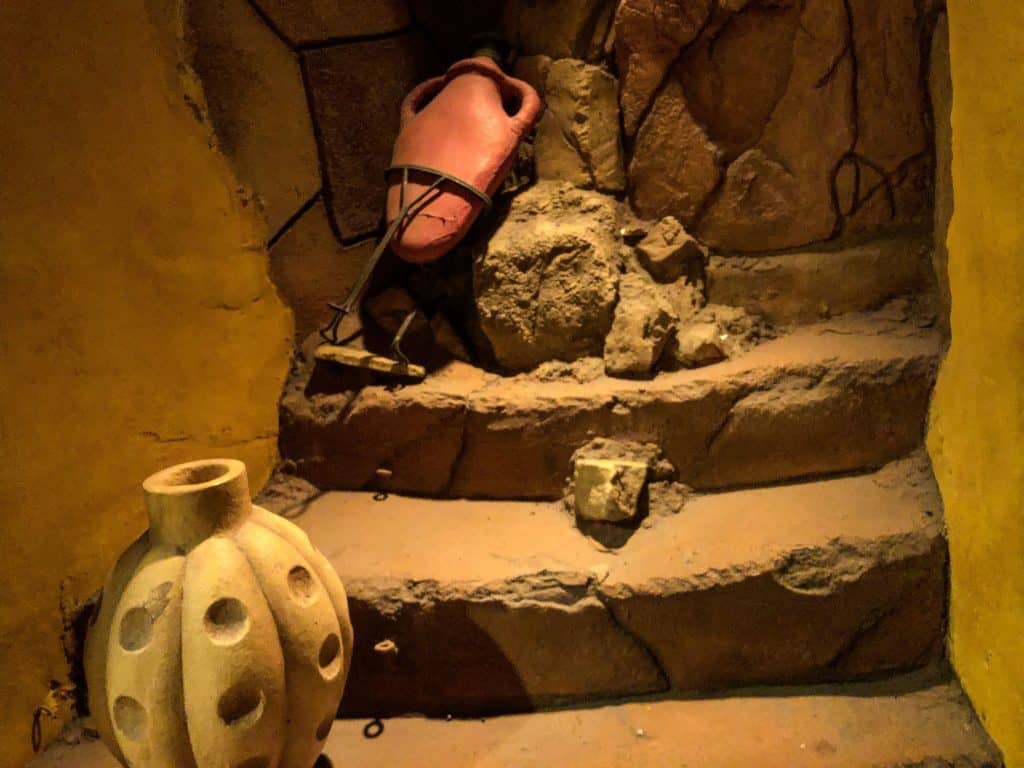 Location: The Lost Continent, Islands of Adventure
Opening date: 05.28.99
Sometimes, there are queues – just like with the attractions themselves – that may not be more than the sum of their parts, but which, nonetheless, have some rather stellar individual components. Poseidon's Fury fits this description to the T.
While neither the attraction nor the queue can compete with any of the others on this list (or, really, any of the other experiences to be had anywhere else at Universal Orlando), there is a captivating collection of details to be found scattered in the queue that can, in isolation, be highly immersive. These little touches work in conjunction with Poseidon's color palette, its soundtrack, and, of course, its mightily impressive facade to be almost downright magical, and these are absolutely worth singling out and mentioning here in our ranking of the best of the best.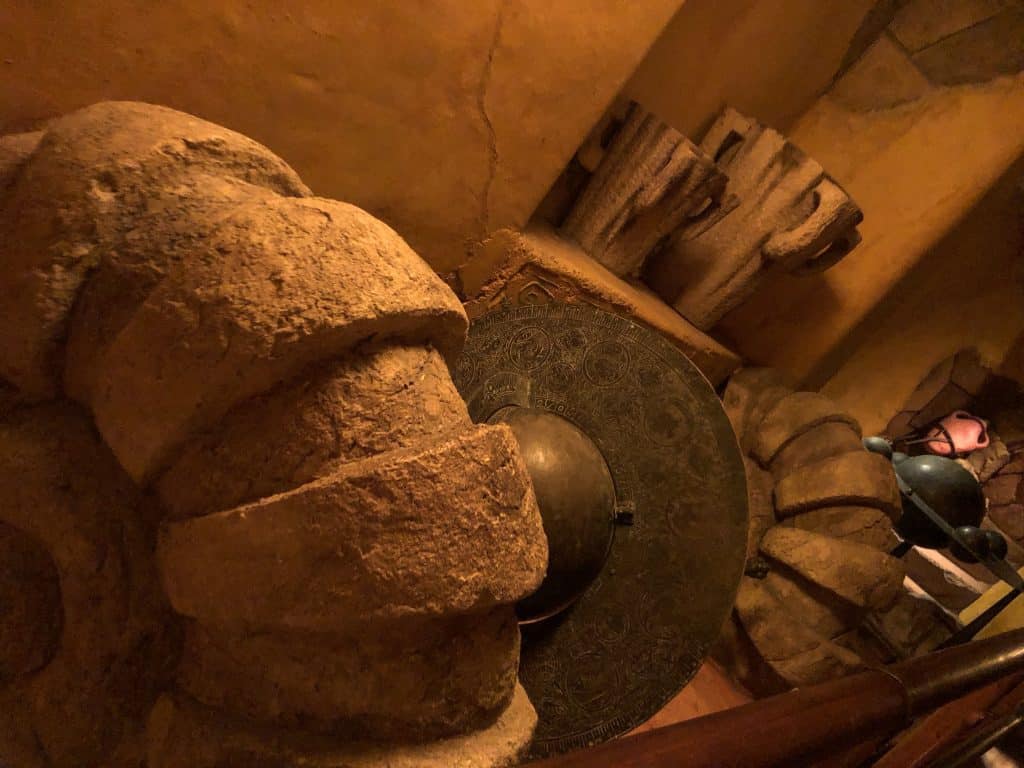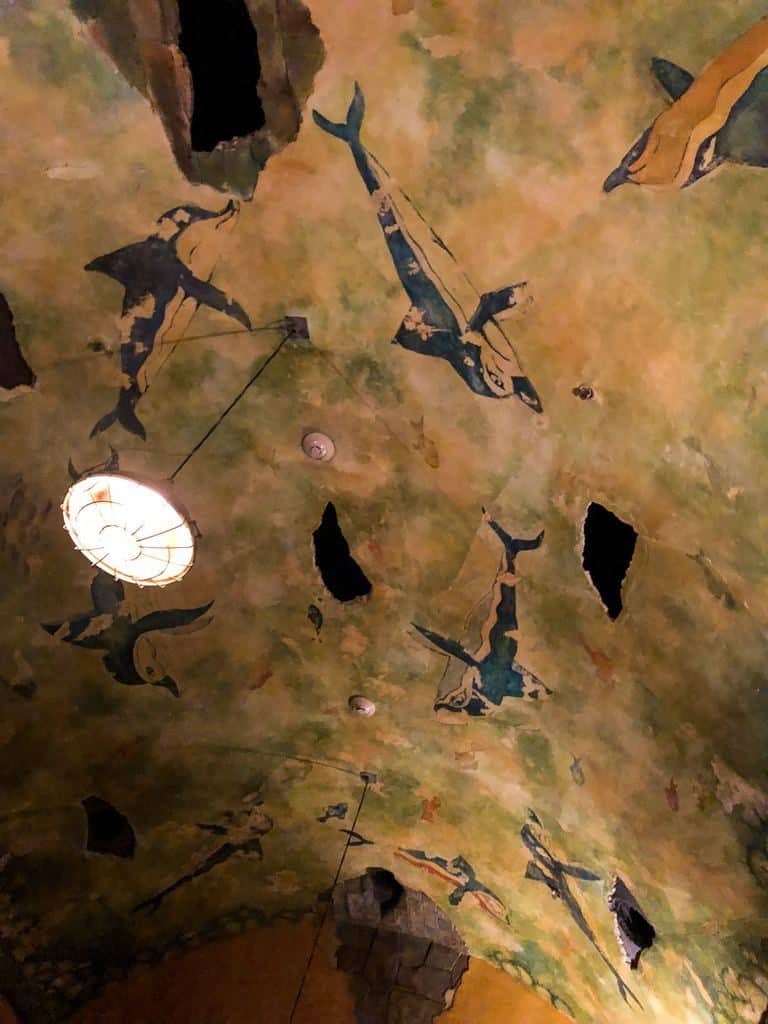 Do these justify a long wait — or, even, a continuation into Poseidon's Fury itself? We would say no, although we'll leave it up to you to ultimately decide for yourself. We just thought that dedication and quality work should be recognized, no matter where it may be found.
–
Be sure to follow Orlando Informer on Facebook, Twitter, and Instagram for even more updates on everything Walt Disney World, Universal Orlando, and other Orlando experiences.