Since bringing JK Rowling's Butterbeer to fruition for guests' enjoyment, Universal Orlando Resort has taken the lead in incorporating beverages to captivate yet another one of your senses during your theme-park experience – both Universal Studios Florida  and Islands of Adventure are home to bold, nonalcoholic beverages that help make you feel like you're part of the stories that surround you.
Spending your days hustling from attraction to show, and downing the most delicious snacks and treats around, will work up quite a thirst. You're in luck, because drinks are part of the Universal experience – and we love that the company offers plenty of options for all ages. Here are our top six favorite signature nonalcoholic beverages at Universal Orlando.
Flaming Moe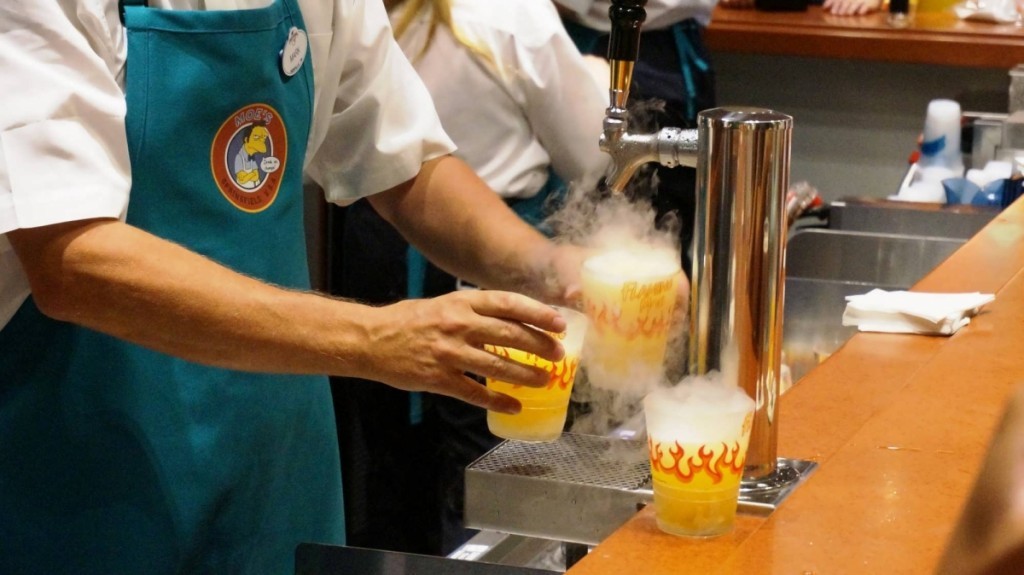 Location: Flaming Moe's or Moe's Tavern in Springfield: Home of the Simpsons, Universal Studios Florida
Description: the signature non-alcoholic drink of Springfield consists of crisp orange soda topped with a dramatic smoke effect ($7.99)
Dry ice, paired with a special cup, cause the drink to bubble like it is boiling hot to the point of smoking. The "flaming" effect lasts for up to five minutes – the perfect photo-op prop for any true Simpsons-head.
Interested in more cartoon-inspired bevs? While less iconic than the Flaming Moe, a few other quirky, nonalcoholic options are available for your consumption, like the Mt. Swartzwelder Apple Drink or Groovy Grove Juice. You can check out the full Flaming Moe's menu for details.
Butterbeer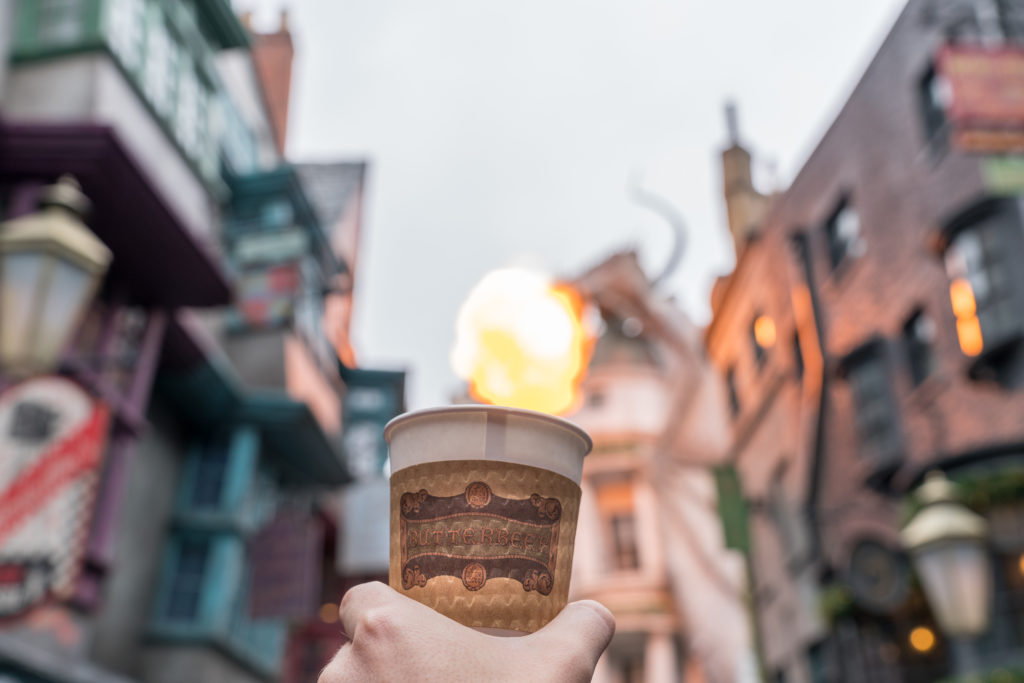 Location: The Wizarding World of Harry Potter – Diagon Alley or Hogsmeade, Universal Studios Florida or Islands of Adventure
Description: available in cold, hot, and frozen forms, Butterbeer tastes like a combination of butterscotch and cream soda ($7.50)
You can't have a list about the best signature beverages at Universal Orlando and not include Butterbeer. In fact, we have a whole guide dedicated to its many forms! The internationally known drink is served cold and frozen year-round and hot during the winter season.
Lavender Elixir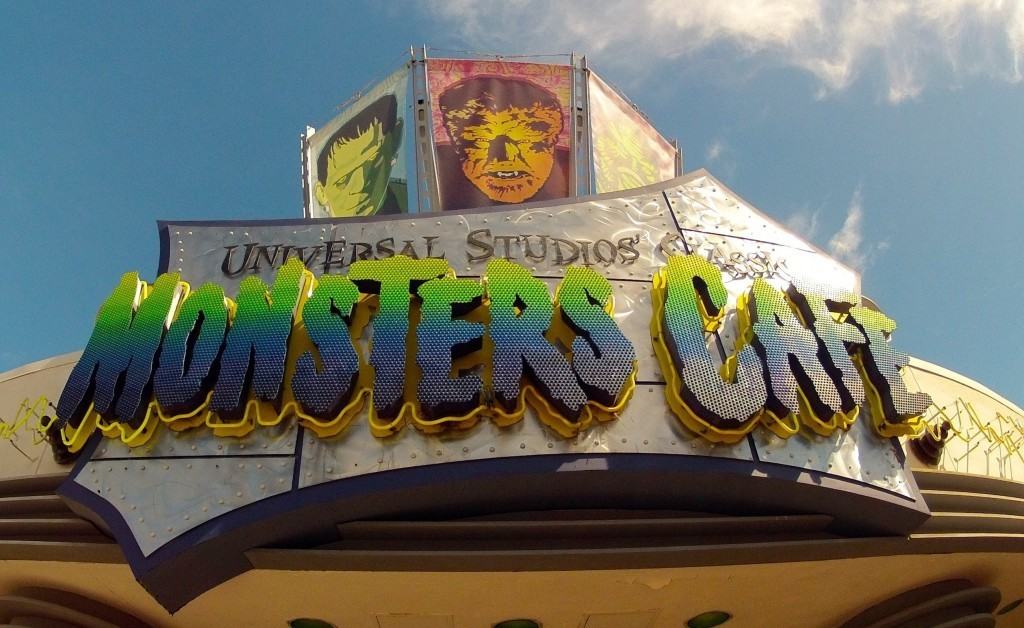 Location: Universal Studios' Classic Monsters Cafe in Production Central, Universal Studios Florida
Description: Sprite with blueberry popping boba ($5.29)
Boba is the secret to taking any drink to the next level, and that's exactly the case of the Lavender Elixir. A simple combination of Sprite and blueberry popping boba creates a beverage that's a delightful shade of purple and fun to sip on as you explore the Universal Monsters details during lunch.
Moose Juice and Goose Juice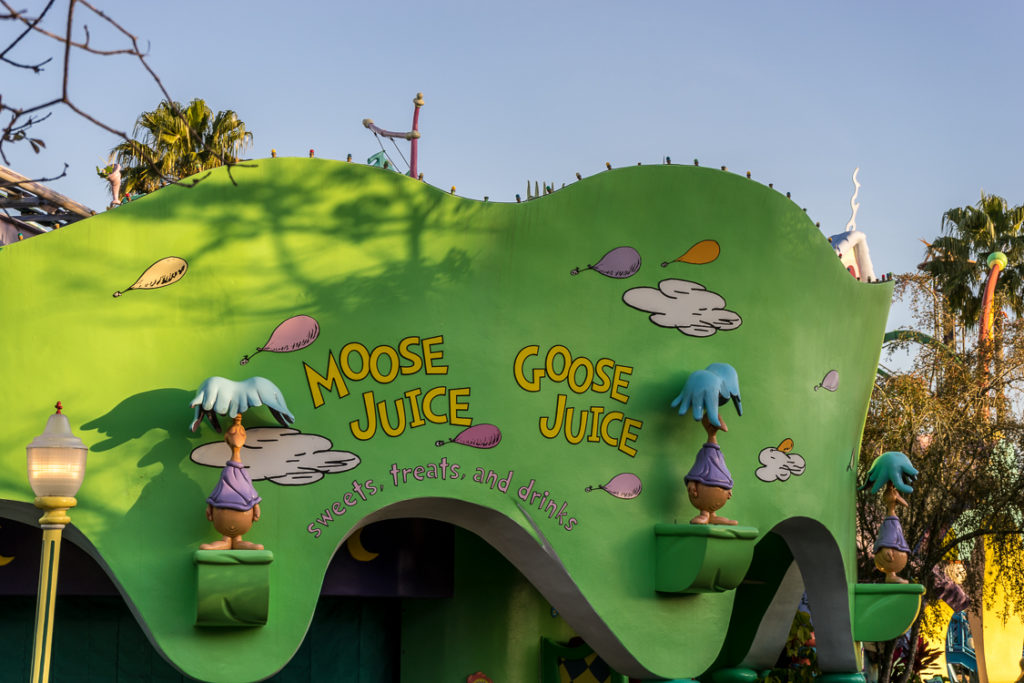 Location: Moose Juice, Goose Juice in Seuss Landing, Islands of Adventure
Description: frozen beverages in two flavors – orange (Moose) or sour green apple (Goose) ($5.50)
No detail in Seuss Landing leaves us disappointed, and Moose Juice, Goose Juice is the perfect example. The Seuss-themed "sweets, treats, and drinks" walk-up window takes something as simple as a sweet, frozen beverage and turns it into a nod to your favorite stories – and it's the perfect cool-down as you walk through to The Lost Continent.
Pumpkin Juice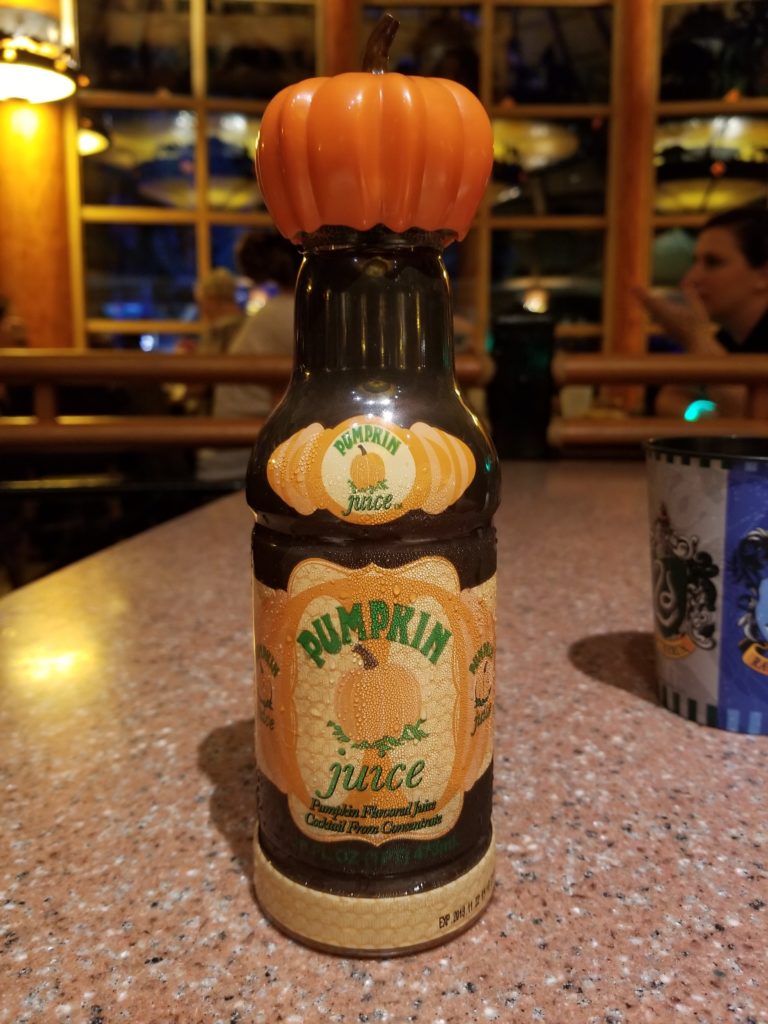 Location: The Wizarding World of Harry Potter – Diagon Alley or Hogsmeade, Universal Studios Florida or Islands of Adventure
Description: served in a bottle with an adorable orange topper, Pumpkin Juice will quench your thirst with flavors of fall and pumpkin spice ($7.50)
There are tons of signature beverages to enjoy in Hogsmeade and Diagon Alley, but Pumpkin Juice stands out as an easy, on-the-go option. While it's also available on tap, we love that the bottled version can immerse your taste buds in the Harry Potter lands without spending the time to stop and have a beverage served to you. This also means you can put the lid back on and save some for later.
If you're interested in more of the Wizarding World's magical mocktails, Fishy Green Ale, Tongue-Tying Lemon Squash, Otter's Fizzy Orange Juice, and Peachtree Fizzing Tea are all also excellent choices.
Lemon Slush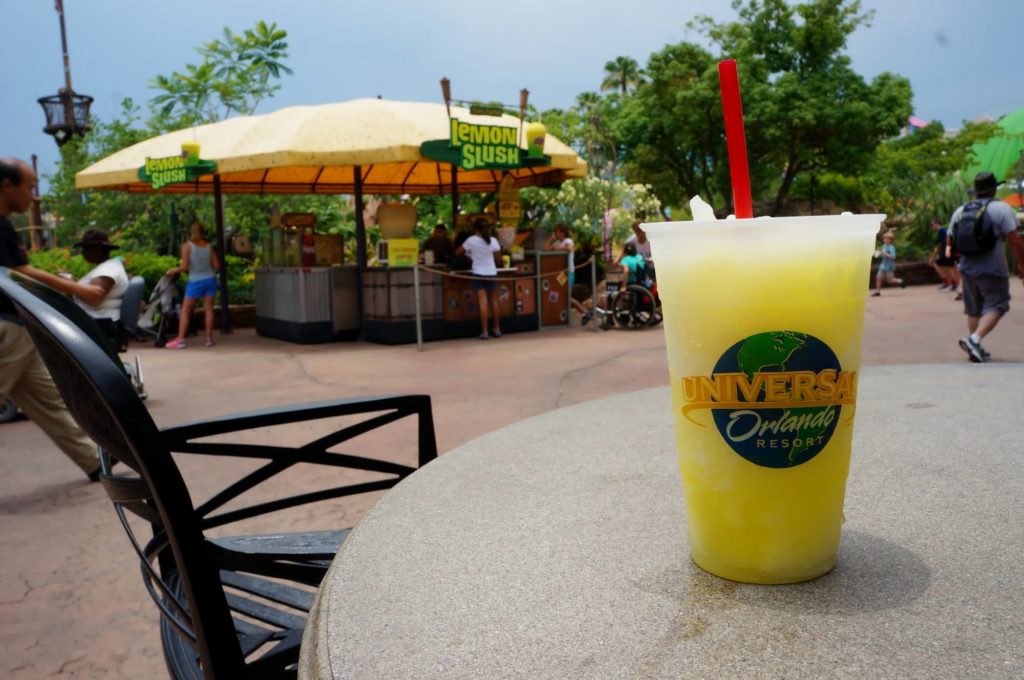 Location: across both Universal Studios Florida and Islands of Adventures
Description: a smooth ice beverage with strawberry and/or lemon flavors ($4.49)
Universal's Lemon Slush stands serve up lemon- and strawberry-flavored frozen drinks, which we recommend indulging in a combination of. This beverage is reminiscent of lemon ice you'd buy from the ice cream truck or at a baseball game as a kid, but with the perfect consistency for sipping on a hot day.
Pro tip: you can find a similar, banana-flavored frozen drink near Skull Island: Reign of Kong.
Honorable mention: Gilly Water and Potions of Eternelle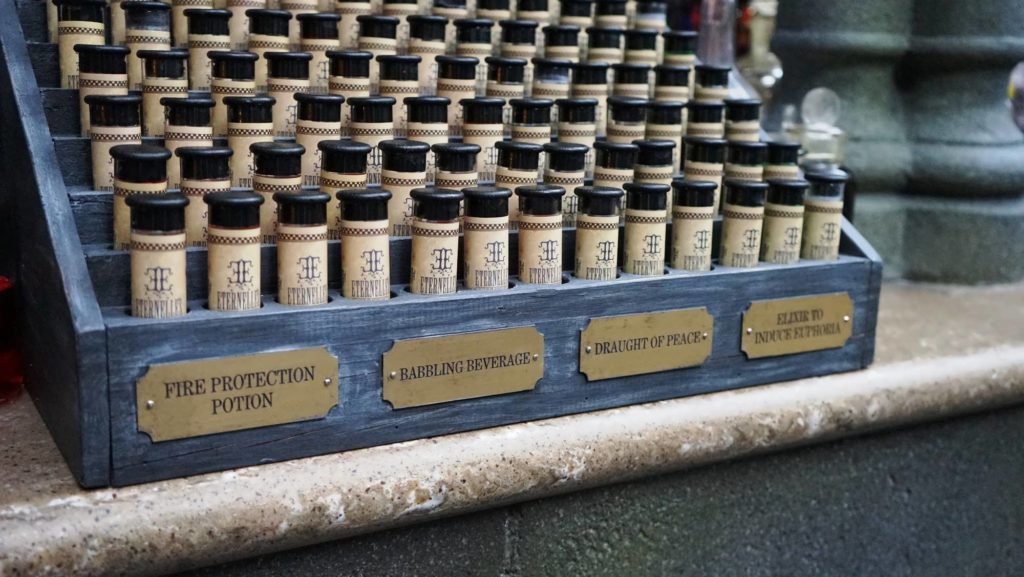 Location: Eternelle's Elixir of Refreshment in The Wizarding World of Harry Potter – Diagon Alley, Universal Studios Florida
Description: plain ol' H2O disguised in sophisticated wizarding world-inspired packaging ($5.50) with "potions" to add flavor and color ($4.25)
Whether you're trying to convince your kid to drink more water or simply fighting the Florida heat yourself, the potions of Eternelle's Elixir of Refreshment are your loophole to staying hydrated. Add these exciting flavors and colors, disguised as potions, to your bottle of Gilly Water to kick it up a notch:
Fire Protection Potion – a sweet, pinkish-orange blend of watermelon with hints of peach and strawberry.
Babbling Beverage – a red fruit punch with layers of tropical fruit flavors.
Draught of Peace – blue, bursting berry flavors of blueberry, blackberry, raspberry, and a hint of cherry. This is one of the more popular flavors.
Elixir to Induce Euphoria – green color and a cool and calming pineapple flavor, with notes of green apple and mint.
–
We bet you've never wanted to visit a theme park solely for its drinks so badly in your life. We know – Universal has quite the line-up! What's your go-to thirst-quencher when visiting the resort? Share your secrets for delicious hydration with 90,000+ other Universal fans over in our OI Community Facebook group.
And don't forget to follow Orlando Informer on Facebook, Twitter, and Instagram for the latest news and tips at Universal Orlando, Walt Disney World, and other Orlando experiences.