It's almost time! Super Nintendo World's grand debut at Universal Studios Japan is just around the corner now – February 4, 2021 (a delay from the originally targeted window, summer 2020, thanks to the coronavirus pandemic). And to help pass the next month or so until the big day, Universal has started to drop some pretty big reveals from inside the long-in-development land, including a livestream event this evening that revealed even more of the project's rides, experiences, and secrets.
First, though, let's do a quick rewind. On November 30, Universal and Nintendo provided the very first glimpse inside the finished area, pulling back the curtain just a bit on Mario Kart: Koopa's Challenge's queue and providing some concept art of Nintendo World's two additional attractions, Yoshi's Adventure and an interactive Boss Battle (which is unlockable using the premium Power Up Band). It whet our appetites and set the stage for tonight's reveals, which were mostly concentrated on the other aspects of the themed land – five, in fact, which we're going to quickly hit upon now.
1. Super Nintendo World's entrance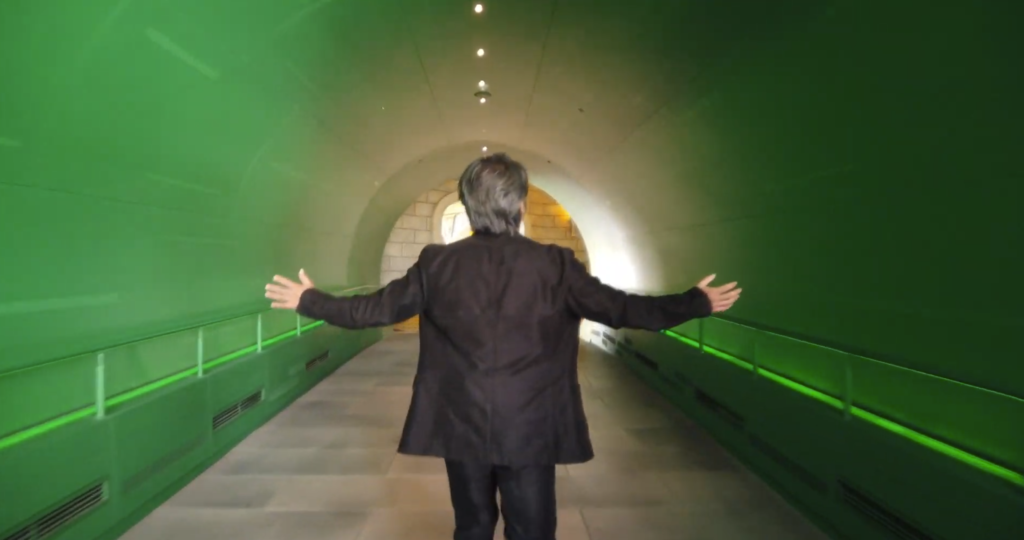 After hinting at a Wizarding World of Harry Potter – Diagon Alley-esque transition from the theme park proper to Super Nintendo World, specifically, Universal and its special host, Super Mario Bros. creator Shigeru Miyamoto, actually showed it tonight, walking the camera through the giant warp pipe that greets guests at the very beginning of the area. This marks something of a special occasion, as it's the first time that the inside of the iconic pipe has been revealed by the Big N, even after three decades-plus of using the pipes in its videogames – think lots of lights and the classic accompanying sound effect, giving the impression of moving at impossibly fast speeds (pretty fitting, considering that Miyamoto-san got the idea for the warp pipes' name all those years ago from Star Trek).
As suspected, the introductory tunnel deposits visitors right into the lobby of Princess Peach's castle, which, in turn, serves as your opening window unto the Mushroom Kingdom beyond. What we didn't know, however – and what comes as a very warm, welcome surprise – is that the lobby is a pretty faithful recreation of the castle from Super Mario 64, the 1996 videogame that not only brought the Mario franchise into 3D but which also single-handedly introduced the world to the analog thumbstick, which immediately became the new gold standard. (Even the music is lifted directly from the game, which Shigeru promises will be the case all throughout the rest of Nintendo World, as well.)
2. Super Nintendo World's interactive activities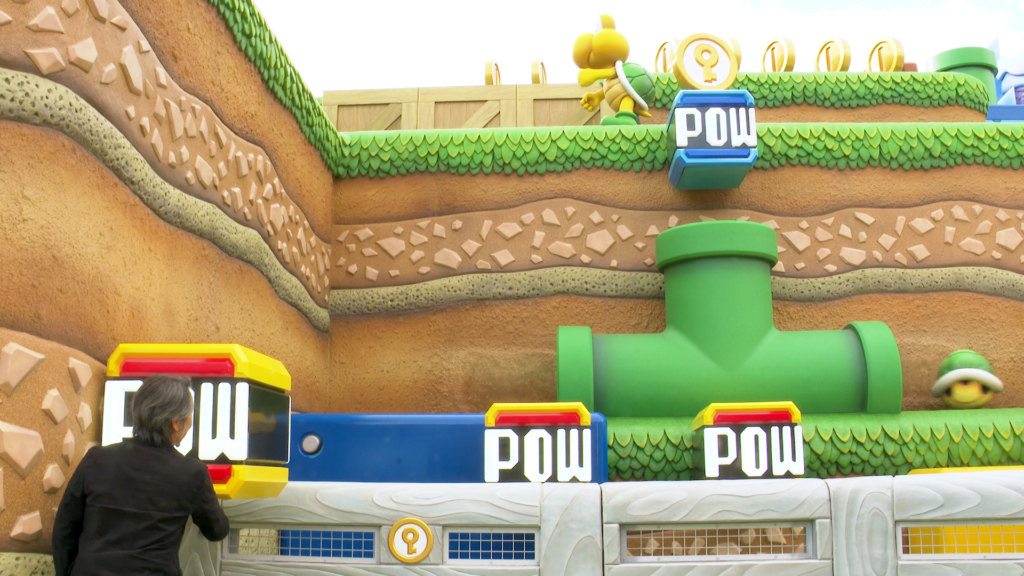 Wearing a Power Up Band (which you can purchase at Universal Studios Japan) and then wearing it around the Mario-themed land will unlock certain digital items, such as coins and keys, if you perform an accompanying action, such as hitting question-mark blocks. All this was known before this evening's special livestream, but Universal always kept the specific activities regarding those all-important keys a secret – until now.
It seems as if Nintendo World teems with these little interactive elements – which are officially called activities – and attendees will have the chance to choose which ones they will or will not engage with. Those activities that result in "players" getting a key are plentiful; after pointing out a sleeping piranha plant (and, later on, an about-to-explode Bomb-omb), Shigeru Miyamoto demonstrated a paratrooper vignette, which had guests swiping their Power Up Bands at just the right moment to activate a POW block and shoot a spinning turtle shell up a small warp pipe to take out the winged minion above. Yes, the whole scenario was quite simple, but the movements of the audio-animatronic figures were spot-on from the games, and the resulting effect looked nothing short of fun.
3. Super Nintendo World's Underground Level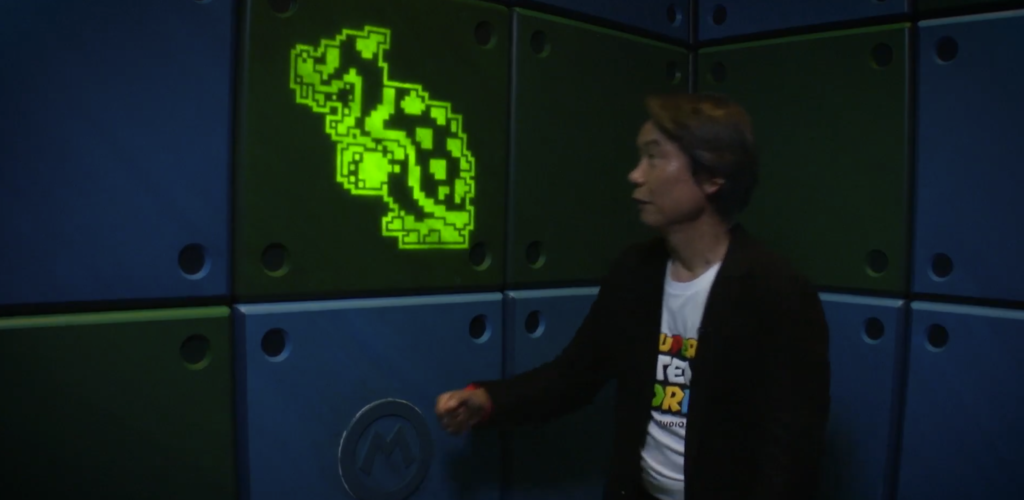 Once you have amassed three keys from anywhere around Super Nintendo World, you'll have unlocked access to a special, heretofore hidden section of the land that Miyamoto simply referred to as the Underground Level. Here, you'll make your way through a slightly creepy-feeling maze that has tons of extra secrets to discover (and tons of extra coins to collect!), replete with the legendary underground Mario music. (The coolest detail here, by far, is the change in perspective of your surroundings, making you feel like you've been hit by a baddie and shrunk down to Mini-Mario size.)
We don't yet know if there will be anything else contained within this rather clever Underground Level, but Shigeru did make mention of a "final activity": a boss battle with Bowser, Jr. It would make sense if this big (and still unknown) confrontation takes place here, but we'll just have to wait and see – Universal and Nintendo, after all, have been rather good thus far at keeping secrets stashed up their sleeves, and who knows how many more they have yet to reveal.
4. Super Nintendo World's merchandise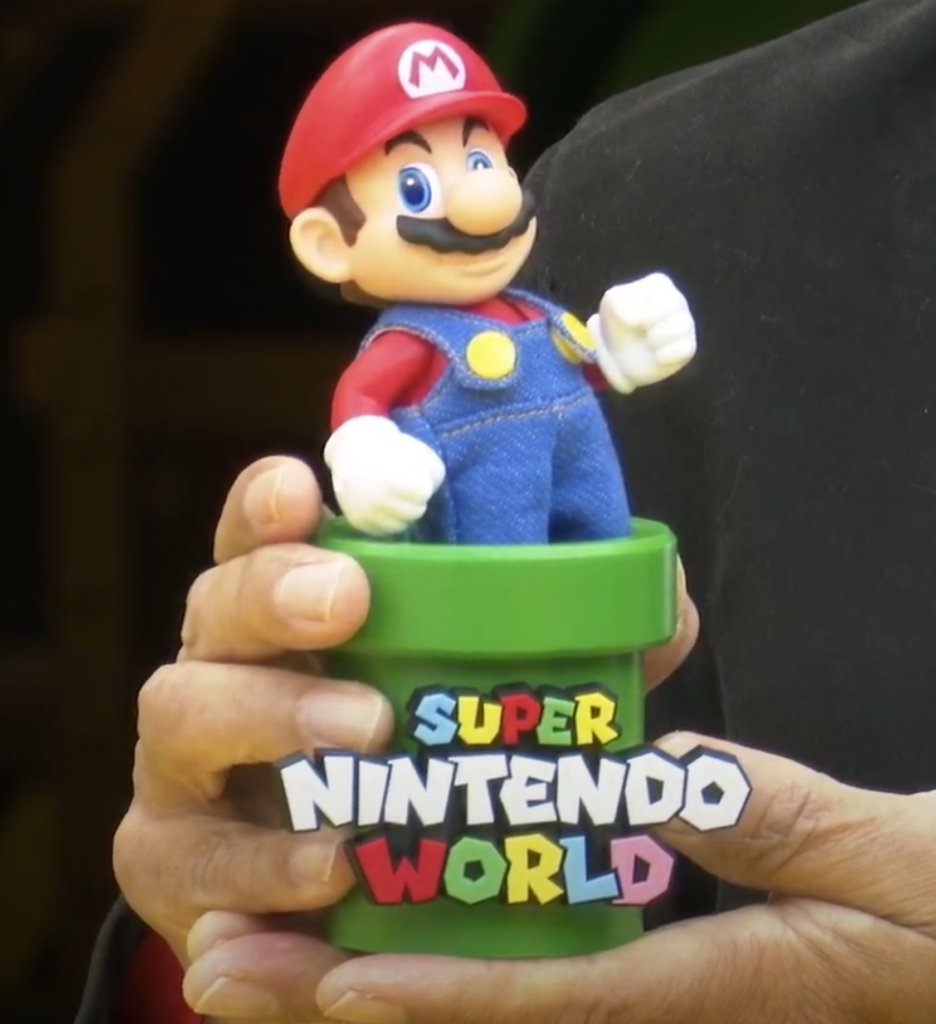 The incomparable Shigeru Miyamoto provided just the briefest of glimpses into the 1-Up Factory, the gift shop of Super Nintendo World, where he showed off rows and rows of Super Mario Bros.-branded merchandise and souvenirs. He took particular delight in unveiling a special toy that he and his development team at Nintendo designed, called Tokotoko Mario – if you push the red shell that trails behind him, the little figure will walk under its own power, moving very fluidly and convincingly.
Though light on specifics, here's a collection of the views that the livestream provided: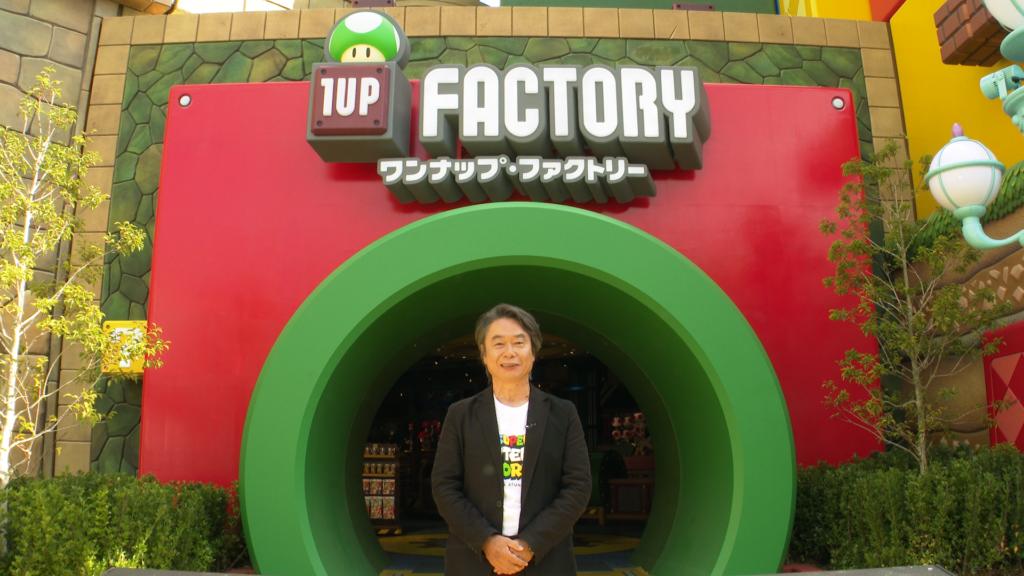 5. Super Nintendo World's food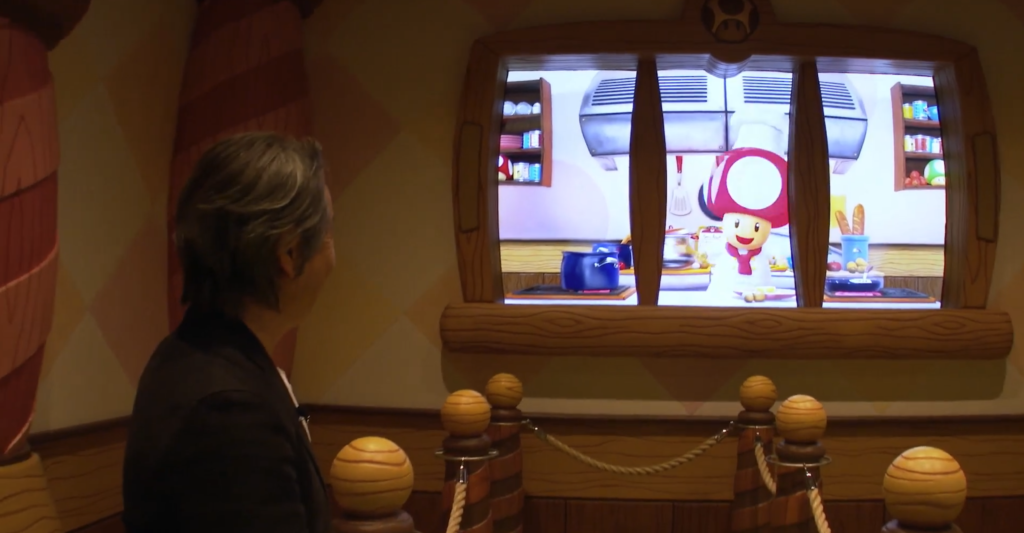 Here again, Universal and its MC deliberately kept the showcase to just a few items in particular, but they're certainly noticeable ones. First up: the standard theme-park staple of popcorn, which, at Nintendo World, will come in the unusual flavors of caramel peach and mushroom (but of course). Then there are all of the main offerings, such as the delicious-looking Mario Burger and the interesting-sounding Super Mushroom Pizza Bowl (both of which, yes, incorporate mushrooms into their culinary constitutions). They come with a number of other items that were only fleetingly shown, including a salad and a question-mark-block tiramisu.
Oh, yeah – the camera also got the chance to take a quick look around the land's restaurant, Kinopio's Cafe. Thanks to a series of digital screens – not unlike the ones that you'd find at The Toothsome Chocolate Emporium & Savory Feast Kitchen – Mario's fantastical world comes alive, showing you the series of Toads (headed by Chef Toad himself, who greets all his customers as they stand in line) that are busy preparing all of the exclusive dishes and drinks. The interior is very warmly decorated, furnished in a lot of woods and the ubiquitous Mario polka-dot mushroom pattern, with a series of power-up items displayed prominently on the ceiling.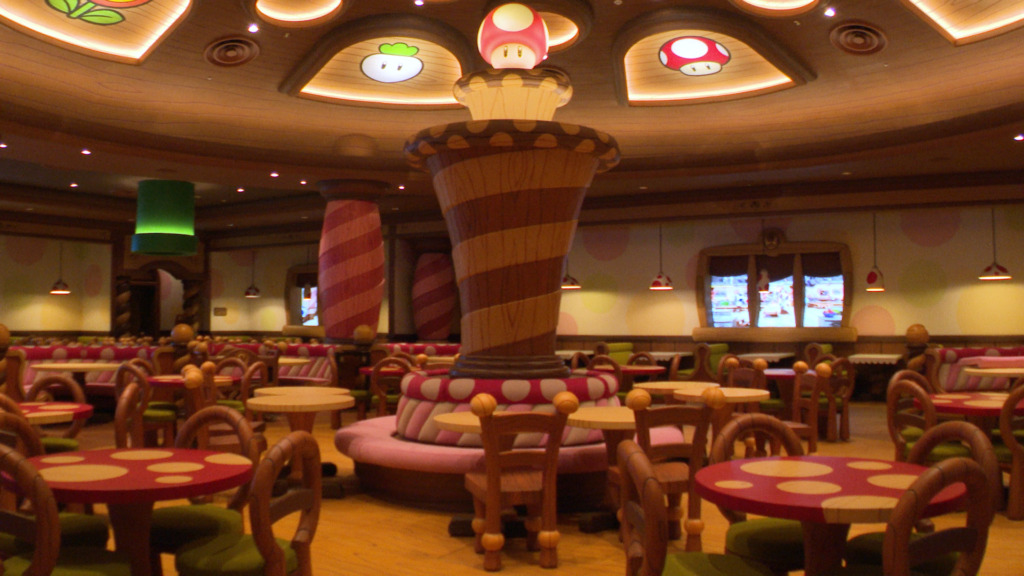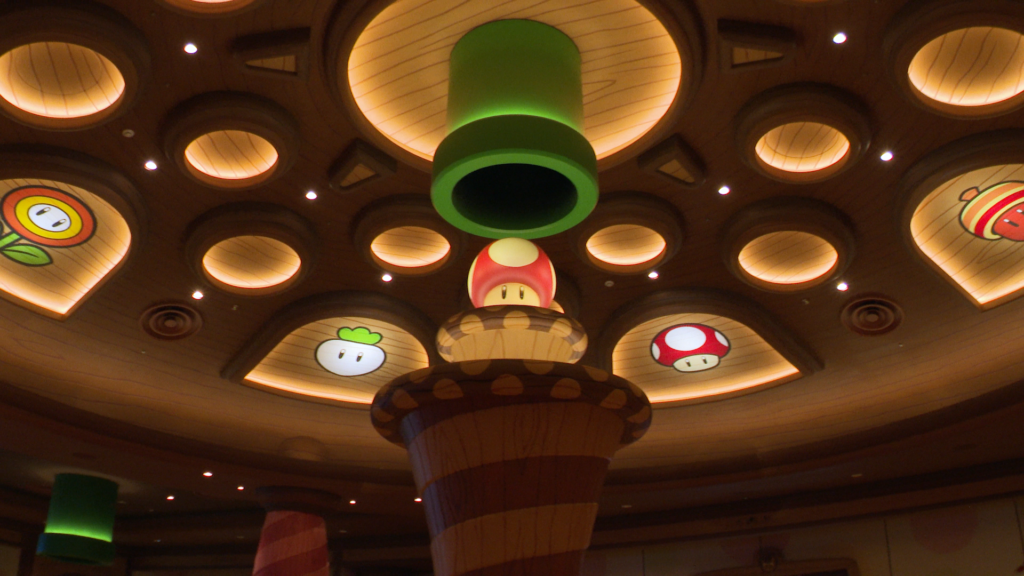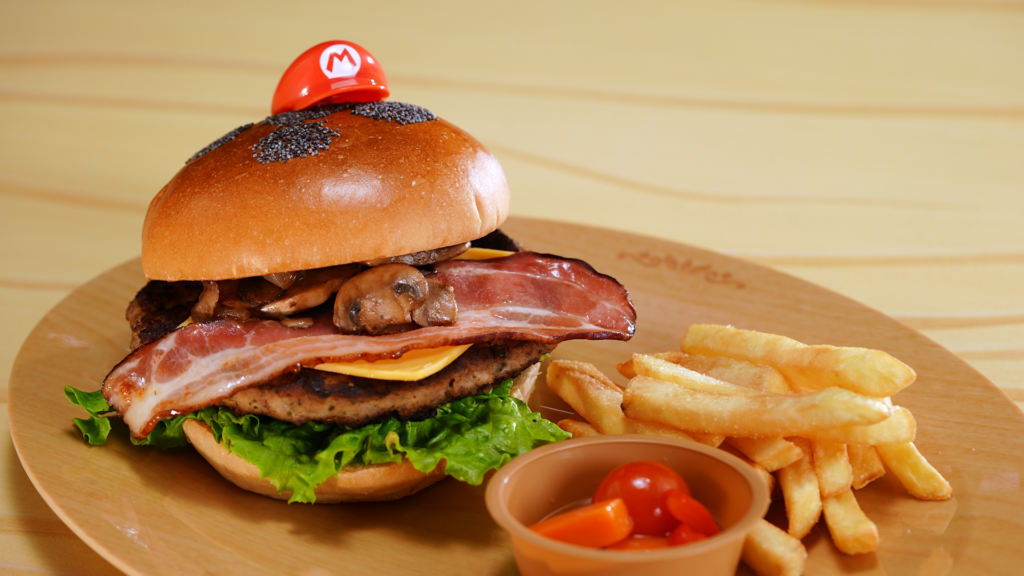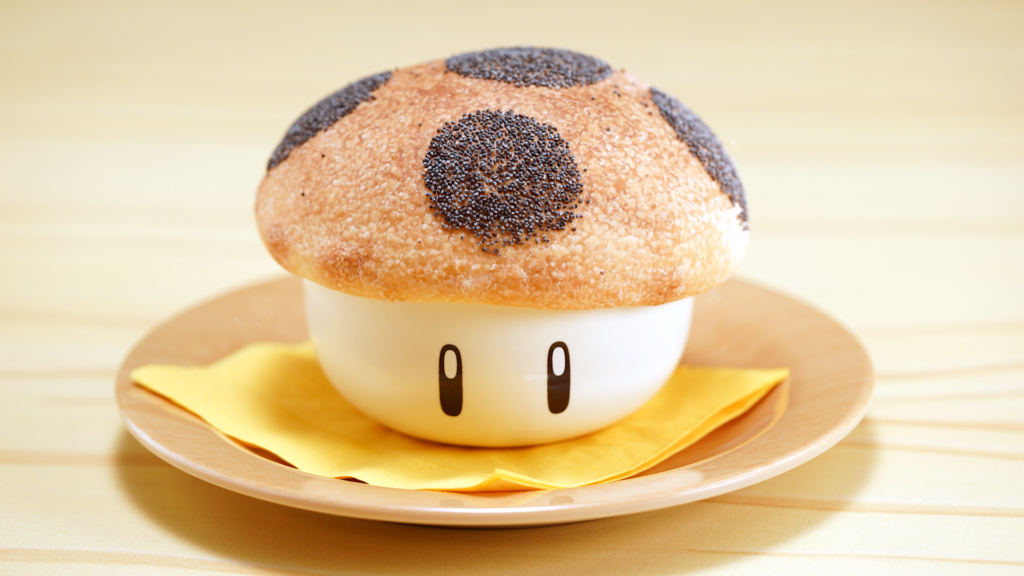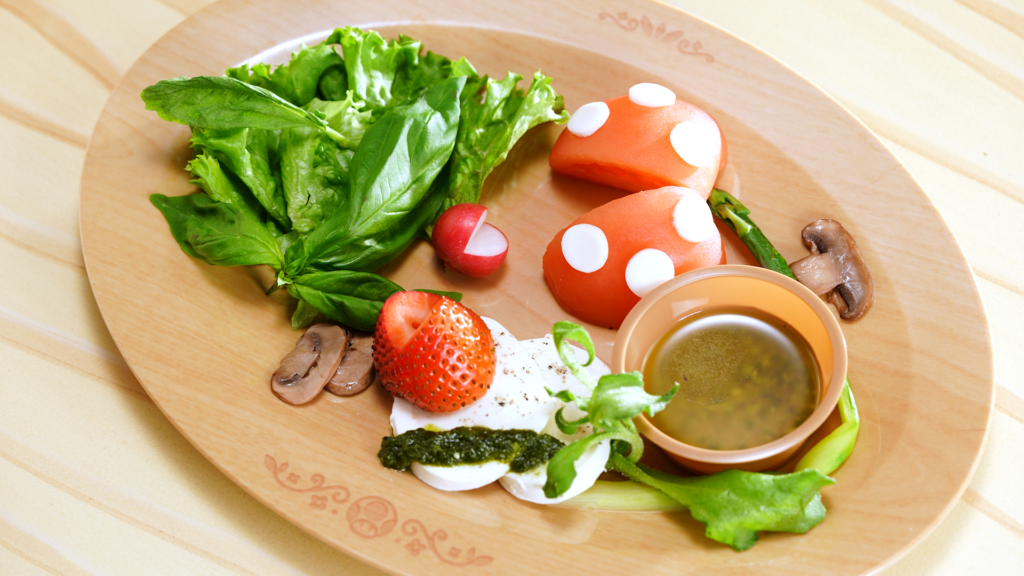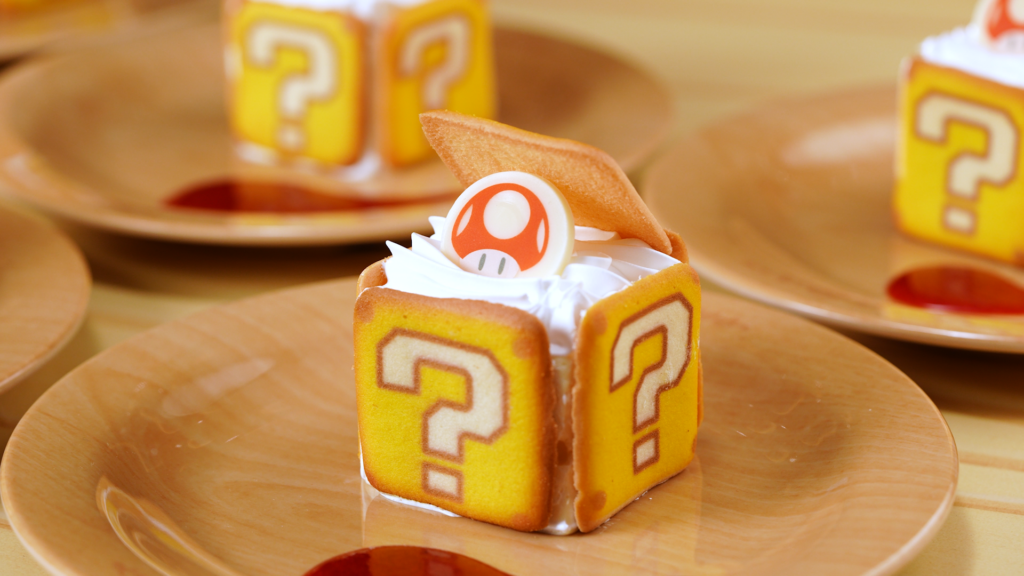 ---
Which part of Super Nintendo World are you most excited for when it eventually comes here to Orlando? Share your thoughts with 150,000+ other die-hard Universal fanatics in our Orlando Informer Community on Facebook.
And be sure to follow Orlando Informer on Facebook, Twitter, and Instagram for the latest news, tips, and more at Universal Orlando, Walt Disney World, and other Orlando attractions.