If you're a huge fan of Halloween, we've got some good news for you! This year, SeaWorld is bringing Howl-O-Scream to Orlando. But even if you're planning on visiting Busch Gardens Tampa this Halloween season, you'll find they will still host their Howl-O-Scream event, stacked with entirely different houses and haunts than at SeaWorld Orlando. You want to be sure to check out both, like we will!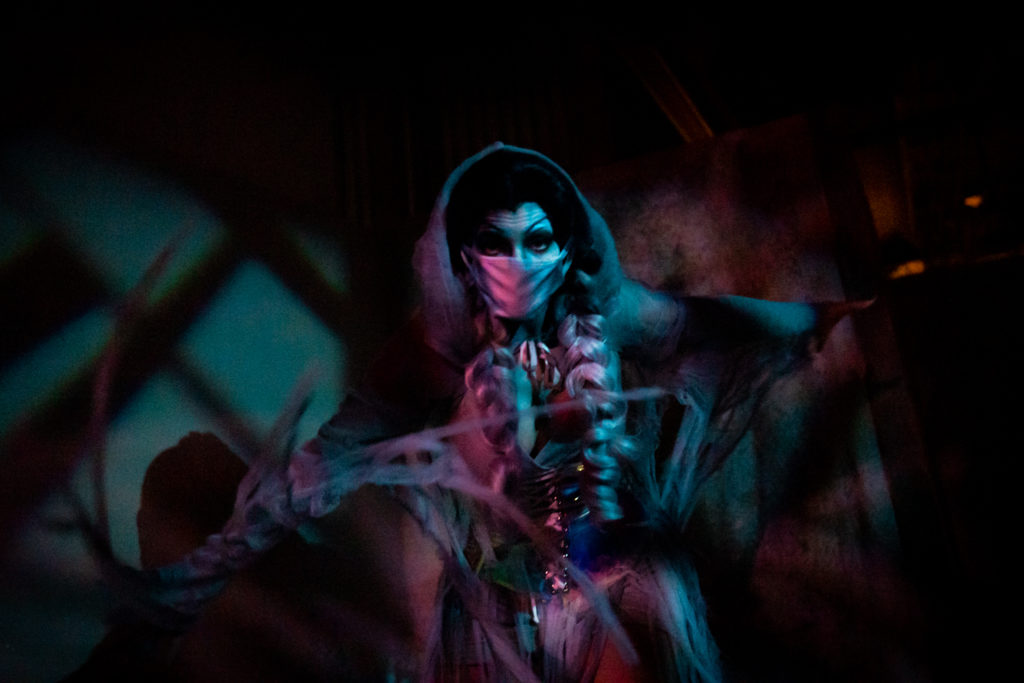 SeaWorld is in a unique position this year in Orlando's Halloween space. Not only are they introducing Howl-O-Scream (featuring four original houses, four scare zones, and three roaming haunts), but SeaWorld will also return its annual kid-friendly Halloween Spooktacular event on weekends, starting September 18th. The killer combo of these two events makes SeaWorld Orlando the only park in Orlando to hold a kid-friendly event during the day and an adult event in the evening for Halloween. During Halloween Spooktacular, kids can meet mermaids, take part in a Halloween dance party, and stock up on free candy on the trick-or-treat trail! The best part is that access to Halloween Spooktacular is included with daytime admission, so all the extra fun doesn't actually cost extra!
But the star of today's show is Howl-O-Scream. This after-hours, separately-ticketed event is absolutely best suited for grown-ups. We'll keep things PG on our page, but it should be clear that the event contains content for a mature audience, such as blood, violence, and gore, among other things.
Here are five reasons you should check out Howl-O-Scream at SeaWorld Orlando.
1. Original Houses
One of the cool things about Howl-O-Scream is that the houses are all completely original. I've attended Howl-O-Scream at Busch Gardens Tampa several times and am always blown away by the creativity that goes into these haunts. Plenty of jump-scares abound within the beautiful artistry of the sets, and the performances of the scare actors are equal parts fun and fearful. Another impressive thing about the houses is their sheer scale. They all seem to take several minutes to go through, and in general we have found the crowds to be lower than at other local Halloween events, so you aren't forced to conga line your way through the mazes. At Howl-O-Scream, it's actually possible to stop for a second or two and take in your surroundings (that is, unless a scare actor makes you dash to the next room). This year, the houses are all nautical and nature themed. You can check out full details here.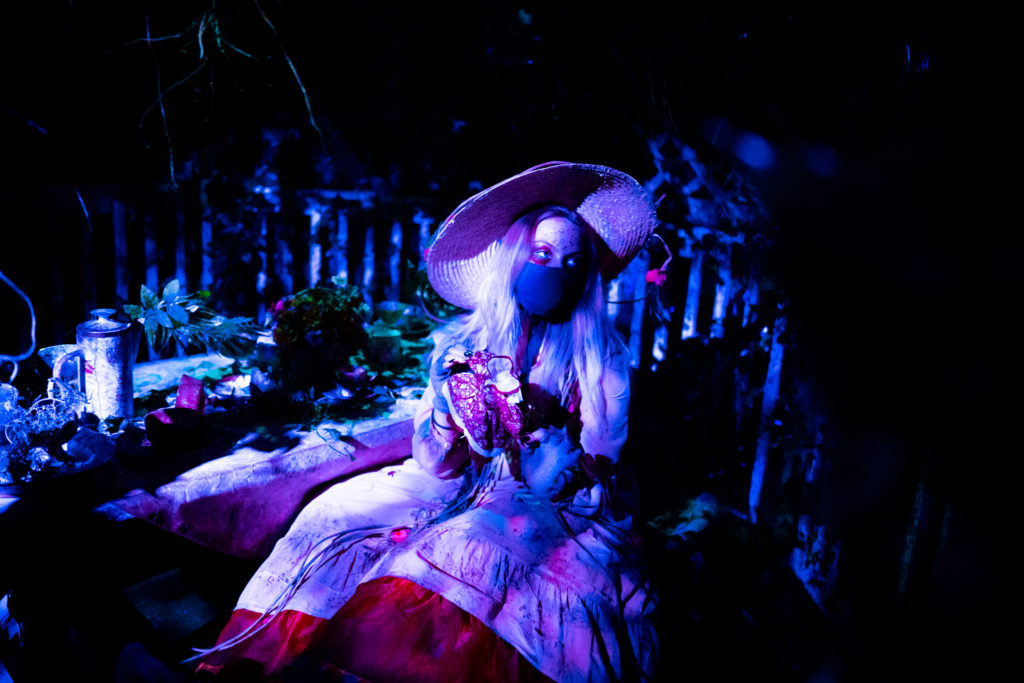 2. Scare Zones and Roaming Haunts
If you think you can escape scares by not going into a house, you're wrong! Howl-O-Scream at SeaWorld Orlando also includes four scare zones: Deadly Ambush, Sea of Souls, Frozen Terror, and Witchcraft Bayou. These scare zones pull the themes found in the haunted houses and bring them to life throughout the park. In addition to that, the three roaming haunts: The Sirens, The Creatures, and The Minions promise that no place is safe at Howl-O-Scream at SeaWorld Orlando. If you're familiar with SeaWorld, you know how dark the park can get at night, so be on guard, because there's nowhere to hide from the frights!
3. Shows
If you do find yourself needing a break from things, you should watch one of the shows SeaWorld Orlando's Howl-O-Scream has to offer. There are two options this year: Sirens' Song and Monster Stomp. Sirens' Song is an outdoor show where Sirens entertain and frighten guests. Monster Stomp is a musical performance starring Jack the Ripper himself! These are two shows to feast your eyes on for sure. It's worth mentioning again here that Howl-O-Scream is an adult-focused event, so come prepared for that.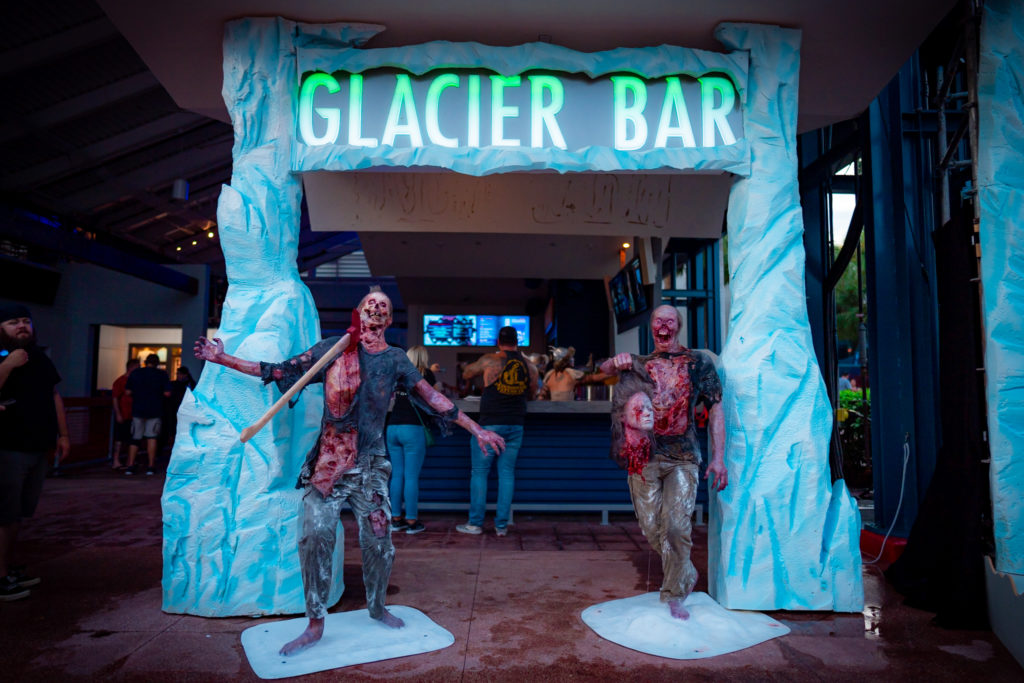 4. Themed Bar Experiences
A sure-fire way to help brave the night is with a bit of liquid courage. As is the case with SeaWorld's various festivals, Howl-O-Scream will have several kiosks set up around the park. Pick your poison from bar experiences such as Sirens' Last Call, Longshoremen Tavern, Tormented, or Poison Grotto. Each bar experience will have a selection of themed beverages (including some signature drinks), in addition to a selection of the usual favorites.
5. Cost
The one thing that won't scare you about Howl-O-Scream at SeaWorld Orlando is the cost. If you're familiar with other major scary Halloween events, you know just how quickly these experiences can all add up. SeaWorld's inaugural season of Howl-O-Scream will give you all of the fun and frights without draining your wallet. There are a variety of ticket options to select from, and buying early will save you a lot of cash. You can get the best deals with us here at Orlando Informer.
In addition to the haunts and scares, you might find yourself seeking a different kind of thrill. A few of the roller coasters and attractions will be open during Howl-O-Scream for you to pursue this adrenaline rush. We don't have to tell you that rides at night are a totally different experience than they are during the day, so be sure and check out Mako and Infinity Falls in a way you've never experienced before!
All in all, SeaWorld's Howl-O-Scream event is shaping up to be a great addition to anybody's Halloween itinerary, so check it out…if you dare! You can also discuss vacation planning with our SeaWorld Community on Facebook!