In this edition of THE BIG 5, we explore the riches that can be found inside some of Universal's merchandise shops. My ventures through these stores proved to be eye-opening and full of new entries onto my personal wish list. So come along and dream with me as we drool over some of the coolest stuff that can be yours – for a price, of course.
Please note that our countdown is not in order of expense, but, rather, ranked by the unique or special qualities of the items.
#5 – The Simpsons-themed converse shoes
Two things that were big in the 1980s that are still just as popular as ever: The Simpsons and Converse brand high-top sneakers. These fashion-statement shoes can be found inside the Kwik-E-Mart, the signature Simpsons-themed merchandise shop. Certain styles of these bright-colored, bold-statement sneakers can be found online through various websites – but what could be more fun that seeing these shoes in person and purchasing them from the iconic Springfield convenience store?
During my visit, I noticed that these shoes are priced at $62.95, and the Annual Passholder discounts apply as usual.
#4 – Seussian art
Continuing with our animation and carton theme, let's journey over to Seuss Landing.
The most imaginative, playful land at Universal Orlando is inspired by one of the most whimsical, wonderful worlds ever to exist in literature. You can browse through prints and paintings inspired by the works of Dr. Seuss here. Some of these items can be found online; however, others are exclusives, so be sure to ask the merchandise Team Members if they are familiar with the availability of any piece that might pique your interest.
Prices range from around $50 for small, unframed prints to over $1,200 for large, framed pieces. For items that are considered collectables, no promos or discounts apply.
<script async src="//pagead2.googlesyndication.com/pagead/js/adsbygoogle.js"></script>
#3 – Unique jewelry
All that glitters may not be gold, but glittering, beautiful jewelry is another great way to encapsulate your vacation memories. There are a variety of locations throughout Universal Orlando that offer unique jewelry. Here are some of the places to find the most unique – and priciest – pieces:
I Love Lucy Tribute at Universal Studios Florida's Hollywood
Inside the I Love Lucy Tribute, you will find a large assortment of genuine gemstone necklaces, rings, earrings, and bracelets. These pieces certainly evoke the sophistication and class of Hollywood glamor, and, indeed, more than a few pieces had me swooning (hint, hint in case you ever want to express your adoration for one of your favorite OI Blog contributors/OI Forum moderators). Prices range from $50 for costume jewelry without genuine gemstones to well over $100 for larger, genuine gemstone pieces.
Betty Boop Merchandise Shop at USF's Hollywood
Inside the Betty Boop Store, you can find "Art by Amy" jewelry, which is some of the most creative, expressive pieces of trendy-style jewelry I have ever seen inside a theme park. Necklaces range from $39.95 to $59.95. There are some really neat styles to find here, so be sure to take a moment to browse through all the different options.
Dinostore at Islands of Adventure's Jurassic Park
Dinosaurs may be scary and fascinating creatures, but there is beauty to be found in the prehistoric age. A variety of colorful, unique jewelry can be found at Dinostore at Jurassic Park. Amber stone pieces are the specialty here, and small amber stone pendants can be engraved (which is included in the price of the pendant). Prices range from $40 to over $800.
Annual Passholder discounts do apply to most jewelry.
#2 – Special merchandise from the Wizarding Worlds of Harry Potter
Perhaps one of the most fascinating aspects of Universal's unbelievable Wizarding World of Harry Potter is the sheer variety and popularity of the special merchandise found within the shops of Hogsmeade and Diagon Alley. Although some items can be found online, there is something special about buying your desired wizarding goods from the enveloping, atmospheric shops in Hogsmeade (or its theme park home, Islands of Adventure).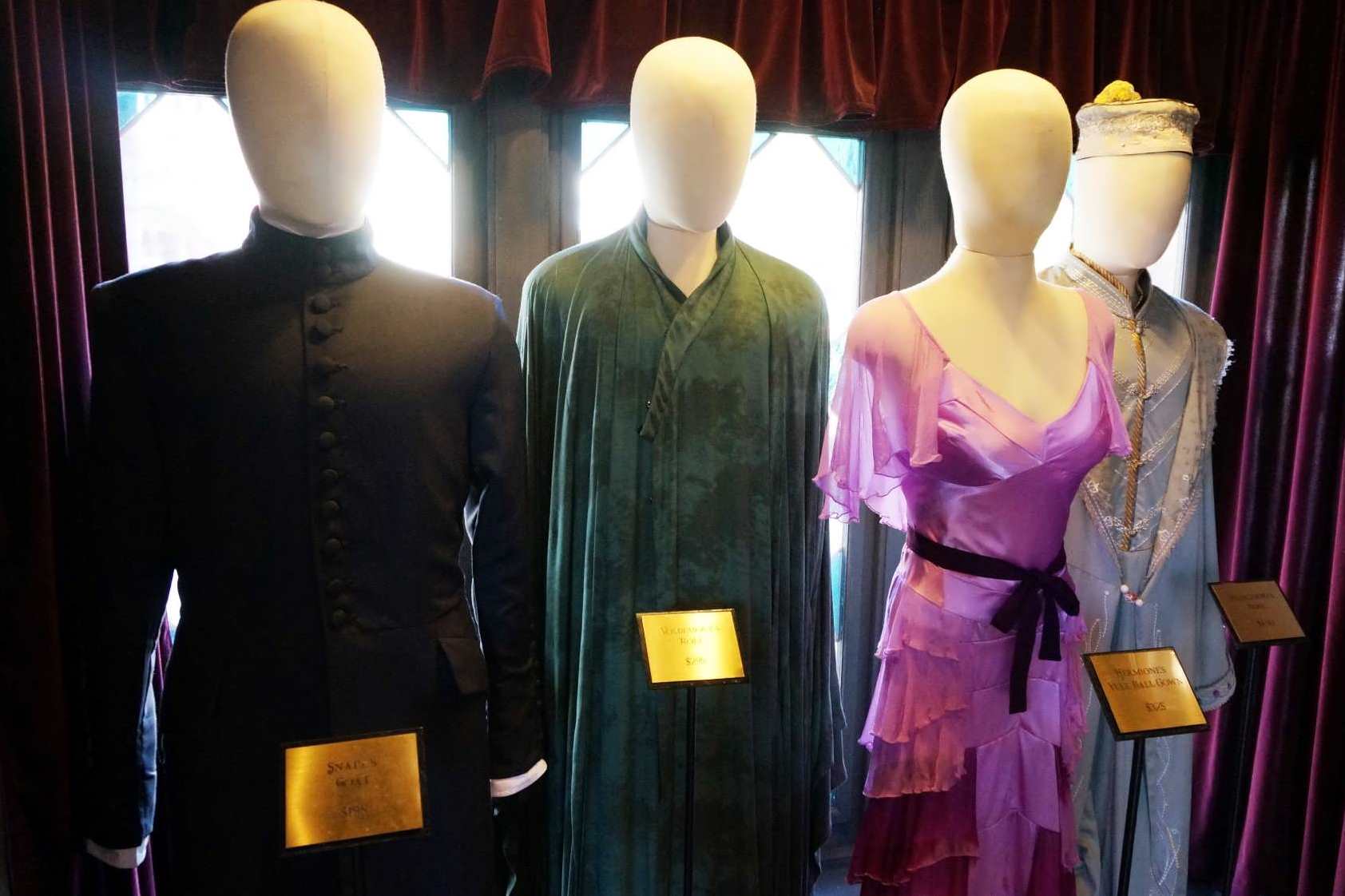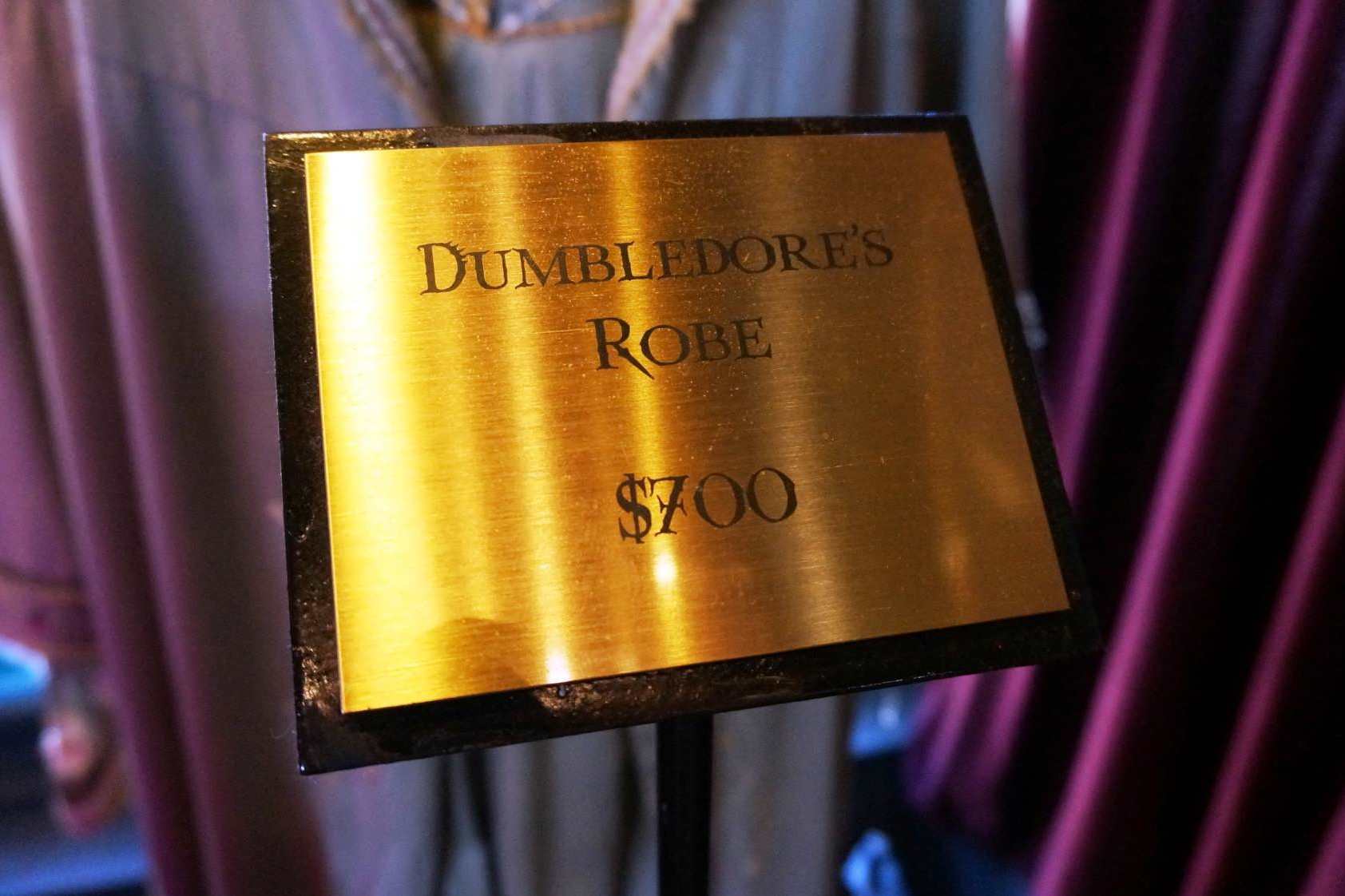 Some of the highlights include the character costumes seen above ($195 to $700), genuine Hogwarts robes (adult size priced at $109.95), as well as the battery-operated Marauder's Map ($59.95) or the framed version of the Marauder's Map ($69.95).
#1 – Comic book and movie collectables
Universal Orlando is the place where the most exciting and beloved movies and stories come to life. After you've been in the center of the action, feeling as though you've actually taken part in your favorite heroic stories, you can take home a piece of heroic treasure.
There are multiple stores in both Universal Orlando theme parks that offer a treasure trove of comic book and movie collectables. Sure, your neighborhood may have its own local comic book shop, and, if you search hard enough, you can certainly find some of these items online, but there is something to be said about the thrill of finding that one collectable you just have to have while in the middle of the most exciting vacation destination.
At Universal Studios Florida, you can find an impressive assortment of comic book and movie collectables at the gift shop attached to the exit of Terminator 2 3D. In fact, one could spend much time exploring all the comic book and movie geek goodness here, including a surprisingly ample collection of Star Wars items. There are a couple of pieces that catches everyone's eye, including the life-size Terminator endoskeleton statue on sale for $6,000, or a more portable, three-foot-high figure on sale for $650.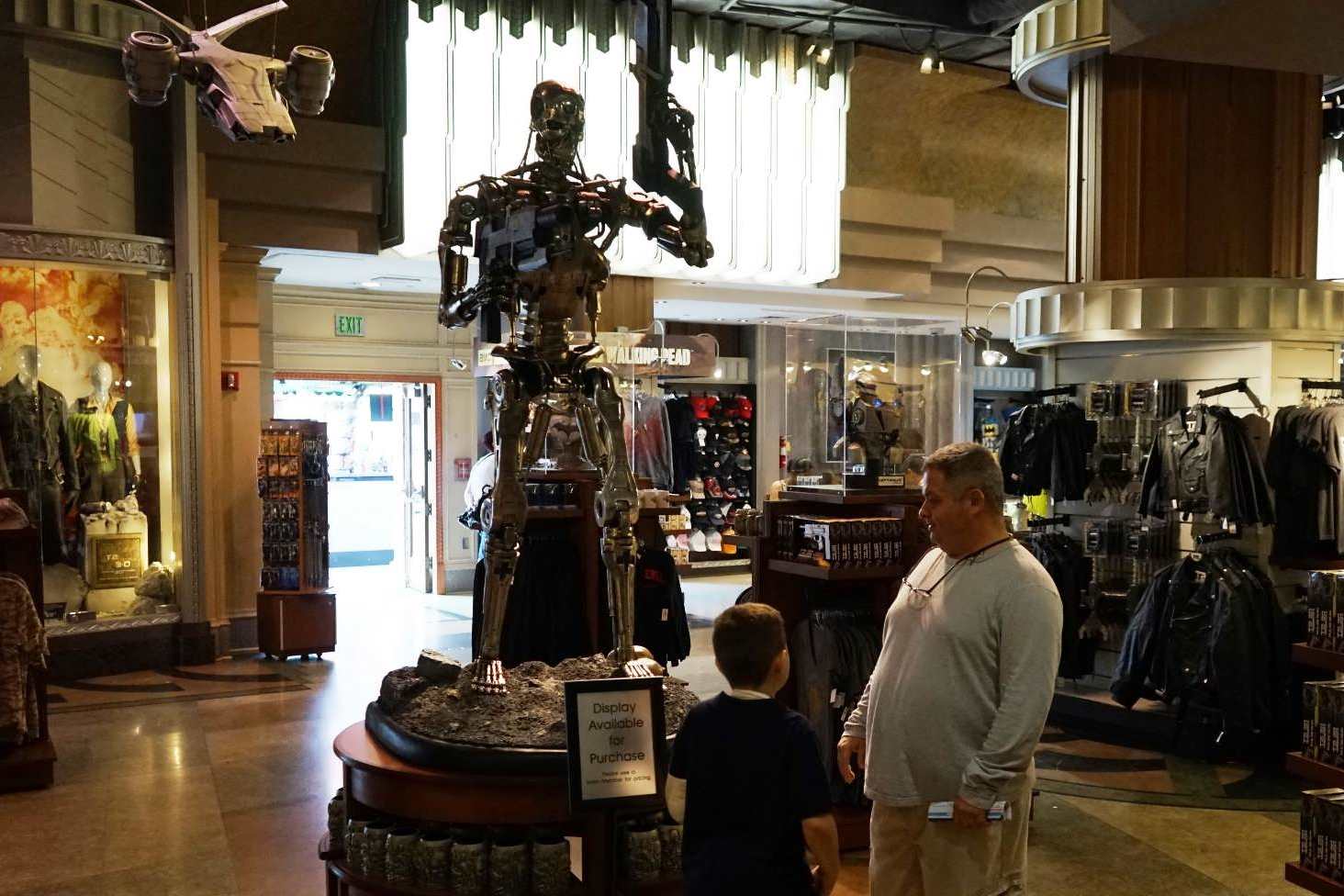 There are also a variety of other figures and busts, including just the Terminator's head for $1,000.
At the Supply Vault located at Transformers: The Ride 3D, you will find anything Transformers-related you can think of. From comic books to jewelry to Transformer busts that light up ($495) and figures, too.
Over at Island of Adventure, where else would you find a comic book heaven than in Marvel Super Hero Island? Besides a large selection of figures and comic books, towering above the comic book- and movie-related items are two life-size statues, one of Thor and the other of Captain America. Did you know these statues are for sale? Yes, they can be purchased for $6,000 each, plus tax and shipping, which brings them to about $7,200.
The wide variety of figures and smaller statues can be found from $100 to over $550. There are no discounts available on any collectables.
Honorable mention #1: T2 leather jacket
While not very practical for a Floridian like me, if a genuine leather jacket is suitable for where you live, consider this robust fashion statement.
This jet-black leather jacket is practically an exact replica of the style worn by Arnold Schwarzenegger as the Terminator in T2: Judgment Day. Available at the T2 3D gift shop, child size jackets are $84.95 and adult sizes are $154.95. The AP Discount can be applied.
Honorable mention #2: Egyptian props
After a hair-raising adventure on Revenge of the Mummy, take home your own piece of Egyptian treasure. There are a variety of large, impressive Egyptian props and decorations available for sale. Items include a vase as big as a person for $900, plus tax and shipping. Or you can really feel like royalty in the King's Throne for $2,000, plus tax and shipping.
There is a pretty astonishing amount of unique, high-quality merchandise that truly encapsulate the vacation of a lifetime. Memories may be priceless, but there is indeed something special about taking home your own piece of adventure.
What's your most expensive buy at a theme park? (And, yes, we do know that at least two of our readers have purchased the King's Throne.) Tell us below.
Top five ways to start and end your day
Planning a vacation to Orlando?
Want to skip all the work and just price out a vacation to Universal Orlando? We'll find the best deals for you – for free (seriously.) Learn more, or check out some of the current deals: