This week's list is five more "Hidden Mickeys" at Universal Orlando. (And by "Hidden Mickeys" I mean the little unknown secrets hidden throughout the parks… not the little three-circle symbol.) When you're done with this list, you can check out our previous list of Hidden Mickeys found at Universal.
#5 – Disney Mouse Ears at Twister: Ride it Out
There are many playful "jabs" at the Disney company throughout Islands of Adventure and Universal Studios Florida, from playful posters mocking Pirates of the Caribbean and The Jungle Cruise at The Simpsons Ride to the nice homage of old style Disney posters throughout the MIB: Alien Attack queue. However, at Twister… Ride it Out, guests can see a pair of Mickey ears that have been "run over" and are currently lodged in the tire of a jeep! This jeep can be found inside Aunt Meg's house during the attraction.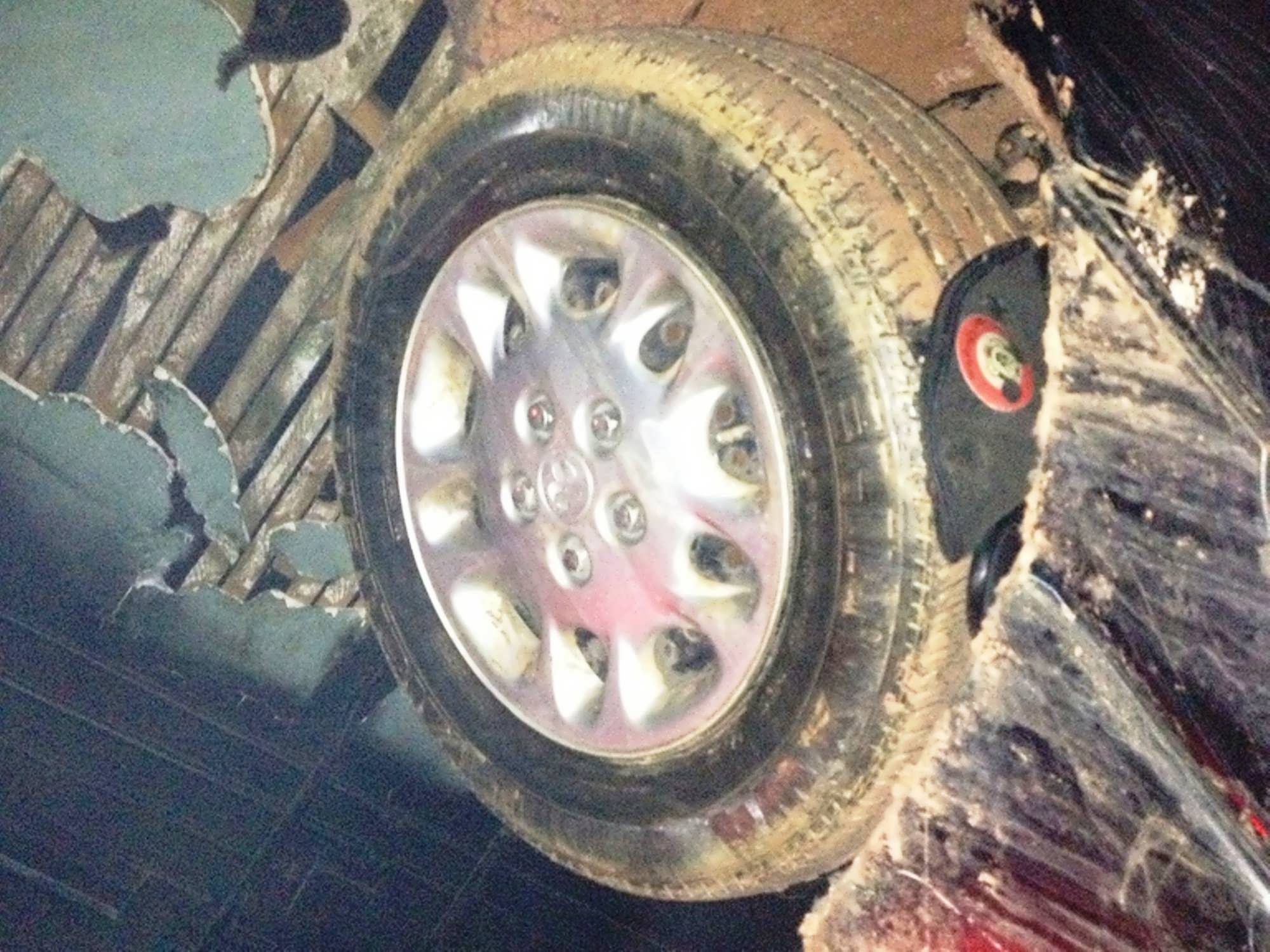 #4 – Matt Groening makes an appearance on The Simpsons Ride
We know about the Dr. Seuss reference in Seuss Landing, but The Simpsons Ride also contains a reference to their creator Matt Groening. In the pre-show area right before guests load on to the ride, a picture of Krusty the Clown and Matt Groening is hanging on the wall.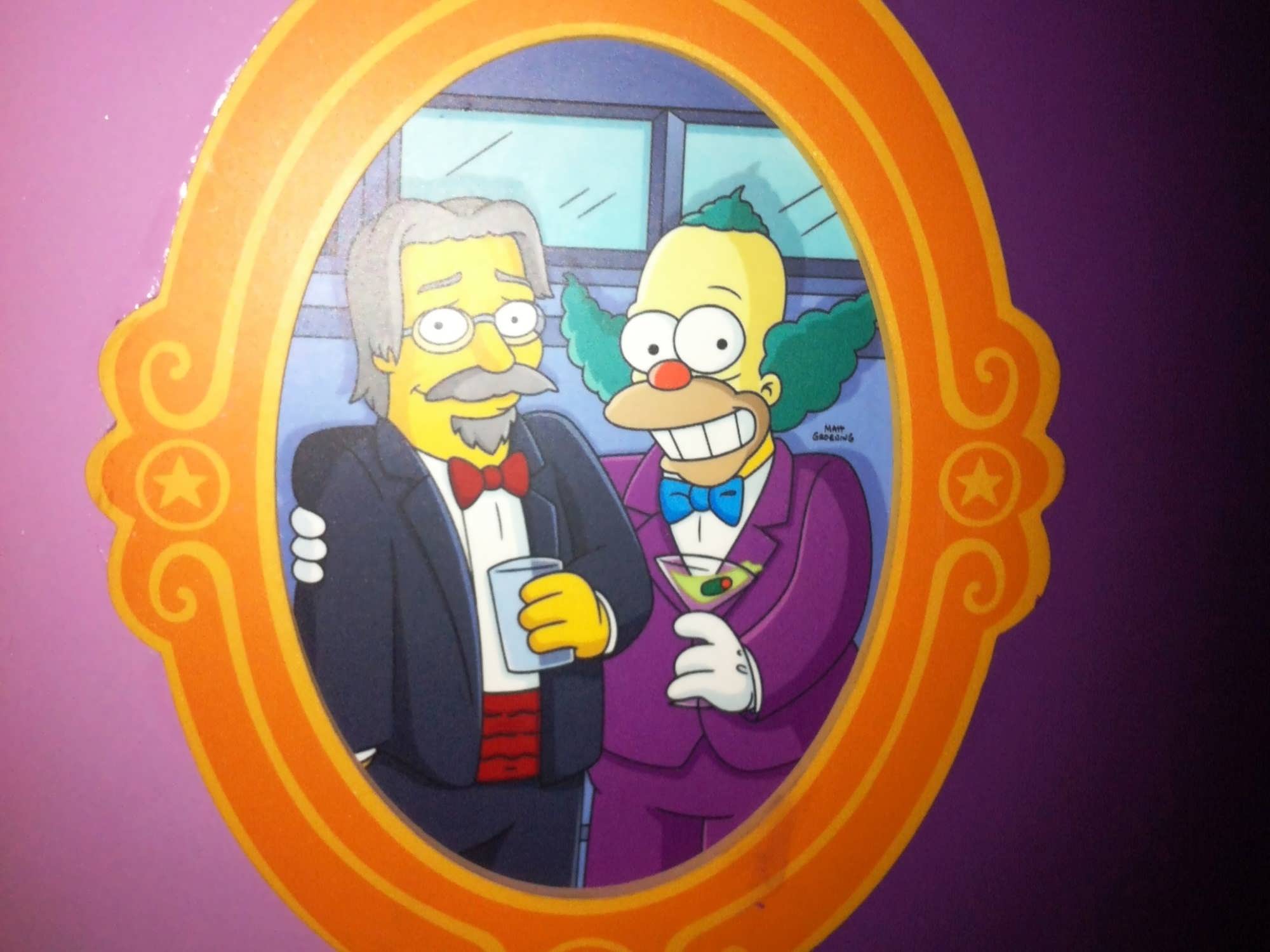 #3 – The artist of Marvel Super Hero Island hid his name throughout the island
There is a lot of larger than life artwork at Marvel Super Hero Island, making every guest feels as if they are walking straight into an action packed comic book. One artist did all of the drawings for these characters (including Spider-Man, MODOK, Professor X, The Incredible Hulk and others) and "hid" his name in all the art! The artist was Adam Kubert, and if you look very carefully (some are very hard to find) you will see the name "Adam" within the drawings.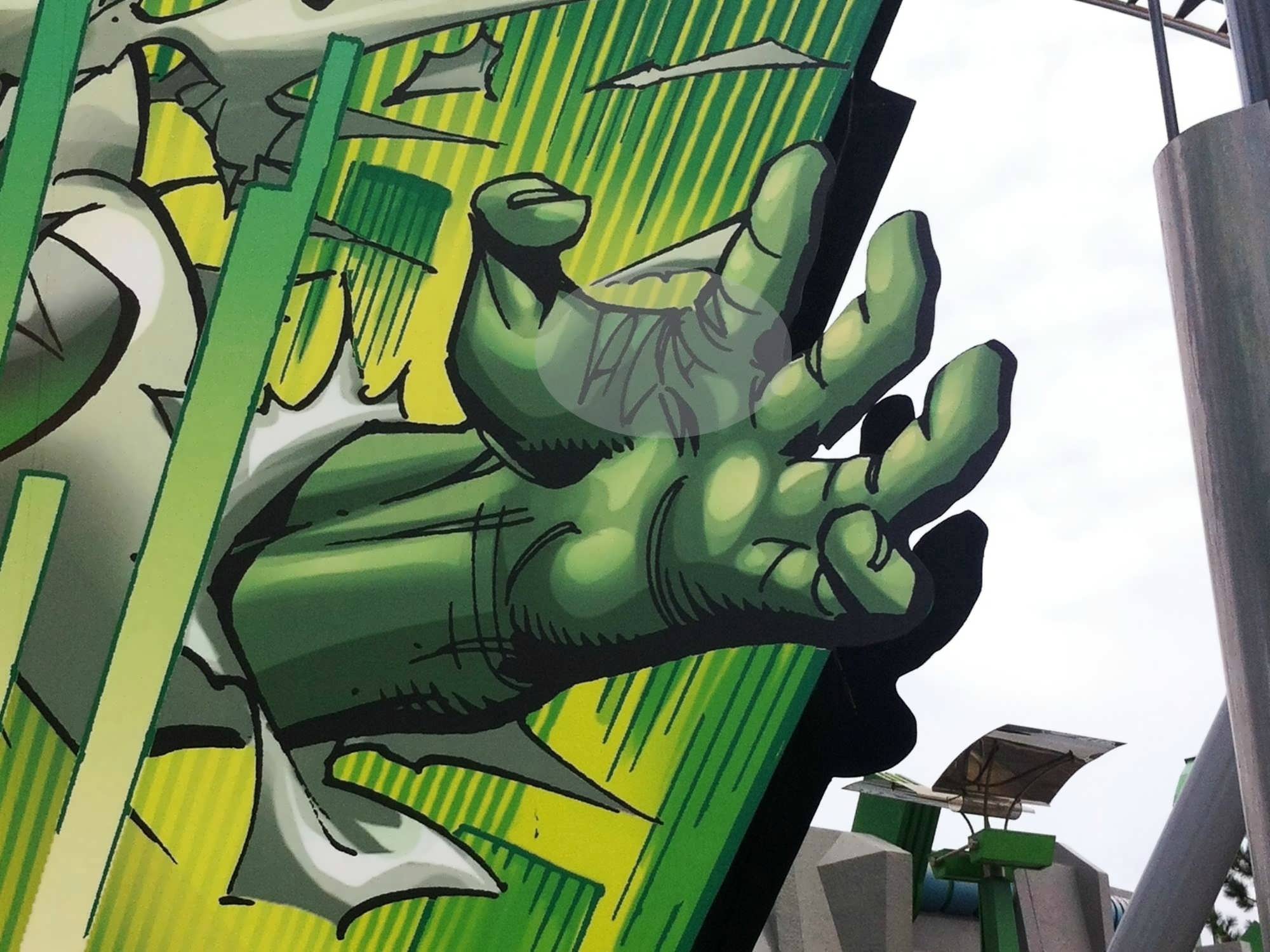 You definitely want to click on the image above to view it full-screen. To see more of Adam's signature, check out the photo gallery at the bottom of the page.
#2 – The Navigator's Club
Island of Adventure's Port of Entry is one of the most elaborately themed Main Street's you'll find in any theme park in the world. It expertly captures the essence of walking through another era of time in an exotic land. There are many little hidden details to look for while you are walking through, but one thing to look for is "The Navigator's Club." Located near Confisco Grille is a large gate with a rather neat looking logo for The Navigator's Club. This is one of those "hiding in plain site" type of deals.
That gate leads a set of stairs going up to a second floor (as well as an elevator). Upstairs you first encounter a sitting room, with a couch in a nicely themed room. There are doors that lead you to an inside room filled with tables (probably used for private parties or team member events) and another set of doors that lead you outside to a walkway giving a rather cool view of the park.
The jury is out as far as whether guests are allowed to venture up the stairs and into the club, so you might want to check with a team member before exploring. However, there are no signs anywhere warning that the area is off limits to guests.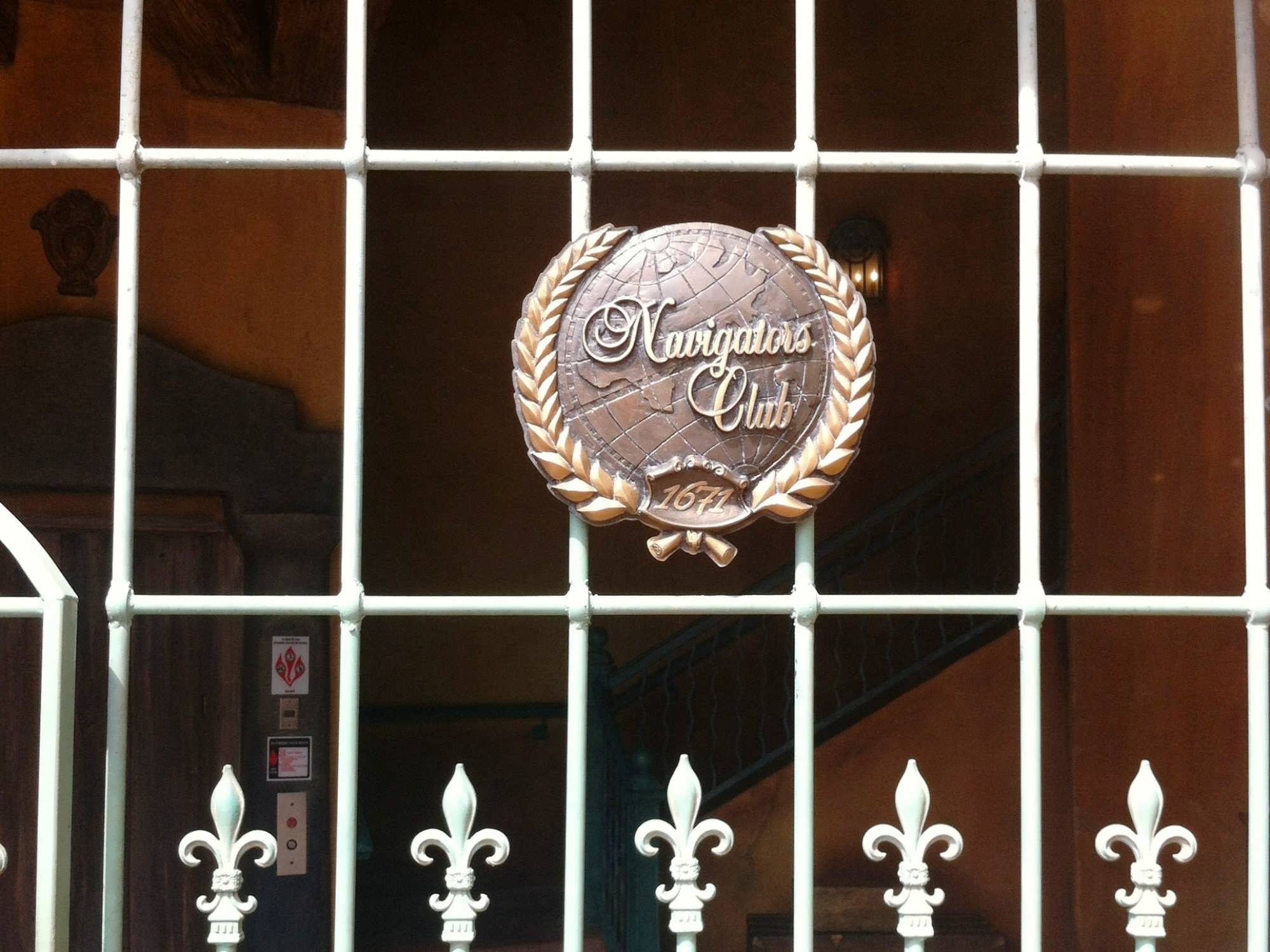 #1 – Confisco Grille ties in all of Universal's "Islands"
The backstory behind Confisco Grille is that it is a restaurant where "explorers, merchants, adventurers, and travellers from around the world" stopped by to try the exotic dishes. Those very same people passed through Port of Entry with "strange and unusual items" that were confiscated and put up for display. If you look carefully throughout the restaurant you will see items that represent all five Islands from the park's opening, plus one small item from the Wizarding World of Harry Potter.
These items include a gold coin with the face of the Kingpin from Marvel Super Hero Island, Rocky & Bullwinkle from Toon Lagoon, a gigantic prehistoric skull from Jurassic Park, a decorated urn from the Lost Continent, Cat in the Hat's Hat from Seuss Landing, and guests who look very hard just may find a wand from The Wizarding World of Harry Potter. There are so many items hidden throughout Confisco Grille that it is definitely one of the places a Universal fan needs to at least walk through.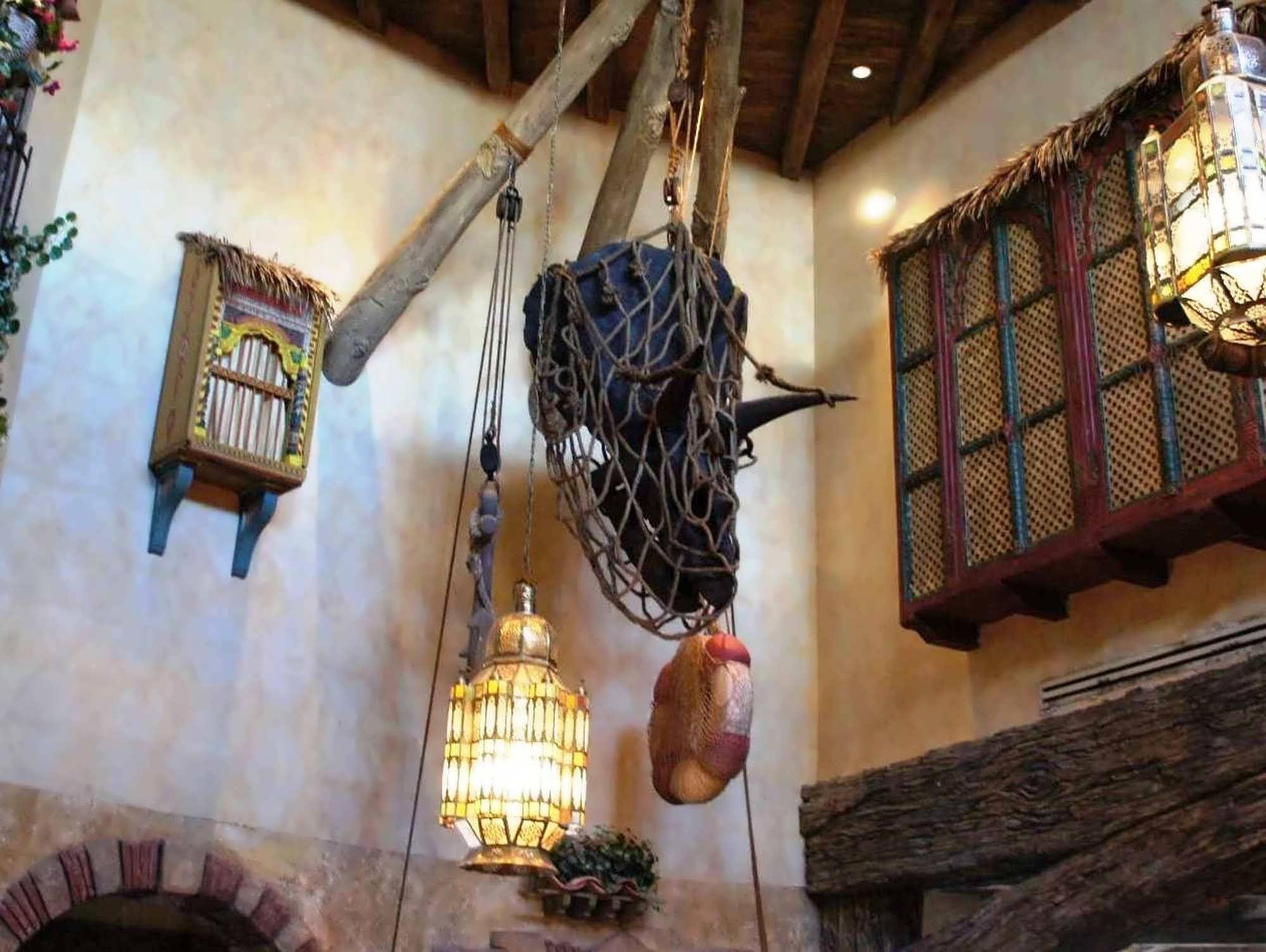 What's your favorite most obscure detail at Universal Orlando? Tell us all about it in the comments below.