Obviously there is a lot to do at Universal Orlando Resort. With two amazing parks, Citywalk, and four world-class hotels on site, there's so much to do it can be overwhelming to the senses.
If you're a frequent visitor like me, you start to notice those families rushing around from ride-to-ride desperately trying to squeeze in everything. Pulling small children behind them like rolling luggage, looking more determined than an angry T-Rex, and wheeling a baby stroller like EVAC plowing through a crowd of Decepticons.
They're so desperate to have the most fun they can, that they're not actually having fun.
Is your family like that on your vacation? Or perhaps the parks are just packed, you or your group isn't big on thrill rides, or it's a blazingly hot summer day in Florida… with an average summer temperature of 110 degrees… in the shade.
You may need to take a moment to enjoy the experience, slow down, and be in the moment: to stop and smell the raptors.
Universal Orlando is more than just thrill rides, so this guide will help you explore the other options available: fun photo experiences and character interactions, restaurants with more to offer than just food, expressing yourself with karaoke or hair braids or face painting, and also the opportunity for pool hopping.
1. CHARACTERS ARE UNIVERSAL
Whether its dedicated photo spots, character meet and greets, or interacting with cast members, Universal Orlando delivers an amazing level of interaction.
Raptor Encounter
This new Jurassic meet and greet has to be experienced to be believed. Videos and photos you may have seen on the internet don't do it justice. And it's very safe, or so I've been told.
The Raptor Guides tell me the same amount of people enter the encounter as exit. Give or take one or two, so this may be a great experience to bring your "favorite" mother-in-law along!
This is about as close to Jurassic Park or Jurassic World as you can get. Waiting there by the raptor paddock and seeing and hearing those clever girls, Ethyl or Lucy, approach the fence, well that's enough to get your heartbeat going just as much as waiting in line for one of the big coasters.
We were lucky enough that Ethel took a liking to my 8 year old son and actually let him pet her, which is an experience he is still talking about.
Transformers Meet and Greet
Right outside Transformers: The Ride 3D is a meet and greet with some of your favorite Transformers. The first thing you may notice is they are BIG, and so are their personalities.
They don't just pose with you for a photo, they interact with you… Bumblebee is an awesome dancer, Optimus Prime is suitably gallant, and Megatron is one big jerk. Seriously, I would totally punch him in the transistors if I had a large step ladder and wasn't afraid of 8 foot tall angry robots.
Learn more about Characters at Universal's theme parks.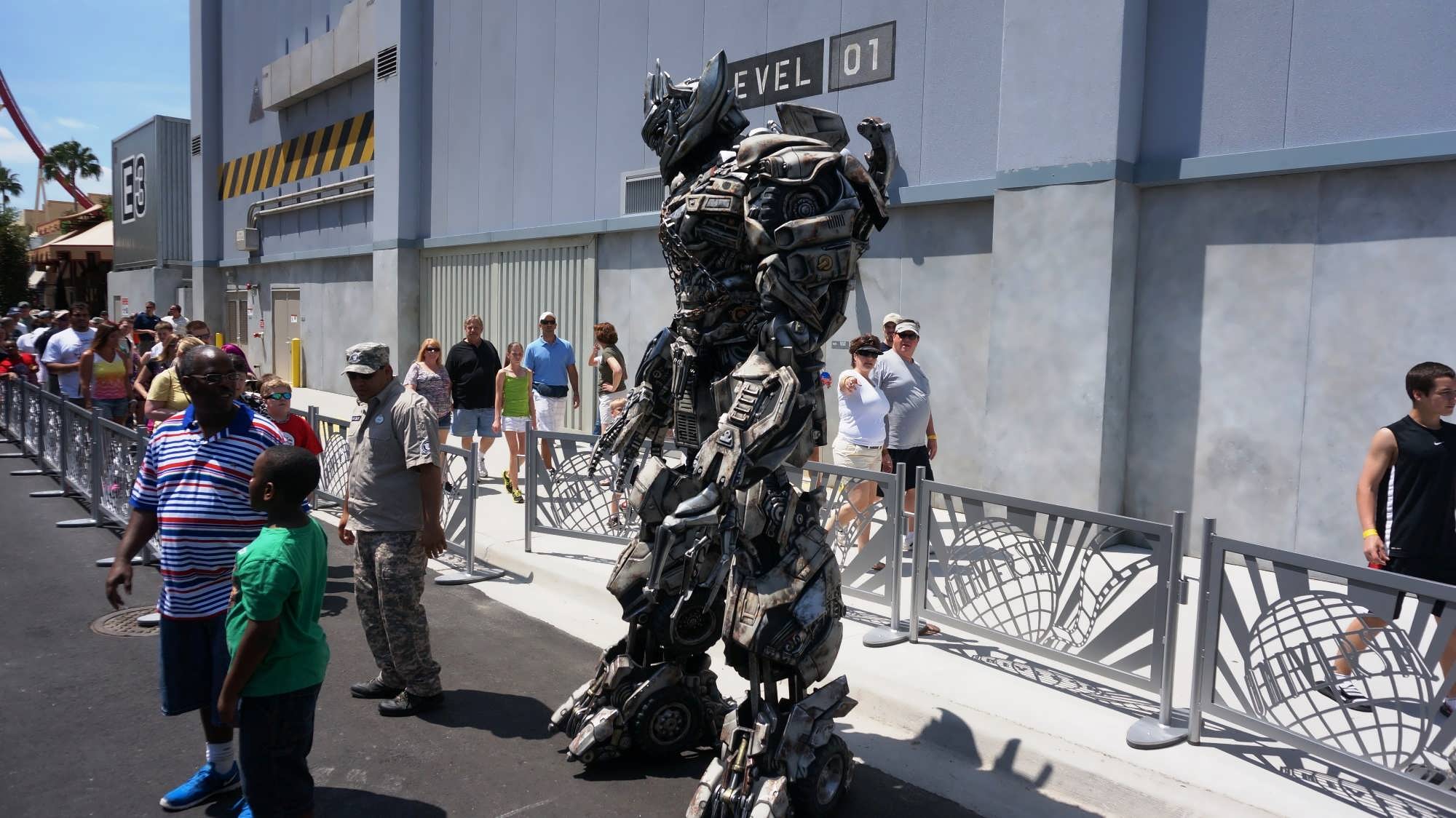 Wizarding World of Harry Potter
In Diagon Alley, you can check out the Gringotts Money Exchange, where you can not only exchange your real money for pretend money (kind of like the stock market!) but interact with an official Gringotts Bank Goblin, with some entertaining results.
But beyond that in both Wizarding Worlds there is a grand opportunity to have fun if you take the time to talk to the team member witches and wizards, who do a great job of setting a magical mood.
Water Taxi Skippers
For those of you who recall the halcyon days of riding up front on the monorail over at the House of Mouse, there is a Universal equivalent for you to enjoy. Sit up on the front bench of the water taxi, in front of the skipper.
You'll catch a great breeze through the open front window, enjoy the relaxing views, and you can have a nice chat with your skipper.
All the skippers we've talked to in our travels have some great and often funny stories, about themselves and the Universal resort in general. They've also provided us with some great tips for our day.
2. GREAT FOOD, GREAT TIMES
Jimmy Buffett's Margaritaville
This Citywalk original is a great place to duck out of the heat, and enjoy the cold A/C, and even colder LandShark Lager!
There's more to do than just eat here (though I think the Cheeseburger in Paradise is one of the best burgers on property), with a giant burping volcano, live broadcast booth for Radio Margaritaville on Sirius XM Satellite (What's up Carson!), and enough Parrothead paraphernalia to stretch from Orlando to Key West.
And at dinner, enjoy a serious party atmosphere, with stilt-walking balloon artists and occasional live music.
Antojitos
A newer fixture at Citywalk with Tequila-ologists ready to mix up something good for you.
In the evenings, there is a live mariachi band that performs classic Mexican folk music as well as modern pop songs with mariachi flair (you'll never hear "Wrecking Ball" quite the same way again). Some nights there are also talented artists who will provide free, hand-painted masks.
Wizarding World of Harry Potter Restaurants
Whether it's the Leaky Cauldron or The Three Broomsticks, even muggles can sit a spell (drum roll and rim shot) and soak up the amazing atmosphere inside these eateries. Don't forget The Hog's Head, where you can grab a drink, whether regular or alcoholic. It's dark, cold, and often a less crowded option for Butterbeer!
3. EXPRESS YOURSELF
There are quite a few options to personalize yourself, one of your little Minions, or someone you love on your vacation!
Both parks and Citywalk feature kiosks where you can get a hair braid, your face painted, a temporary tattoo, or if you're feeling particularly inspired by all the bravery at Super Hero Island get yourself more permanently inked at Hart and Huntington Tattoo Company.
Other kiosks provide custom leather gear (bracelets, key chains, etc.) tailored to your name or nickname.
Finally, another great option is to belt out your favorite song while backed up by a live band and backup singers at Citywalk's Rising Star Karaoke.
4. STAY COOL IN THE POOL
Another great benefit to staying on-site at Universal Orlando Resorts is that pool hopping is actively encouraged!
We like to hit the parks until lunch, grab a bite to eat at Citywalk, and then head back to our hotel pool during the hottest and usually most crowded time of day in the parks (11am-4pm). Once we're cooled off, we head back out for dinner and a more comfortable night at the parks.
Each resort pool has a distinctive theming element, an awesome water slide, a live DJ, and cast members playing fun games with the kids.
Often times during the hottest days of summer the hotels provide free snow cones, Italian ice, frozen grapes, or other treats.
To experience all this and more without the hassle of booking it all yourself, don't forget to utilize the experts at Orlando Informer Travel.
How do you take time to "stop and smell the raptors" on your vacation? Let us know in the comments below.
Planning a vacation to Orlando?
Want to skip all the work and just price out a vacation to Universal Orlando? We'll find the best deals for you – for free (seriously.) Learn more, or check out some of the current deals:
– Wizarding World of Harry Potter Vacation Packages
– 2-Park Getaway at Universal Orlando