Late last night (Orlando time, that is), a special ground-breaking ceremony was being held over at Universal Studios Japan. There, Mark Woodbury, the president of Universal Creative, and Shigeru Miyamoto, the representative director of Nintendo (as well as the creator of Super Mario Bros., The Legend of Zelda, and many other timeless videogame properties), took to a small-but-special stage to give us some of our very first concrete information regarding Super Nintendo World, the new themed land that will arrive in Osaka in 2020 and will then make its way to Universal Orlando Resort and Universal Studios Hollywood sometime thereafter.
Since then, we've received some official translations of the event, as well as having some time to catch our breath (and, y'know, get some sleep) and let everything soak in. We've already broken down much of the late-night revelations, including a careful analysis of a Nintendo World concept video that was issued yesterday, but there's still so much more to unpack – especially now that we have the benefit of being able to do so in English.
Upon this closer reflection, here are four more revelations that we've managed to uncover.
1. Some basic info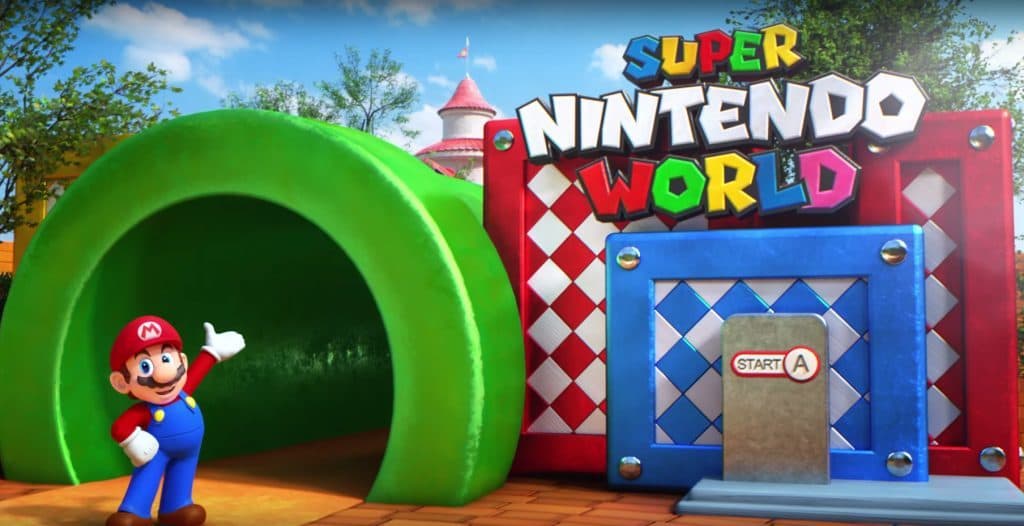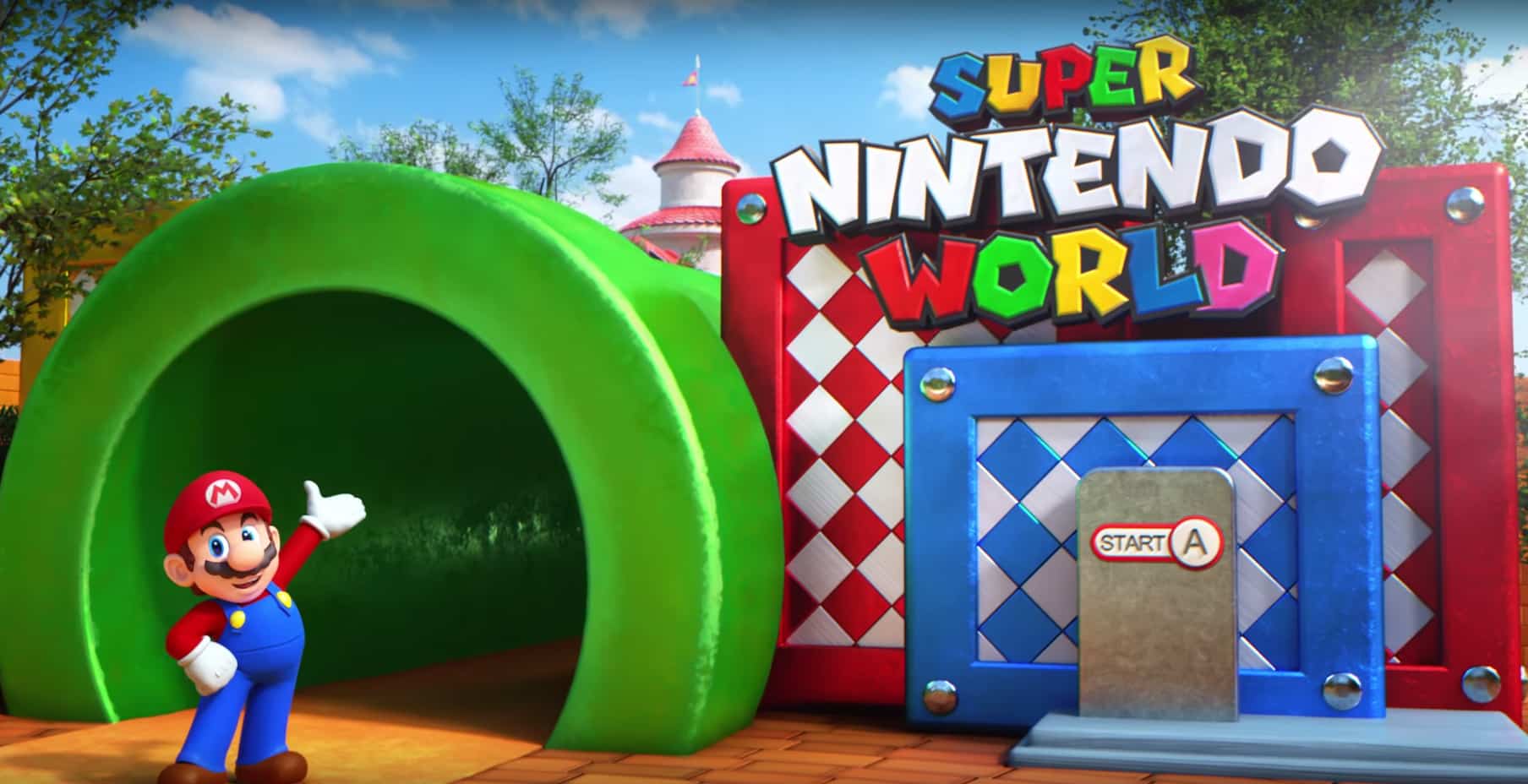 Lost in all the glitter and flash of the event – it's hard to not be distracted by grown men dressed in Mario hats and white gloves pretending to hit a question-mark block, after all – are some of the more-basic-but-nonetheless-vital tidbits that help flesh out Super Nintendo World all the more.
So, here we go – official confirmations of info that we had previously suspected about the project. The new land will cost some $544 million to build, and it'll open before July 24, 2020, when the XXXII Olympic Summer Games will be held in Tokyo. Just to put this in some perspective, common consensus holds that Universal spent $260 million developing The Wizarding World of Harry Potter – Hogsmeade back in 2010, with its follow-up, Diagon Alley, costing roughly $450 million four years later. (Disney, meanwhile, which is [in]famous for having its Imagineering department go well over budget and schedule, is said to have spent upwards of $800 million on the recently-opened Pandora: The World of Avatar.) Considering that the Universal Orlando version is most likely going to be even larger than its Osaka counterpart, we can easily expect to see that figure shoot upwards.
Now, let's tackle that opening date. Obviously, Universal likes to open its attractions as early in the summer travel season as possible, in order to attract as many visitors as it can during one of the most lucrative periods of the entire year – the latest trend in Florida even has its rides debut in April, like we've seen with Race through New York Starring Jimmy Fallon this year and we're more than likely going to see with Fast & Furious: Supercharged next year. But theme park lands can be a different story, as they're just a tad more involved than a single ride; Universal Studios Japan's version of Hogsmeade officially welcomed its first guests on July 15, while Diagon Alley opened on July 8 (both in 2014, in case you're curious). Although not preferable, especially given the close proximity to the Olympics, we wouldn't be surprised to see Super Nintendo World ultimately bow in the same time frame (especially considering all the technical difficulties Volcano Bay has been having with its earlier-than-usual May opening).
2. Mario Kart Experience
It's been suspected for quite some time, thanks to some vague pronouncements from Universal as well as some trademark filings that have popped up, that the venerable, 25-year-old Mario Kart series would be the star attraction in the new land. Universal and Nintendo made that official last night, of course, but the added English translations have shed a bit more light on this particular part of the announcement.
For starters, it seems as if the official name that the two companies have given the ride is Mario Kart Experience – at least, for right now. Such words as "unique," "complete," and "immersive" were repeatedly bandied about, as well as the promise that the attraction would be "unlike any the world has ever seen." Oh, yeah – we should expect to see it use "cutting-edge technology," to boot.
While this essentially boils down to the standard marketing hyperbole that Universal and Disney like to employ when hyping up their brand-new offerings – remember how Harry Potter and the Escape from Gringotts is a "multi-dimensional, multi-sensory thrill ride"? – it nonetheless should get us all excited for the final product; Gringotts is a wonderfully immersive experience, after all, and there's absolutely no reason to think that Mario Kart won't also live up to that pedigree.
3. A multi-leveled land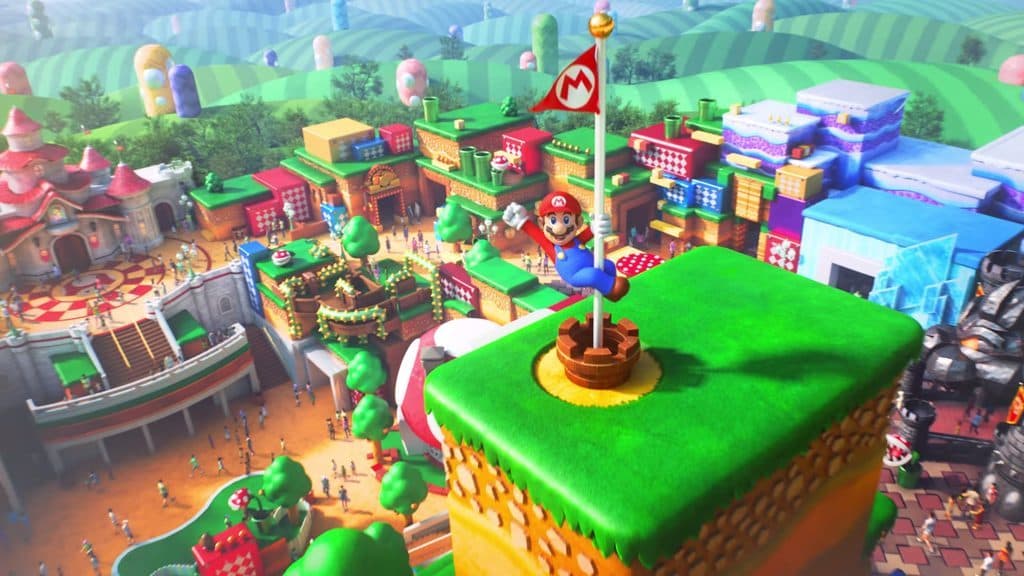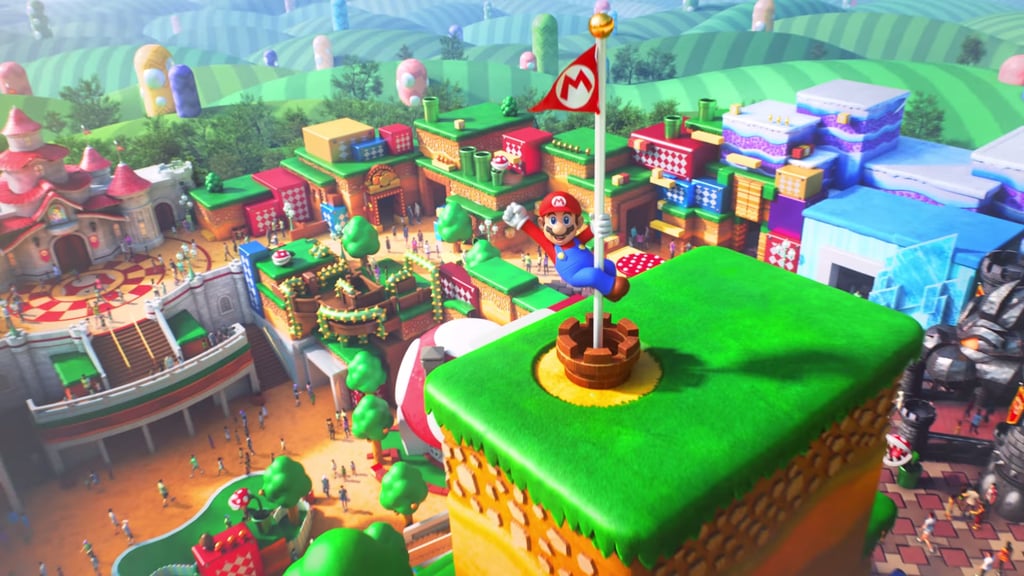 The teaser video released yesterday reveals this, and the top executives' words highlighted it: Super Nintendo World will have a tremendous scale of verticality built into it, most likely to a degree that has never before been seen in a theme park land. And while the tall castles (both Princess Peach's and Bowser's) and the towering mountain would seem to sell this feature all by themselves, the biggest manifestation of it is actually the fact that guests will move between at least two different levels while walking about the area.
What seems to be the ground floor – where the entrance's green warp pipe lets out – is completely surrounded by steps, platforms, and ledges, where much of the land's atmospherics (rotating coins, menacing Piranha Plants, moving cloud platforms) will be situated. On a second story will be the two castles, along with what looks to be a whole bevy of shops and restaurants that helps to connect them.
It's no surprise that both companies want to emphasize this vertical fact, as it should go a long way to making Nintendo World feel unique in all the various theme parks spread across the entire globe. It also serves to best emulate the Super Mario Bros. series's penchant of having levels or worlds that climb skyward – as well as hiding the attractions' show buildings and other behind-the-scenes infrastructure. That's not a shabby three-fer at all.
4. A bigger clue as to the layout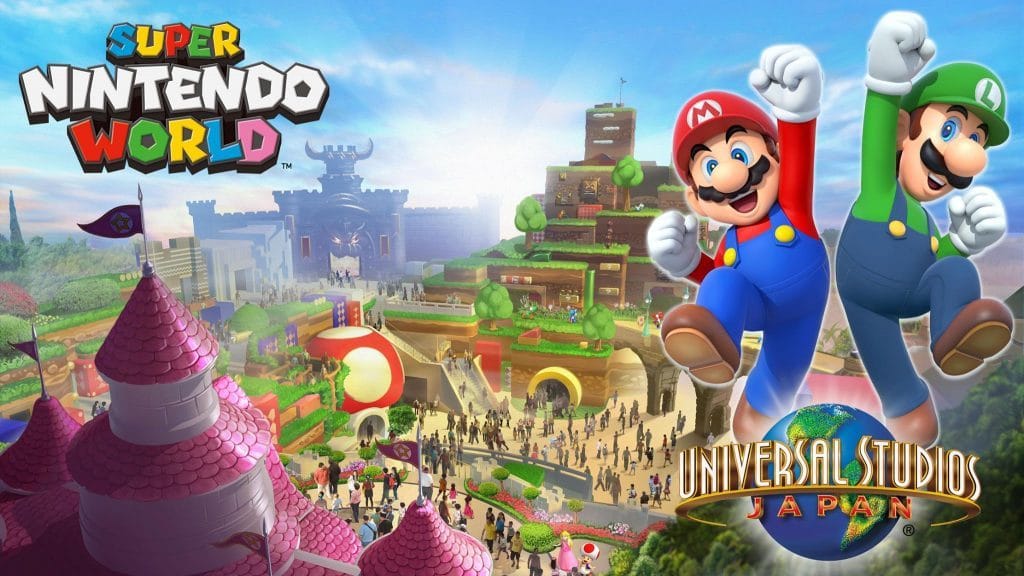 Let's stick with that last, pulled-out shot of Universal's Mushroom Kingdom as depicted in yesterday's teaser and dwell some more on its details, shall we? A close examination reveals that there is some type of ice area off to the right, next to King Koopa's fortress; if the castle is, indeed, the façade of the Mario Kart ride (not an unreasonable guess, given that it seems to be lifted directly from the Mario Kart games), then maybe this icy building next-door could be its gift shop and exit, much like how Wiseacres Wizarding Equipment functions for Harry Potter and the Escape from Gringotts. Or, alternatively, it could house an eatery, since Universal was very keen yesterday to remind us that retail and dining will be important parts of this new expansion (much as they have been for the Wizarding World and Springfield, USA).
There are, of course, many more doors located all along this second floor, and since nearly every single one of them is unmarked (and some lead into pretty nondescript structures, such as the one in the background immediately to the right of Mario's hand in the picture up above), it's essentially impossible to distinguish what they might lead into. But there's been plenty of establishments that Mario and his merry gang have frequented over the decades, whether they be the traditional stores of the Paper Mario RPG franchise or the Toad houses in the classic NES Super Mario games (which also look to be included, if the concept art and video are anything to go by), and it's easy to see Universal and Nintendo drawing from any or all of them to flesh out the moneymaking opportunities of their new area.
One last note: many readers have been asking about the rumored Donkey Kong ride that is also said to be part of Super Nintendo World. If it is, indeed, coming, there are two possibilities for its placement, starting with the scenario that Universal will keep it within the thematic purview of the Mushroom Kingdom – not a stretch at all, given that Mario got his start in the original Kong title, and that the two have consistently co-existed in various series since, such as Mario Party, Super Smash Bros., and Mario Kart. If this is the case, then any of those mysterious black doorways could lead to the possible mine cart roller coaster.
Secondly, however, Nintendo could mandate that it be kept in its own, separately-themed sub-section; if so, then the mysterious area beyond the arches in the concept artwork that has been conveniently whited out would be the most likely candidate (a view which, incidentally, is completely cut out of the teaser).
With construction now officially underway in Japan, it's only a matter of time before we find out for sure.
–
Universal Studios Florida's Super Nintendo World is expected to replace Woody Woodpecker's KidZone. Learn even more about the expansion in our complete guide.
For continuing coverage of Universal Orlando's newest expansion, be sure to follow Orlando Informer on Facebook, Twitter, and Instagram.