It is no secret that Stranger Things, the hit Netflix original series, has been the flagship haunted house at this year's Halloween Horror Nights – not only has it dominated the annual event's social-media and press coverage, it's also attained a place of prominence amongst its food and drink lineup and, of course, has garnered the biggest wait times, with a three-hour(!) line not uncommon to see on weekend nights.
It took a lot of love, attention to detail, and, it turns out, fanboy obsession in order to craft a haunt experience that could live up to this hype, and we here at Orlando Informer got the chance to pick the brains of two of the maze's senior designers to get the inside scoop on this process: Patrick Braillard, Creative Development Show Director, and David Hughes, Scenic Manager of Creative Development. The glimpses they provided into HHN development show not only how Stranger Things could turn out so well, but also how all of this year's houses have been nothing short of stellar.
1. The Stranger Things house broke new ground for Netflix
Netflix is, obviously, a rather large entertainment company now, investing some $8 billion in original programming this year alone – that makes it the biggest spender in Hollywood, and by a considerably large margin. But even though the streamer now has some 700 original television shows and countless original films – just in the month of September 2018, 52 original pieces of content were uploaded to the platform – it had never before managed to do one thing: have any one of these in-house intellectual properties be realized in the realm of live entertainment.
Horror Nights, then, proved to be brand-new ground for the company, and one can't help but get the impression that Universal's Art and Design team, the masterminds of the annual event, wanted to make sure this first foray into the medium was nothing but stellar – they wanted the bar to be set very high, Braillard and Hughes said, to become the standard for all future Netflix forays. It seems like they have succeeded (reaffirming our belief that Stranger Things would be perfect for HHN).
(Another interesting facet of the Netflix-Universal relationship presented itself in the speed of communication between the two entities. Contrary to all outward appearances, perhaps, the streaming service is actually a rather small company, at least in terms of personnel; as such, when Art and Design had a question, needed an approval, or could use direct source material, all responses arrived rather swiftly, allowing Braillard, Hughes, and the rest of their team the opportunity to avoid that most dreaded of all roadblocks in the design process: delays. Even if a particular element was rejected, Universal's principals were able to go back to the drawing board and redesign it in a remarkably short period of time.)
2. The cast of scareactors was a more-or-less last-minute addition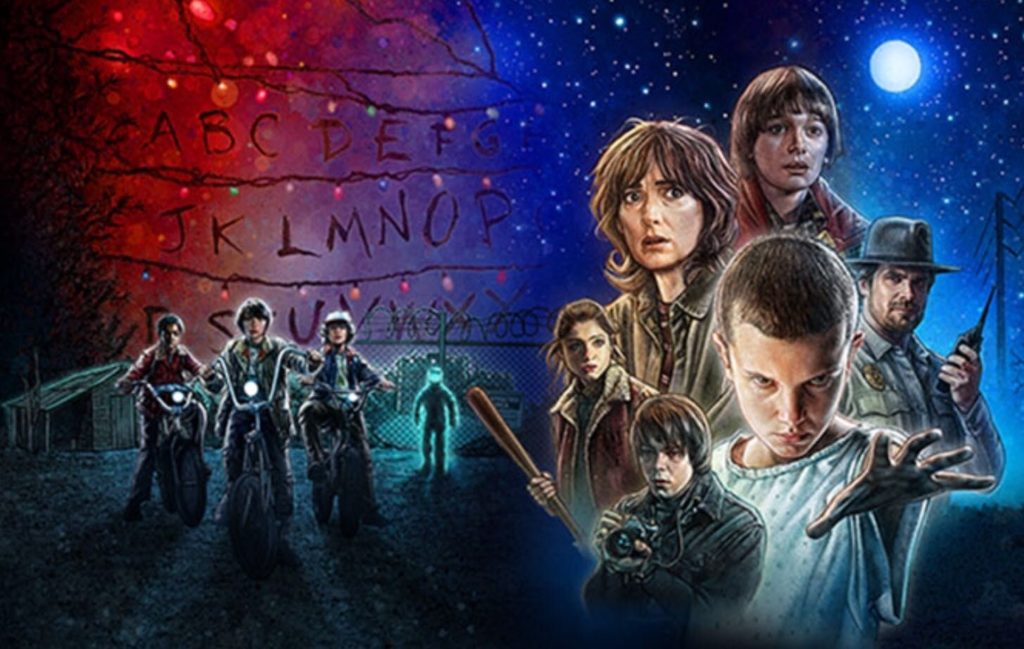 One of the consistently-praised elements of the Stranger Things haunted house has been its cast of scareactors, all of whom look incredibly similar to their on-screen counterparts. Being able to find individuals to fit the roles took a great deal of effort and ended up being a rather time-intensive process, not fully concluding until late in the development cycle of the maze (this is a great example, David and Patrick said, of the fluidity of horror design). Art and Design wasn't certain whether they'd be able to find an actor for each of the various parts, from the five kids to their older siblings and the adults (such as Police Chief Jim Hopper), and in order for them to do so, they ended up having to hire an actress from Washington state – she was such a fan of the show and so excited to portray Eleven, she made the move to Orlando.
But even before all the characters could be cast, there was the challenge of having to decide whether to use them in the first place. Universal and Netflix went back and forth over their inclusion and their role in the haunt, with both parties finally agreeing that they were a necessary part of the experience – if the ultimate goal were to make guests feel as if they were actually in the television series, the protagonists needed to be present. There was one key stipulation, however: they absolutely couldn't scare attendees directly (otherwise, it would contradict their roles in the story and, furthermore, their very characters).
And here's a fun fact: once all of the actors were finally on hand, the designers had to rework the overall placement of the house's entire cast, most especially where the fleet of Demogorgons would be placed – if, say, Will Byers or Nancy Wheeler were present in a room, that means other scareactors would have to find a new alcove to hide out in until they jump out at the passing guests.
3. Stranger Things is one of the most unique houses Universal has ever done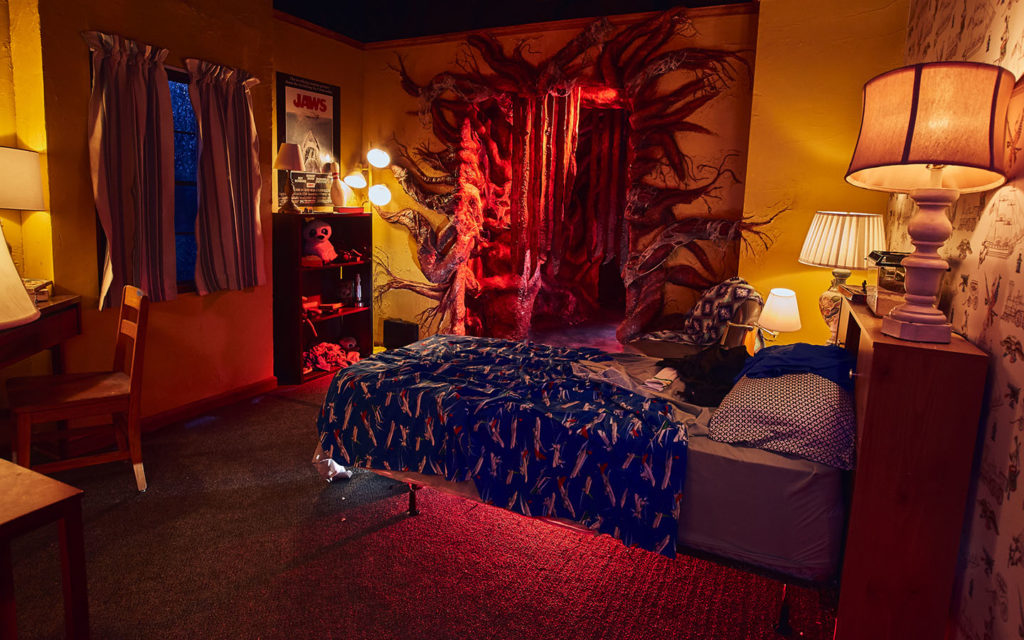 The amount of detail brought to bear on Universal's Stranger Things experience is, arguably, unprecedented in Halloween Horror Nights's 27-year history. And it is this drive to get it right – fueled largely by an adoration for the TV show among the design team, such as that uber-dedicated Eleven scareactor – that has resulted in the maze being more or less the most unique house Art and Design has ever created.
There are, as such, a number of little touches that may go unnoticed by guests in their flight from the Demogorgons in the dark, but which the designers clearly spent a great deal of time to get right. In Will's bedroom, for example, an impressive number of the character's sketches from the show are present – each one hand-drawn by set designer Dylan Kollath, painstakingly rendered in order to perfectly match the reference photos from the Stranger Things set that Netflix had sent over.
And then there are the freezer panels, those hanging swaths of plastic that are most commonly used in, well, freezers, in order to keep the cold air in and the warm air out. In the haunted-house setting, these devices are utilized to keep light from the next room from bleeding in, or to prevent guests from getting a sneak peek of what's ahead. For Stranger Things, the designers opted to do something they had rarely, if ever, done before: put texture on these curtains instead of having them be the standard black, slick panels, in order to have them fit the funky alternate reality of the Upside Down and to help put guests in a different mindspace, as well, even if subconsciously. "People know they're in a haunted house," Braillard and Hughes told us, "but you want to keep them in the show as much as possible."
Finally, just to underscore how different this maze is from all the others that Universal's Art and Design team has pumped out over the years, when we asked if any part of Stranger Things reminded the two designers of any other haunt they've worked on before, both were at a loss to find anything remotely comparable – besides the fact that the house exists in a room with four walls inside one of Universal Studios Florida's soundstages. They were surprised by their answer, and, frankly, so were we.
4. The biggest challenge in designing the house was…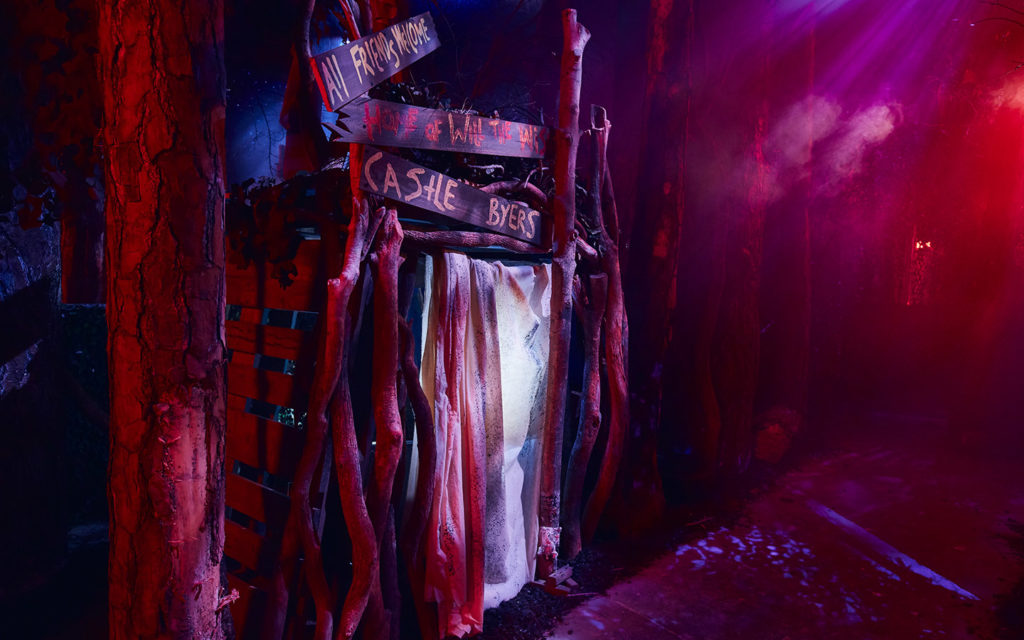 Given the team's stated design goal of realizing the story of Stranger Things's first season in haunt form as much as was humanly possible, right down to that ultra-detailed set dressing, we asked David and Patrick what the greatest challenge was in bringing these various environments to life.
Their answer: the challenge wasn't in recreating a scene – it was in recreating the show's atmosphere.
To try and accomplish this daunting task, they employed lots of different strategies. The fact that guests start off reliving the first season premiere's teaser, which then leads to a room that doubles as the show's opening credits – a dark room with the Stranger Things logo emblazoned on a wall and that now-legendary music pumping in the background – was meant to be a literal adaptation of episodic structure, of course, but also to get even non-fans into the mood, to give them a taste of what they had been missing on Netflix. (It also doesn't hurt that it's a type of psych-out, telling people that the first scares they just encountered weren't actually in the house proper and, thus, not part of the "official" horror experience.)
And some of the immaculately-themed scenes, such as the absolutely mammoth, two-story Hawkins National Laboratory, were employed to not deliver scares but to create tension; it's a bit of a lull in the horror, meant to relax guests' fight-or-flight response but to simultaneously amp up their overall anxiousness. Haunted houses, the two designers told us, are like roller coasters – you need to have the quieter sections as well as the full-out hills and inversions, since individuals otherwise get numbed to the flood of sensations that's bombarding them.
(But all of this isn't to say that some scenes didn't provide their own sets of challenges – outdoor sections, for example, are always difficult for Art and Design to tackle, since they obviously have to try and make an indoor space look and feel and smell like it's outdoors, under the open sky. In Stranger Things's case, these were the stretches in the woods, and Patrick and David pulled them off by a judicious use of mirrors, to make the presence of trees look like it's much more than what it really is.)
–
Now that you know the full behind-the-scenes story of how Stranger Things was brought to life, let us also give you the inside scoop on how to experience it for yourself with a minimal amount of time in line. See our touring plan for all that.
And then be sure to compare your reactions to all things HHN with 50,000 other theme-park fans' in our Universal Community Facebook group. Also follow Orlando Informer on Facebook, Twitter, and Instagram for the latest news and tips at Universal Orlando, Walt Disney World, and other Orlando destinations.