January is renowned for being the slowest month of the year in practically every profession known to man (well, save for politics – especially in a presidential election year! – but that's a subject best saved for trying to sneak into the Orlando Informer Podcast). Still, that hasn't stopped this past month at Universal Orlando Resort from crackling with an extra layer of potentiality; maybe it's because 2016 looks to be so massive, or maybe it's because the now-annual Celebration of Harry Potter kicks off today. Either way, prepare for some extra-special smaller developments.
Which we're going to dive into right now.
4. Party people
In case you didn't know, Mardi Gras is kinda a big thing at Universal Studios Florida – so big, in fact, that Universal makes it last not just one big, extended weekend, but one big, extended two-month period (from February 6 to April 16).
While the parade is fun and the Cajun food is tasty, it's the free, big-name concerts that most guests have come to know and love as the heart of the Louisianan celebration. Earlier this month, Universal gave all these party-goers an early blast of cheer by posting who's going to be showing up at the bash this year: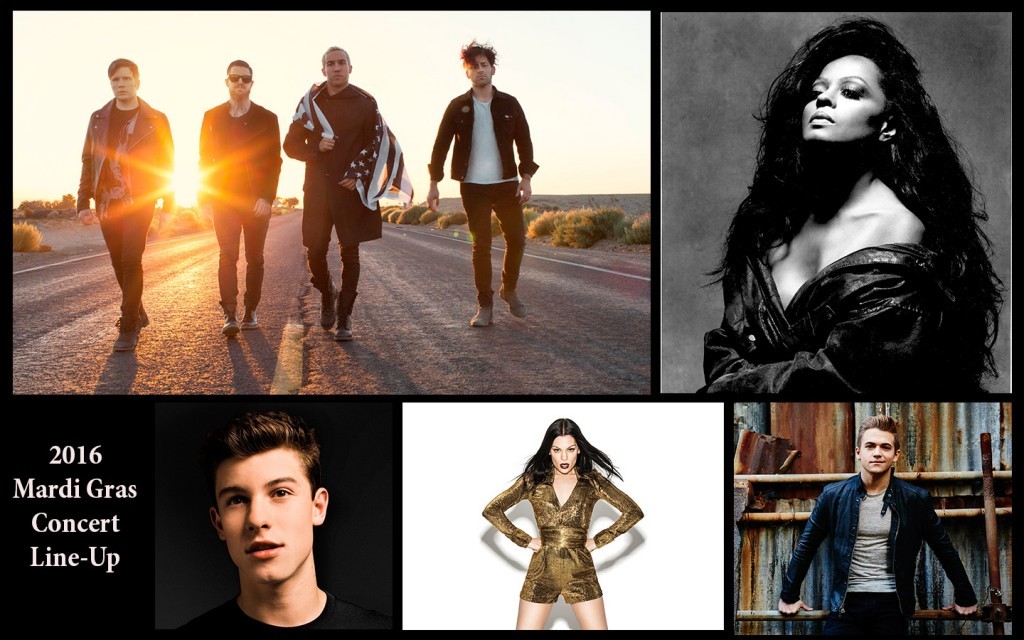 Image © Universal
February 6: Hunter Hayes
February 13: Diana Ross
February 14: Barenaked Ladies
February 20: Nate Ruess
February 27: Fall Out Boy
March 5: Kool and the Gang</li>
March 12: The Fray
March 13: Adam Lambert
March 19: Shawn Mendes
March 20: 3 Doors Down
March 26: REO Speedwagon
April 2: T-Pain
April 9: Jessie J
April 16: Yandel
That's quite the lineup. Make sure you get the most out of your time there with our complete guide to Mardi Gras 2016, including the pre-party proceedings (extra music, extra drinks, extra street performers) and the answer to that all-important question: how do I get to be in the parade?
3. Hulk rises from the ashes
One of the most eagerly anticipated developments of 2016 turns out to be something of an irony, given that (a) it's an old favorite and (b) very little is known about its next iteration.
We're talking about The Incredible Hulk Coaster, of course, which went down for a lengthy refurbishment last September that looks to touch literally every square of the attraction. We've written multiple times about the major overhaul already, so let's just quickly recap the basics: the ride's queue has been demolished and the entirety of its coaster track has been dismantled and taken down. Though rumors insisted that Universal was replacing the ride with brand-new, smoother-than-ever track and, just possibly, train cars, we couldn't be certain whether there might not be a few new dips or dives installed – just a little something to spruce up the 17-year-old ride experience.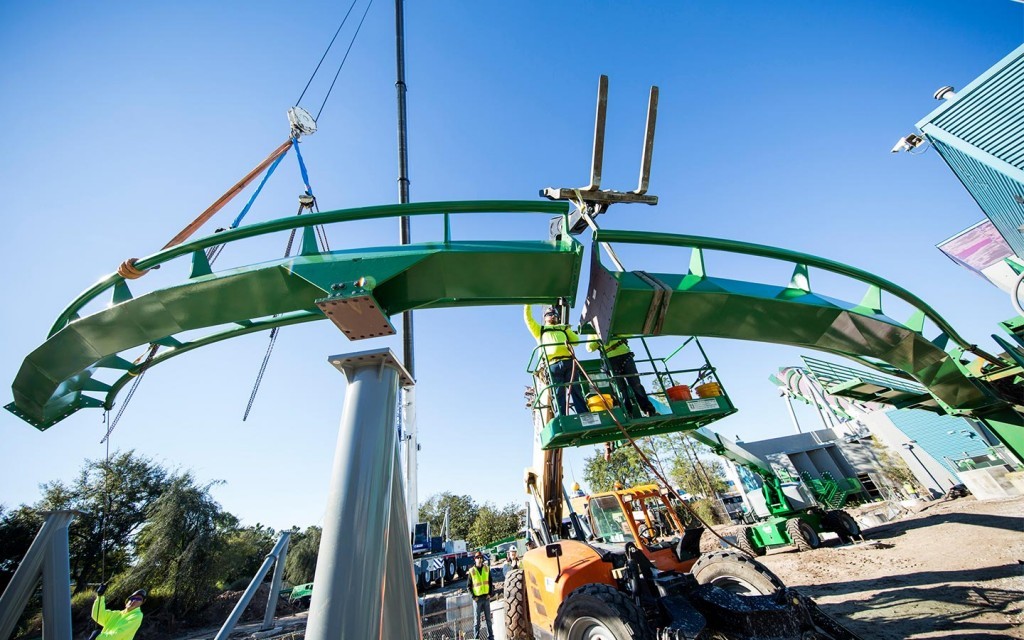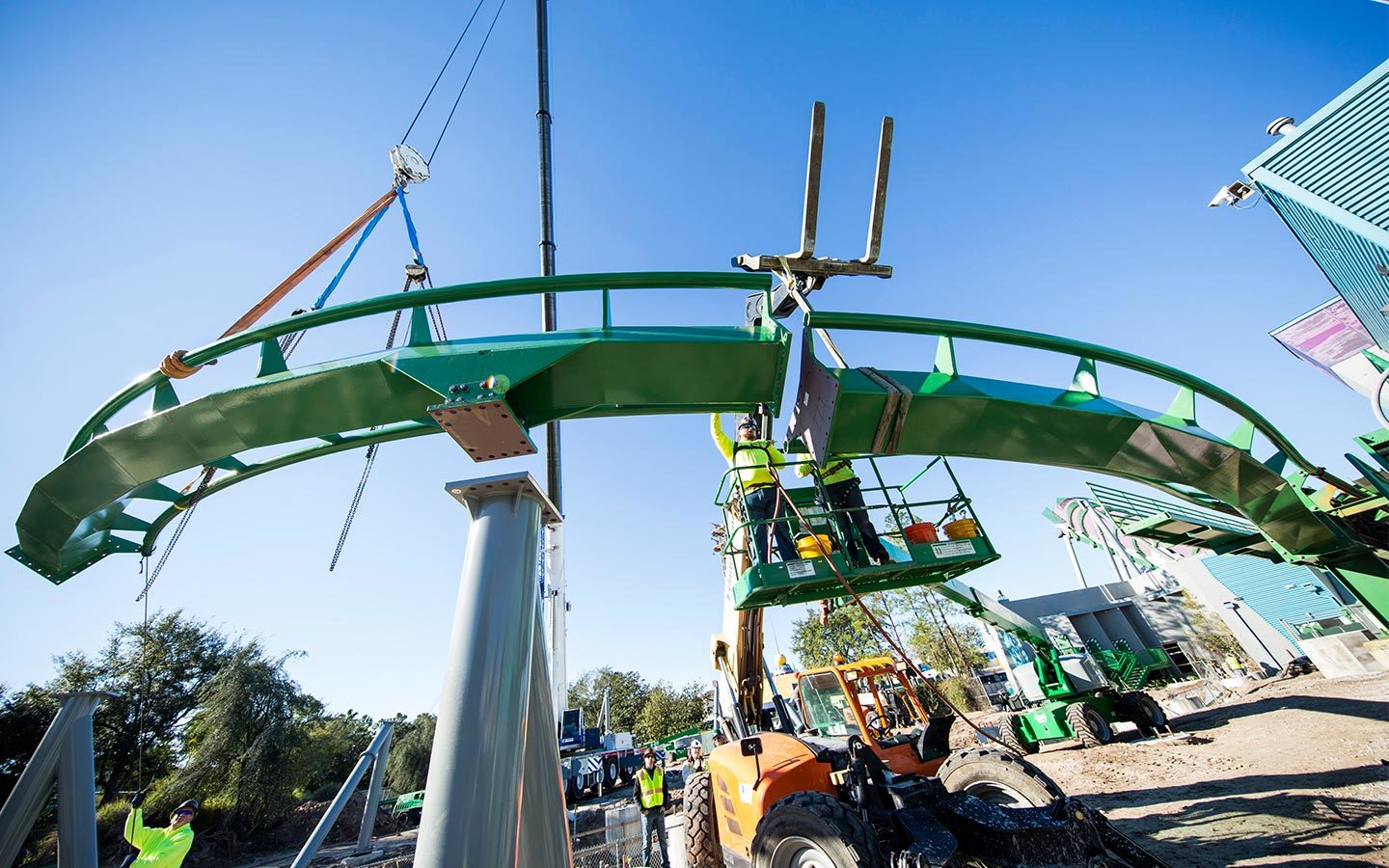 Image © Universal
Now, with the various track pieces just last week starting to be reinstalled in Marvel Super Hero Island, we can definitively say that, yes, the layout is precisely the same as it was before. The rumors are right – at least, so far; the jury's still out on what that redesigned queue experience is going to consist of.
Speaking of which: other rumors keep popping up about what Universal intends to do with the rest of the island, now that its two major attractions have been given a facelift (The Amazing Adventures of Spider-Man got an HD upgrade back in 2012), and those rumors not only include the possibility of a new Avengers-themed ride, but also that the entirety of Marvel Super Hero Island will be getting a giant tie-in with the Marvel Cinematic Universe (which includes the insanely popular Avengers films) in the form of a newly redesigned New York City aesthetic. If so, don't be surprised if Mark Ruffalo, who portrays the Hulk in Marvel's films, will be greeting guests in the roller coaster's new queue.
2. Celebrating Harry's wondrous world this weekend
What started out as a one-time event in 2013 has since grown to become an annual bonanza at Universal Orlando that, many predict, will go the way of Disney's Star Wars Weekends: namely, an event that gets bigger – and attracts more and more people – with every passing year.
For the time being, however, A Celebration of Harry Potter is a fun-but-somewhat-limited affair. Spanning Friday, January 29 to Sunday, January 31, events are largely contained to Universal Studios Florida – though Islands of Adventure manages to sneak into the action occasionally this year – and include wand demonstrations and "masterclasses," Q&A sessions with the cast and crew of the Harry Potter films, house rallies, and, of course, trivia. The main locations are the big auditoriums or stages that the two theme parks house: Music Plaza at Production Central and the Toon Lagoon Amphitheater at, well, Toon Lagoon.
Care for a full breakdown of the Celebration's schedule – and, also, for a sneak peek at the exclusive gatherings and film talent meet-'n-greets that vacation package holders are able to attend? We have you covered two ways: first by our complete guide to A Celebration of Harry Potter and, second, with our real-time coverage on Twitter.
1. The Diagon shuffle
Over the six years that The Wizarding World of Harry Potter – Hogsmeade has been open, only a minimal amount of changes have been made to the land's lineup of attractions, and those few that have gone through were mostly at the behest of Diagon Alley's arrival (removing those fake storefronts or inventories at real shops that rightly belong in downtown London, and importing that new land's interactive wand experiences).
Diagon Alley, for its part, has wasted no time in having its contents be tweaked or rearranged. Last October, Shutterbutton's Photography Studio – the place where visiting muggles can get moving photographs taken of themselves – ditched its location in Carkitt Market, on the backside of the Weasleys' Wizard Wheezes store, to set up shop on Diagon Alley proper, in between Madam Malkin's Robes for All Occasions and Florean Fortescue's Ice-Cream Parlor. (The land has also seen a host of new drink options come pouring in, from new exclusive whisky to warm[!] Butterbeer.)
The move may seem like a relatively minor one, but, like most things in the wizarding world, there's more than meets the eye (sorry to step on your toes, Transformers). The space that Shutterbutton's now occupies was a rarely-used overflow queue for Madame Malkin's, and it's situated in a much more visible stretch of real estate, which is sure to get the photography studio's sales up to where Universal and license-holder Warner Bros. clearly thought they would be.
Even more importantly, the switcheroo has allowed Universal the opportunity to insert a brand-new store in Shutterbutton's old digs – and, of course, it's yet another candy store.
#Butterbeer Fudge at the new Sugarplum's shop in #DiagonAlley https://t.co/TaEStV6MIS

— Orlando Informer (@OrlandoInformer) January 26, 2016
Sugarplum's Sweets Shop has a series of offerings – and an overall aesthetic – not unlike the bigger, more well-known Honeydukes at neighboring Hogsmeade. But given that Diagon Alley's massive lineup of shopping experiences was conspicuously lacking a sugar depot, and given just how much of a seller Honeydukes has consistently proven to be, we can't blame Universal for the move.
And that's not to say, of course, that there aren't some new delectable treats on hand here, with the most exciting being – but of course – Butterbeer fudge. The sixth version of the flagship theme park culinary offering features a vanilla-marshmallow topping sitting on a butterscotch base. It's been uniformly described as delicious and every bit the worthy successor to its magical predecessors.
Something tells us that Sugarplum's just may end up being the surprise star of the Celebration of Harry Potter event this weekend – and for far beyond that, as well.