Be the first to know more about Epic Universe by signing up for email updates!
Yesterday, Universal went ahead and did what all of us were openly hoping for: it revealed its fourth park at its Orlando resort, Epic Universe.
The announcement itself didn't come with a bevy of specifics – there was no talk of the park's various lands, or what attractions may find their way in them, or, even, an estimated opening window – but there was an attached piece of concept art that more than contains an ample amount of details and tantalizing possibilities for what could be in store for guests once they're able to set foot in the theme park sometime next decade. Even more intriguingly, there's even the chance that the artwork may portend some potentially game-changing developments for Universal Orlando, specifically, and the entire themed industry, generally.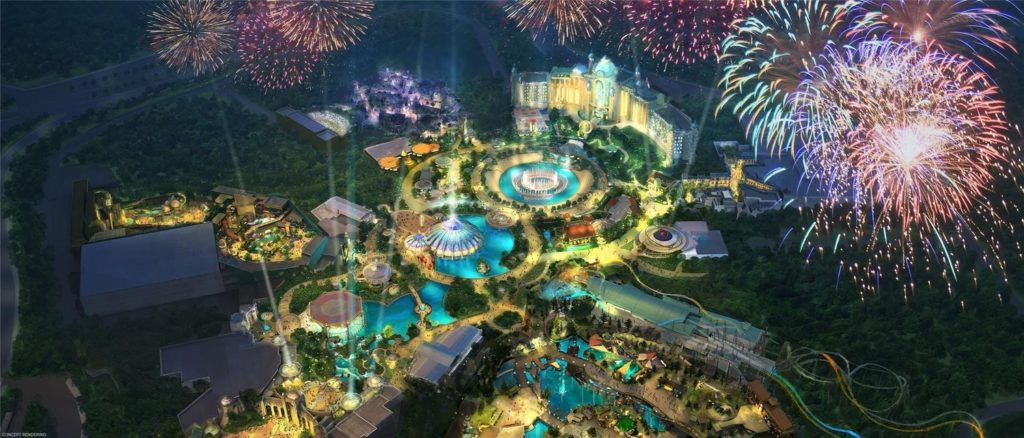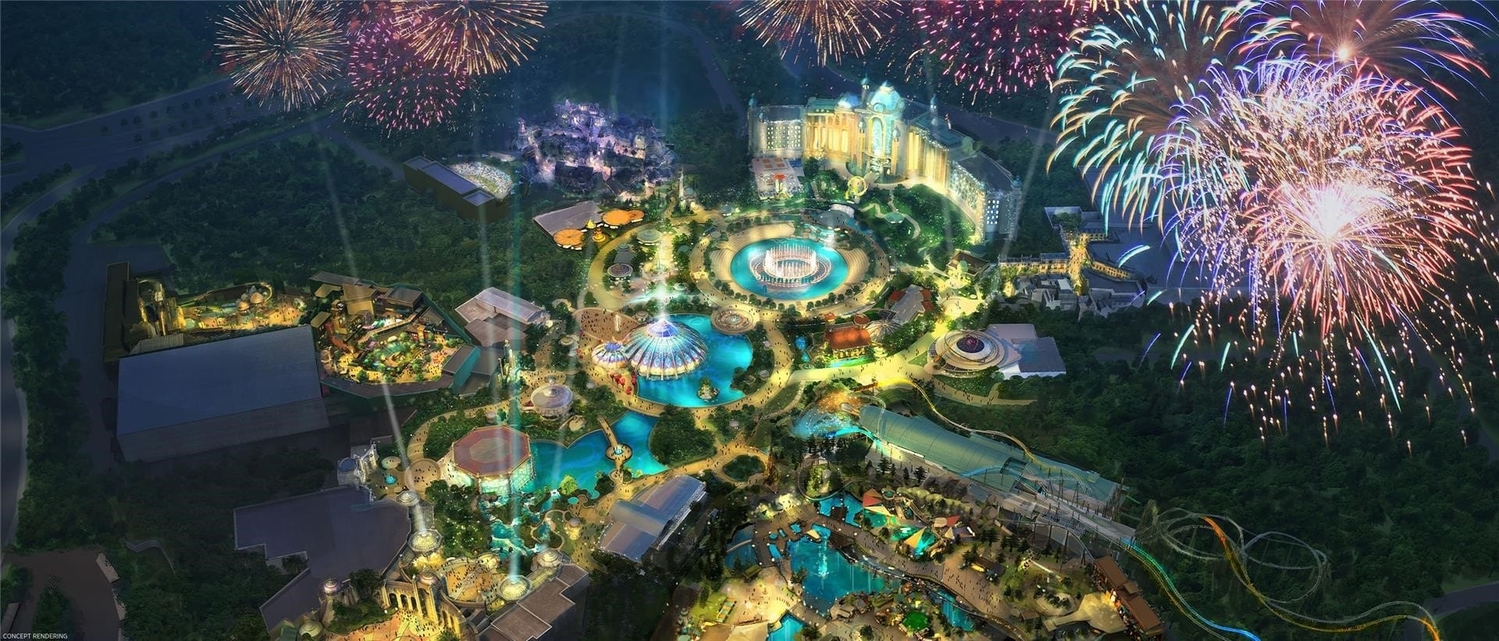 There's just one caveat to address here before we plunge into the key art: it was very obviously designed to give an overall flavor of Epic Universe's aesthetics and theming but to nonetheless not give anything more concrete away. Using Universal Studios Florida's various intellectual properties as an example, it's easy to see how, say, the lower left-hand section of Epic Universe could be devoted to Transformers just as easily as to Fast & Furious – but, even so, it's doubtless that the underlying layout or the various buildings and structures themselves are fairly accurate (Universal has a habit of providing detailed and near-finalized concept art, even if the subjects themselves are left obscured). As such, we're going to direct our focus here rather than engaging in a guessing game of thematic veneers.
Oh, okay, fine – there's actually one last note to make: since this is concept art, there's always the possibility that things will change (maybe even drastically!) before the new theme park opens. Please keep all your expectations couched appropriately.
1. Epic Universal's entry gate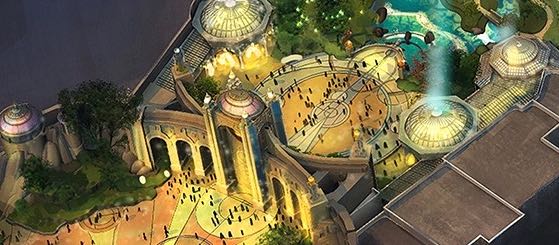 What does the front gate of a theme park have to say? Quite a bit, actually.
The entrance of Epic Universe seems to combine both of the worlds (no pun intended) that are Universal Studios Florida and Islands of Adventure – the grand, classical archway of the former with the theming and mythological sensibilities of the latter. It's obvious that this is a fully themed park, much more like the traditional Magic Kingdom template (something which Universal Studios deliberately avoided [originally, at least]), but applied with a touch that is a bit different – it trades out the more ancient, earthy tones of Islands for a celestial or astrological feel, befitting the "universe" appellation. It's somewhat mystical and certainly enticing and entirely appropriate for the sense of adventure and exploration that Epic Universe is clearly meant to evoke (and already is, even in conceptual artwork form).
Even though we're getting ahead of ourselves here, we're still going to forge ahead, anyway: this aesthetic continues on throughout the land beyond that iconic front archway, providing for an area that is resplendent with both water and trees as well as grand (if eclectic) architecture and bright, shining lights. When combined with one particular building that is crowned with some sort of astronomical feature (a ringed planet and, apparently, a shooting comet) off to the right-hand side, the theme is complete and the stage is set for a day of epic experiences.
2. Epic Universal's entry land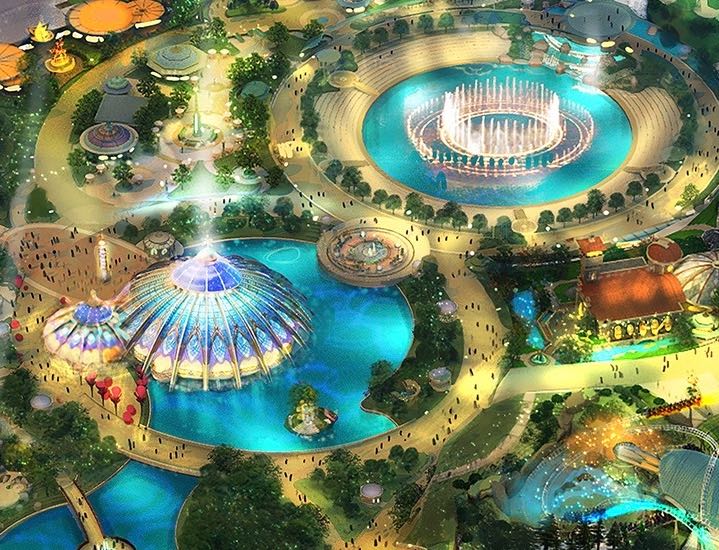 When Universal Studios Florida first opened all the way back in 1990, it had an entry area dubbed the Front Lot. While it played into the gimmick that the theme park doubled as a working Hollywood backlot – the front lot was where the offices were located, which kept the various productions running back on the soundstages behind them – it was rather drab and small and altogether unimpressive, which is why it's long since vanished from the park map (having become quietly subsumed by the neighboring Production Central).
Islands of Adventure, on the other hand, has Port of Entry, which may still not feature any attractions but which nonetheless tells a story and summons a time and place out from the mists of time – indeed, it's become something of a rite of passage for locals or long-time annual passholders to hang out in the area, soaking up the atmosphere and finding the bevy of hidden details.
Epic Universe takes both of these traditional approaches to entry lands and, apparently, chucks them out the window in a couple of key ways. Firstly, this section would seem to also double as the central hub of the theme park, having the various individual lands radiate off of it – all while still doing the place-setting that Port of Entry ably accomplishes. And, secondly, there is an ungodly amount of buildings, structures, and other types of features going on here, suggesting the possibility of many, many different experiences being available – it's not hard to imagine that that glowing building situated in the water is some type of restaurant or theater show, and that giant water fountain display could easily venture into the territory of Las Vegas and its various high-caliber hotels, providing for a type of show, particularly at night (could this even be a mini-Cinematic Celebration?).
But, by far, the most intriguing possibility has to lie with that giant, possibly-dueling roller coaster towards the bottom right-hand corner of the concept art – it would appear as if the walking path leading to it is in this entry area and not the separate themed land that sits just beside it. If true, this would be like putting the former Dragon Challenge inside of Port of Entry, and it could help divert guest flow, alleviating the crowds in other sections of Epic Universe (precisely the reason why Universal inserted Transformers: The Ride – 3D and Springfield on the way to The Wizarding World of Harry Potter – Diagon Alley in the back of Universal Studios Florida).
Imagine the possibilities this opens up for some of those other mysterious buildings – could they also potentially house other traditional theme-park attractions in a decidedly untraditional theme-park setting?
3. Epic Universal's hotel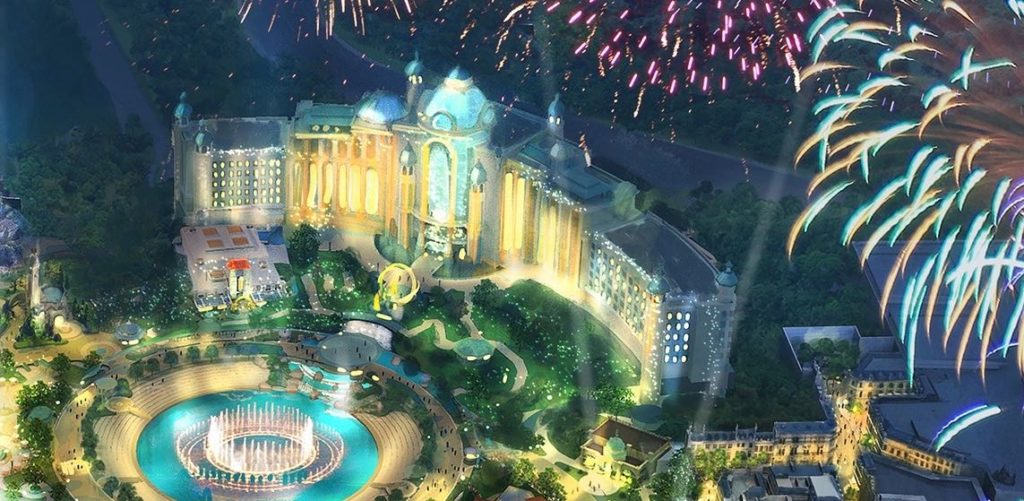 The large building located at the very back of Epic Universe seems to be only one thing: a grand hotel. Backing up this quintessential vibe is the fact that Tom Williams, the chairman and chief executive officer of Universal Parks and Resorts, definitively told us yesterday during Universal's press conference that resorts would absolutely be arriving right alongside the new park – apparently, literally.
The precedent is certainly there. All the way back in 1992, with the opening of Disneyland Paris, Disney erected the Disneyland Hotel right above the turnstiles of the park, providing both a picturesque visual for guests and a hefty incentive for staying at the venue. Not to be outdone, in 2001 the company granted an exclusive entrance into one particular land of its California Adventure park in Anaheim to its Grand Californian Hotel & Spa (even having the theming of the venue and the area being continuous) – a feat which it's set to repeat with Star Wars: Galaxy's Edge and the Star Wars Hotel at Hollywood Studios within the next few years. And the crème de la crème in this regard is the 2001 Hotel MiraCosta in Tokyo DisneySea, the only Disney property to be directly and entirely located inside of a theme park; it helps complement the theming of the opening land while also affording its patrons some spectacular (and – of course – expensive) views of the fireworks and nighttime shows that occur within DisneySea.
That Universal would presumably want to continue that same progression with Epic Universe makes perfect sense – it was forced to build CityWalk and the very first on-property hotels separate from Universal Studios Florida, thanks to a lack of financial certitude (and, also, due to the industry mold at that time being decidedly cast in that shape). With success more assured and a landscape that more fully allows such experimentation to take place, the company now sits in a pretty position to bend the rules and the traditional boundaries of what is a theme park, what is an entertainment complex, and what, apparently, is a hotel.
4. Epic Universe's four lands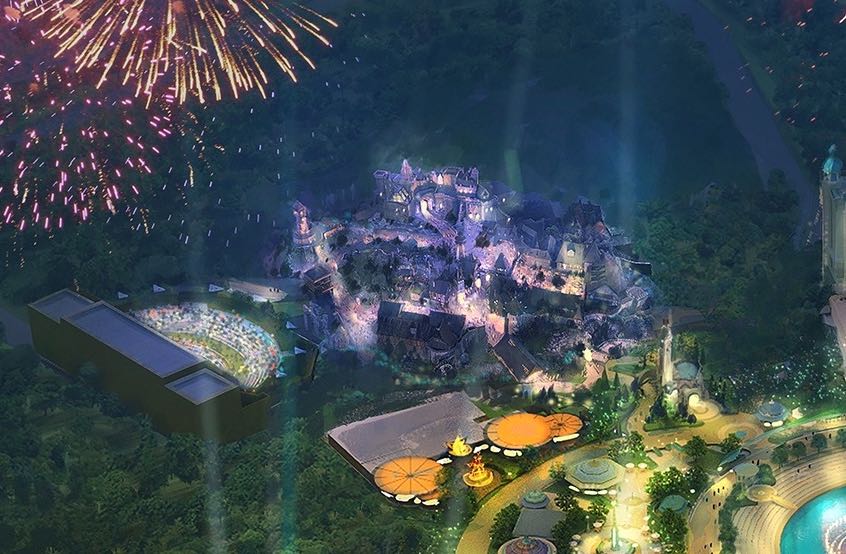 That there would appear to be four different lands branching off from Epic Universal's main hub is pretty apparent. Anything beyond that is – getting back to that whole "obfuscating the details" thing – ultimately self-defeating, as there's just no way to tell with any kind of certainty whatsoever what might or could be what.
Instead, let's focus on some of the underlying details. The top right-hand corner area, for instance, is pretty hidden, obscured from view behind a heavy layer of fireworks and show-building architecture (show buildings are those large structures that house the dark rides that we all love and adore so much, such as the absolutely massive one for Harry Potter and the Forbidden Journey that extends away behind Hogwarts Castle). It could be that this is the least visible land in the entire park, which would make minimizing it the most logical choice for Universal and its marketers, or it could be that there is something more going on here than meets the eye.
Let's stay in the upper half of the park and hop on over to the themed section on the opposing side – here, there is an absolutely mammoth amphitheater, which looks to make both Fear Factor Live (the largest stage space in Universal Studios Florida) and the long-since-abandoned Toon Lagoon Amphitheater (the largest in Islands of Adventure) positively quaint by comparison. There is no end to the amount of productions that could be had here, from seasonal concerts (like at Mardi Gras) to full-on, Broadway-quality numbers (which Disney has long since mastered over at Walt Disney World Resort).
As we look from one land to the others, there's just one last item to note: the vast swaths of trees that lie between each. This is not just for scenery; these are expansion pads, tracts of land that lie in reserve and which can be built upon whenever the need arises. This is exactly what happened with Universal's first Floridian theme park (Men in Black Alien Attack was, not so long ago, a similar stretch of wildlife), and it portends the possibility of two or, maybe, three more areas being added to Epic Universal's roster when the time is right. (And, again, Parks and Resorts CEO Tom Williams stated that not all of the Universal Orlando south campus's 750 acres would be utilized right on day one, leaving plenty of room for expansion.)
Now, that truly is epic.
Orlando Informer Podcast: be sure to listen to this week's episode of the OI Podcast to hear even more of our thoughts on Epic Universe. You can subscribe to the podcast on iTunes or give a listen here.
–
What hidden details have you picked out from the concept art? Discuss it all with 80,000+ other vacation planners and Universal fans in our OI Community Facebook group.
And be sure to follow Orlando Informer on Facebook, Twitter, and Instagram for even more updates on everything Walt Disney World, Universal Orlando, and other Orlando experiences.
blog