The last time we were able to check in on Universal Studios Beijing, Universal's newest and most technologically advanced theme park, was back before Halloween, when the company dropped a press release outlining all seven of its lands and hinting at a number of its biggest attractions. Just yesterday morning, however, we got another, much more in-depth look at the most expensive park of all time in the form of the Universal Beijing Resort app – and there is a ton of details, both big and small, buried within it.
(Just as a quick reminder, Universal Studios Beijing will be the first component of the overarching Universal Beijing Resort when it opens later this year, along with its version of CityWalk and the first two of its on-site hotels, Universal Studios Grand Hotel and NUO Resort Hotel. A second park will eventually materialize, and concept art has already shown Volcano Bay sitting in that real-estate slot – though this could simply be a case of visual placeholding, like we've seen in previous Universal Beijing renderings in previous years.)
Unfortunately, the Beijing app doesn't yet contain a full, complete rundown of all of the park's various rides, shows, restaurants, and shops, but what it does list is very interesting. One little for-example: a number of the Chinese experiences have placeholder photos taken from the other Universal parks around the globe, most especially Universal Studios Hollywood, even if the source locations in those other theme parks are different entities altogether (take the first-of-its-kind Hound's Impounds gift shop in the Transformers land, for instance, which has a placeholder picture taken at California's Universal Studios Store).
There are five other, splashier tidbits we were able to pick out from the information overload that was the app release – ones that we think will get you just as excited as we were when first noticing them. Here they are now, ranked in order of noteworthiness.
1. There is a new version of Pteranodon Flyers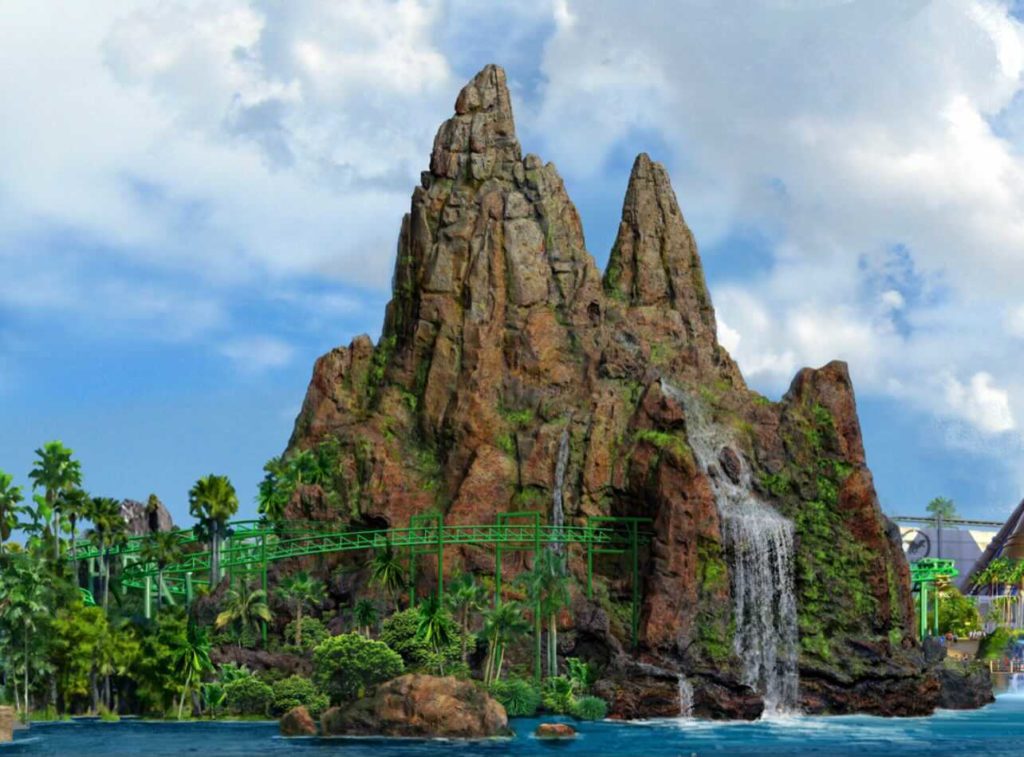 Pteranodon Flyers has become (in)famous at Universal Orlando Resort for its strict passenger policy (to try and cope with its remarkably low rider throughput) and its short-but-fun ride experience above the beautiful foliage of the expansive Jurassic Park. For the first time, the Universal Beijing app confirms that the new theme park will be getting its very own version of the oft-obsessed-over attraction – and, by the looks of it, it may very well be an upgrade of the 22-year-old original, as well.
Called Jurassic Flyers, the official description has it that guests will "hop aboard a high-tech glider and soar far above Jurassic World Isla Nublar for a pteranodon's-eye-view of the spectacular prehistoric world below." Now, right off the bat, this is something of an upgrade, given just how much more detailed and immersive the Isla Nublar land is over its Islands of Adventure predecessor; the coaster's bright-green track wraps around a mountain and past some beautiful waterfalls. Without seeing its ride vehicles, we can't be sure what else the attraction will contain, but don't forget that Universal has previously said that the new area will be filled with "brand-new things you've never seen before in a Universal park" – there's room for more surprises here, to be sure.
And those surprises may or may not have to do with the Chinese version of Camp Jurassic, which was revealed to be coming in that October press release. Its concept art did, indeed, show a roller coaster making its way through the (largely indoor) children's play area, but that was an entirely different beast, an inverted adults-only affair; it may still be that Jurassic Flyers will also intersect here, or it may also be that the concept artwork was filled with yet another placeholder.
(Since we're already at Isla Nublar, we need to just pause a moment on the official description of the themed land that the app provides: it says that Jurassic World is "open and realizes John Hammond's dream of a world-class luxury of prehistoric marvels and breathtaking scenic beauty. Come discover, explore, and be inspired!" We certainly are inspired by that description, and we can't wait to see it for ourselves.)
2. The Decepticoaster's story has been revealed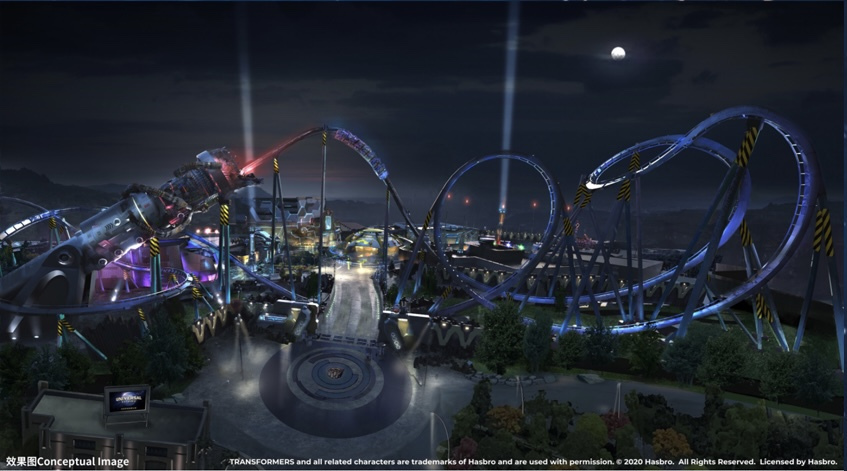 The Decepticoaster is easily one of the biggest – and, therefore, most exciting – rides to be unveiled at Universal Studios Beijing yet (though, perhaps, that's just us, with the equally imposing Jurassic World VelociCoaster stuck on our minds over here in Orlando). And, now, we have an idea of what the coaster's story is to go along with its thrilling visuals.
Just as Transformers: The Ride – 3D makes its ride vehicle into a brand-new Autobot, it would seem that this is also the case with the new attraction in Beijing – and the coaster car has the rather surprising name of, well, Coaster. Guests will launch through the Deception Driller (sorry – it's not Devastator, as we speculated back in October) in an effort to gather information on how it processes Energon, that elusive substance that powers all Cybertronians (remember that the entire land is themed to Metrobase, a city-sized Transformer that has taken up residence in an Energon-rich part of China). But, in typical theme-park fashion, something goes awry – "one wrong move," the app warns, "and the Driller could be revving up its razor-sharp teeth." We don't know if this is just a baked-in part of the backstory (like The Incredible Hulk Coaster's launch, which Decepticoaster liberally borrows from already) or if it's indicative of a randomized effect, but, either way, we're definitely more excited for the experience that lies ahead.
(We have one extra Transformers-related nugget contained in the info dump that we received yesterday that we should quickly mention: the Energon Power Station, a drink stand, will serve a "cold, refreshing Energon-infused beverage." If you'll recall, we had previously speculated that this would be the resurrection of Universal Studios Hollywood's exclusive, cream orangeiscle-flavored libation, which this description may be leaning towards. We'll just have to await further confirmation one way or the other on this.)
3. Expect exclusive Despicable Me food and drinks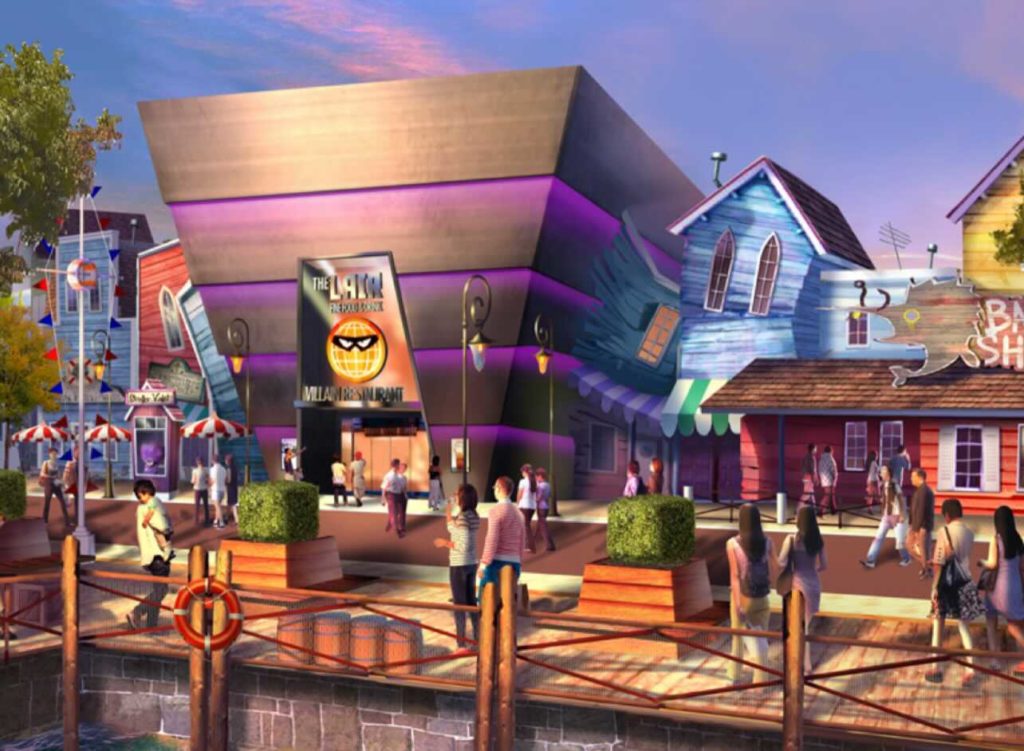 While two of Minion Land's three rides are clones from both American coasts – Florida's Despicable Me Minion Mayhem and California's Silly Swirly Fun Ride, though both are given different names – there is a third that is exclusive to the new theme park: Loop-Dee Doop-Dee, a family-friendly coaster that shoots "through the Super Silly creature's mouth." It sounds like a limited experience, but nonetheless a fun one, not unlike Kang & Kodos' Twirl 'n' Hurl here at Universal Studios Florida — we just need to see some photos of the actual attraction, as opposed to movie stills from the first Despicable Me, to see if our comparison is correct.
But, much like in The Wizarding World of Harry Potter style, that attraction lineup is just scratching the surface of the theming opportunities that the new Minion-fueled land will present. That's right – Universal seems to be betting hugely on exclusive culinary items carrying the day here, and although we can only go by the names and descriptions of the dining venues themselves, so far it seems like that it's a wise gamble. (It's also one that has some precedent, as Minion Park over in Universal Studios Japan was the first to dip its toe in the themed food waters four years ago. We can't wait to see how the two gastronomical selections will compare!)
First up, there is the Paradise Mall food court, which will feature several different types of offerings – much like a standard food court at any standard mall, though we're actually getting Fast Food Boulevard vibes here (if the company can manage to replicate the variety and quality of food from there, it will be a big win). Bake My Day sounds even more promising, with its menu of sweets and opportunity to spot some villains from Despicable Me 2 in the premises. But the venue with the biggest potential of them all is called The Lair – Villain Restaurant, which is described as "a shady restaurant where you can find all your favorite villains from [the] Despicable Me films hanging out and showing off." There's a pretty wide-open range of possibilities for how Universal can pull this off, starting with the Professor Doctor Penelope Tibeaux-Tinker Toothsome and Jacques meet-'n-greets from The Toothsome Chocolate Emporium & Savory Feast Kitchen (they come to your table while you're eating to say hi and take pictures – during non-COVID-19 times, at least) and ending with some new and innovative theming applications. We'd personally be happy with any of those.
4. There is a mysterious new Kung Fu Panda-themed "show"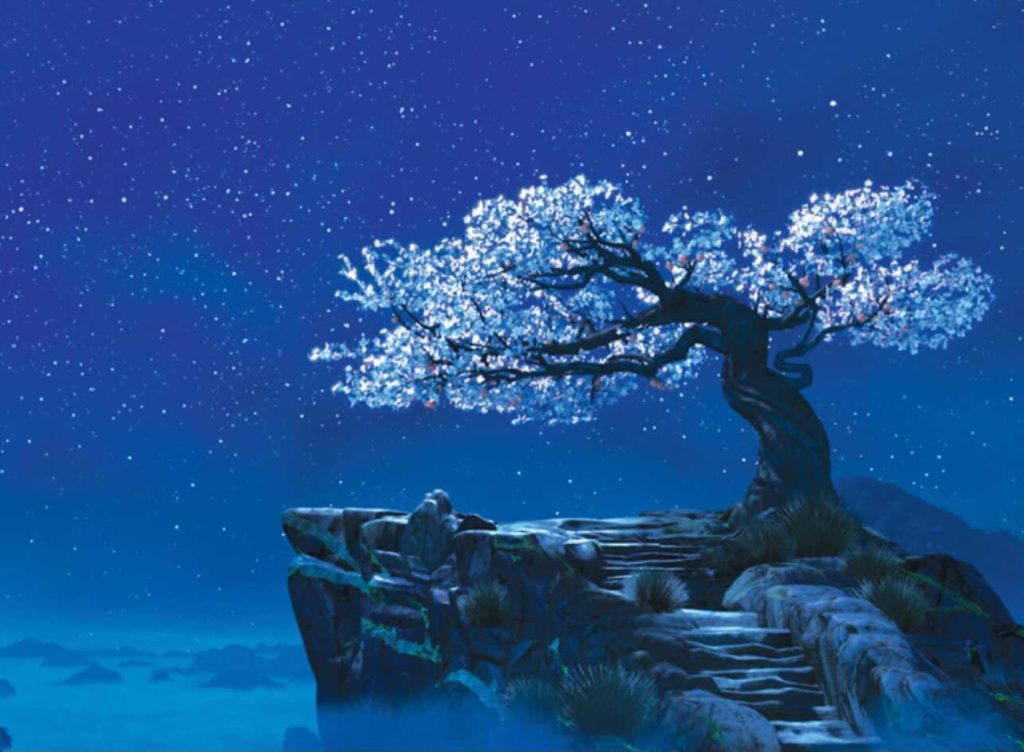 Kung Fu Panda Land of Awesomeness is an entirely indoor section of the park, providing shelter and warmth for visiting families all year round (yes, even during the Chinese winter). And while we've known about Journey of the Dragon Warrior, a flume ride that doubles as the land's flagship experience, we've now received word on what some of the other experiences will be in the Valley of Peace.
For starters, we have Po's Kung Fu Training Camp, which sounds like it'll be some sort of show where the audience will need to copy the martial-arts moves of the titular panda from up on a stage (which takes place during the Festival of Heroes, of course). Then there's the excellent retail and gastronomical duo of Mr. Ping's Dragon Warrior Emporium and Mr. Ping's Noodle House, which seem to be at least partially inspired by some of the offerings over at Universal Studios Hollywood. And, bringing up the rear (for now) of this informational processional, we have the Peach Tree of Heavenly Wisdom, another production that has only a vague caption attached to it:
Behold the Peach Tree of Heavenly Wisdom, a sacred symbol of longevity and renewal and an incredibly awesome spot in the Land of Awesomeness!
Before you let your mind get too far in considering all the possibilities for this intriguing-sounding performance, we need to point out that this may actually be a character encounter as opposed to a traditional number – it seems that the Universal Beijing Resort app routinely mixes up "show" with "live entertainment" more generally; even the Transformers: More Than Meets the Eye meet-'n-greet is listed under the "shows" tab.
Which isn't to downplay the experience in the slightest! Universal has been working on some more advanced character interactions as of late, such as the talking Mario, Luigi, and Princess Peach over at Universal Studios Japan's Super Nintendo World, and when combined with the exotic-sounding backdrop, the Peach Tree of Heavenly Wisdom could wind up being a sleeper hit at Universal Studios Beijing.
---
Universal Studios Beijing was previously announced to debut this May, but the grand opening is listed on the app simply as "2021" (there is, of course, the possibility for a delay here, given that Super Nintendo World just was in the wake of the coronavirus pandemic getting worse in Japan).
In the meantime, share your thoughts on all these cool new experiences – and what they might mean for our neck of the woods here in Orlando – with 110,000+ other die-hard Universal fanatics in our Orlando Informer Community on Facebook. And then be sure to follow Orlando Informer on Facebook, Twitter, and Instagram for the latest news, tips, and rumors at Universal Orlando, Walt Disney World, and other Orlando attractions.