We can all agree that Universal Orlando Resort's hotels have a certain reputation preceding them, but, as amazing as they are, the Universal Partner Hotels offer a comparable value and experience. If you don't know, these are Universal-approved, third-party properties that you can book as part of your vacation package. They feature benefits varying from Early Park Admission and a complimentary shuttle to – quite possibly – a bonafide Universal Orlando team member on-premises to assist however he can. With so many options to choose from, I've taken the liberty of whittling them to just a few that are worthy of your stay.
I'll go about this golden list of resorts by answering a few questions that qualify each one. The key inquiries are as follows: are the nightly rates reasonably affordable (this means no more than about the mid-100s per night)? Regardless of the shuttles, are they within a sensible distance from the theme parks (which I've capped at 10 to 15 minutes away)? Finally, do they serve complimentary breakfast? Admittedly, this last one sounds silly, but it does matter to the value, and it can be easily overlooked. (Of course, these venues offer other perks, and I'll expand upon them as we proceed.)
Hyatt House
Average rate: starting at $120-$130, plus taxes and fees
While we don't have a particular hierarchy in place, this hotel is likely the most advantageous, as it's within a short walk from the main Universal Orlando campus. The Hyatt brand is positive among guests, and House is no different in this regard. Adding to the top-notch customer service, its amenities include all your basics: free wi-fi, 43-inch flatscreen televisions, an in-room coffee maker, and complimentary hot breakfast and coffee, as well as the Universal Partner Hotel benefits of a Universal Orlando vacation planner on-hand most days and a free shuttle to the parks.
What catches my attention the most about Hyatt House, though, is that its standard rooms are roughly the same size – and, at times, larger than – most of Universal Orlando's own hotels; House's standard rooms average about 394 square feet, whereas (aside from Portofino Bay Hotel) the others vary between 300 to 375 square feet. If you ask me, this brings a very convincing value to the nightly rates.
Drury Inn & Suites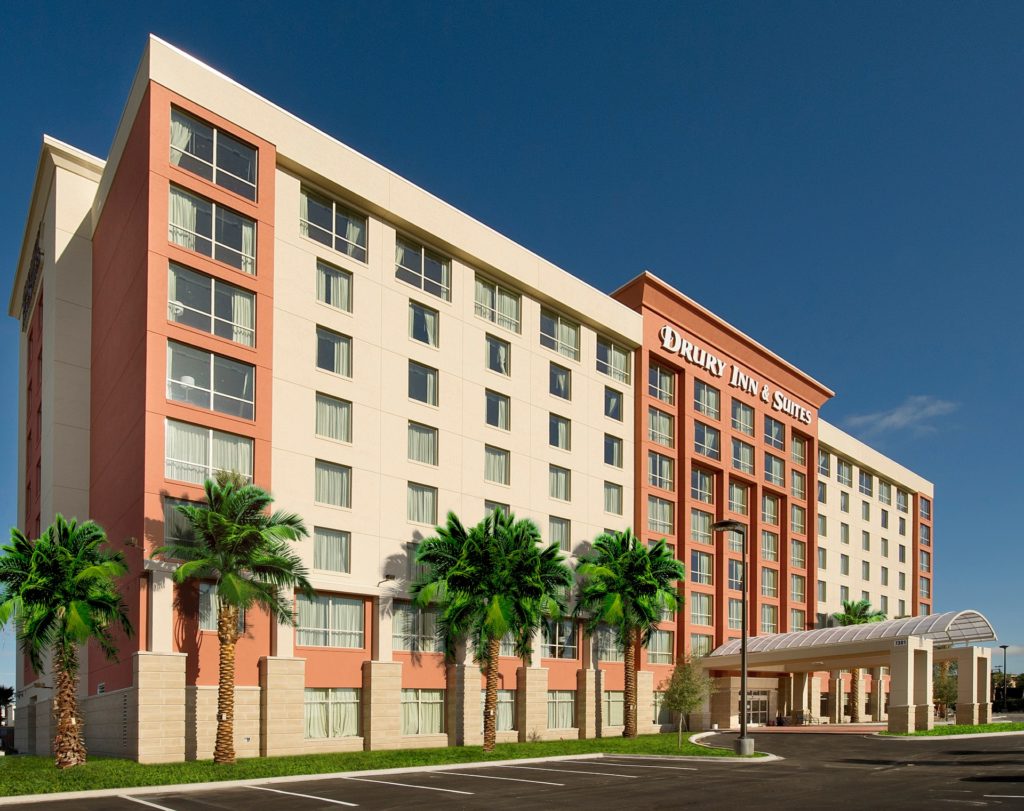 Average rate: $62.99 to $109.99, plus taxes and fees
Drury Hotels is family owned and has been highly awarded for numerous reasons. Like their peers, they have a loyalty program that earns guests points that can be put towards future stays. With that in mind – and unlike most resort chains – Drury's array of special rates is considerable; among the varying discounts are offers for Florida and Canadian residents, seniors, AAA members, and federal and state employees. Drury Inn & Suites offers the basic complimentary amenities of wi-fi, a business center, and hot breakfast, as well as having a Universal vacation-planning representative present in the lobby. Within guest quarters are a flatscreen TV, a microwave, and a refrigerator. Although they don't have in-room coffeemakers, they do offer free coffee throughout the day in the cafe.
Drury's most enticing perk, however, is the nightly "kickback" that takes place from 5:30 to 7:00 pm. During these hours, guests can enjoy free hot meals and cold beverages from a daily, rotating menu. The selection is set, but it has a pretty decent offering that you can view a sample of here. What's more, the beverages include beer, wine, mixed drinks, and soft drinks – which gives an option for family members of all ages. I should also mention the limited use of the pool and fitness center due to the hotel's safety precautions during the COVID-19 pandemic; this means they require reservations for use, which you can make with the front desk.
Rosen Inn at Pointe Orlando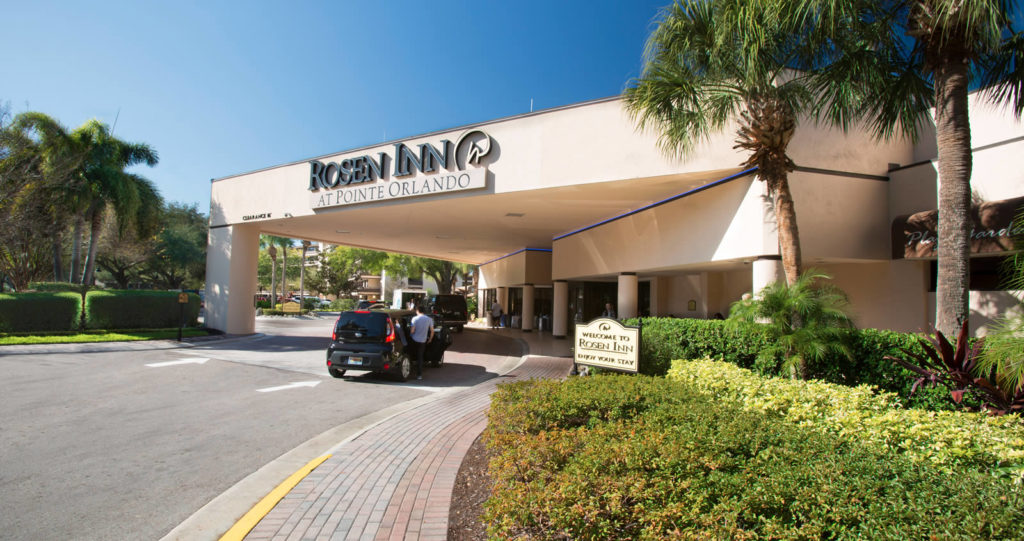 Average rate: $50 to $130, plus taxes and fees
Harris Rosen is something of a local success story and celebrity entrepreneur. The Rosen name is synonymous with Orlando's hospitality industry, and it includes some of the best hotels found in just about any budget. When it comes to Mr. Rosen's roster, Rosen Inn at Pointe Orlando is where I put my money. Chief among its benefits, they don't charge for guests 18 and under, parking and wi-fi are both complimentary, and resort fees aren't a thing during your stay. Within the lobby, you'll find a coffee shop vending the Starbucks brand and a convenience store, The Lite Bite; here, you can purchase an alternative to gourmet coffee and procure basic grocery needs, as well as other necessities, like phone chargers and over-the-counter medicine. Families visiting Orlando with kids will be happy to know about the family playground on-site and the game room the little ones can enjoy.
For its many positive notes, this hotel does have some dings worth mentioning. For instance, although it is at a prime location in the heart of International Drive, it's three miles away from Universal Orlando Resort, making it the furthest property on our list. (Having said that, the distance is manageable, and while it requires in-person reservations, there is also the benefit of a free Universal shuttle.) Additionally, Rosen Pointe's breakfast isn't complimentary – as of this article, it's done to-go-style and can be purchased at the Lite Bite during limited hours (due to the coronavirus).
Despite these negative marks, I wouldn't say these are deterrents – they're just good information to keep in mind.
Home2 Suites by Hilton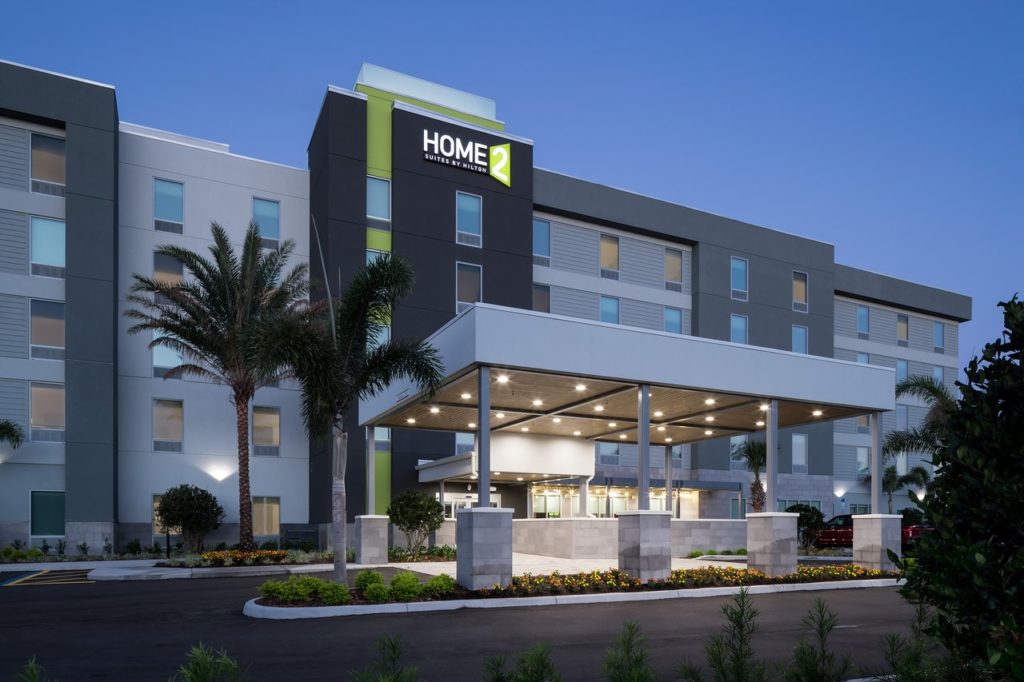 Average rate: $80 to $100, plus taxes and fees
This is another big-chain hotel that's earned a grand reputation. Home2 Suites by Hilton stands out among its peers for a few reasons: its rates are more than reasonable, it returns a decent value for those average asking rates, and it has a wonderfully modern, European-minimalist flare. Rather than buffet-style, Home2 has a pre-packaged grab-and-go complimentary breakfast, but that doesn't mean it isn't good – on the contrary, not only is the meal consistently good, it also features decent coffee. Having had my fair share of hotel coffees, I can say Home2's brew is, at the very least, among the better choices (although I'm unsure what it is they do differently with it).
This Hilton property just may be the best bang for your dollar on our list. A standard double-queen studio averages about the rate I listed above, and it features a fully equipped kitchenette, a sofa bed, and a sofa sleeper. Feasibly, this could house a family of six comfortably. While you're still welcome to make use of the Universal shuttle, the venue is literally around the corner from the parks, and at a central location regarding everything else you may want to do in Orlando.
The only mark against Home2 is the absence of a Universal Orlando team member – but, truth be told, if that's the worst thing one can say about the resort, I think you're still in good hands.
---
What's your favorite Universal Partner Hotel? Share your thoughts – and pictures! – with 150,000+ other die-hard fanatics in our Orlando Informer Community on Facebook.
And be sure to follow Orlando Informer on Facebook, Twitter, and Instagram for the latest news, tips, and more at Universal Orlando, Walt Disney World, and other Orlando attractions.