The number-one question Orlando locals likely receive (outside of, "Hey, do you know how to get discounted tickets to the parks?") might be, "When is the best time to come to Universal Orlando?"
It's a heavy question. It's a deep question. It's… well, complicated, at best. And it might be the number-one question we locals are a bit hesitant to answer – what happens when we give away all our secrets, huh? But I digress – we're not going to hoard the secrets over here!
No doubt, any time you can experience Universal is the best time. However, it makes sense that the resort being less crowded certainly helps to increase the enjoyment level, as lines are shorter and the theme parks themselves are easier to maneuver.
The good news is that Universal Orlando still has an ebb and flow to its days of the week and seasonal crowds – unlike an unnamed resort down the street that is just seemingly always and forever packed. Although, the two destinations and their crowd levels still tend to play off each other – for example, if Universal has a brand-new ride opening, you can expect overall park flow throughout Orlando to be heightened, and the same can be said if Walt Disney World has an event running, like Epcot's Food and Wine Festival.
Before we get into the best times to visit, we have a few general theme-park rules to go over: getting to Universal Orlando right at opening is recommended. Take a break mid-afternoon, when parks are often at the busiest and hottest. Then head back in the early evening to explore some more, when it tends to be cooler (or – hey – at least when the sun is gone) and many are headed off to dinner or are done for the day.
Staying on-site at Universal's hotels is also recommended to get the most out of your time, as they all invite you to enjoy Early Park Admission. (And don't forget that the premier resorts – Portofino Bay Hotel, Hard Rock Hotel, and Royal Pacific Resort – also offer complimentary Express Passes!)
Okay – with that out of the way, it's time to answer the question:
What are the four best times to visit Universal Orlando?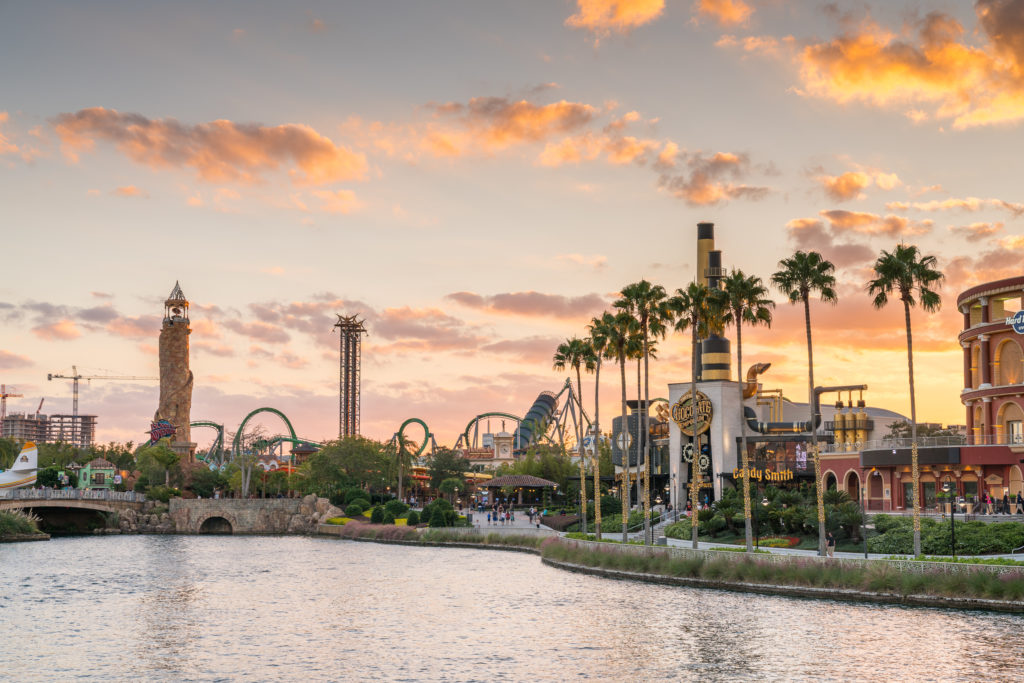 Early to mid-January, up until spring break begins (which is usually mid-February). This time frame is great because the temperatures in Florida tend to be a bit cooler, with less humidity. The holiday crowds have packed it up and headed home, and it's just before the spring break crowds arrive.
Most days in September (except those nights when Halloween Horror Nights occurs). September has typically been known as the best time to visit Orlando – it's still a bit warm, but we're usually done with our rainy season, and there's so much going on that's it a great month to visit. Most September days should be optimal, but just remember that HHN dates will increase crowds (and Universal Studios Florida will close early for the event).
Most weekdays in October and November (minus the week of Thanksgiving). October and November are a magical treat in Orlando because you never quite know what the weather will bring. The beginning of October tends to still be warm and humid, but towards the end of the month, the state can start to cool down, making for a more enjoyable time frame to visit. Just keep in mind that Halloween Horror Nights is in full swing throughout October and runs through the first weekend of November. And another time to steer clear of would be the week of Thanksgiving, as that can be one of the busiest times at the parks.
The weeks between Thanksgiving and Christmas. There are just certain times the locals don't go to the parks – the top three are easily going to be summer, Thanksgiving, and that mind-boggling week between Christmas and New Year's Day. However, there is some wizarding magic to be found during the couple of weeks between Thanksgiving and Christmas, when – again – Thanksgiving crowds have gone back home and Christmas crowds have yet to arrive (and kids are still in school). Temperatures can be milder around this time, as well, and there's a bonus: Christmas decor is up!
One last note
Another general rule to adhere to: if the kids are out of school – whether that be most weekends, a one-day holiday (like Martin Luther King, Jr. Day or Memorial Day), or week-long breaks like spring break or Christmas – the parks will be busy, so keep this in mind when planning. Additionally, the same rule applies for special events like Halloween Horror Nights and Mardi Gras, although the weeks leading up to or after one of these holiday periods tend to be a bit quieter.
And don't forget: a great place to fine tune the timing of your vacation is Orlando Informer's Free Crowd Calendar.
–
When's your favorite time to visit Universal? Compare notes with 90,000+ other vacation-planners over in our OI Community Facebook group.
And don't forget to follow Orlando Informer on Facebook, Twitter, and Instagram for the latest news and tips at Universal Orlando, Walt Disney World, and other Orlando experiences.